As the Commissioner of the Southeastern Conference, Mike Slive could light up a room with a smile. And, minutes later, turn a backroom negotiation into an inquisition.
"My dad had this intense look. He could reduce you to tears. When I was a child I called it his 'googly eyes,'" said Anna Slive Harwood, his daughter and Executive Director of the Mike Slive Foundation. "When you sat across the table from him in negotiations and got that look … beware."
The intensity, the legal smarts and his genuine demeanor made Slive one of the most powerful men in college athletics for three decades. His genuine warmth continues to resonate after passing away in 2018 due to complications from prostate cancer.
"When he died, I got hundreds if not thousands of letters – even from a woman in Australia," Slive Harwood added. "They all had one thing in common. Everyone wrote me about his kindness."
Perhaps Mike Slive's biggest legacy today isn't the powerhouse conference, the SEC Network or the College Football Playoff system he championed. It's the Mike Slive Foundation, whose mission is to save lives by funding cutting-edge research and raising awareness of prostate cancer.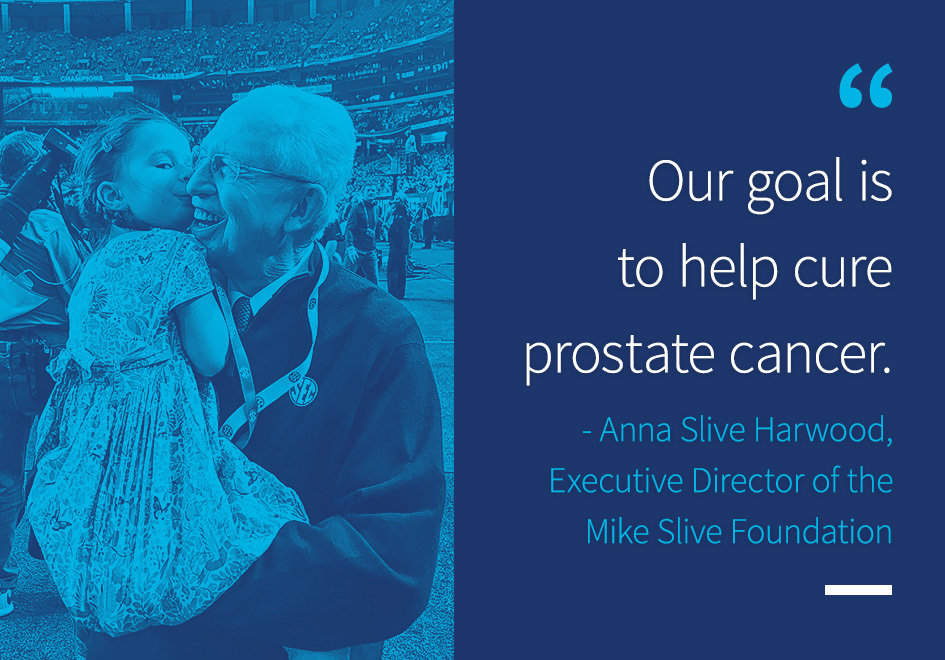 Or, put more bluntly: "Our goal is to help cure prostate cancer," Slive Harwood added. "Our September event is even named, 'Beyond Blue.' We are going to move beyond the blue ribbon. Someday, there will be a generation that won't have to worry about prostate cancer."
Regions is proud to support the Mike Slive Foundation in this fight. Through Oct. 31, 2019, $1 will be donated to the Mike Slive Foundation for every Regions Online or Mobile transaction or activation in the following categories:
New auto-payment or recurring payment set up, or
eBill activated
According to the Slive Foundation, prostate cancer is the second-most common form of cancer among men. On average, a man dies of prostate cancer every 20 minutes. Yet if caught with early checkups, it is 100 percent  treatable. In Slive's case, the most aggressive form metastasized in the spine and bones.
"This is a public health crisis hiding in plain sight," Slive Harwood said. "And this is important to everyone, because prostate cancer affects the entire family, not just the man."
The Mike Slive Foundation raised more than $240,000 during events in September 2018, culminating with the "I'm with Mike Night," which brought sports media luminaries and coaches from across the country to celebrate Slive's life and work. This year's event, renamed Beyond Blue, is a benefit to end prostate cancer honoring former Royal Cup CEO Hatton Smith. It is scheduled for Sept. 26 at the UAB Alys Stephens Center.
The Mike Slive Invitational will return a few months later. Last December, the inaugural basketball matchup featured Auburn and UAB in front of the largest crowd in Alabama to watch a college basketball game since 1992. This year, Auburn will match up against Saint Louis at the BJCC Legacy Arena on Saturday, Dec. 14.
Launched in the summer of 2017, the Mike Slive Foundation has raised more than $500,000, funding seven cutting-edge prostate cancer research grants. The Foundation uses a peer-review process modeled after the National Institutes of Health's model to select grant recipients.