Five Regions Bank professionals. Five nationalities. One shared goal: to celebrate the diversity of an inclusive workplace while welcoming others to learn about their heritage.
The five professionals represent a cross-section of Regions associates who are from countries across Asia. May is Asian Pacific American Heritage Month, and as part of Regions' "Conversations with Clara" series, Clara Green, head of Diversity and Inclusion for the company, brought together these professionals at Regions' Birmingham, Alabama, headquarters. The purpose was a candid conversation about Asian culture, with the encouragement to not focus on differences, but to look for similarities.
It's important for people to be able to bring and share their culture authentically … And it's definitely a two-way street. I think we also need to project the energy to others that we're welcoming, and we're open, and you can talk to us.
Gina Sian, Regions Community Affairs
The result is a greater understanding of the paths people have traveled to reach where they are today. Likewise, there's a greater understanding that, when we live, work and fellowship with each other, we can discover how we're all on a similar path of seeking professional achievements and personal fulfillment – and we can learn from each other along the way.
Below are highlights from the discussion.
Finding a Sense of Belonging: 
It's one thing to be present. It's one thing to fit in. But it's something more to develop a sense of belonging. That can be a challenge in new surroundings.


Gina Sian
Regions Community Affairs – Birmingham, Ala.
Immigrated to the United States from the Philippines
"Fitting in requires you to adjust and be part of an environment; whereas belonging requires you to bring yourself to the environment. It's important for people to be able to bring and share their culture authentically. It also depends on the environment that you have. I think Regions' culture and environment are very welcoming. I feel very supported here. And it's definitely a two-way street. I think we also need to project the energy to others that we're welcoming, and we're open, and you can talk to us."


Chun Schiros
Risk Model Validation Manager – Huntsville, Ala.
Immigrated to the United States from China
"Be comfortable being different. And I think that is just to be who you are. Everybody is different, and that's what makes America so great. You can be who you are in this country."


Abdul Wadood
Regions Mortgage Loan Originator – St. Louis, Mo.
Immigrated to the United States from Pakistan
"I think sometimes when people ask you where are you from, for example, my answer is 'I'm from Ballwin,' which is a suburb of St. Louis. But their follow-up question is often, 'No, really, where are you from?' So then you answer, and for a moment, you step back, and you feel that you're not a part of that fabric; you're not one of the colors of this fabric."
That experience, Wadood added, can be more difficult for the second generation than the first generation of immigrants. "For example, when they ask this question of my son, who was raised here, who went to school here, it's challenging for him to answer," he said.
One key to addressing the challenge is a strong sense of identity, often developed through a deep bond with one's heritage.
"We do a once-a-year family reunion, so the next generation can sit and connect with each other," Wadood said. "They want to make sure that, if I am successful, how can I help my cousin and my family be successful? And they're passing on that experience and knowledge and support system. And, all together, we'll be successful."
Reaching the Next Generation:
"What are some key pieces of your heritage that you want to make sure you pass on to younger generations?" Green asked.


Manav Misra
Chief Data and Analytics Officer – Birmingham, Ala.
Immigrated to the United States from India
"The connection with the family – some knowledge of where they came from, what their backgrounds are. My wife and I have very different backgrounds in India itself. So they need to learn both of those and develop that level of consciousness."


Al Li
Global Trade Finance Relationship Manager – St. Louis, Mo.
Born in the U.S. to Taiwanese immigrants
"My biggest regret in life is not holding onto my parents' language and not being able to speak Mandarin. Back then, I didn't see it as an advantage. Today, I see how it's an incredible advantage. So I always want to pass on to the next generation that pride in their culture. I want them to be proud to be bicultural, to be proud to be Asian, because it's not always an easy thing to come by when you're a kid."
Abdul Wadood
"For me, the most important part is the family unit and the language so they can still connect with their heritage. My parents are still in Pakistan. My son was very young when we migrated here. But he learned his grandfather's language over the phone just because he wanted to communicate with his grandpa in his language."
Gina Sian
"Filipinos love to laugh. We joke around all the time, and I really like that. It's not that we don't take life seriously; I think we don't necessarily let it define how we are and how we approach the world. I love that optimism. I love the resilience of it, and I want to carry that with me."
Earlier in the discussion, several pointed to the high expectations they have experienced over time. And that impacts how they encourage the next generation.
Chun Shiros
"I value praising my kids. I find that confidence is so important. There will always be people who may be better at something than you. You can only be better than yourself from yesterday. And I want my children to be confident, to believe in what they can do and achieve."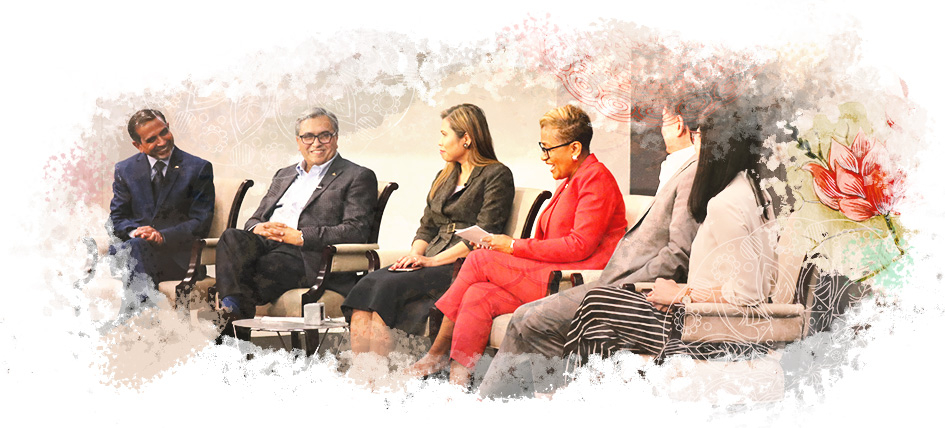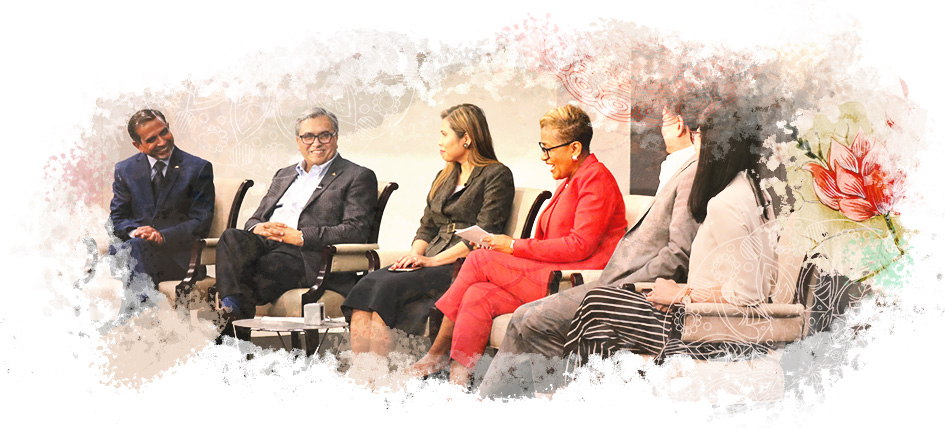 On the Issue of Stereotypes:
Another challenge is the experience of being viewed through an incomplete lens – one that doesn't take into account who an individual really is.
Manav Misra
"There's a stereotype that all Indians are either engineers, doctors, or they own gas stations… I think that the problem is probably more intense for the second generation. For them, they're trying to be comedians or actors and so on, and they get boxed into a particular area because everyone thinks that that's what they're good at."
Gina Sian
"One stereotype I hear is that Asians, especially women, are supposed to be subservient or that they follow what other people will tell them, and I think that is definitely problematic. I hope for any child who would hear that, that they can step up and be confident."
Each works to help others think beyond the stereotypes. It's important, too, for people from diverse backgrounds to help empower each other to reach their goals. In addition to his role at Regions, Al Li is president of the St. Louis Asian American Chamber of Commerce, where he helps people of Asian heritage reach greater positions of influence.
"When you look at the Fortune 1000 companies, only 2 percent of the C-suite is represented by Asians," Li said. "We work to encourage the Asian community by showing them representation of executive leaders and helping them aspire for positions of leadership and influence."
Some Closing Thoughts
As she concluded the conversation, Green read a comment Abdul Wadood had made as she was planning the discussion.
We have the same red blood. Why does the color of our skin change things?
Abdul Wadood, Regions Mortgage loan originator
"We were talking about the attacks that happened on mosques and other diverse places of worship," Green recalled. "And something he said that really resonated with me is, 'It's very difficult to hear when these things happen. I don't understand because we have the same red blood. Why does the color of our skin change things?'"
For a moment, the room went silent.
It was a sobering reminder of just how important it is to respect and value the lives and cultures of others.
Regions sees diversity and inclusion as more than ideals. Rather, they must be crucial elements of the fabric of the company.
"Fostering greater diversity and inclusion is an ongoing journey," Green said. "I hope people who joined us for the conversation left knowing something they didn't know when they walked in, and that many of the stereotypes that follow this diverse demographic have been refuted. We will continue these conversations – this ongoing journey – together."