Life is a collective caravan for Tanja Vanheyningen. She cheerfully journeys alongside others – co-workers, family members, and those in her community – doing all she can to help them reach their desired destinations.
Vanheyningen is an administrative assistant for Regions' Mortgage Fulfillment Center in Nashville. She supports more than 70 associates in 12 locations across the company's 15-state footprint while also aiding more than 100 mortgage origination partners of Regions.
Vanheyningen is a cheerleader for her team and is quick to recognize associates for their accomplishments.
She's also known for anticipating and responding to her teammates' needs.
Five years ago, she began adding an inspirational quote to the team's daily status report.
"Sending out something that would inspire or touch someone else helps me start the day out feeling accomplished," Vanheyningen said. "When people started responding positively to the quotes, I figured one was not enough. Now I add two quotes to the report."
In her 30 years at Regions, Vanheyningen has served in many roles, including management. Years ago, she intentionally transitioned to a support role to have more time with her son, who has Asperger's syndrome.
Vanheyningen's devotion to work-life balance paid off. Her son recently completed community college and now lives on his own.
"He just left the house this year. He works and has his own car," Vanheyningen said. "He's doing fabulously, and I am proud of him."
Now that Vanheyningen has helped her son reached maturity and her older identical twin daughters are married with families of their own, she has more time to help four-legged friends.
For the past three years, she has volunteered to transport animals in rescue caravans from the South to the Northeast. She meets a caravan volunteer to retrieve a dog left behind in a natural disaster and then drives 200-300 miles to pass the dog to the next caravan volunteer. The caravan rolls on until the dog reaches its new home.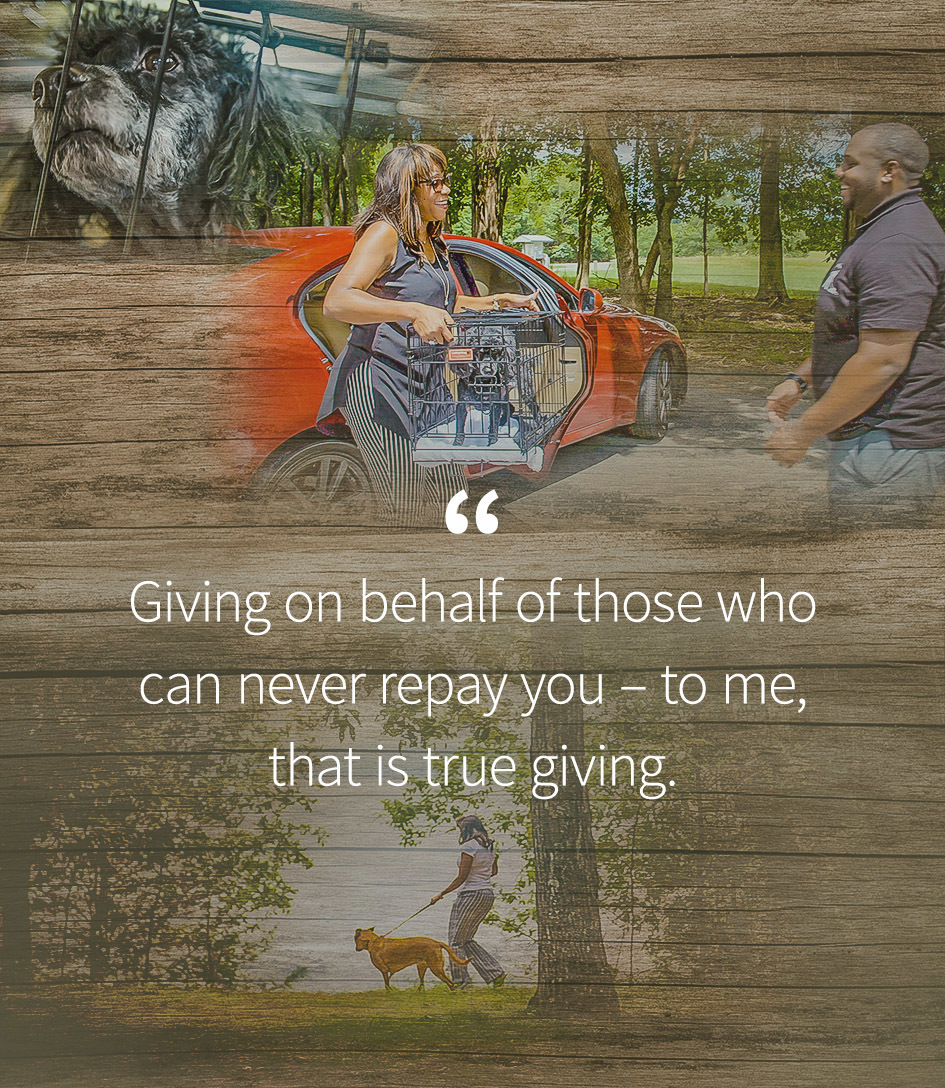 "I'm making a difference in not only the rescue dog's life but also for the forever family at the end of the caravan," Vanheyningen said. "Helping to transport rescues out of disasters or abusive situations to get them to safety gives me a sense of purpose."
Vanheyningen also volunteers with the Nashville Humane Association (NHA), a nonprofit committed to finding responsible homes for animals, controlling pet overpopulation and promoting the humane treatment of animals. She walks and feeds dogs and prepares them for veterinary visits.
Citing her enthusiasm for offering others a hand – or paw – up, Regions presented Vanheyningen the Better Life Award on Wednesday. The Better Life Award is the top honor given to a Regions associate for outstanding dedication and job performance, as well as exemplary involvement and commitment to the community.
In addition to the Better Life Award, Regions donates $1,000 in the name of the recipient to a nonprofit of the winner's choice. Vanheyningen chose the NHA. She's currently training to become part of NHA's outreach team that takes puppies to special events – like the annual Pup Rally at Nissan Stadium in Nashville, where dogs are put on display for adoption.
"To be actively involved in the community while helping rescue pups get adopted faster will be an immense feeling of accomplishment," Vanheyningen said. "These volunteers give countless hours of their time and resources for the safety of animals. Giving on behalf of those who can never repay you – to me, that is true giving."
To see Vanheyningen's passion for helping others in action, be sure to check out this video on Regions' YouTube Channel.