On an idyllic campus in the countryside, a half-hour from downtown Birmingham, lives are reclaimed day by day.
The WellHouse was founded in 2010. In the near-decade since, more than 430 survivors of human trafficking have come through the Alabama nonprofit, which provides a trauma center, safe housing, immediate assistance, a long-term recovery program and a transitional living apartment community.
"The Wellhouse gets calls from women and children all over the country," said Chapple Watkins, the WellHouse advancement director. "We work with law enforcement and receive rescue victims – sometimes from other organizations, like prison ministries, outreach and hospitals. And sometimes, the women call us directly on the hotline. We have a rescue team that brings them in."
Located near Interstate 20, which has been dubbed the "human trafficking superhighway," the WellHouse Immediate Shelter (TIS) provides food, lodging and clothing as well as therapy and medical services as the process of healing begins.
Those who stay move to the residential Next Steps to Freedom (NSF) program, living in an accommodation that houses 12 survivors at a time. They receive counseling, therapy and job training and are assigned mentors and social coaches.
Over time, they enter the Next Steps to Independence (NSI). A dedicated facility on the WellHouse campus, 14 survivors remain here for approximately one year, living in traditional apartments that provide a safe place as women transition their lives.
"There is a lot of independence that comes from moving from the NSF to the NSI," Watkins said. "It takes a lot of work and a lot of healing to get there."
Survivors must hold a full-time job during their stay at NSI, or work toward a degree while maintaining part-time employment.
Dixie, a human trafficking survivor, has gone through both programs and now works on staff, helping other survivors. More importantly, she's returned to full-time employment while reclaiming her relationship with her children. They shared an on-campus apartment with her this summer, and she said, together, "we are healing."
None of this would have happened without WellHouse staff and volunteers. And a higher power.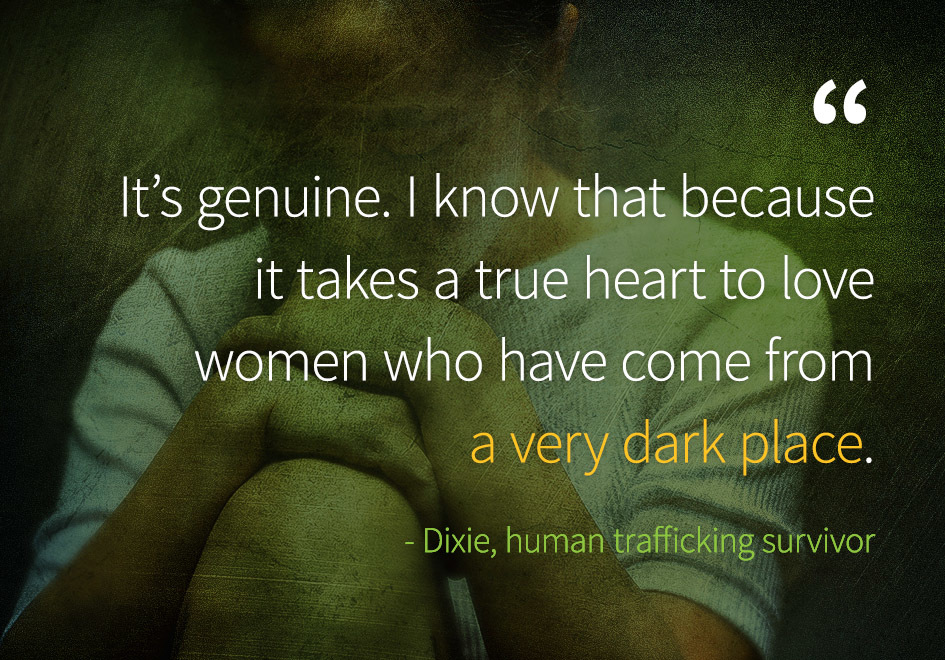 "God has provided me the people at WellHouse, the volunteers from Regions and women in this position to impact my life," she said. "What's been most helpful is the love from the staff here. It's genuine. I know that because it takes a true heart to love women who have come from a very dark place."
Doug Gilmer has seen some of the darkest places. The Resident Agent in Charge of Homeland Security's Birmingham office, Gilmer often makes the call to WellHouse when law enforcement rescues victims of human trafficking or sexual exploitation.
"The WellHouse is the nearest resource of its type," Gilmer said. "These people sincerely care and are committed to their mission and to their support network. And they are a faith-based organization. There is no stronger motivator than a person's faith, because it's that faith that draws one to help victims."
Unfortunately, there are always others that will need the WellHouse's help. According to law enforcement statistics, there are hundreds of people trafficked in Alabama each day. Multiply that across the region, the nation and worldwide – and the impacts of human trafficking are astonishing. That's why places like the WellHouse are critical.
"There's a definite need, and we are working on being able to expand our services to rescue and serve child trafficking victims," said Watkins.
Regions associates support WellHouse staff through volunteerism with daily tasks. They also teach financial literacy and long-term goal setting through a curriculum that helps WellHouse survivors take the next step toward freedom.

Lee Taylor, a Regions associate in Birmingham, said she volunteers because "those women could have so easily been me when I was young – or my own daughter today. Each of these women is someone's daughter. And the strength and courage they've shown to turn their lives around is incredible. I go there to pour into them, and encourage them, but I always walk away encouraged by them instead."
Volunteerism makes a difference.
"It's so vitally important," Dixie said. "Money is the key to what happened to us in the first place. Each of these women know how to talk money. Even if they never had ownership over the money they were forced to make. Here, they are teaching the women how to budget and be in control of their money instead of letting money control their lives."
A promising college student before her life took a wrong turn, Dixie now has something new – thanks to the WellHouse.
Hope.
"Five years ago, I was a helpless victim. I felt worthless as a person and ashamed as a mother," she said. "Since then, I've become a really good, loving, worthy mother. And I have a future I can believe in for me, and for my children."