It's not easy getting into the Business Academy at Richland High School, and that's on purpose.
"Students must apply for the classes," said Tina Craft, the teacher who leads the academy at the suburban Jackson, Mississippi, school. "They can make a video, write an essay or write a poem to express themselves. I just need to know they're motivated and they'll be a self-starter."
Some of Craft's – and Richland's – most motivated students took center stage recently for the Financial Scholars Debates, a fierce competition that capped an academic year of financial education provided by Regions Bank and EverFi, a financial education software company.
They were joined by Mississippi State Treasurer Lynn Fitch, who was on hand to kick off National Financial Literacy Month.
"Financial education is so important for every child in the state of Mississippi, and for the future of Mississippi," Fitch said. "No matter the career you choose or the pathway in life you take, financial education is the fundamental first step."
Twenty juniors and seniors from Richland debated on topics ranging from the decision to buy or rent a condo to the choice between paying off student loans early or investing long-term.
Richland senior Mason Peavy won first place in Business Finance in the State DECA competition. He's also the son of bankers – his mother, Donna, is a Branch Administration Specialist at Regions. While he learned good money-management skills at home, the Regions Next Step Financial Education program helped him get ready to embark on his first year of college next fall at Delta State.
"These classes prepare you for when you're an adult and on your own," Peavy said. "You learn the importance of money management because you learn it's your money, and you need to be financially independent."
The commitment from Regions is year-round at Richland – and to the 18,000 students across 11 states who participated in the Next Step Financial Scholars program during the 2017-18 school year through 68,000 hours of digital learning. In Mississippi alone, more than 3,500 students have participated in the program.
"This program is excellent," Craft explained. "My freshman class is working through it now. And what sets this apart is that it's taught in a language these students understand. That's so important."
Providing this financial foundation is important to Regions because the bank is a part of the Richland community.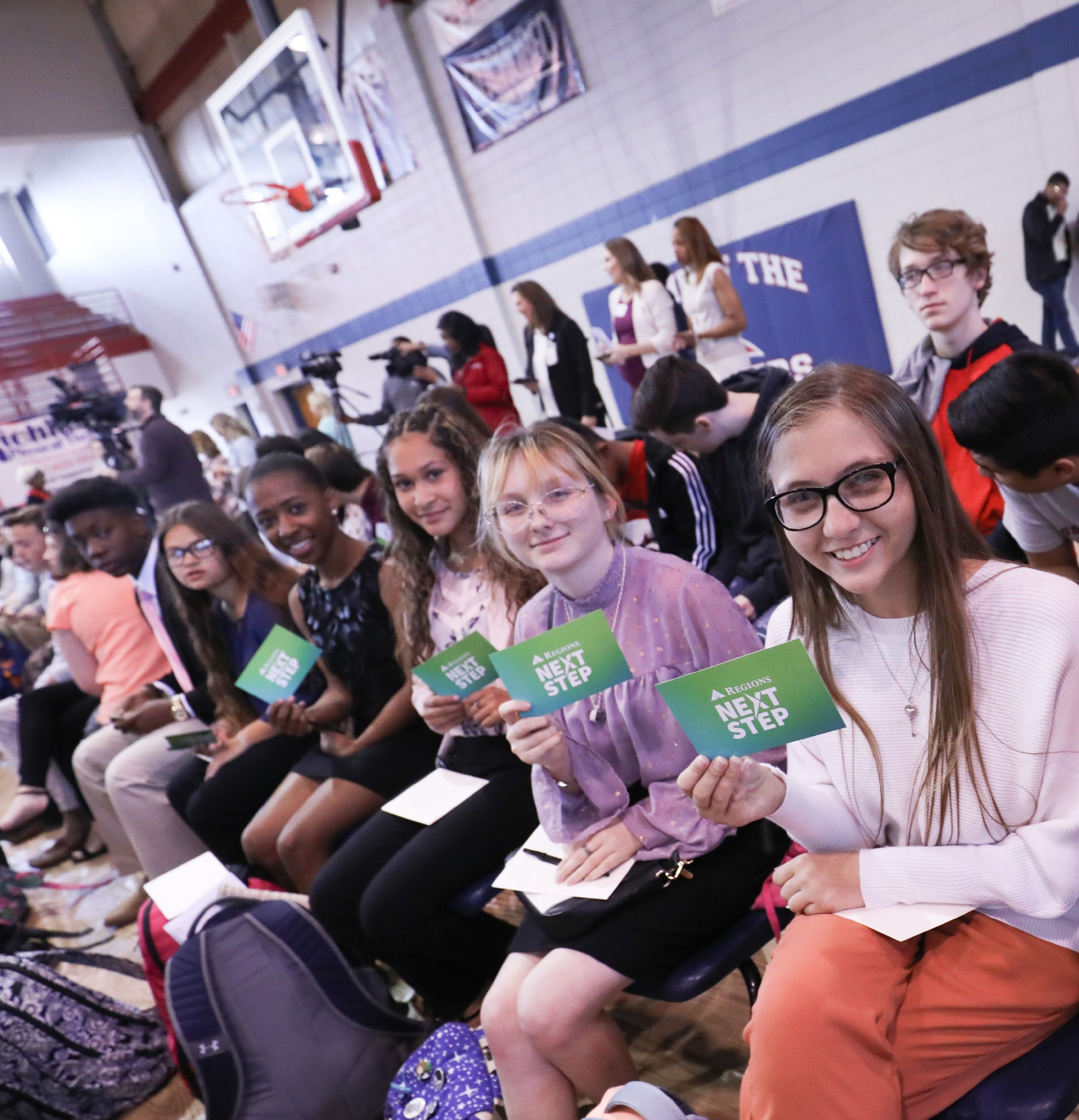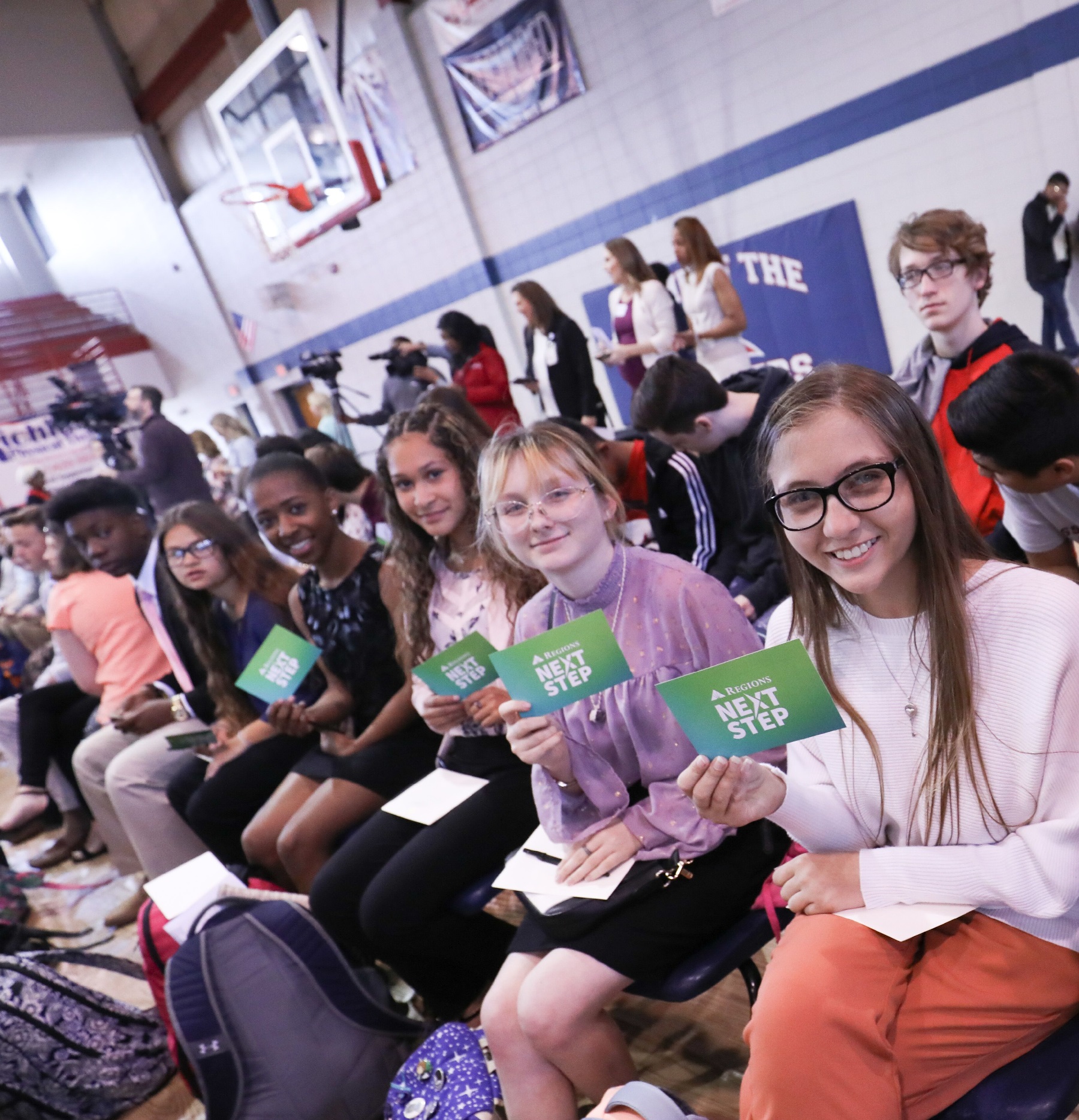 "This school is located in a close-knit community," said Candie Simmons, Geography Marketing Strategist for Regions based in Jackson. "Everyone goes to church together and shops together. And Regions is here, with a branch just down the street. That's why this program deepens our relationship."
Since taking office in 2012, Fitch has made financial literacy a priority with her TEAM – Treasurer's Education About Money — initiative. She notes that statewide testing shows marked improvement.
"This is a public-private partnership," Fitch said. "To have someone like Regions involved, it says, 'I believe in youth. I know you can be successful.' Thank you, Regions, for being a wonderful partner and for supporting these students."
Support and resources are vital to the students participating. And providing access to better futures is key to the community's growth and wellbeing, Fitch said.
"As you look and decide your Next Step," Fitch told the students, "know that we want you here as part of the tapestry of this great state."