No matter their product or service, practically every entrepreneur or small-business owner faces a key challenge: how to create a company that's well-positioned for long-term success.
But in underserved areas of Metro Atlanta, there is also a key resource. And now, that resource is able to support more business growth.
Fifty promising small-business ventures were recently selected for the 2020 Start:ME Accelerator Program. The program is part of Emory University's Goizueta Business School. It's a free, intensive 14-session training curriculum designed to nurture and strengthen promising companies in the areas of East Lake, Clarkston and Southside Atlanta.
The Regions Foundation, a nonprofit initiative of Regions Bank, awarded a $200,000 grant to support six Start:ME accelerator program cohorts over two years.
Bill Lingfelter, Atlanta Market Executive for Regions Bank, said the donation can help strengthen the economy and support job creation.
"The result of this investment from the Regions Foundation will be more inclusive prosperity across our community," Linginfelter said. "Start:ME is having tremendous success with entrepreneurs and small-business owners who, in turn, create jobs, provide important products and services, and strengthen the economy. Regions Bank and the Regions Foundation have a long history of making investments that support people and opportunities in the communities where we live and work. And we are proud to join with Start:ME in supporting successful entrepreneurship in Atlanta."
Throughout the Southeast, Midwest and Texas, the Regions Foundation invests in three key priorities:
Economic and Community Development
Education and Workforce Readiness
Financial Wellness
Marta Self, Executive Director of the Regions Foundation, said investing in Start:ME is a natural extension of the Foundation's work.
Small businesses are the backbone of our communities.
Marta Self, Executive Director of the Regions Foundation
"Small businesses are the backbone of our communities, and the Regions Foundation is proud to invest in the people and organizations that create a strong economic engine for a community's success," Self said. "Through the Start:ME program and the investment by the Regions Foundation, entrepreneurs and small-business owners in underserved areas are provided access to skills, insights, local experts and new opportunities for success. The Regions Foundation's investment will support long-term economic growth for Clarkston, East Lake, Southside Atlanta and the broader metro area."
Start:ME draws talented entrepreneurs that live in, work in, and/or provide valuable products and services to underserved areas. During the 14 training sessions, and well beyond, Start:ME connects entrepreneurs to the business know-how, networks, and capital needed to build and develop sustainable local companies.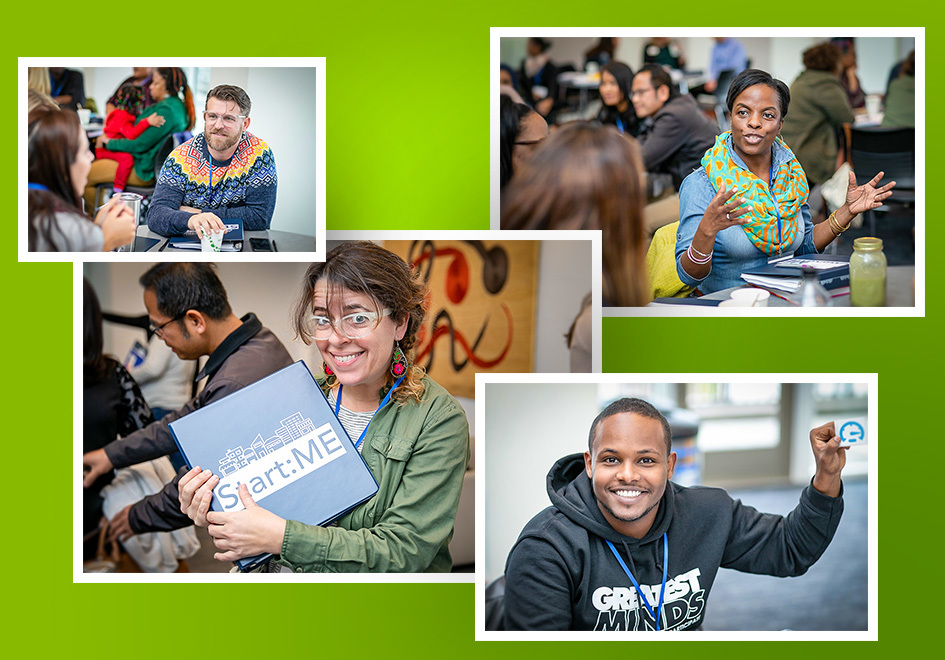 "The Start:ME program supports a diverse group of small businesses representing a range of industries – from fresh juices to baked goods, construction to clothing, education to ecofriendly manufacturing – all based right here in Atlanta," said Erika H. James, John H. Harland Dean of the Goizueta Business School. "It focuses on entrepreneurs whose promise and dedication will create both strong businesses and good job opportunities in their local communities. This program reflects the conviction of our namesake, Roberto C. Goizueta, that business should have a positive impact on society."
Ventures in the current Start:ME cohort account for 127 jobs. Of the 50 businesses:
74% are women-led
86% are led by people of color
74% have existing revenue: Average revenue is $25,000; combined revenue is $933,000
32% operate in the food/beverage industry
24% provide professional services
16% focus on health, beauty and fitness
All three communities offer peer-selected grant pools of $10,000 to help the most promising businesses get started or build scale.
Since its inception in 2013, Start:ME has supported 208 businesses accounting for more than 338 jobs.

Of those businesses, 30 have brick-and-mortar locations. The program has peer-selected 39 ventures to receive more than $200,000 in startup capital.
Start:ME also engages more than 75 volunteer mentors with significant professional business or entrepreneurial experience to provide coaching support.
The 2020 cohort was selected from a record pool of more than 280 applications.