Regions' commitment to community engagement is year-round. But Giving Tuesday – celebrated on the Tuesday following Thanksgiving – is a good opportunity to reiterate our support for nonprofits that are making a valuable difference. Here are just a few examples.
Veterans Bridge Home:
In 2011, Veterans Bridge Home opened its doors in Charlotte, North Carolina, to support veterans and their families in five key areas: facilitating a resource network; offering employment assistance; conducting monthly events to build social capital; assisting with direct housing aid; and providing mental health support.
In 2018 alone, Veterans Bridge Home served 1,382 unique military families, providing or connecting them to nearly 3,500 services. Veterans Bridge Home also conducted five hiring events, resulting in the scheduling of 230 follow-up employment interviews. Lastly, they hosted 250 social events drawing 4,000-plus attendees.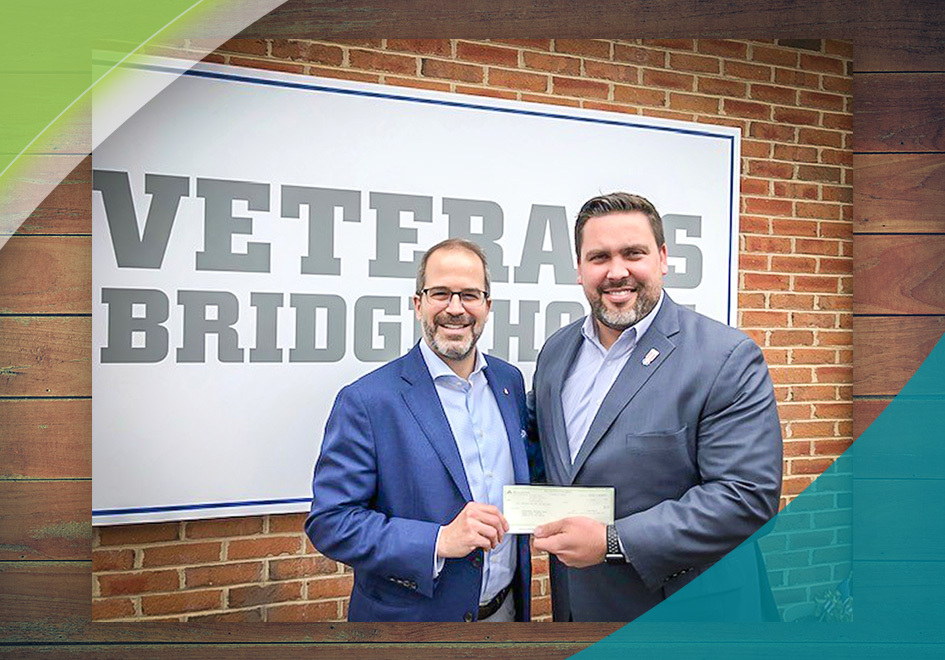 For Giving Tuesday, Regions proudly presented Veterans Bridge Home with a $5,000 check in support of the agency's programs and services. The gift is part of Regions' broader commitment to community engagement in the Queen City, an area where the bank has seen tremendous growth in recent years.
Separately, Veterans Bridge Home was the Charlotte-area nominee for the bank's 2019 "What a Difference a Day Makes" contest, which raised awareness, volunteerism and financial support for 15 nonprofits serving veterans.
Second Helpings:
In 1998, three chefs were troubled by the contradiction of Indianapolis people going hungry while food was being wasted. They created Second Helpings to help bridge the food insecurity gap. Today, Second Helpings volunteers prepare nearly 5,000 meals distributed daily to 90-plus social service agencies. And since its founding, the agency has rescued more than 34 million pounds of food that would have otherwise gone to waste.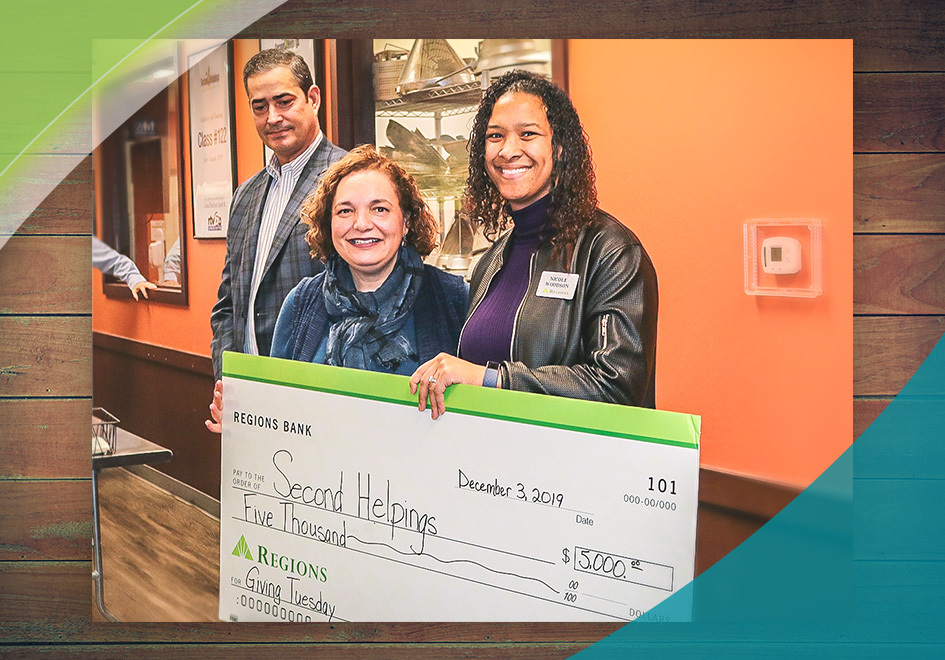 Second Helpings also conducts a Culinary Job Training program, which offers free professional kitchen training to people who are unemployed or underemployed. There are nearly 900 program graduates working in Indianapolis-area restaurants today.
On Giving Tuesday 2019, Regions presented Second Helpings with a $5,000 check to support its efforts to feed those in need. It's the latest collaboration between the bank and Second Helpings during their decade-long partnership, which includes a "What a Difference a Day Makes" social media campaign victory in 2017.
Big Brothers Big Sisters of Eastern Missouri:
For 115 years, creating meaningful, one-to-one relationships between children and adults has been at the heart of Big Brothers Big Sisters. What impact has the nation's oldest and largest mentoring organization achieved? Serving more than two million youth in just the past decade.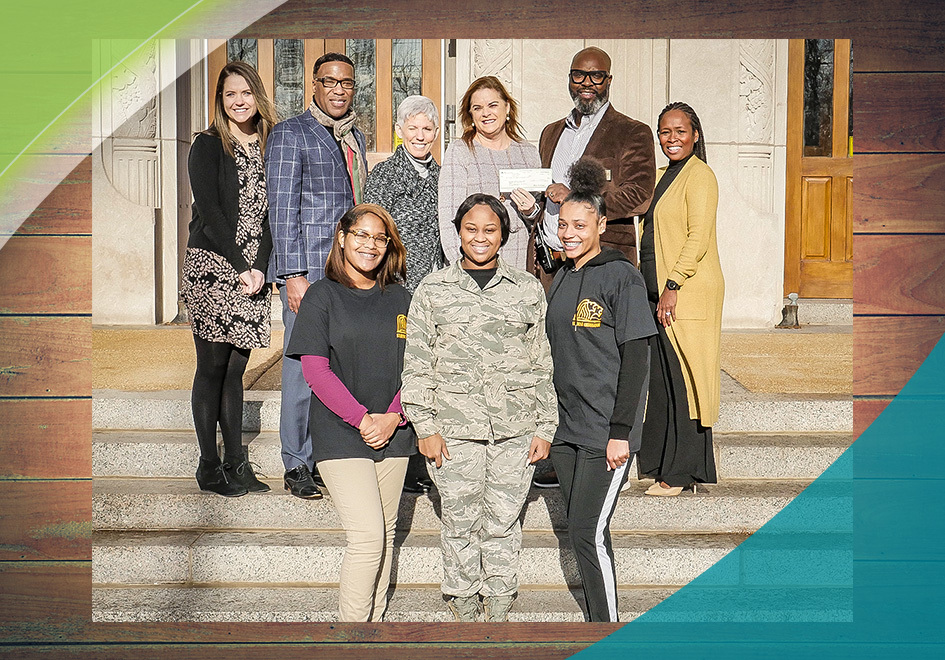 For the past three years, Regions has proudly partnered with Big Brothers Big Sisters of Eastern Missouri in support of the nonprofit's ABCToday program at University City High School near St. Louis. By focusing on the factors of Attendance, Behavior and Course performance in reading and math, the initiative is designed to improve student outcomes and help ensure future success.
On Giving Tuesday 2019, Regions presented Big Brothers Big Sisters of Eastern Missouri with a $20,000 check in support of its ABCToday partnership.
Junior Achievement of Eastern Iowa:
Recent visitors to Junior Achievement in Waterloo, Iowa, had the opportunity to see global commerce in action as high school juniors and seniors participated in the JA Titan Challenge. The day-long event offered students their turn to sit in the CEO's seat at a virtual company to gain a greater understanding of business. Future entrepreneurs learned some of the ins and outs of navigating a competitive, high-tech marketplace through the program's interactive, hands-on format.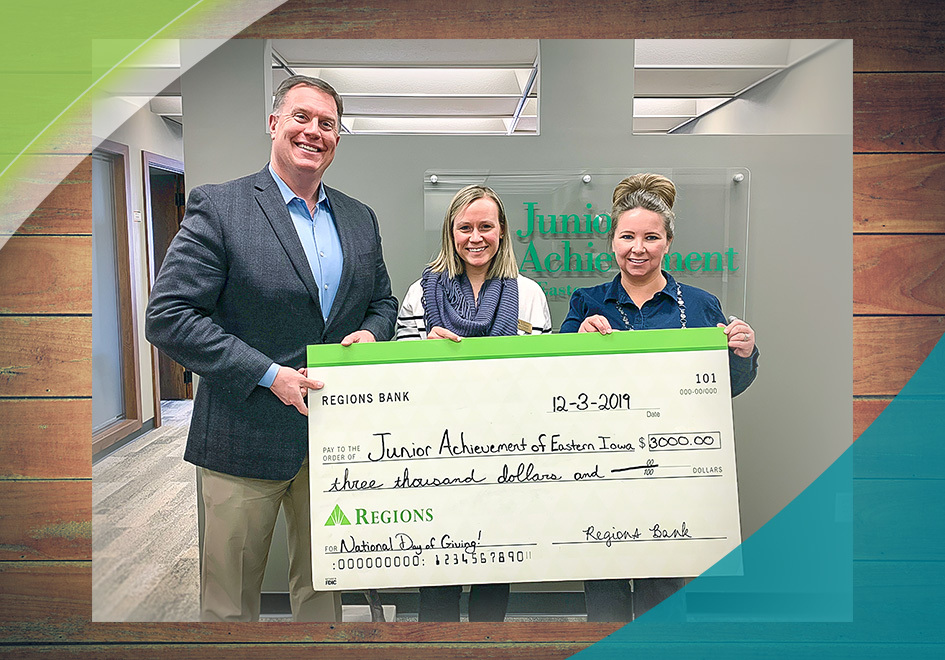 Nationally, Junior Achievement serves nearly five million students each year. Regions has been a proud JA partner in Eastern Iowa for several years.
On Giving Tuesday 2019, Regions presented Junior Achievement of Eastern Iowa with a $3,000 check to support agency programs and demonstrate its commitment to financial education. Regions is committed to serving Waterloo and Eastern Iowa – and recently celebrated the area through this "Good Towns" travel feature spotlighting unique amenities in Waterloo and surrounding towns.
In Conclusion:
While Giving Tuesday offered several opportunities to deliver financial support, at Regions, community engagement is about more than writing a check. Volunteerism is ingrained in the culture at Regions, and our associates work throughout the year to serve nonprofits that are creating more inclusive prosperity across our communities. More information on Regions' strategic approach to service can be found in the updated Community Engagement section of Regions.com.