Katrina Turnbow traveled a long way to get small-business coaching in Atlanta.
"I came here from Detroit because I truly value these opportunities," said Turnbow, founder of Kanopi Social, a boutique digital marketing and consulting firm. "And I'm a big Michael Porter fan. I read his book when I was 18, and it totally changed my perspective on business."
Porter, a renowned Harvard Business School professor, founded the nonprofit Initiative for a Competitive Inner City to fuel economic prosperity throughout America's urban communities. The idea was to combine the power of advanced education with private-sector investment. From there, Inner City Capital Connections was born.
The focus of ICCC: creating more economic development, supporting new jobs and creating sustainable incomes by nurturing locally owned businesses – and helping them thrive. Since 2014, ICCC has teamed with Regions Bank to organize tuition-free, high-impact training sessions for business owners. Likened to a "mini-MBA on steroids," the all-day events are custom-tailored for entrepreneurs wanting to take their businesses to the next level.
The ICCC Atlanta event on Sept. 12 drew a capacity crowd of more than 150 people to hear top academics offer insights into marketing, growth strategies and management tactics, followed by a high-energy panel discussion from capital lenders on accessing investors.
UAB Collat School of Business Professor Dr. Anthony C. Hood made the short drive from Birmingham to teach a session on resolving conflicts, an interactive discussion during which business owners opened up about problems they have faced.
"I have terrific classes of college students, mostly undergraduates," said Hood, the Director of Civic Innovation in the Office of the President at UAB. "But they don't understand the relevance of what we're teaching today. These folks do, and they're getting information they can utilize immediately. You saw them furiously taking notes."
Back-to-back, in-person teaching sessions are just one component of ICCC. The program also connects business owners with one-on-one coaching provided by Regions bankers and other experts who lend their expertise to help entrepreneurs refine their business plans.
Over time, there are virtual webinars, follow-up coaching and even a national conference in Boston for companies that are ready to take the next step and access investors who can support their growth.
"We call it a kinder, gentler Shark Tank, and it is — and will be — a life-changing experience," said Steve Grossman, CEO of the Initiative for a Competitive Inner City.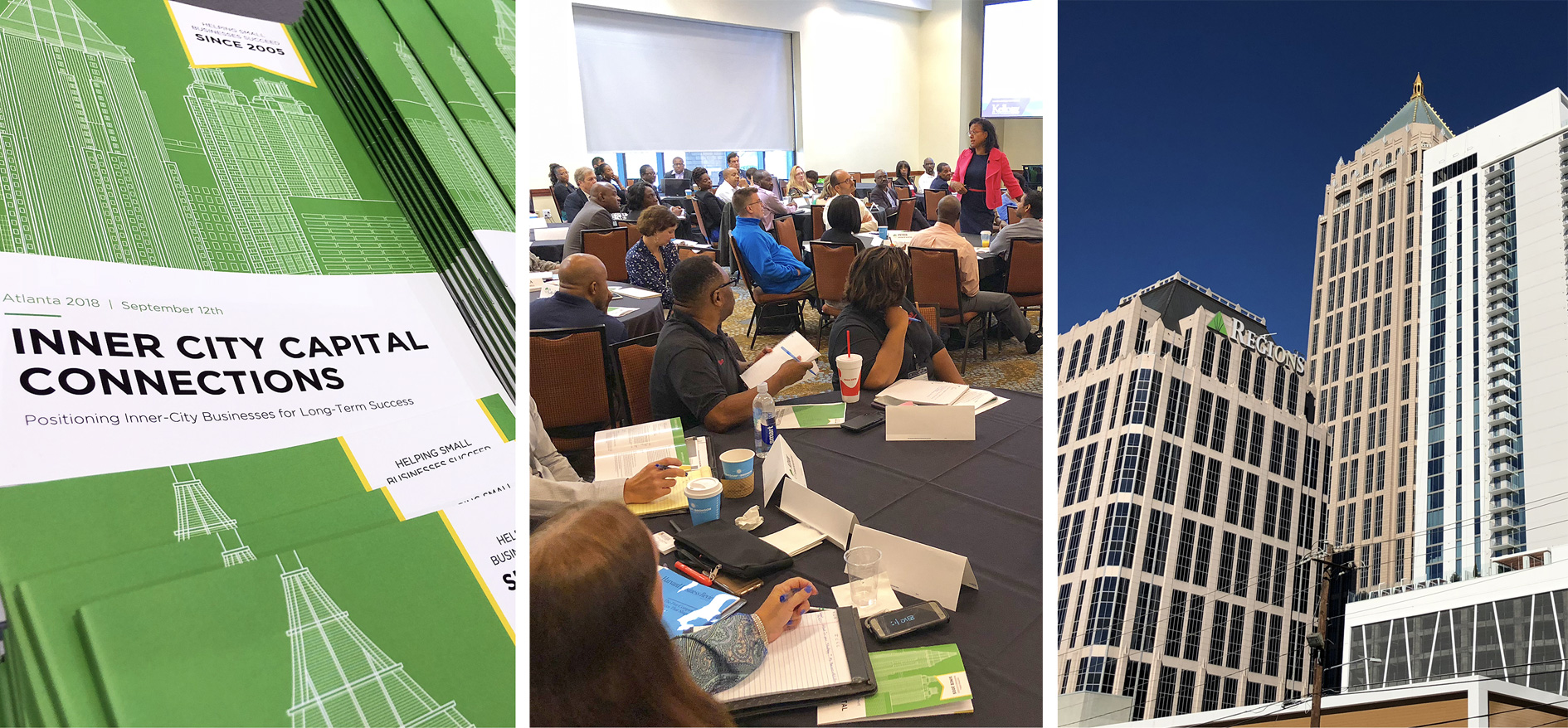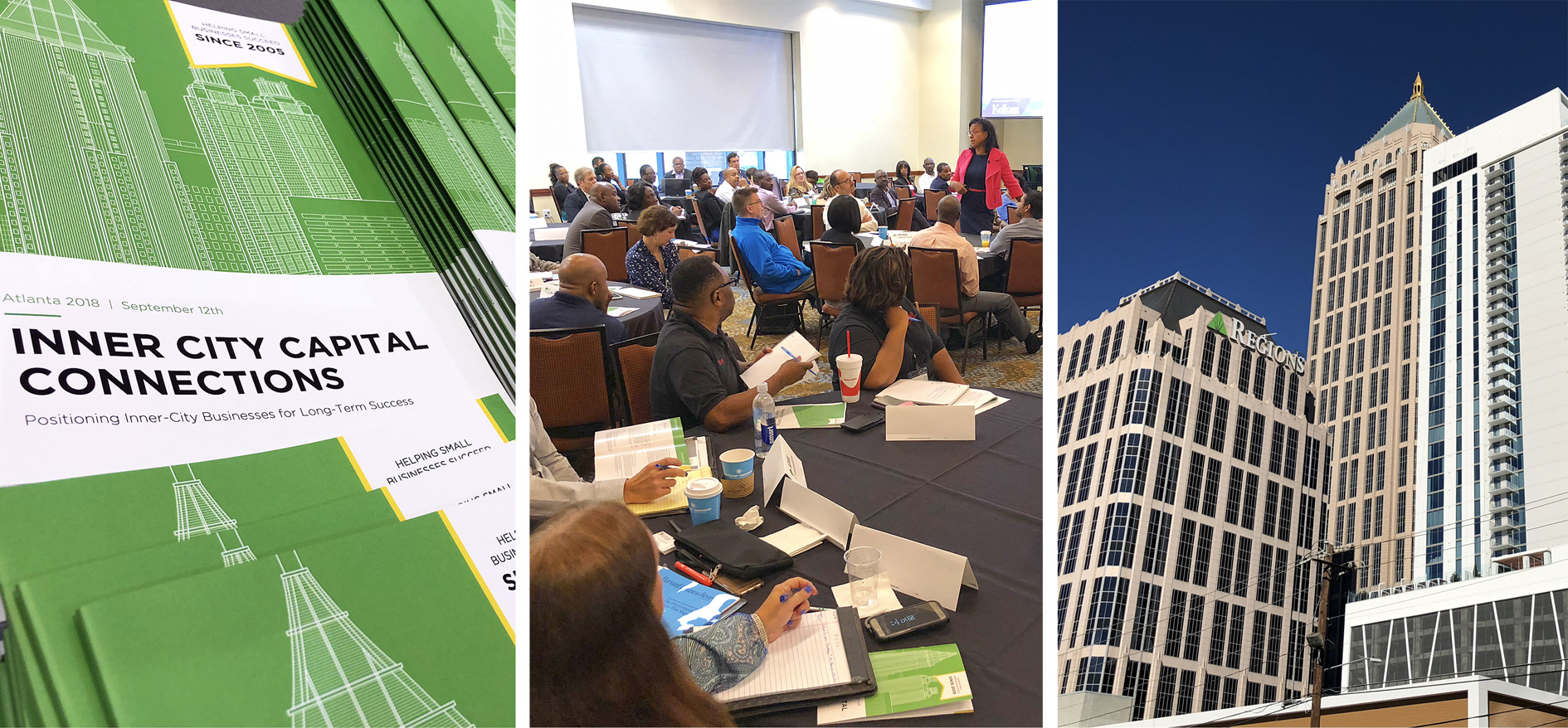 While ICCC Atlanta was geared toward businesses based in the metro area, Katrina Turnbow wasn't alone in traveling a great distance to access the education. Others came from Birmingham, Miami and beyond. Ten students and two faculty members from The Busch School of Business at Catholic University of America road tripped to Atlanta to attend.
The university and ICIC have an ongoing partnership, and an aspect of the Innovative Entrepreneurship Minor curriculum at the Busch School connects students with business owners to gain valuable experience and insights as they prepare to become the next generation of entrepreneurs.
According to Brian Becker, director of small business outreach for the university, students "were buzzing" the whole return trip because of the experience.
"The aim of their class this semester is to give students practical experience in helping small- and -medium-size businesses analyze their situations, markets and opportunities; communicate with various stakeholders; and implement business strategy," Becker said.
Regions' role in sponsoring ICCC is to provide small businesses, whether they bank with Regions or not, with the tools to succeed, said Bill Linginfelter, Regions' Atlanta Market Executive.
"We are going to do everything we can to ensure there are sustainable jobs and sustainable opportunities," Linginfelter said.
Judging by the reactions Wednesday, more business owners – from cities across the country – are now empowered for growth.
"There was just so much electricity and energy here today," UAB's Hood said. "It made my job much easier. These owners are creating their own content and stories. You just can't duplicate the interaction."