HOOVER, Ala. – Nov. 8, 2019 – Associates from Regions Bank on Friday presented a donation of $11,300 to support services for injured veterans at Birmingham's Lakeshore Foundation.
It's a tradition that's now seven years strong. Each year, in the weeks ahead of Veterans Day, Regions associates at several corporate facilities in Birmingham and Hoover purchase custom-designed T-shirts paying tribute to veterans. They wear the shirts to work on the Friday before Veterans Day – and proceeds from shirt sales are then given to Lakeshore Foundation.
Lakeshore Foundation uses the money to support its Lima Foxtrot program, which offers innovative rehabilitation services and recreational opportunities for military members with a wide range of injuries. Over the last 13 years, Lima Foxtrot has reached more than 2,600 injured servicemen and women, along with family members, from 47 states, as well as Washington, D.C., and Puerto Rico.
"Regions' appreciation for the military community is year-round, and our Veterans Day T-shirt fundraiser gives us a unique opportunity to build on our support for a program that's making a valuable difference," said Chris Brasher, head of Bank Operations for Regions. "We have many veterans among our workforce, and we have a deep respect for the service and sacrifice of military families. This fundraiser is one way we can show our appreciation and admiration for those who have given so much to protect our freedom – while supporting services for veterans whose lives will be touched by Lakeshore Foundation."
Including this year's donation, Regions associates have raised more than $78,000 for Lima Foxtrot since the fundraiser started in 2013.
"The support from Regions associates over the years is just incredible, and we are very thankful for this great project, which helps us serve our injured service members and their families," said Jeff Underwood, President of Lakeshore Foundation. "Regions has supported our injured military programs from the beginning, and their continued support makes it possible to provide sports and recreation at no cost to our injured service members."
As part of Regions' year-round commitment to supporting military members and veterans, the bank employs a Manager of Service Members and Veterans Affairs, who consistently focuses on ways Regions can serve members of the Armed Forces – both within Regions' workforce and across the bank's communities. Regions also takes steps to ensure associates who are service members are supported professionally while they are deployed and when they return. Additionally, the bank offers specialized financial services for military members and their families.
This November, Regions is also administering a grant award program as part of its What a Difference a Day Makes campaign. The campaign highlights nonprofits that provide essential services for veterans and military families. Members of the public can learn about participating nonprofits through Regions' news website and vote for their favorites. Based on vote totals, Regions will award financial contributions and volunteer hours to each organization. More information can be found at regions.doingmoretoday.com.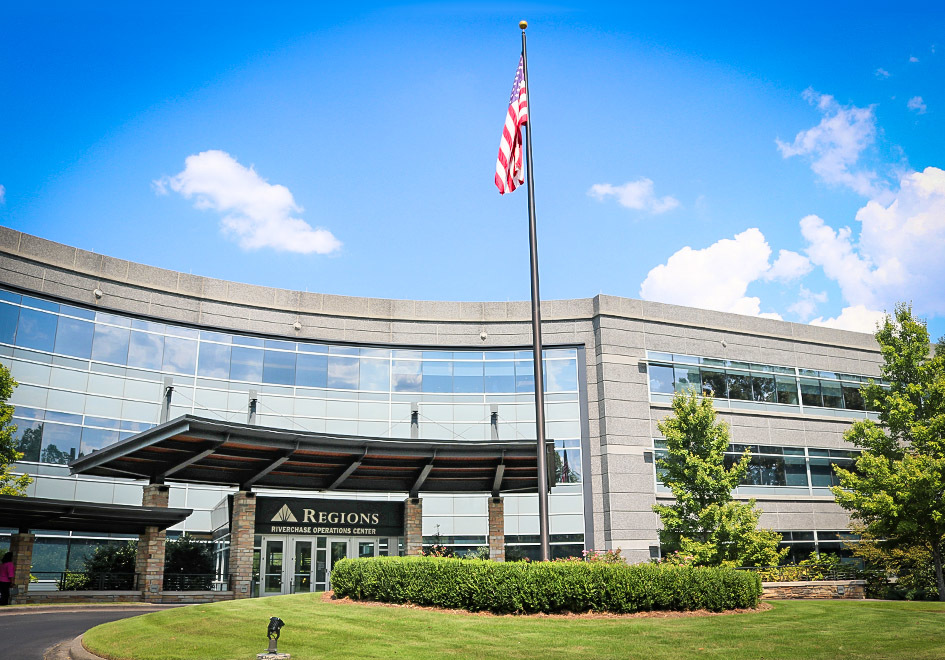 About Regions Financial Corporation
Regions Financial Corporation (NYSE:RF), with $128 billion in assets, is a member of the S&P 500 Index and is one of the nation's largest full-service providers of consumer and commercial banking, wealth management, and mortgage products and services. Regions serves customers across the South, Midwest and Texas, and through its subsidiary, Regions Bank, operates approximately 1,500 banking offices and 2,000 ATMs. Regions Bank is an Equal Housing Lender and Member FDIC. Additional information about Regions and its full line of products and services can be found at www.regions.com.
About Lakeshore Foundation
Lakeshore Foundation is an internationally renowned, nonprofit organization serving more than 4,000 unique individuals with physical disabilities and chronic health conditions annually through physical activity, sport, recreation, advocacy, policy and research. More information is available at www.lakeshore.org.