Cedric Cobb remembers sitting at the foot of the stage when he attended the 2016 ICCC St. Louis program. He positioned himself in front to soak up every idea.
"I ran out of paper that day," he said.
Cobb was in awe as he listened to guidance from business experts, "an amazing parade of people," as he describes them, who shared their experience and insights to help entrepreneurs grow their companies.
ICCC stands for Inner City Capital Connections. Likened to a "mini-MBA on steroids," ICCC connects business owners in urban or economically underserved areas with tuition-free business training as well as coaching and mentors.
The goal: small-business growth. The result: more inclusive prosperity.
We want St. Louis to be a welcoming environment for everyday people to become business owners.
Valerie Patton, St. Louis Regional Chamber Senior Vice President of Inclusion and Talent Attraction
The program that received rave reviews from 2016 participants like Cobb is returning to the Gateway City in 2019. Interested entrepreneurs are encouraged to apply now.
Indeed, Cobb's company has grown a lot since he sat at the front of the classroom. He credits ICCC with providing him knowledge he continues to leverage in growing his business.
What specific takeaways stood out to Cobb?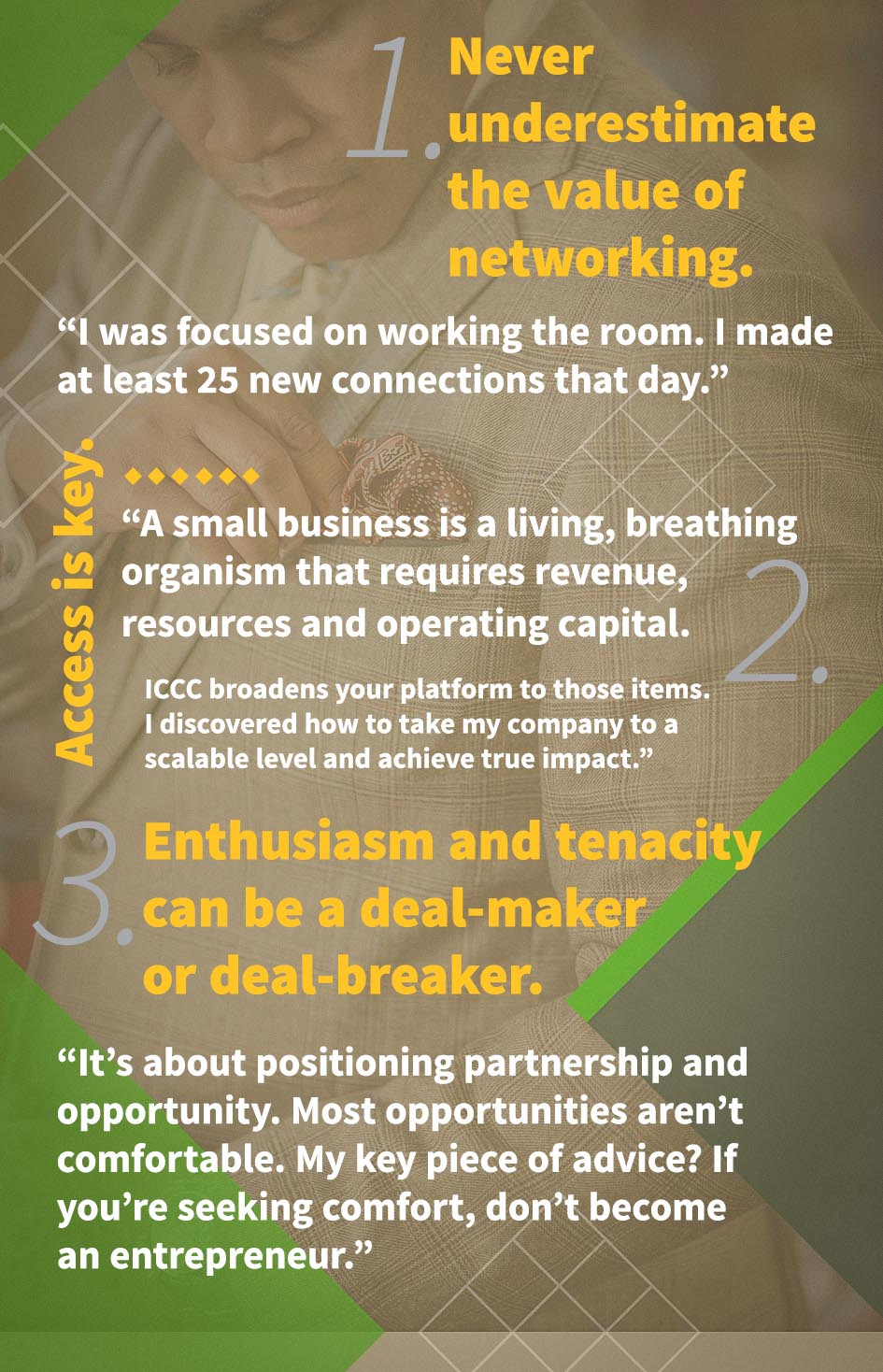 Cobb showed no hesitation stepping out of his comfort zone when he appeared on ABC's "Shark Tank" to pitch his "Best Pocket Square Holder" invention, a piece to help fashion-forward gentlemen keep their pocket squares neatly in place. The pocket square holder is just one piece of Cobb's attire company, Best Wardrobe Solutions.
Cobb's persuasive pitch landed a big-name business partner – Daymond John, CEO of the FUBU fashion line and a "Shark" known for his branding expertise.
"Cedric's story illustrates the power of ICCC to be a catalyst for entrepreneurs," said Mike Hart, Greater St. Louis Market Executive for Regions Bank. "What he learned from the program has helped him connect with additional investors, reach a national audience and take his company to the next level."
John liked what he saw during Cobb's presentation and made him an offer to keep production of the pocket squares in the United States.
Steve Grossman, CEO of the Initiative for a Competitive Inner City, which conducts ICCC, recalls Cobb possessed raw talent as a front-row attendee when he attended the 2016 program.
"Cedric is an impressive entrepreneur whose value proposition and eloquent communication skills have contributed to his success," said Grossman. "We're proud and honored that his participation was a critical factor in the development of his business strategy."
While ICCC connects entrepreneurs with mentors and coaches, the heart of the program is an all-day series of intense, interactive education sessions. In 2019, the main ICCC event is scheduled for Sept. 10.
Scheduled presenters include:
Susan Perkins: Visiting Professor with the Kellogg School of Management at Northwestern University and Associate Professor of Strategic Management at the University of Illinois-Chicago
Gail Ayala Taylor: Clinical Professor of Business Administration at the Tuck School of Business at Dartmouth College
Steve Bookbinder: A nationally sought-after consultant who works with Fortune 500 companies on workforce and leadership effectiveness
Derrick Collins: Dean of the College of Business at Chicago State University
All program resources are provided to qualified business owners at no cost.
Small-business owners interested in learning more about ICCC and its criteria can visit the ICCC St. Louis website, linked here.
Applications are due by Aug. 31, 2019.
For those who qualify for the program, sustainable business growth may soon follow. According to ICIC, alumni from the 2016 ICCC class have averaged 91% growth in revenue, created 170 jobs and raised $13.5 million in capital in just three years.
Those results inspired the St. Louis Regional Chamber to join Regions again as a 2019 ICCC sponsor.
"ICCC is a way for more St. Louis-based business owners, particularly people from diverse backgrounds, to gain the knowledge and capital they need to continue their growth," said Valerie Patton, St. Louis Regional Chamber Senior Vice President of Inclusion and Talent Attraction. "We want St. Louis to be a welcoming environment for everyday people to become business owners, for entrepreneurs to build upon our resources, and for talented people to come and seize the wealth of opportunities we have to offer."
As for Cedric Cobb, his pitch to "The Sharks" aired April 28. To celebrate, Cobb hosted a watch party at City Hall in St. Louis. Mayor Lyda Krewson and other leaders attended.
"We took City Hall by storm," said Cobb. "It was awesome."
Cobb reflects on the high-energy gathering as "a great mix of Hollywood, Las Vegas and church." And speaking of Hollywood, there are several celebrities and professional athletes who don Cobb's Best Pocket Square.
Cobb's key message to those considering applying for ICCC 2019 in St. Louis? Go for it.
He's not alone. Consider the story of Keisha Mabry, linked here. And this story, from Freddie and Deborah James.
There are hundreds of other success stories, too.
"There is more access out there," said Cobb. "We need to keep believing in other businesses, and business will then believe in us."