Paying down debt. Saving more money. Planning for major expenses.
Let's face it: Managing money can be a difficult, and sometimes even daunting, task.
But it doesn't have to be that way. This year, Regions teams across the Southeast, Midwest and Texas took a fun, interactive approach toward helping people take charge of their finances. In fact, this marks the eighth year Regions has organized Financial Fitness FridaysSM events.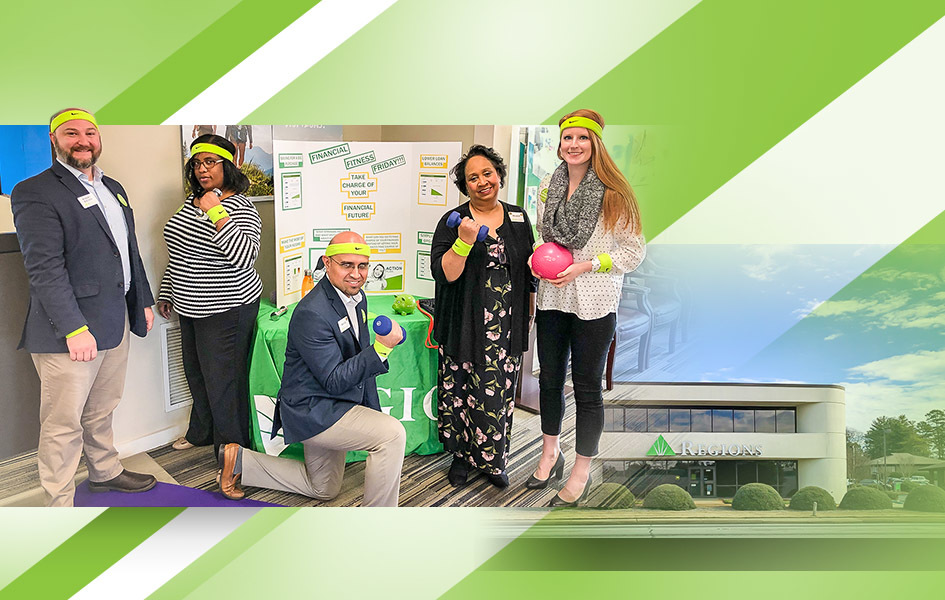 Consider our friends at the Regions branch in Anderson, South Carolina (above). Branch Manager Miguel Valadez and his team welcomed customers and community members for one-on-one conversations about how to reach personal financial goals.
Topics were tailored to meet individual needs. Saving for retirement? Regions teams can help you get in financial shape. Planning for college tuition costs? They can help there, too. And in many other ways.
"We encourage people that, no matter how much, or how little, you have to work with, the time to start thinking about your financial future is now," Valadez shared. "Our team has experience in helping people develop a plan for getting from where they are today to where they want to be in the future."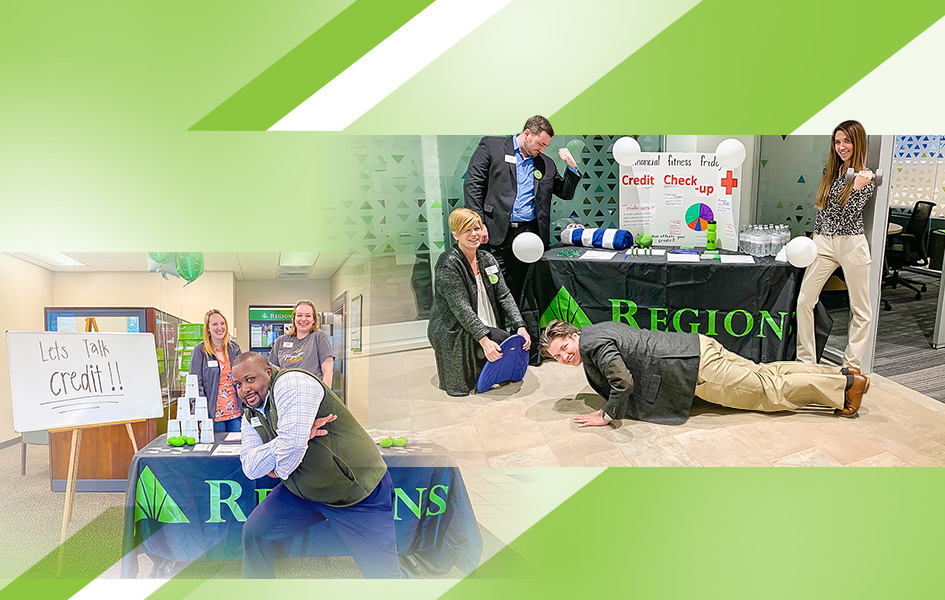 In Indianapolis (above right) and Forestdale, Alabama, (above left), the financial fitness focus was managing credit wisely.
Branch personnel discussed topics such as how credit scores are calculated, ways credit scores impact consumers, and how to make financial decisions that will positively impact credit scores.
"When used within your means, credit is a tremendous tool," said Davina Lani, manager of Regions' Indianapolis Tower branch. "But remember, the credit card bill will be coming due, and it's important to not overspend what you have. We work with people who have a variety of needs and challenges and help them learn effective ways to build and improve their credit over time."
Regions also offers a series of podcasts, like this one featuring Financial Wellness Relationship Manager Alicia Somers, illustrating how credit impacts people's lives – while sharing ways people can establish and preserve strong credit.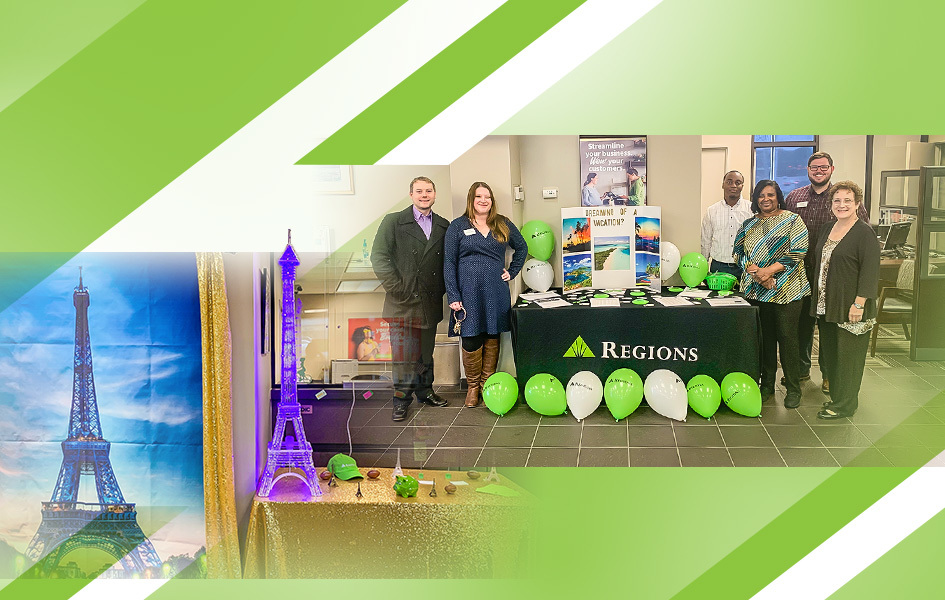 Financial fitness covers more than just daily needs or long-term planning. It also helps people get the most out of life. For example, Regions branches in Birmingham and Pinson, Alabama, pictured above, used Financial Fitness Fridays to talk about dream vacations.
"We all have places we'd love to visit, but those places might seem out of reach," said James Southern, who manages the Roebuck branch in Birmingham. "But the truth is, they often don't have to be out of reach. The focus during our discussions was how to plan ahead and afford the vacation and the experiences that really mean a lot to you, while making daily budgeting decisions that help you reach your goal."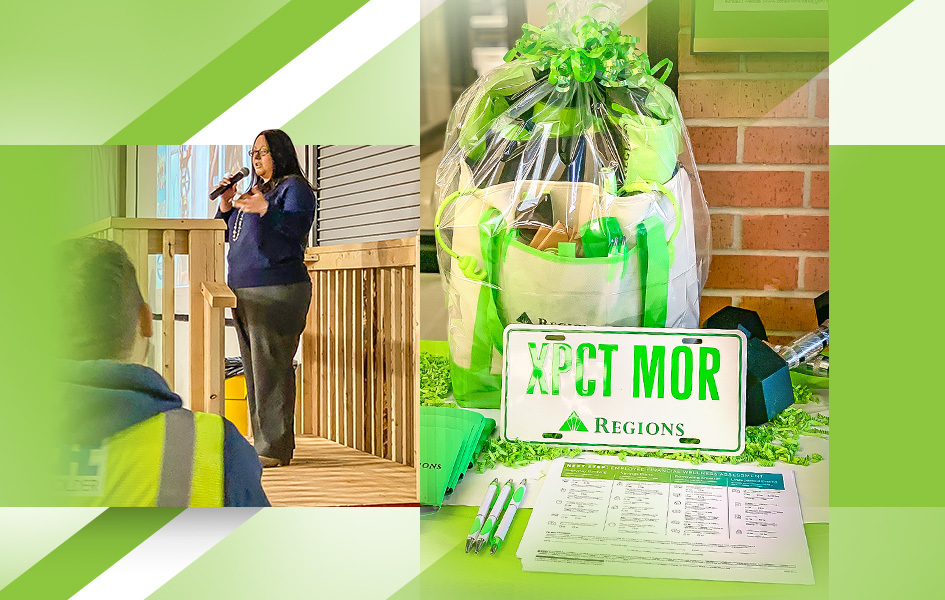 Financial Fitness Fridays took place each Friday through January. And activities weren't limited to Regions branches. Our financial professionals also went to workplaces (above, left) as part of Regions' Next Step program. Through this initiative, Regions works with employers to connect their employees with helpful money-management advice.
"We want more people to know that, wherever they are financially, there are people and resources available to help them build their savings, manage their household expenses and reach their own, unique goals," said Jessica Vibbert, a Regions branch manager who spoke with Holder Construction employees at a work site in Huntsville, Alabama. "Some of the most powerful conversations we have are outside of the branch and in the community. People value having a local connection – someone who identifies with them and can share practical guidance that they can put into practice immediately."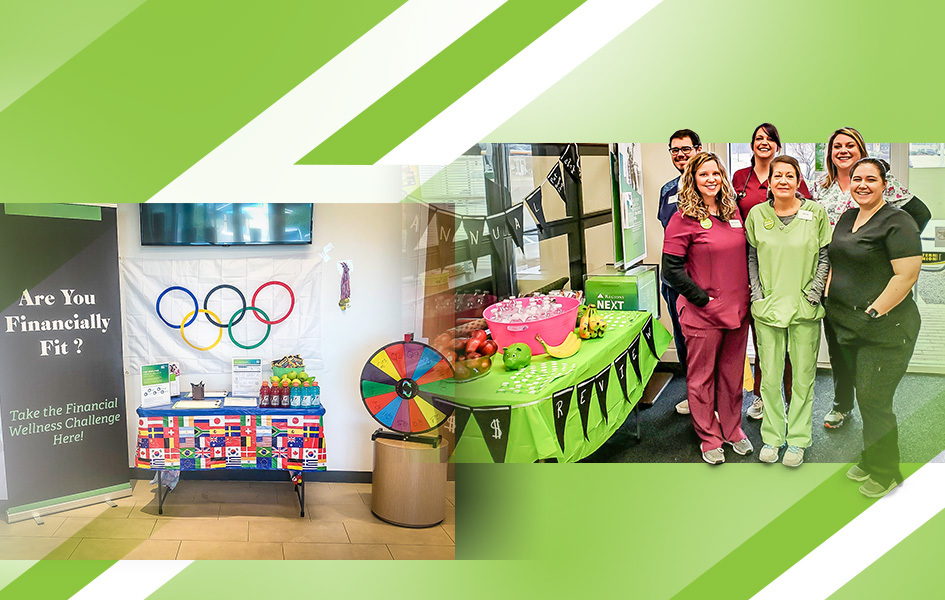 While Financial Fitness Fridays is a January tradition at Regions, the bank's commitment to financial wellness is year-round. Regions teams are always available for in-person, customized financial guidance. Additionally, Regions offers online financial education through the Next Step Financial Learning Center on regions.com.
One of Next Step's newest features, called "Raising a Financially Fit Family," provides insights on building financial success throughout life's major milestones. Topics include teaching children and teens about money management, balancing the family budget, saving for college, and more. Next Step articles, budgeting calculators, and checklists are available for free to anyone without needing to have a Regions account or online banking login.
"We're a part of our community, and we want to see the people of our community succeed," said Annette Claverie, who manages Regions' branch in Marrero, Louisiana. "Whether it's here in our branch, or through Regions' online and mobile banking channels, we have insights and tools that can make a real difference for the people we serve."