EDITOR'S NOTE: We are looking back at a See The Good Story that originally published in 2012. We've updated it to let readers know what this tremendous organization does today.
When Support Our Soldiers (S.O.S.) first began in 2010, the charity provided an outlet for the grieving family of Marine Lance Cpl. Thomas Rivers Jr., who was killed in a roadside bombing while serving in Afghanistan.
The Rivers family wanted soldiers overseas to get the care packages from home, to remind them they haven't been forgotten.
Rivers' mother, Charon, and the rest of the family initially produced gift boxes each month to ship overseas to U.S. military members serving in harm's way. That was in a good month.
That's why she was taken aback a few years ago when she walked into a conference room at the Regions Center in Birmingham, Ala., and saw table after table, row after row, filled with items to ship overseas: Books and magazines, toothpaste and playing cards, boxers and T-shirts, crackers and Frisbees.
"You have no idea what this means," Charon said, wiping away tears. "We do our best to get out 50 boxes a month. Our goal is to get to 100. But there are hundreds of boxes here."
In fact, by day's end, there were supplies for about 350 boxes – at the time, a seven-month supply – thanks to the help of volunteers from Regions. For a week leading up to surprising Charon, Regions associates at corporate offices in Birmingham dropped off items in boxes for Support Our Soldiers.
Regions reached out to Support Our Soldiers after launching the company's Military and Veterans Pledge. For Regions, it was another way to pair the words with deeds. Support Our Soldiers proved to be the perfect match, and has received ongoing support from Regions each year.
The boxes are packed individually for soldiers, with each getting something different. Also included is a card telling about Thomas and why the charity began.
"In the box, it says we lost our son and we are thinking of you," Charon said. "We hear back from a lot of them. Some go into great detail telling us about their lives and their time there. Others just say, 'Thanks,' and that itself is enough."
Each gift box is a labor of love.
But that's not all.
Beyond the gift boxes, packing tape and U.S. Customs forms, Support Our Soldiers has a mission to help those who have served and has grown to provide a local support system for service members returning home.
In recent years, Charon has worked locally with several ministries, restaurants and other veteran support groups to raise money for S.O.S and purchase track wheelchairs for those veterans injured in the line of duty. These chairs allow our returned soldiers to really experience life, indoors and out, without the limitation of mobility.
Five years after the initial gift from Regions, Charon and her dedicated group of 10 volunteers still meet in the basement of the Rivers home every other week to lovingly stuff, pack, and ship boxes to soldiers serving overseas. They seek out those serving in outposts, who may not have easy access to the accommodations of base life.
This time of year, that number they're shipping grows exponentially in size. Charon had 75 boxes prepped and ready to go during our recent visit—the last of a delivery of more than 300 boxes being sent out just in time for the holiday season.
In the eyes of the recipients, getting a box from S.O.S is just like Christmas, no matter the time of year.
It's rewarding for Charon and husband, Tom, too, but it's especially moving during the holidays. They remember photos of his deployment over Christmas, fully equipped with Santa hats and a tree sent over from Mom at home. They're bittersweet memories.
"This entire project is to honor his memory," she said, and the boxes are special, especially at Christmas.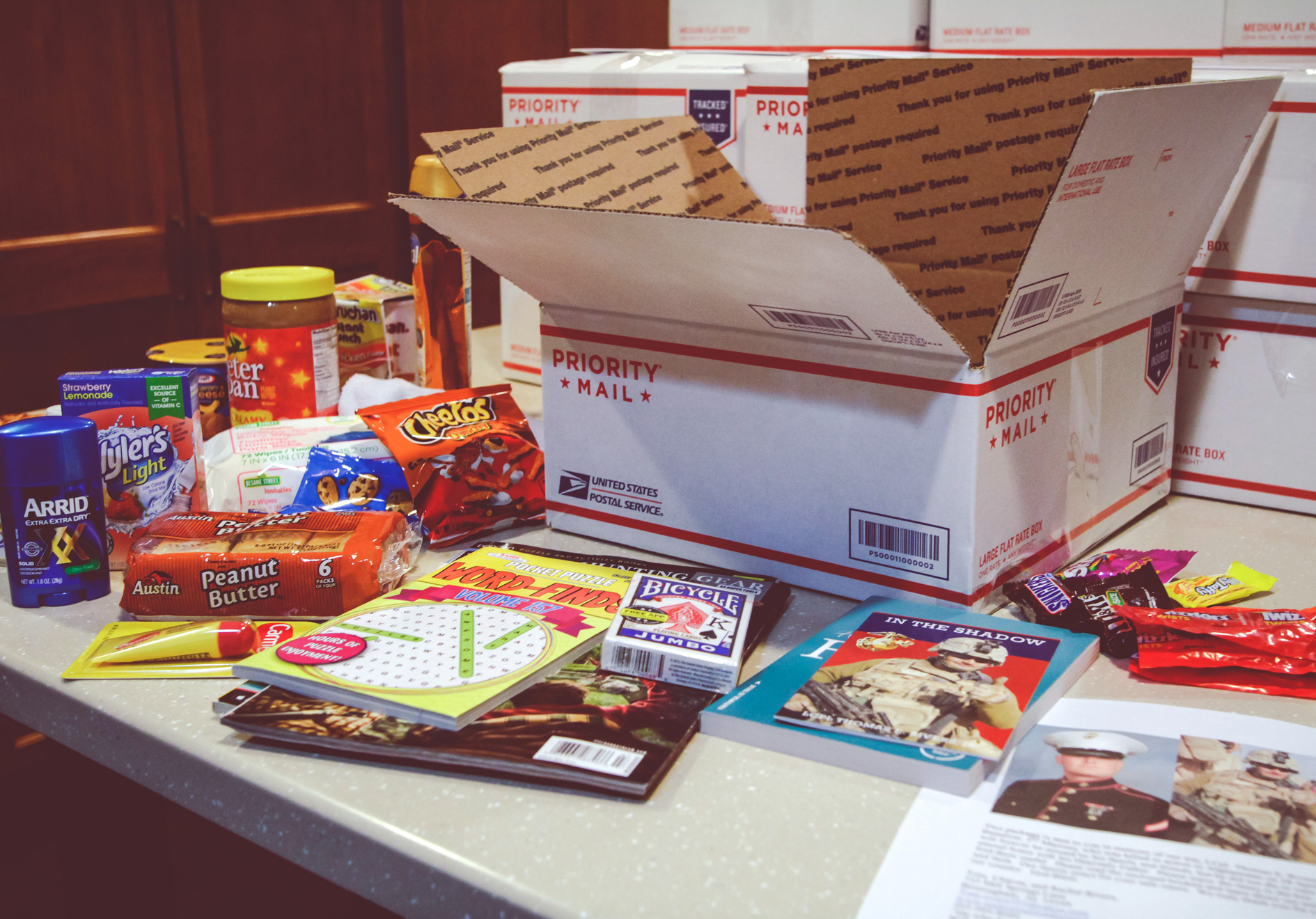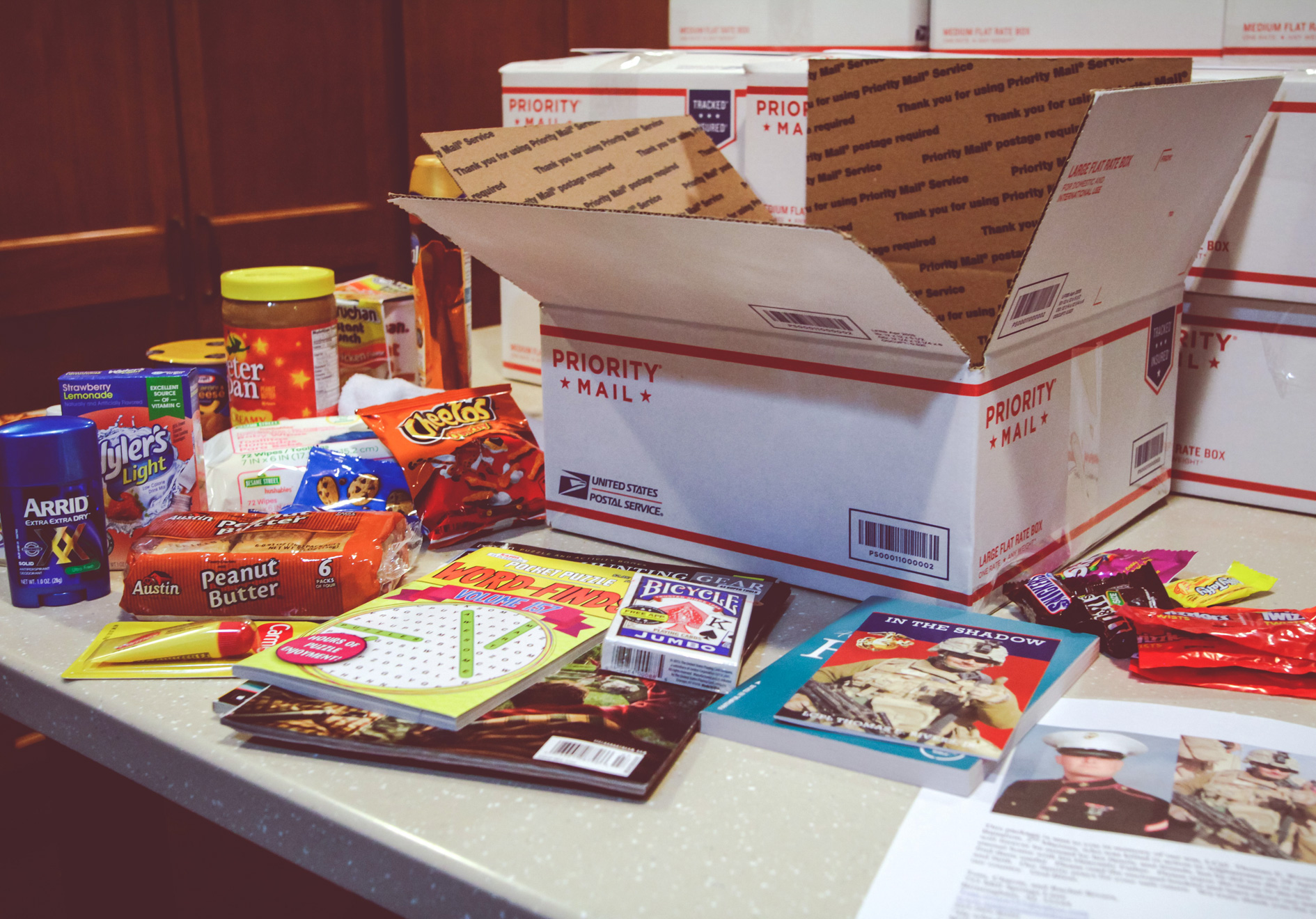 "I think it helps to give back knowing that you're making these guys over there happy. Knowing that they're getting something from home—I know Thomas would have wanted something from home."
It's easy to see that giving back to the men and women who serve gives Charon and Tom much joy.
So what's to come in the next five years for Support Our Soldiers? For Charon, the movement that started as a family project will remain in the family. As she looks happily at an empty pantry, recently depleted with a huge shipment of goods overseas, there's no sign of stopping soon.
"S.O.S is part of us. … It started with our family and it'll end with our family."
Until that day comes, they're all in. And that's where readers like you make a difference.
How does Support Our Soldiers thrive? On donations, Charon says. This time of year, when the cupboard looks bare to the outside eye, S.O.S volunteers are looking forward to the next donation of food, supplies, and treats to send to the troops, no matter how small. Every donation helps.
To Charon and the rest of the family, they're not just boxes of treats, thank you notes from elementary school kids, or much-needed toiletries—they're the story of the Rivers family.
They honor Thomas and keep his memory alive.
For information on how to give to the Support Our Soldiers effort and a list of frequently needed items for the cupboard, visit http://www.supportoursoldiersalabama.org/give/donate-to-care-packages or email them directly at [email protected]