Bonica Strother is at ease, now.
A resident of St. Louis, Strother recently graduated from the 700 Credit Score Community program of HOPE Inside, where she had access to credit counseling and financial experts.
"This program has given me so much hope, so much freedom," Strother said. "It makes me smile more because I can sleep so much better at night."
HOPE Inside, a partnership between Regions Bank and Operation HOPE in St. Louis, provides banking, credit and mortgage counseling and support for people who are unbanked or under-banked.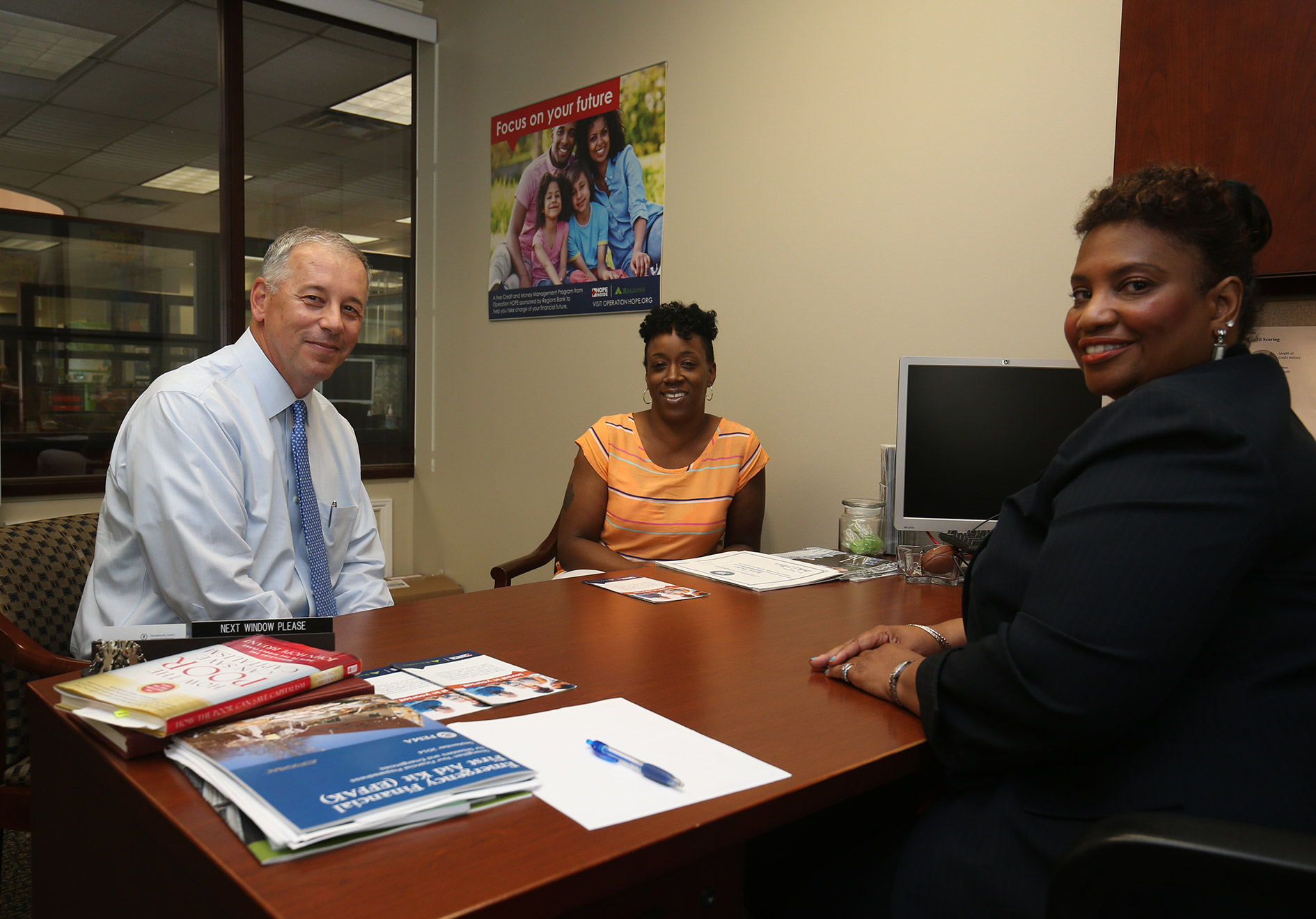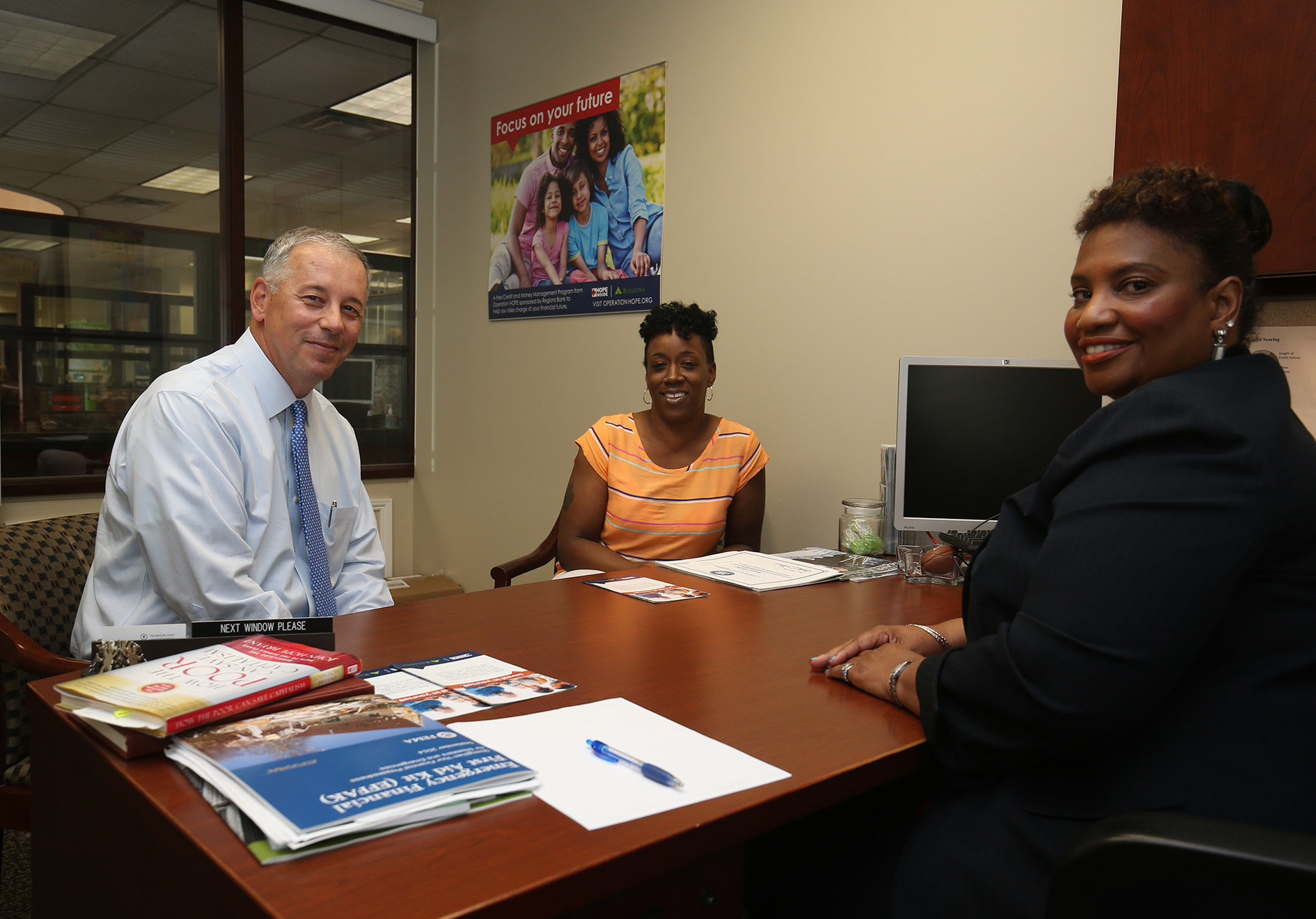 Eric Madkins, the Midwest Area Community Affairs Manager for Regions, said the concept came about amid challenging times for the entire community.
"We had the unrest in the Ferguson community, and that got us talking and asking the question, 'How could we make a positive impact on the community?'" Madkins said. "We thought of HOPE Inside because the program speaks to economic empowerment and financial self-sufficiency. We saw an opportunity to do a little more than our fair share."
Mike Hart, Midwest Area President, knew Regions needed to do more. He also knew the next step.
In 2015, Regions opened HOPE Inside at the company's Jennings branch, which serves as the base for the program. Participants can rebuild their credit and learn to budget and save, according to Bonita Williams, a Financial Well Being Coach for HOPE Inside. What makes the program unique is participants can also meet with branch managers and financial specialists who can help them qualify for loans and products.
Tishaura O. Jones, the Treasurer for the City of St. Louis, said a commitment to the 700 Credit Score Communities initiative of HOPE Inside is already having an impact. Operation HOPE's theory is that when one turns a neighborhood into a 700 credit score community, credit unions and community banks replace title lenders and payday lenders. Likewise, liquor stores become convenience stores and markets.
"We have twice the national average when it comes to the number of unbanked or under-banked families," Jones pointed out. "They spend more money getting access to the money they've earned, or they use predatory lending products."
Providing financial education and counseling leads to greater credit scores, better access to lower-interest credit and boosts buying capacity, Jones said.
Providing new opportunities doesn't end with HOPE Inside.
Regions and the Urban League of Metropolitan St. Louis work together on the initiative Save Our Sons, which helps adults with job training.
Michael McMillan, CEO and President of the Urban League of Metropolitan St. Louis, said the relationship with Regions "is a perfect fit" that goes beyond a corporate commitment because of the involvement of Regions' associates.
"We have board representation," McMillan said. "We have a social responsibility commitment in terms of philanthropy. We have actual Regions employees coming out to various facilities and volunteering, doing financial literacy classes and also assisting in our employment classes. And we have special events and community events and job fairs where Regions comes and offers the opportunity to become members of the Regions team."
Hart said the payoff for associates is the ability to make a community stronger, which benefits everyone. By offering financial expertise, Regions associates can impact the community, building on the strengths of the Urban League's community reach and HOPE Inside's network.
The three partners all have a role, but combined, they have the power to make a difference. Regions calls it Doing More.
"Nobody can make a material impact going at it alone," Hart said. "What we have found is the power of partnership with the Urban League as well as with the City of St. Louis. The Urban League has reach, has programs that we can't possibly create, but that we can support and we can connect with some of our programs. The City Treasurer's office shares our common goals and the Treasurer is creative and committed, making partnership easy.
"Our HOPE Inside program is really about combining the financial literacy component that people need when they have jobs, when they have income to live a better life. So you combine those two, and you have a powerful combination."