HOUSTON, Texas – Jan. 9, 2020 – Houston Mayor Sylvester Turner and representatives of the Cities for Financial Empowerment Fund and Regions Bank on Thursday announced the opening of two Financial Empowerment Centers (FECs) to provide one-to-one, professional financial counseling to Houstonians at no cost to residents. 
The FEC locations are at the Acres Homes Multi Service Center at 6719 W. Montgomery Road in north Houston and the Magnolia Multi Service Center at 7037 Capitol St. in the city's East End area.
A national program of the Cities for Financial Empowerment Fund, the two FECs are strategically located in two of the 10 areas Mayor Turner designated as Complete Communities – Acres Homes and Magnolia Park-Manchester – to ensure equitable access throughout the city, especially for low- and moderate-income families.
"Houstonians in historically underserved neighborhoods want access to services like financial planning to prepare for purchasing a home, sending their children to college or saving for the future," Mayor Turner said. "That's why I believe our partnership with Regions Bank and Cities for Financial Empowerment Fund is critically important. Complete Communities works to give quality services and amenities to residents through a cross-sector approach. By tapping the strengths of our community members, nonprofits, businesses and philanthropic partners, together, we can build a stronger and more resilient city."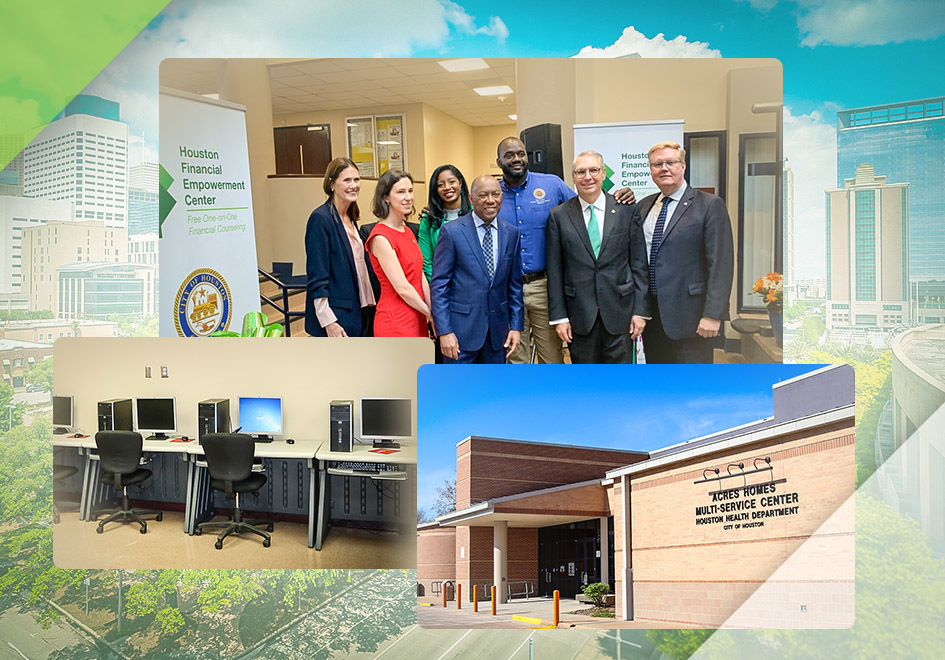 The FECs are staffed by professionally trained financial counselors who will help people and families better manage their finances, pay down debt, increase savings, establish and build credit, and access safe and affordable mainstream banking products. At the core of the FEC model is the integration of counseling into other social services, such as housing and foreclosure prevention, workforce development, prisoner reentry, benefits access, domestic violence services and more.
Regions Bank has pledged its funding support to the Financial Empowerment Centers program as part of the bank's commitment to supporting financial wellness, one of Regions' top community investment priorities. The bank also supports a similar Financial Empowerment Center initiative in Nashville, Tennessee.
The health of our city begins with the financial health of the people who call it home.
Mark Jacobs, Houston Market Executive for Regions
"The health of our city begins with the financial health of the people who call it home," said Mark Jacobs, Houston Market Executive for Regions. "By supporting Complete Communities – and the Financial Empowerment Centers partnership specifically – we can provide valuable resources to empower thousands of families working to reduce debt and build savings for a brighter future."
The Alliance for Multicultural Community Services employs the financial counselors and manages the day-to-day operations of the program. The Alliance is a leading local nonprofit committed to providing financial and social services to Houston's residents. The Mayor's Office of Complete Communities collaborated with the Cities for Financial Empowerment Fund to train Alliance staff in personalized, one-to-one financial coaching.
FECs across the country have worked with over 99,000 clients, helping them reduce individual debt by over $137 million and increasing their families' savings by close to $19 million.
A CFE Fund evaluation showed this program works even for residents with very low incomes and other complex financial challenges. Houston is one of over two dozen local governments working to launch a local FEC initiative.
"Local leaders know first-hand the connection between family financial stability and community financial stability," said Jonathan Mintz, President and CEO of the Cities for Financial Empowerment Fund. "Mayor Turner and the City of Houston are part of a growing national movement to bring free, high-quality financial counseling as a public service to their residents; we are proud to partner with Mayor Turner on this critical work."
"The Financial Empowerment Centers initiative is designed to assist all Houstonians to become financially healthy, but we are specifically targeting this effort to help heads of households who don't earn enough to be able to afford the basic necessities of food, housing, transportation, child care and health care," added Shannon Buggs, director of the Mayor's Office of Complete Communities. "The FECs are here to help our low-income neighbors overcome financial struggles and achieve sustainable financial success."
People interested in connecting with a financial counselor can visit www.houstontx.gov/fec or call 713-776-4700 ext. 405 to reach the FEC in Magnolia Park or 832-395-1125 to reach the FEC in Acres Homes.
The FEC program receives client referrals from community partners that include Lone Star College, the Fifth Ward Chamber of Commerce, the Houston Housing Authority, the Houston Health Department's Community Re-Entry Network Program, the Housing and Community Development Department, the Harris County Area Agency on Aging, the Mayor's Anti-Gang Office, and the Mayor's Office of Veterans' Affairs.
About the Cities for Financial Empowerment Fund (CFE Fund)
The CFE Fund supports municipal efforts to improve the financial stability of households by leveraging opportunities unique to local government. By translating cutting-edge experience with large-scale programs, research, and policy in cities of all sizes, the CFE Fund assists mayors and other local leaders in over 80 cities to identify, develop, fund, implement and research pilots and programs that help families build assets and make the most of their financial resources. For more information, please visit www.cfefund.org or follow us on Twitter at @CFEFund.
About Regions Financial Corporation
Regions Financial Corporation (NYSE:RF), with $128 billion in assets, is a member of the S&P 500 Index and is one of the nation's largest full-service providers of consumer and commercial banking, wealth management, and mortgage products and services. Regions serves customers across the South, Midwest and Texas, and through its subsidiary, Regions Bank, operates approximately 1,500 banking offices and 2,000 ATMs. Regions Bank is an Equal Housing Lender and Member FDIC. Additional information about Regions and its full line of products and services can be found at www.regions.com.
About the City of Houston Mayor's Office of Complete Communities
Complete Communities is a signature initiative of City of Houston Mayor Sylvester Turner. Its mission is to ensure that all Houstonians have equal access to quality services and amenities that improve their lives. By developing public-private partnerships that tap into the strengths of Houston's residents, nonprofits, businesses and philanthropic partners, together, we can build a stronger, more resilient city and make transformational change where it's needed most. To learn more about the Complete Communities initiative and read the Action Plans created by residents and approved by City Council for the first five Complete Communities, visit the website www.houstontx.gov/completecommunities/. To contact the Mayor's Office of Complete Communities, call 832-393-0716 or email us at [email protected].