KINGSPORT, Tenn. – Nov. 12, 2019 – Regions Bank on Tuesday announced the opening of its new flagship branch for the Kingsport area.
Regions leadership, along with representatives of the City of Kingsport and the Kingsport Chamber, broke ground on the branch in May 2019, following the sale of Regions' previous Broad Street facility to the city. The new Regions location is at the intersection of West Center and Clinchfield Streets, less than half a mile away.
"I'm sure that the citizens of Kingsport join me in congratulating Regions Bank on remaining in Kingsport and opening their new location on Center Street," said Col. Patrick Shull, Mayor of Kingsport. "We value Regions' presence in Kingsport as a great community partner and a solid choice for citizens using banking services."
U.S. Representative Phil Roe added, "It's great to see Regions Bank is opening its doors at their new facility in Kingsport. I am hopeful this facility will help Regions continue their mission to serve customers in East Tennessee with excellent service."
Personal service from local bankers is at the heart of the new branch's design. The branch also features updated technology designed to make banking easier, more convenient and more accessible.
We look forward to working with our longtime customers – and welcoming new ones – at this incredible facility.
David Crockett, Tri-Cities Market Executive for Regions
"Regions Bank is committed to serving the people and businesses of Kingsport, and we are proud to build on our investments in the Tri-Cities with this modern location," said David Crockett, Tri-Cities Market Executive for Regions. "This location combines the best in personal service with the latest in technology, offering a more meaningful experience for our customers. We look forward to working with our longtime customers – and welcoming new ones – at this incredible facility."
The open design of the branch does not include a traditional teller line. Instead of waiting to be called to a counter, when people walk into the branch, they are greeted face-to-face by a local Regions banker. In addition to helping people with general transactions, each banker at the Kingsport location can help customers with in-depth needs, such as planning budgets, analyzing financial options and creating a personalized roadmap designed to help people accomplish their financial objectives.
"Our Kingsport branch is focused on providing both a convenient and comprehensive banking experience," said Melanie Blank, Tennessee Consumer Banking Executive for Regions. "Whether our customers want to conduct a quick and simple transaction, or if they need to take the time to have a deeper conversation about their long-term goals, our local team is ready to help."
In addition to local personnel, the branch becomes the first Tri-Cities Regions location to offer Regions Video Banking ATMs. These are multi-purpose machines that not only dispense cash – they also can accept deposits of cash or checks and facilitate funds transfers around the clock. Further, the machines give customers the choice to connect with a Regions Video Banker via live, two-way video for personal service.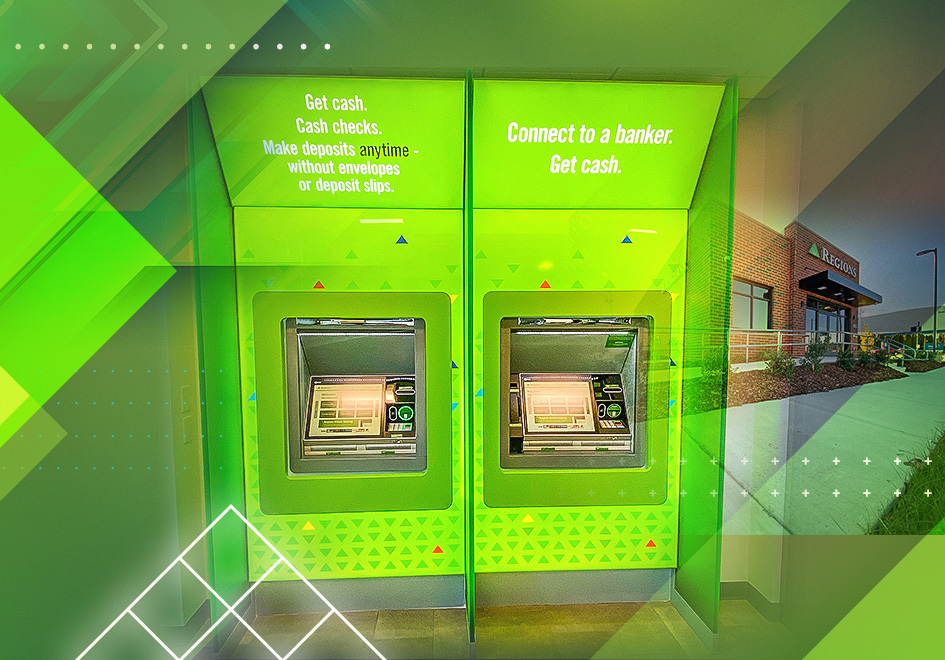 Along with processing most general transactions, Regions Video Bankers help customers with account maintenance, bill-payment needs, and general inquiries. Regions Video Bankers are available on weekdays from 8 a.m. – 9 p.m. ET. They are also available on Saturdays from 9 a.m. – 6 p.m., Sundays from noon – 6 p.m. and during most holidays.
The branch includes one Video Banking ATM in the drive-through, along with two traditional ATMs. There is also one walk-up Video Banking ATM in the foyer. The foyer is accessible after-hours by scanning a debit or credit card with a magnetic stripe for entry.
Regions will partner with the City of Kingsport and the Kingsport Chamber for a ribbon-cutting celebration Dec. 11 at 4:30 p.m. The branch will host a grand opening celebration for the public Jan. 10 beginning at 9 a.m. with a piggy bank giveaway while supplies last and additional activities.
"Regions Bank has been a longtime Kingsport Chamber Member and supporter of this community," said Miles Burdine, President and CEO of the Kingsport Chamber. "We appreciate that they have chosen to continue their investment in our city through the opening of their new downtown Kingsport location. We look forward to continuing our partnership and celebrating this new, state-of-the-art facility."