When Birmingham's old Firehouse No. 6 was built more than a century ago, it served its purpose as a base for firemen who arrived on the scene of a blaze by horse and carriage. For more than 30 years, the old downtown building has served another purpose.
Firehouse Ministries Homeless Shelter provides a refuge for homeless men. But the antiquated edifice was cramped, expensive to maintain and, frankly, falling apart. It could no longer meet the growing needs of an often-hidden population.
So, imagine the smile of Anne Rygiel, the executive director of Firehouse Ministries, as she gave a tour of the new Firehouse Shelter. Bounding from one room to the next, she kept repeating, "This is my favorite part." The enthusiasm was sincere, for while the new Firehouse building is only blocks away from the original, it's light years ahead in terms of capacity, resources and design.
Showing off the new Regions Foundation Rec Room, with a large picture window on one side and an open courtyard on the other, Rygiel explained the name.
"Not only has Regions provided financial support, but Regions provides people support, which is just as crucial," Rygiel said, listing Regions professionals by name. "Kyle Puchta and Lee Ann Petty are on our board. But what Regions does goes beyond stroking a check. It's about caring at a deeper level by coordinating volunteer efforts. Regions even provided the construction loan."
The new $6.2 million shelter opened this month with a ribbon cutting and tour attended by board members, volunteers and city leaders, including Birmingham Mayor Randall Woodfin.
"This is a day we've dreamed of for 37 years," said Rev. Mark LaGory, blessing the facility. "We're reminded that some of God's miracles take time. This is a miracle."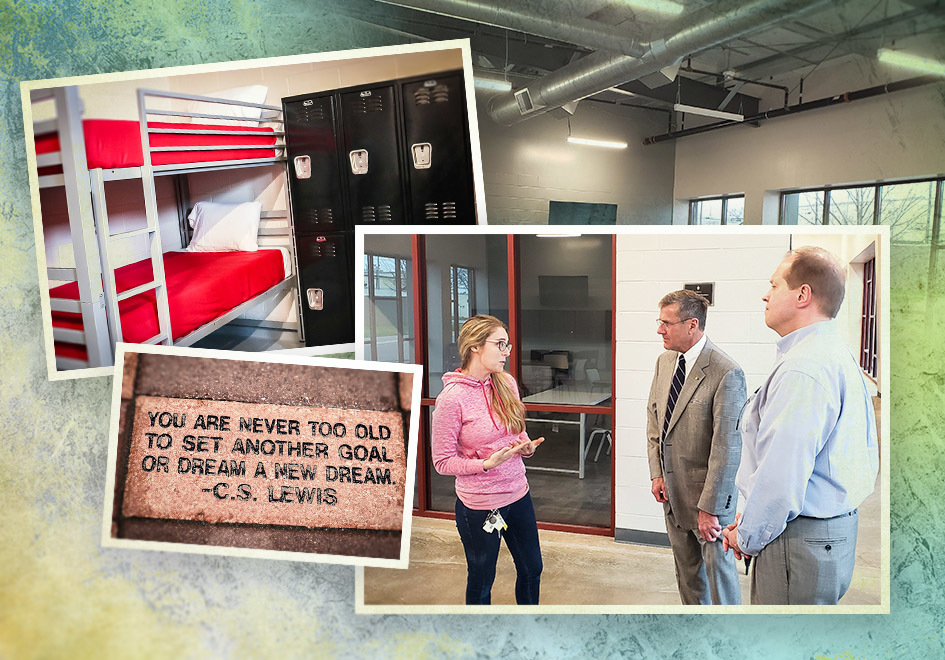 The new facility more than doubles overnight capacity, with emergency sheltering and dormitory bunks for Tier 1, Tier 2 and Tier 3 guests making their way back into the workforce. There is a residential area for the working poor – mostly young men with service industry jobs, but without the savings or credit needed to find permanent housing.
"We have guys that live here who ride their bikes to Homewood (five miles away) every day for restaurant jobs, then ride their bikes back here after midnight," Rygiel said. "Having the resources to rent an apartment, and to have deposits for electricity, gas and water, takes time to get together."
There is a youth housing suite and beds for overnight volunteers helping at the shelter. And, in a world where privacy is rare, there are individual shower units.
A heat room, modeled after a shelter in Montreal, sanitizes bags and clothing of new arrivals for 20 minutes at 130 degrees. Three health rooms are staffed by volunteer medical staff. There's also a respite-care room for guests who need a longer convalescence.
We want them to walk in here and feel at home, and feel safe.
Anne Rygiel, executive director of Firehouse Ministries
Classrooms include brand-new desktop computers, and financial literacy courses to be led by Regions associates. Mentors help the guests build and update resumes, and GED tutors visit twice a week helping other guests earn degrees.
An industrial kitchen leads to a café-style dining area that can expand or decrease, depending on needs of the day.
"We wanted a kitchen and dining area where people could share a meal and be relaxed," Rygiel said.
Serving meals is one area where Firehouse spends very little money. "We spent less than $1,000 on meals in 2019, thanks to the generosity of our community," Rygiel said.
Volunteer groups from local churches to civic organizations and scouts come daily, providing lunch and dinner.
That's how Kyle Puchta first got involved, with his wife and other members from Bluff Park United Methodist Church.
"I started with my church, one of about 20 that contributes each year, 13 or 14 years ago," said Puchta, a member of Regions' Corporate Security team. "If Firehouse needs anything more than we can deliver, I'll throw ideas out to Regions. Lee Ann Petty is my partner in crime. She has volunteers for every occasion. And Paul Carruthers is always involved."
Petty is Regions' Volunteer Service Coordinator. Carruthers is the Community Development Manager for the bank in central and northern Alabama.
"If it weren't for Regions, we wouldn't be here," Rygiel added. "For example, one reason we're in this new building is because of a $500,000 grant sponsored by Regions. Paul walked me through a pretty complicated process to get us there."
For the next few weeks, the focus is on getting settled, and making the transition from the old facility to the new one.
"With our population, change is very difficult. There's a lot of fear," Rygiel explained. "When you're homeless, downtime is a luxury because your thought 24/7 is on getting through the day. So, we want to be welcoming. We want them to walk in here and feel at home, and feel safe. That takes time."