"I'm sorry, Ma'am. We're closing, and you're going to have to come back."
Carissa Burdette's heart sank.
It had been such an effort to get there. She had waited in line. But now it was too late to buy her groceries.
"I was determined I was not leaving until I had concluded my business," said Burdette.
Fortunately for Burdette, a Regions Bank associate in Memphis, Tennessee, this was just part of a poverty simulation exercise. But for many, roadblocks like this are an everyday reality. And for those facing hurdles to address their family's basic childcare, medical and household needs, it's no game.
Similar to other large cities, the Memphis area is facing elevated poverty rates. According to the University of Memphis, the city's poverty rate stood at nearly 28% in 2018, with the childhood poverty rate at 45%. People who live in surrounding counties fared somewhat better at nearly 19% overall, but poverty still impacts almost one in every three children.
This is about moving Memphis forward.
Blake Elliott, Commercial Banking Leader and Regions' United Way chair in Memphis
"We learned the Memphis-area percentage represents more than 160,000 people in just eight  counties," said Burdette. "The numbers are staggering."
But the numbers only tell one side of the story. On the other side is a spirit of determination and teamwork as Memphis-area nonprofits – and their volunteers and donors – work together to help more people overcome the challenges that are often at the root of poverty.
One example of that teamwork is Driving the Dream.
Launched by United Way of the Mid-South to tear down barriers and help more people build a brighter future, Driving the Dream is a coordinated care program that includes several organizations working in unity to strategically meet pressing needs.
"Driving the Dream helps people move from poverty to prosperity," said Angelia Allen, Vice President of Strategic Development for United Way of the Mid-South. "Our partners range from other nonprofits, to municipal and faith-based organizations, to local businesses. When we're all working together as a team, we can more effectively serve and support families in our region."
Burdette's reaction at the mock checkout line was precisely why Blake Elliott suggested conducting a half-day poverty simulation exercise before launching the Memphis Regions team's United Way workplace giving campaign. Regions associates donate to United Way each year. But Elliott wanted to provide his 80 participating teammates with a unique experience to help them better recognize the impact their donations make.
"Behind every person is a story," said Elliott, a Commercial Banking Leader and Regions' United Way chair in Memphis. "We know that if more than 25% of our neighbors are experiencing poverty, it means we're going to have many customers facing those challenges. When we take the time to understand their challenges – and work with organizations like United Way that are addressing those challenges – we can make a greater difference in the lives of the people and communities we serve."
The simulation features a variety of stations that people visit in 15-minute increments to tackle everyday tasks, such as paying utility bills, making transportation arrangements, purchasing groceries and visiting nonprofit agencies for assistance.
Arrive at the location later than others and time runs out? You are turned away like Burdette.
"We waited in line a lot," said Elliott, whose scenario involved being a single dad to a 20-year-old daughter, a 9-year-old daughter with learning disabilities and a 1-year-old grandchild, all living under the same roof.
"A lot of people may ask, 'Why can't people get out of debt and prioritize their long-term goals?,'" said Elliott. "But for many families, it's about surviving week-to-week. Trying to prioritize was one of my greatest challenges."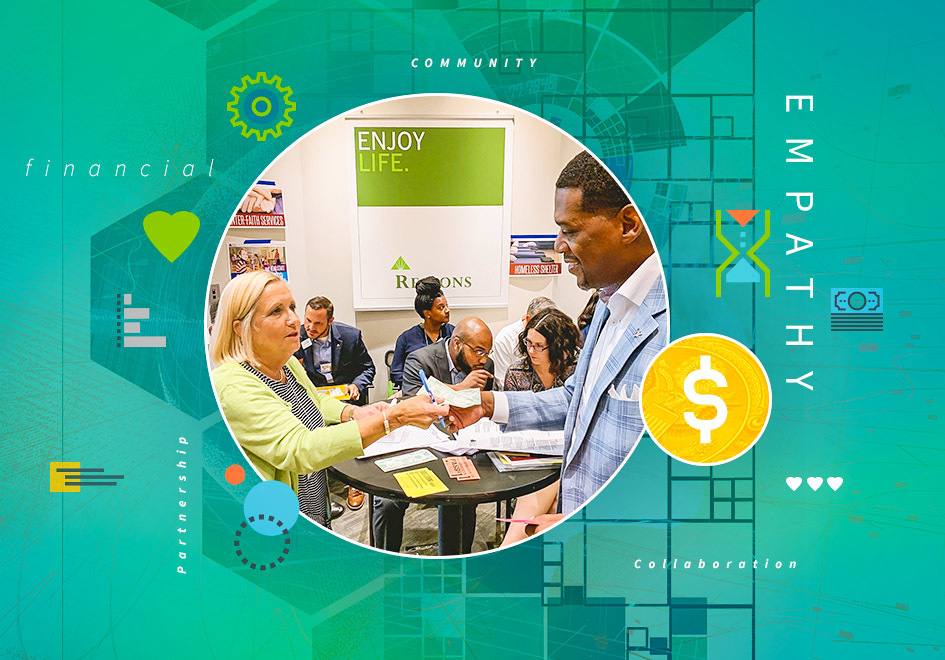 Through leadership roles serving United Way of the Mid-South, David May, Regions' Market Executive in Memphis, was already familiar with the financial difficulties many local families face. But even that didn't preclude him from experiencing stress in navigating his own assigned family situation during the simulation.
"I was role-playing a 13-year-old girl with a twin sister and a 21-year-old brother running our family due to the mother being gone for years and the father being incarcerated," said May. "We had to figure out how to get to school and find enough money for groceries, housing and utilities."
It was a theoretical situation. But it's one that many teens face.
The takeaway May observed among team members?
"Everyone was completely surprised by the amount of time it took to navigate through life when you have very limited resources," said May. "Our associates quickly determined that not having enough time in the day to work, care for family and handle life's unanticipated challenges was very daunting."
Burdette could relate given her own assigned family situation as a single, unemployed mother of a 1-year-old living in a homeless shelter with limited transportation options.
We were there for only a couple of hours, and people found the stress and frustration overwhelming. And this is nothing compared to what many Memphis families face every day.
Carissa Burdette, Regions Bank associate
"What an eye-opening experience this was," said Burdette. "We were there for only a couple of hours, and people found the stress and frustration overwhelming. And this is nothing compared to what many Memphis families face every day."
Identifying those challenges and reframing the mindsets of people who may not experience them regularly are two primary goals in conducting the simulation. Regions is the first United Way corporate partner in the Memphis area to participate.
Elliott viewed the simulation as not only a chance for aha moments, but also as an opportunity to think about the impact of delivering financial wellness resources.
"We can be better informed and better able to help our customers and our communities," said Elliott.
Supporting businesses when they encounter financial challenges is at the heart of Burdette's job with Regions' Problem Asset Management team. Specifically, the team works with clients to help them resolve financial difficulties when the unexpected occurs. Burdette's professional role gave her a unique perspective – and a greater appreciation – of Driving the Dream's coordinated care philosophy for families.
"I applaud United Way for asking their clients, 'How else can we help you beyond the service you received today?'" she said. "Their comprehensive approach actually made me think of our own Regions360 model in delivering holistic solutions to our customers. In business, we ask people what other needs we can meet; in nonprofit service, the same concept often applies, and it makes a real difference."
While the experience may have occurred during half a day, the lessons are likely to last far longer.
"So many eyes were opened among our Regions team," said May. "Tools such as the poverty simulation are key to lifting the awareness of all of our Regions teammates in becoming more aware of the needs in their markets."
What does Elliott, himself a proud 23-year United Way donor, hope his teammates retain from the exercise as they consider making United Way donations?
"Empathy," he quickly replies. "Before you make an assumption, understand. And I hope our teammates realize that every dollar they donate goes right back into our community. This is about moving Memphis forward."
A Closer Look:
United Way of the Mid-South's Driving the Dream Initiative

How was Driving the Dream established?
In 2016, United Way of the Mid-South brought together more than two dozen human service partners to develop a novel approach toward addressing poverty. The result of their teamwork, research and strategy is a comprehensive program that takes a more coordinated approach toward empowering people who are battling poverty.
How is the initiative improving life for Memphis-area families?
Driving the Dream promotes a multi-generational support model of advancing health and well-being. By identifying the factors facing a family's self-sufficiency challenges, United Way and its partner agencies can work with them to solve problems, access new resources and help sharpen their existing skills.
How do nonprofit agencies support Driving the Dream?
United Way of the Mid-south has grown a network of nearly 70 agencies providing 120 different services. Agency partners are now collectively mobilizing to refer families to each other so obtaining services is as efficient and effective as possible.
---
"At its core, Driving the Dream involves transforming lives to help people move from where they are to where they want to be."
– Angelia Allen, Vice President of Strategic Development, United Way of the Mid-South
---
>> Learn more about United Way of the Mid-South and its agency partners