Ben Lane remembers that moment 20 years ago.
The television in his Orlando home was tuned to the 2000 FedEx St. Jude Classic PGA tournament. While watching, Lane had a passing thought that it would be terribly sad to be a family visiting the pediatric hospital for treatment.
Just weeks later, Lane and his wife, Bridgette, would be sitting at St. Jude hearing the unthinkable about their 3-year-old son, Carter.
A stage four Neuroblastoma diagnosis. Only a 25 percent chance of survival.
"It felt like a gut punch," recalls Lane. "I became physically sick when I heard the news."
St. Jude was a fitting place for Carter to seek treatment. Not only due to the hospital's exclusive focus on pediatric cancer treatment, but also given its name and unique beginnings.
St. Jude is the patron saint of desperate and lost causes. Entertainer Danny Thomas founded the hospital after seeking guidance from St. Jude Thaddeus as he faced financial challenges with a baby on the way. If St. Jude showed him a path, Thomas vowed to build a shrine in his honor. Career success and daughter Marlo followed, and Thomas kept his word. St. Jude Children's Research Hospital opened in 1962.
"St. Jude is not just a hospital or a research facility," said Jermarra Jones-Price, special events and volunteer coordinator with Tri Delta Place on the St. Jude campus in Memphis, Tennessee. "St. Jude is a place where families enjoy other families, and children can simply be kids outside of their circumstances."
St. Jude physicians determined Carter's primary tumor was on his adrenal gland, with tumor sites growing throughout his joints and affecting 75 percent of his bone marrow. His treatment plan included an initial chemotherapy session, followed by radiation and surgery. Eight additional months of chemotherapy followed before Carter underwent a bone marrow transplant in Los Angeles.
"After the diagnosis, we came to a resolution that it is what it is and this is what we do," said Lane.
That included returning to Memphis, his hometown, to live. It meant daughters Chloe and Camille, ages 7 and 5, would temporarily stay with Bridgette's parents in Florida as they navigated their post-diagnosis new normal.
It also involved giving back to help other children facing challenges like Carter.
I couldn't be a bigger advocate for St. Jude. They are a mission, not a hospital.
Ben Lane, Regions Wealth Management Advisor
Discovering he was a perfect donor match for Carter, Lane made his first St. Jude blood and platelet donation to his son in 2000. He has since donated many more times.
"I can't believe I had never done this before Carter's diagnosis" said Lane. "I now give as frequently as I can. It's so easy and makes such a direct impact for the children."
For 11 years, Regions associates have been giving their time to Tri Delta Place, the short-term housing option for St. Jude families. Each month, business groups rotate to serve catered meals and offer greatly appreciated respite to families.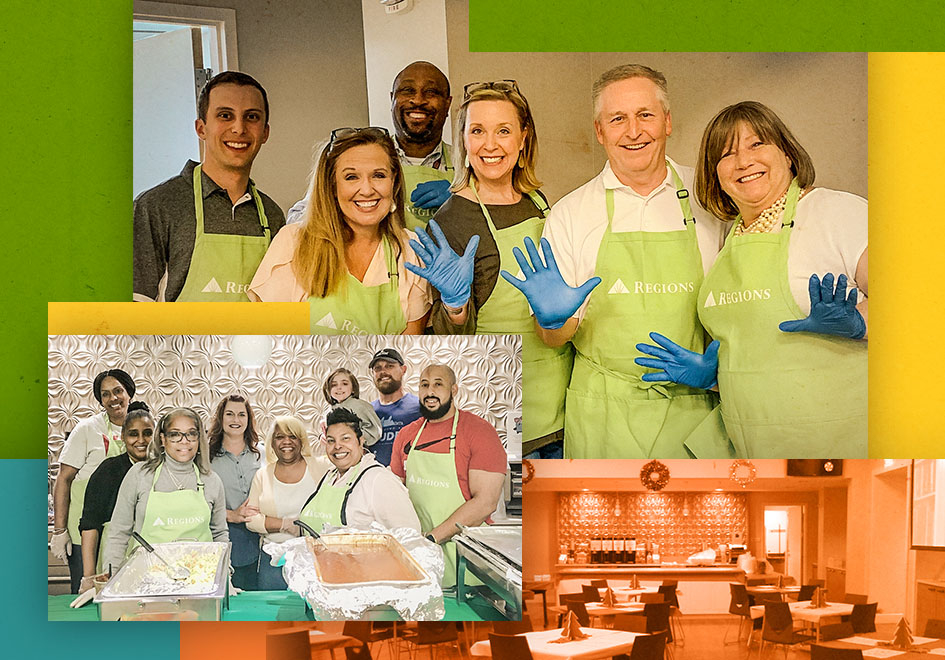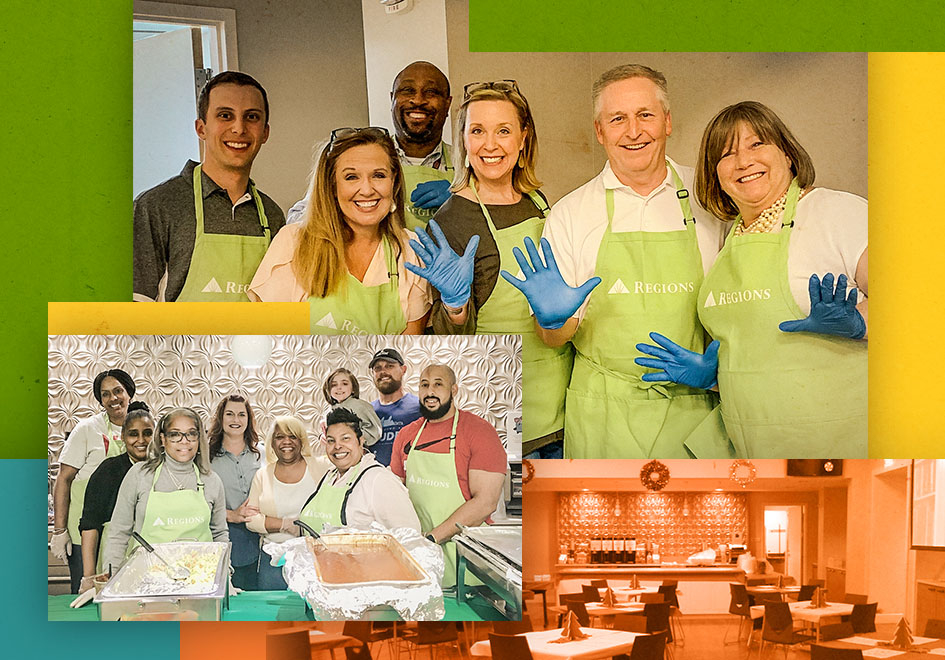 Consumer Banking, Commercial Banking, Private Wealth Management, Mortgage and Contact Center team members all participate, accumulating 2,000-plus volunteer service hours (and counting) and a Corporate Volunteer of the Year award along the way. Associates are as passionate about volunteering today as ever.
"We love being able to give back to an organization that gives so much to our community," said David May, Regions' Market Executive for Memphis. "St. Jude has a wide reach – locally, nationally, internationally – and we've seen associates from across our footprint come through on the other side of the serving line. It's really special when our Regions family in Memphis can connect with associates from other areas of the bank in such a meaningful way."
One of those associates is Brenda Powers, a branch manager in Lakeland, Florida. Powers' granddaughter, Hayden, lives in Chattanooga and underwent a clinical trial transplant at age 5 at St. Jude following a rare leukemia diagnosis at age 2.
Hayden, now 7, travels to St. Jude every two weeks to continue treatment. In January, Powers accompanied her, staying at Tri Delta Place. When she discovered her Memphis teammates would be serving dinner during her stay, she was beyond proud. Powers was also grateful for the reassuring smiles and kind words.
"They helped us forget about the day we just had and what we might be facing tomorrow," said Powers. Powers remains optimistic and hopeful about Hayden's prognosis, sharing, "We have come too far for her not to do something special in her life."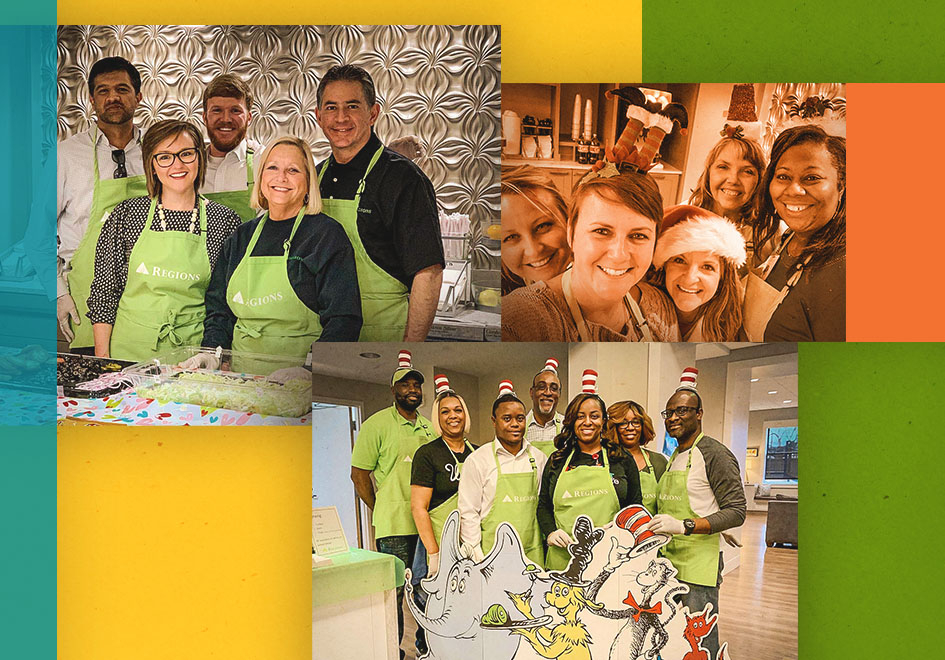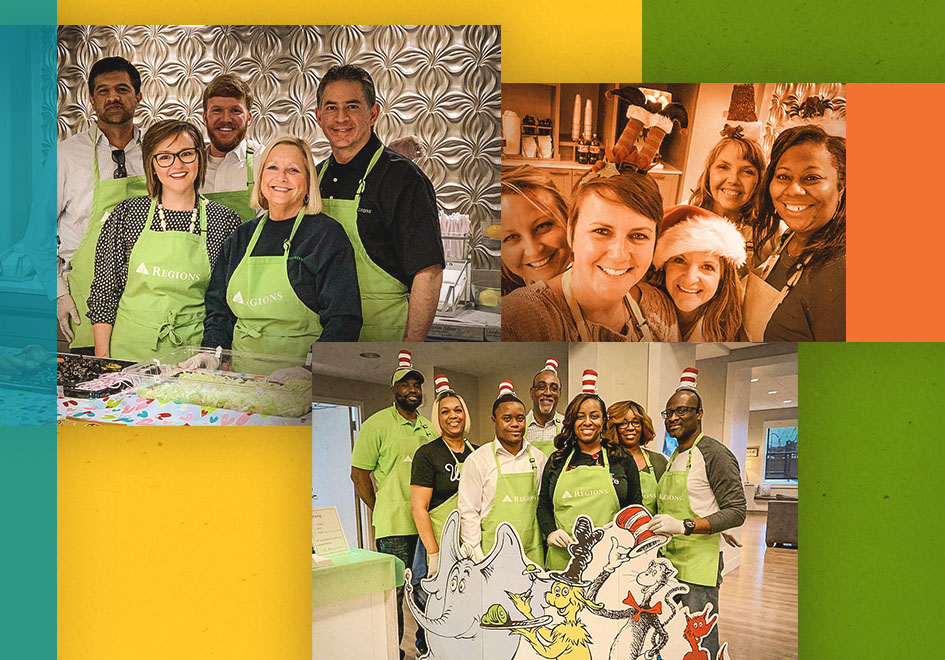 Tri Delta Place brims with energy. Jones-Price creates a culture of fun for resident families, even if it's just a brief escape from grueling rounds of tests. Visit in January, and you'll see an Elvis impersonator for the late musician's birthday. Multicultural celebrations with international cuisine occur throughout the year with St. Jude treating children from around the world.
But Jones-Price notes it's the volunteers who make Tri Delta Place feel like home.
"Regions brings in a great crowd when families know they are going to be here," said Jones-Price. "The conversation is magnetic. People tell jokes, they laugh, they're giving high fives. It gives our families hope when they visit."
Maureen Kennedy, a 15-year Tri Delta Place volunteer, agrees it's the personal connection that matters.
"I've loved the Regions team from the moment they walked in the door," said Kennedy. "Bankers take the time to sit one-on-one with the children to work on the computer or create crafts with them. They are a gift. They're our gift."
Lane, a Wealth Management Advisor, admits he initially found it difficult to visit Tri Delta Place. Seeing other families affected by cancer hit especially close to home. "I know exactly what they are going through," said Lane.
With time, Lane began volunteering during the meal-serving rotation. He's become a vocal advocate. "Anything I can do to support St. Jude."
Carter, in remission for nearly 19 years and now a healthy 23-year-old, is studying film and video production at the University of Memphis. He has the same exuberant personality he did at age 3, but he doesn't recall much from his stay at St. Jude.
For Ben, the memories from two decades ago are still close – just like that passing thought he had while watching the golf tournament.
"It never leaves you," he reflects. "There's life b.c. – before cancer – and a.c. – after cancer."
It's what inspires Lane to keep rolling up his sleeves to give his time – and to give blood and platelets – to help pediatric patients like Carter.
"I couldn't be a bigger advocate for St. Jude. What a blessing it was for our family" said Lane. "They are a mission, not a hospital."