When in doubt, figure it out.
This approach has catapulted Holly Williams to success in a variety of roles – critically-acclaimed musician, retail store owner, entrepreneur, wife and mother of three. Some pursuits were naturally predicted given her bloodline. But others came about far more unexpectedly following life-changing events.
Williams shared her personal and professional journey during a recent "Real Talk" discussion hosted by Regions at the Mint Museum Uptown in Charlotte. The event was the latest in a series of Real Talk sessions held throughout the bank's markets, offering people a unique, intimate opportunity to connect with musicians, athletes and entrepreneurs. With its low-key format, the Real Talk series gives guests a rare opportunity to gain insights into what fuels the success of high-profile figures.
A descendant of country music royalty – she is the daughter of Hank Williams Jr. and granddaughter of Hank Williams Sr. – Holly began writing lyrics at the age of eight. Her dad recognized her writing talent immediately, telling her, "You've got the gene," when she penned the lyrics to "My Old Friend Bill" following the death of Hank Junior's best friend.
Despite misperceptions that her family was wild and rebellious due to her dad's larger-than-life on-stage persona, Williams reflected on a childhood she describes as "peaceful and protected." Time spent with her mom and sister in Nashville involved a "normal" life of school, church and social activities. Williams' favorite activities during occasional stays at her dad's cabin included hunting and fishing.
She didn't attend a music awards show until she was 23. And while family friends included Johnny, Willie and Waylon – yes, Cash, Nelson and Jennings – Williams' fond memories of them are based not on their celebrity, but on everyday interactions far removed from public life. These were the times when the top names in country music could relax and just be themselves. That's how Holly was introduced to legends.
Williams began touring extensively and cut her first album in 2004. Then, in March 2006, the unexpected happened. While traveling to their maternal grandmother's funeral, Holly and her younger sister, Hilary, were in a serious car accident. Hilary nearly died at the scene and required more than 30 surgeries. Holly's injuries were so extensive she wasn't confident she would ever be able to play guitar again.
Uncertain about a future in music, the next pursuit began. Williams had never worked in retail, but she had developed a keen interest in – and eye for – fashion and home décor while touring. When in doubt, figure it out.
Williams reached out to Nashville retailers she admired to seek their expertise. After learning the basics, she launched H. Audrey, a fashion boutique whose name combines her first initial with her paternal grandmother's middle name. The elegantly chic space features an extensive variety of designer apparel. H. Audrey has amassed a loyal following of customers, including Gwyneth Paltrow, Nicole Kidman and Taylor Swift, among others.
The opening of White's Mercantile, a domestics shop regarded as "a general store for the modern-day tastemaker," followed in December 2013. This venture was named after her maternal grandparents and inspired by her great-grandfather, who owned a mercantile in Mer Rouge, Louisiana. White's Mercantile has since expanded to three Tennessee storefronts and one Arkansas location with more on the horizon.
Retail aspirations – check. Next pursuit? Renovating destination properties with the expansion of White's Mercantile to include home-inspired lodging options. This venture began after Williams researched white farmhouses on Craigslist of all places. She has since purchased, significantly renovated and opened three Tennessee locations for travelers and locals alike. A fourth is coming soon.
Williams shared with "Real Talk" attendees how her professional ventures came about organically – but also through a lot of work.
"I taped posters to light posts and traveled around in a Suburban for four years," Williams recalled. "There was no fancy tour bus."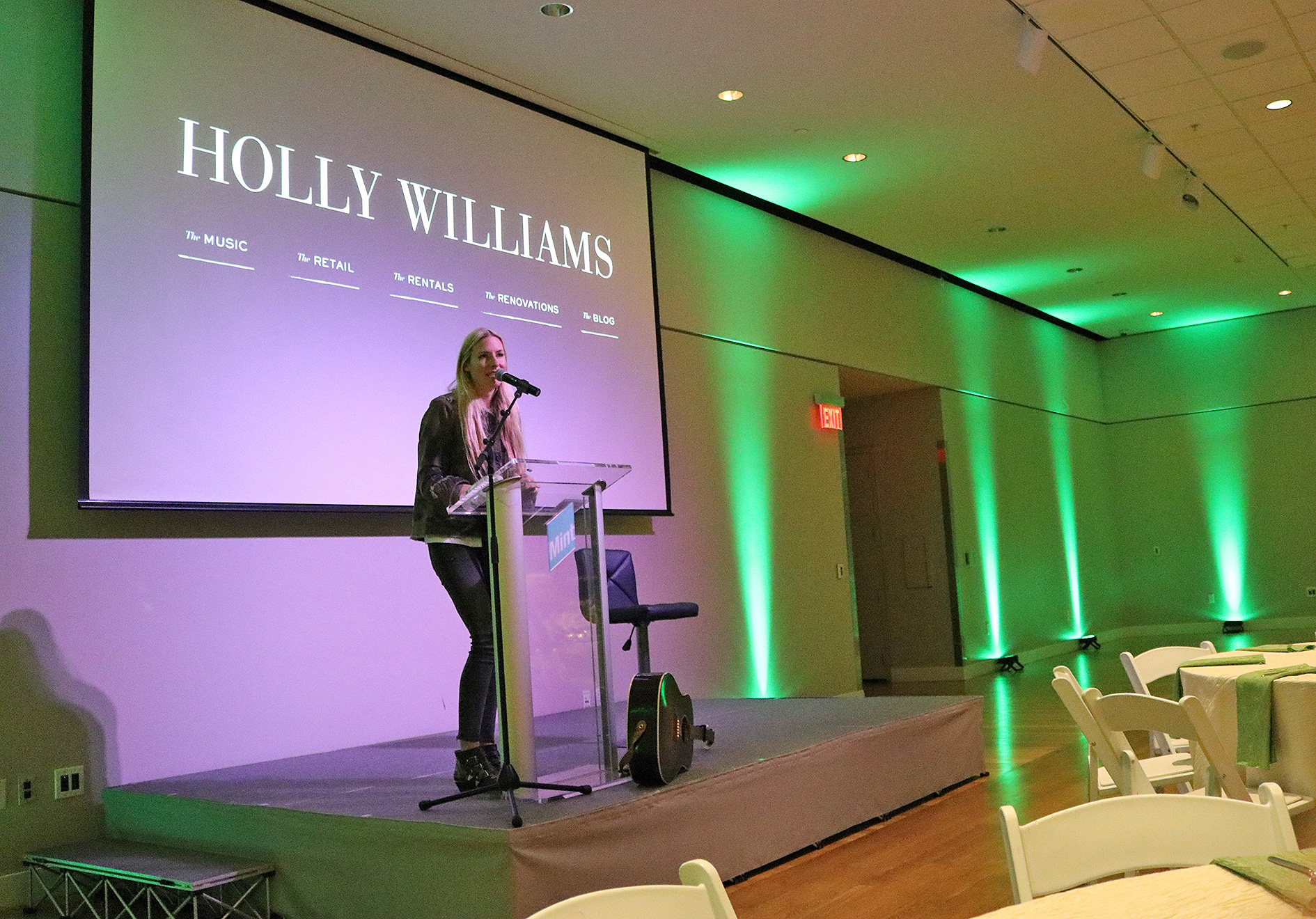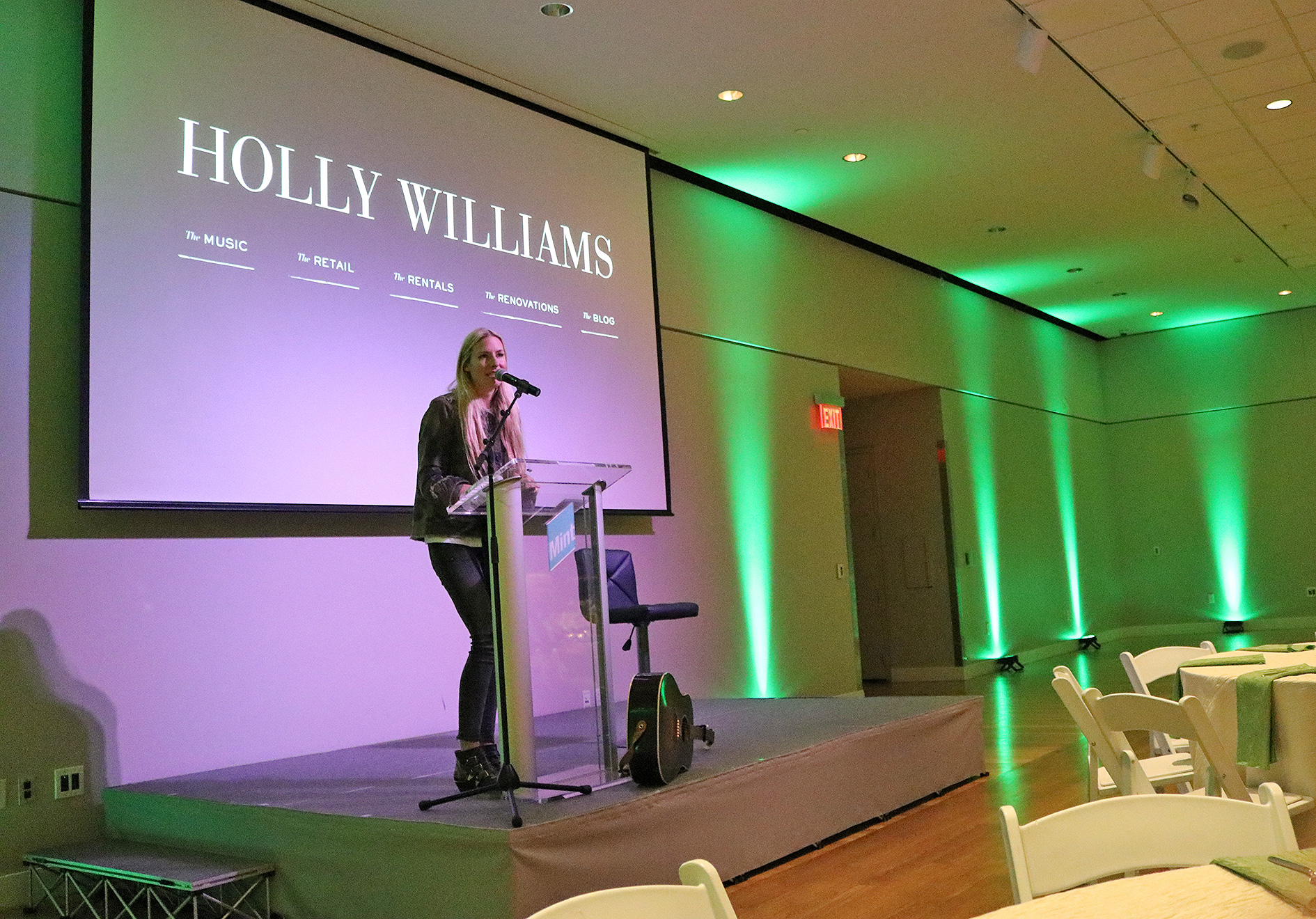 Williams encourages business owners to follow their passion and seek others for advice if they don't know the answers.
Terry Katon, Market Executive for Regions in Charlotte, said Williams' message resonated with people throughout the room and can inspire anyone who learns about her story.
"We were very pleased to be able to host this discussion at the Mint Museum, an ideal location that is built around the concept of inspiration. In fact, 'inspiration' itself is the key theme behind Regions' 'Real Talk' discussions," Katon said. "Holly's discussion gave us a chance to connect with clients and community members for an informative and inspiring evening. Regions is building on its growth in Charlotte – as well as on its community commitment to the surrounding area. Sharing Holly's story is just one way we can connect more people with insights that can help them succeed."
"Holly is clearly proud of her family's history, yet she has found a way to successfully create her own identity and build her own legacy," added Dennis Blue, Private Wealth Manager for Regions in Charlotte. "Starting out as a novice entrepreneur, Holly was dependent on the advice and guidance of others, and that remains the case today as her businesses grow. We're dedicated to the same approach of sharing advice and guidance with the families we bank to help ensure their legacy endures across future generations."
In addition to H. Audrey and White's Mercantile, Williams continues to write new music as time allows. She and her husband, fellow musician Chris Coleman, collectively penned three songs from Williams' 2013 album, "The Highway." Williams and Coleman are also devoted to enjoying quality time with their most important collaborations, daughters Stella, 4, Lillie Mae, 2, and son Arlo, 1.
What's the next professional pursuit for Williams? No doubt she'll figure it out.