We are highlighting Rosemary Beach, Florida this month in the Good Towns series. Spotlighting special towns across the country, Good Towns is about the character, the history, the people and the unique things that make a town a special place. As spring and summer beckon you to the beach, consider this slice of the panhandle.
There are a dozen or so coastal communities that rise up along Scenic Highway 30A, an 18.5-mile stretch of highway running through long-leaf pine flatwoods, freshwater coastal lakes and saltwater inlets along the emerald coast of the Florida Panhandle.
Rosemary is one of the most distinct. Its Old World architecture, collection of quaint shops and inviting atmosphere lures vacationers – and residents – from around the world.
Here, the herb rosemary once grew wild. Now, it is tamed and placed modestly among the other approved plantings in a town whose welcoming character is best described by the people you meet.
"This place … it's like Mayberry," Jonathon Mitchell says, his tight-spun curls catching in the light breeze as he stands along Barrett Square in the center of town. He's the young, hip music teacher at Ohana Institute, the third-through- 12th-grade private school here. It's one of the well-kept secrets among locals, and it explains why the parks and restaurants along Rosemary Beach are often filled with organized groups of school-aged kids. Their classwork and lunch periods often take them out into the community where they roam under the watchful eyes of shopkeepers and locals who know them by name.
That friendly Mayberry vibe is what architects Andres Duany and Elizabeth Plater-Zyberk wanted to capture when they first set out in 1981 to embrace the so-called traditional neighborhood development movement with the construction of Seaside, a coastal town about six miles west of Rosemary Beach. The genius of traditional neighborhood developments is their use of old-fashioned town-planning principles, like narrow streets, interconnected walkways, and a centrally located town center – all of which are designed to encourage pedestrian traffic and community interaction. Strict urban codes and regulations are also established to ensure all homes and shops in the development maintain the architectural harmony.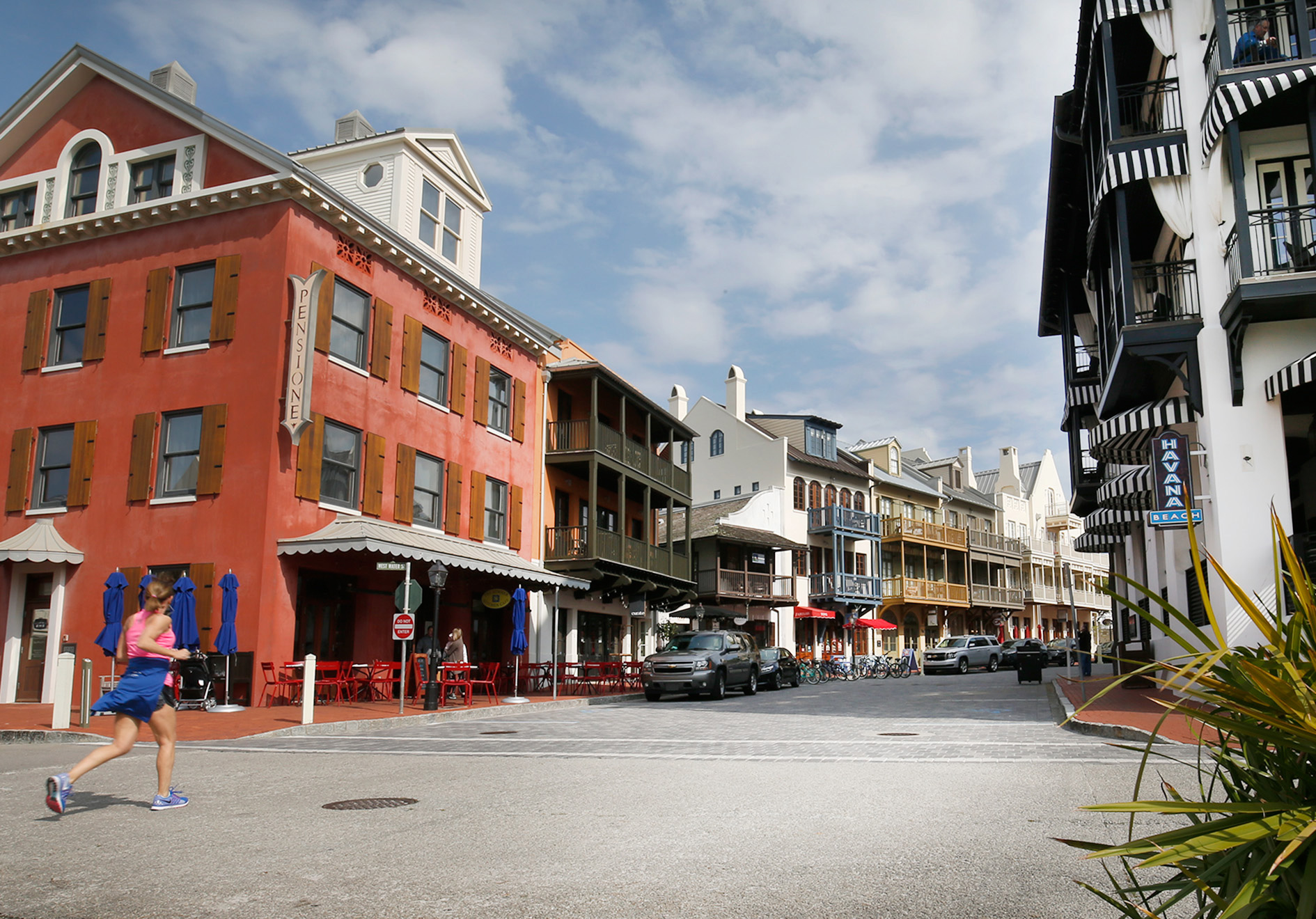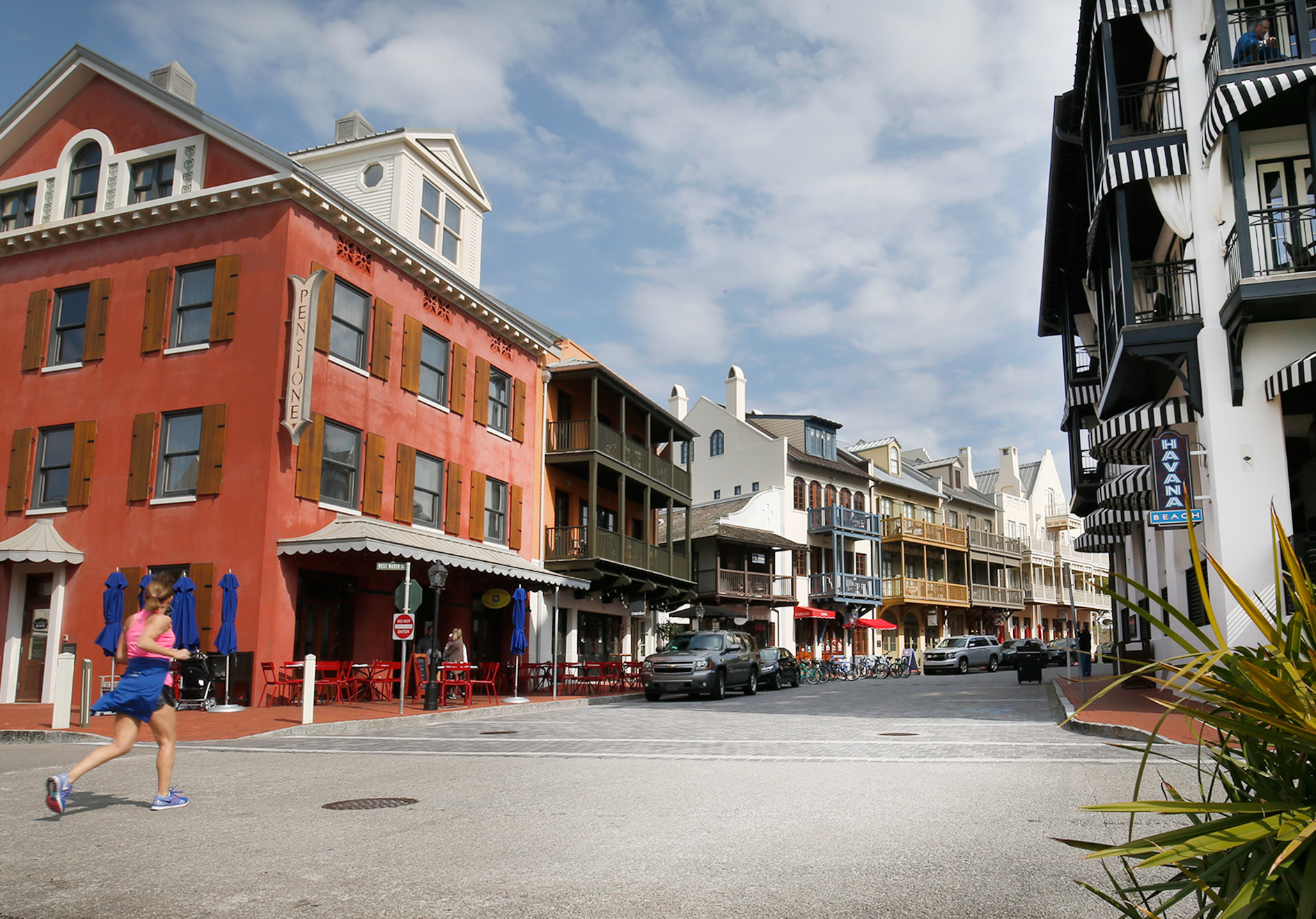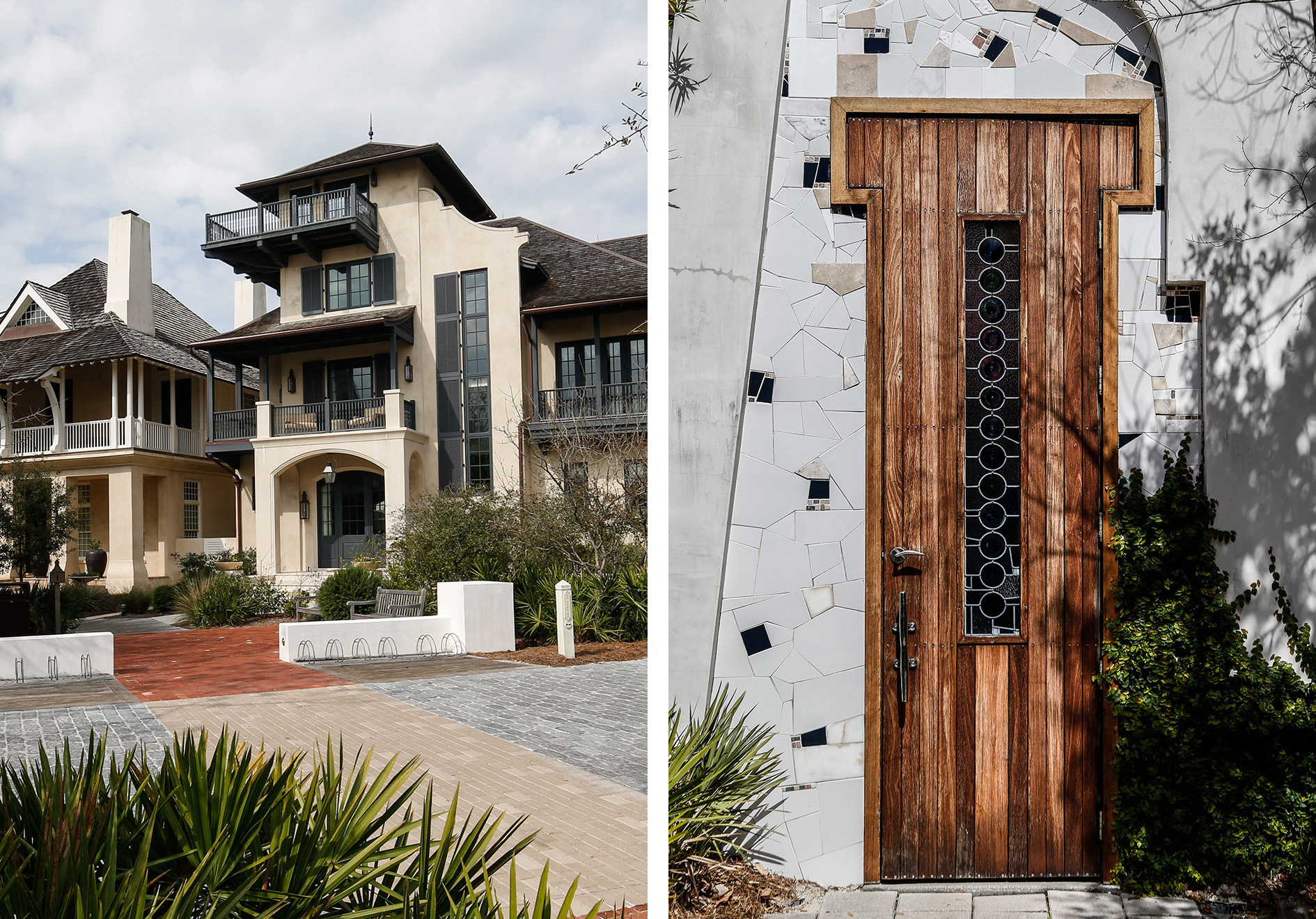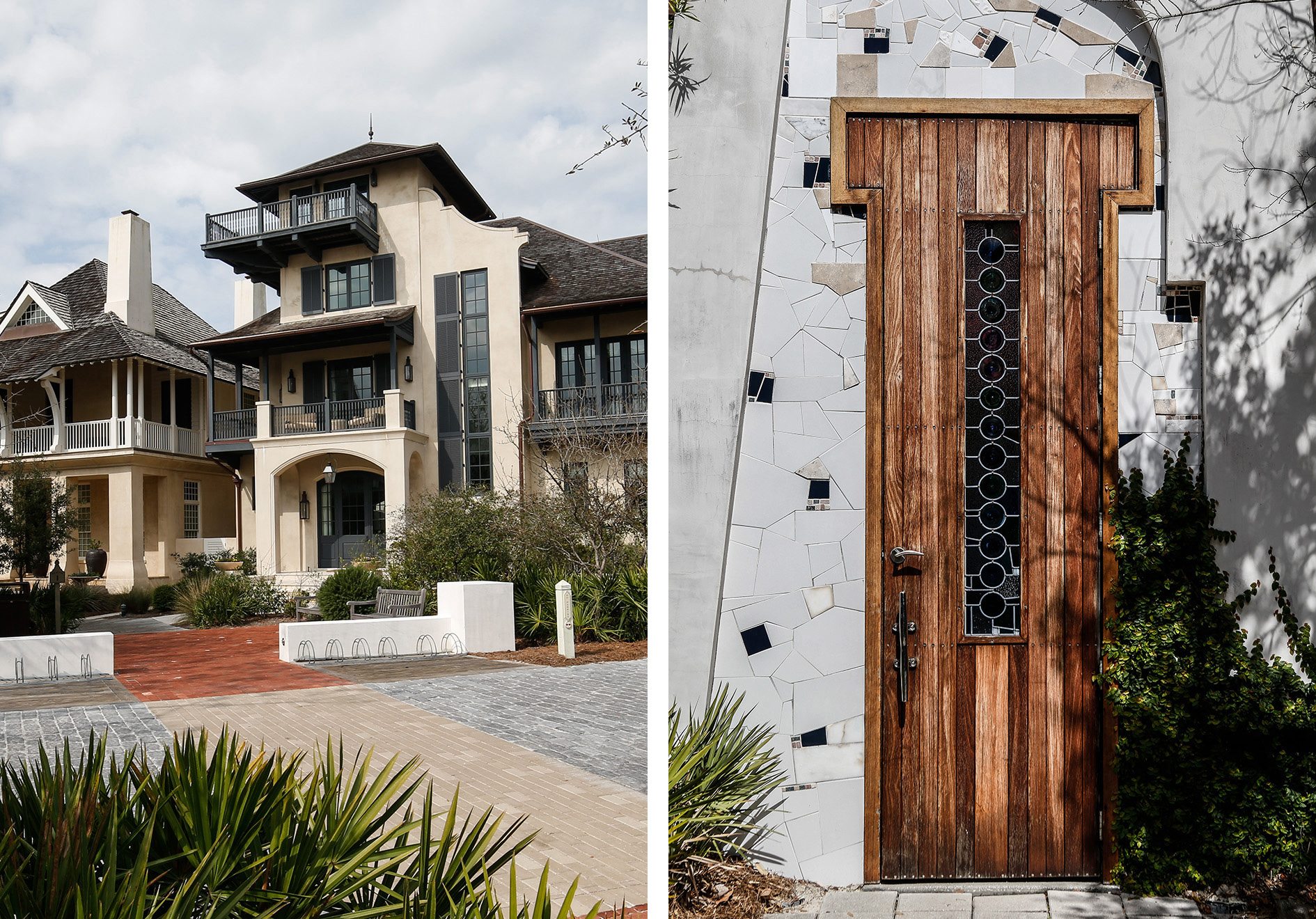 Seaside and its iconic sherbet-colored, clapboard beach homes fanning out from a bustling retail town center quickly became a resounding success as an investment as well as a vacation destination. It also became an obvious blueprint for Duany and Plater-Zyberk to mimic 14 years later for Rosemary Beach. But unlike its predecessor, Rosemary's design is considered New Urbanism, defined by the Congress for New Urbanism in its foundational text, Charter of the New Urbanism, as "framed by architecture and landscape design that celebrate local history, climate, ecology and building practice."
Rosemary Beach is inspired by the colonial architecture of the Dutch West Indies, but can also be described as the love child of two old, European-kissed cities in the U.S. – St. Augustine and New Orleans. Homes are constructed of cedar shingle or stucco with galvanized steel, slate or copper roofing, and are distinguished by a palate of subtle natural tones of green, orange, red and brown. Broad front porches stand mere steps from pedestrian boardwalks and community pocket parks. Private courtyards call specifically for native plants that fit into the community's stringent guidelines, like Yaupon holly, saw palmetto, sand and live oaks, wax myrtle, goldenrod, indigenous grasses, and, of course, wild rosemary.
Much like the herb in warmer climates, the growth of Rosemary Beach since its groundbreaking in 1995 has been jaw dropping. It was then that Lettye Burgtorf first laid her eyes on the budding town and swore she'd never leave. She and her husband, Allen, ended up buying a lot and vacationing to the area from their home in Atlanta. A couple of years later, they sold the lot for a near-three-fold profit, quickly buying a completed house and moving here permanently with their two young daughters, Hunter and Hannah.
Lettye homeschooled her girls and soon had requests from other parents to homeschool their children, as well. Realizing that the town's development brought a growing need for more education options, Lettye established the Ohana Institute, which now – more than a decade later – pulls about 100 students from Rosemary Beach and nearby communities. Classes are held in sprawling suites above the shops that line Barrett Square.
The school also offers an education solution to guests who fall under the spell of Rosemary Beach and decide never to leave.
"It happens," Lettye says.
Her laugh is remarkable and carries in the wind like the scent of rosemary as she leads a bicycle tour of the interconnected walkways between the homes in Rosemary Beach. Rental bikes with fat tires and low-slung handlebars help keep riders in stride with the easy pace of the community, but you have to be quick to brake for construction crews that spring up around corners like tufts of wild rosemary. It's proof that the investment potential here continues to flourish two decades later. Modest three-bedroom homes currently sell for upwards of $1.5 million, with the price tag of a recent sale ringing in at $12 million – the highest price single-family home ever sold in Northwest Florida. But open land in Rosemary Beach is becoming scarce. With more than 765 homes completed, the community is nearing its full build-out potential of 800 residential units.
High price tags bring famous people, and some of them who choose to live at Rosemary Beach – whether as their primary home or as a second, third or fourth home – include a couple of Middle Eastern princes, various rock and country music stars, professional athletes, a trove of Texas and Atlanta millionaires, and a few HGTV Dream Home winners.
Many of the studios, carriage houses, open lofts, flats, and cottages in Rosemary Beach are available as vacation rentals. Daily rates during the off season range from $170 to $1,433 per night, and peak during spring break and the summer months from $186 to $1,582 per night. There are also two boutique hotels in town –
But you don't have to stay in Rosemary Beach to experience the magic. Visitors are always welcome to stroll the grounds, browse the shops and dine at the many restaurants.
Rosemary Beach was already a thriving community in early 2012 when Edward Reese staggered down Main Street upset about getting fired from his job. A chef with an impressive resume serving as an apprentice under Birmingham, Alabama's year-after-year National James Beard Award Nominee Frank Stitt, and having overseen several other restaurant kitchens, he felt he could do better on his own — with the support of his wife. If only an opportunity would present itself.
And then he saw a sign.
Tacked to the front of a shop, the sign read, "Call For Lease." Edward pulled it off the wall and called the number right away. "I'll take it," he said. That's when he found renewed purpose. By March of that year, thanks to a handful of investors, Edward opened Edward's Fine Food & Wine and it quickly took root.
Half of the restaurant's 70 seats are set up in an outdoor courtyard a glance away from the open kitchen where meals are prepared. The restaurant offers live music nightly, and on this night it was yacht tunes performed by Jim Couch on the guitar and Ike Bartley on the saxophone. The menu changes seasonally and, if you're lucky, Edward's will be serving up the Fisherman's Stew, a melody of clams, snapper and scallops in a saffron and fennel-laced tomato broth with a generous side of Tuscan bread for sopping.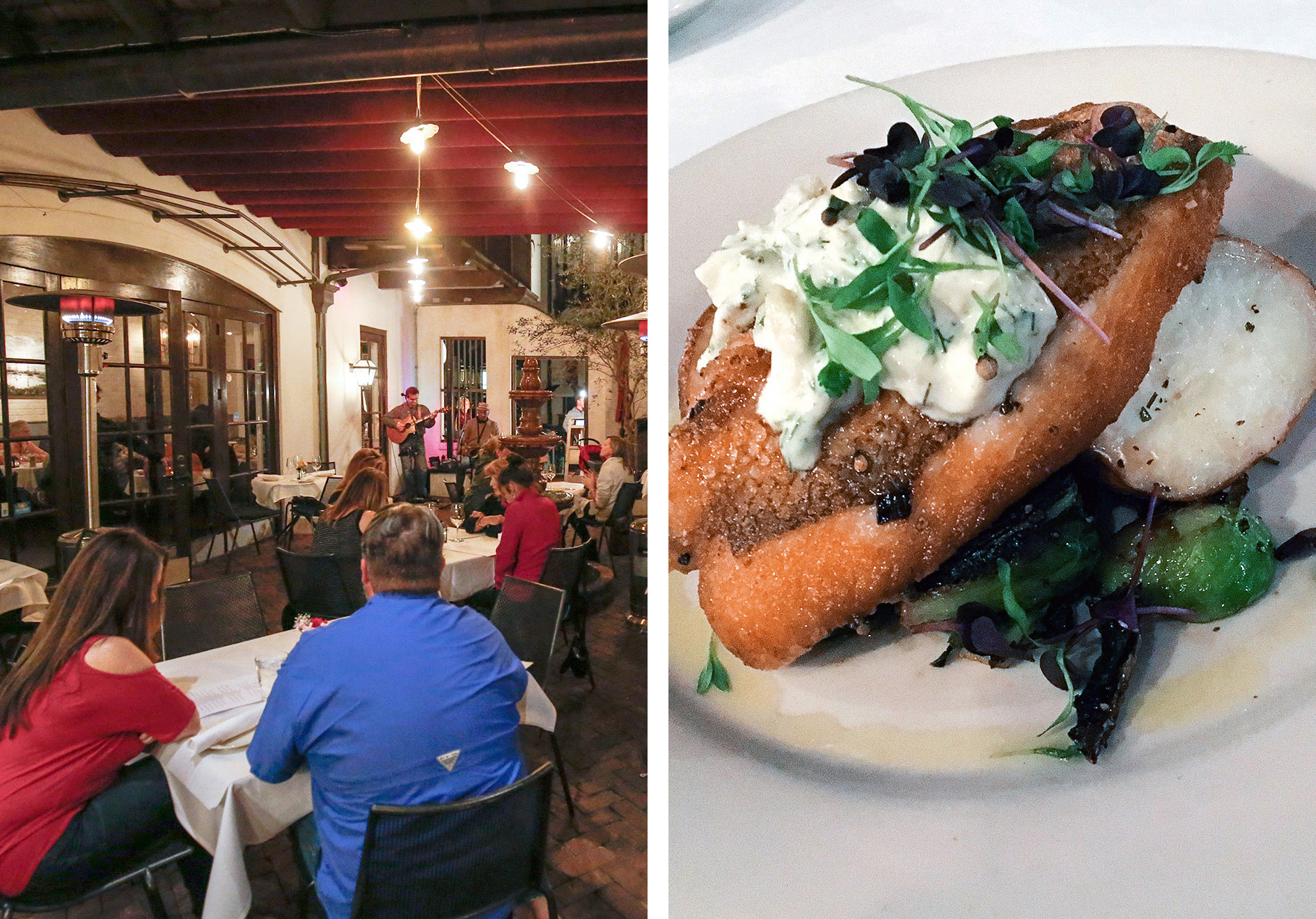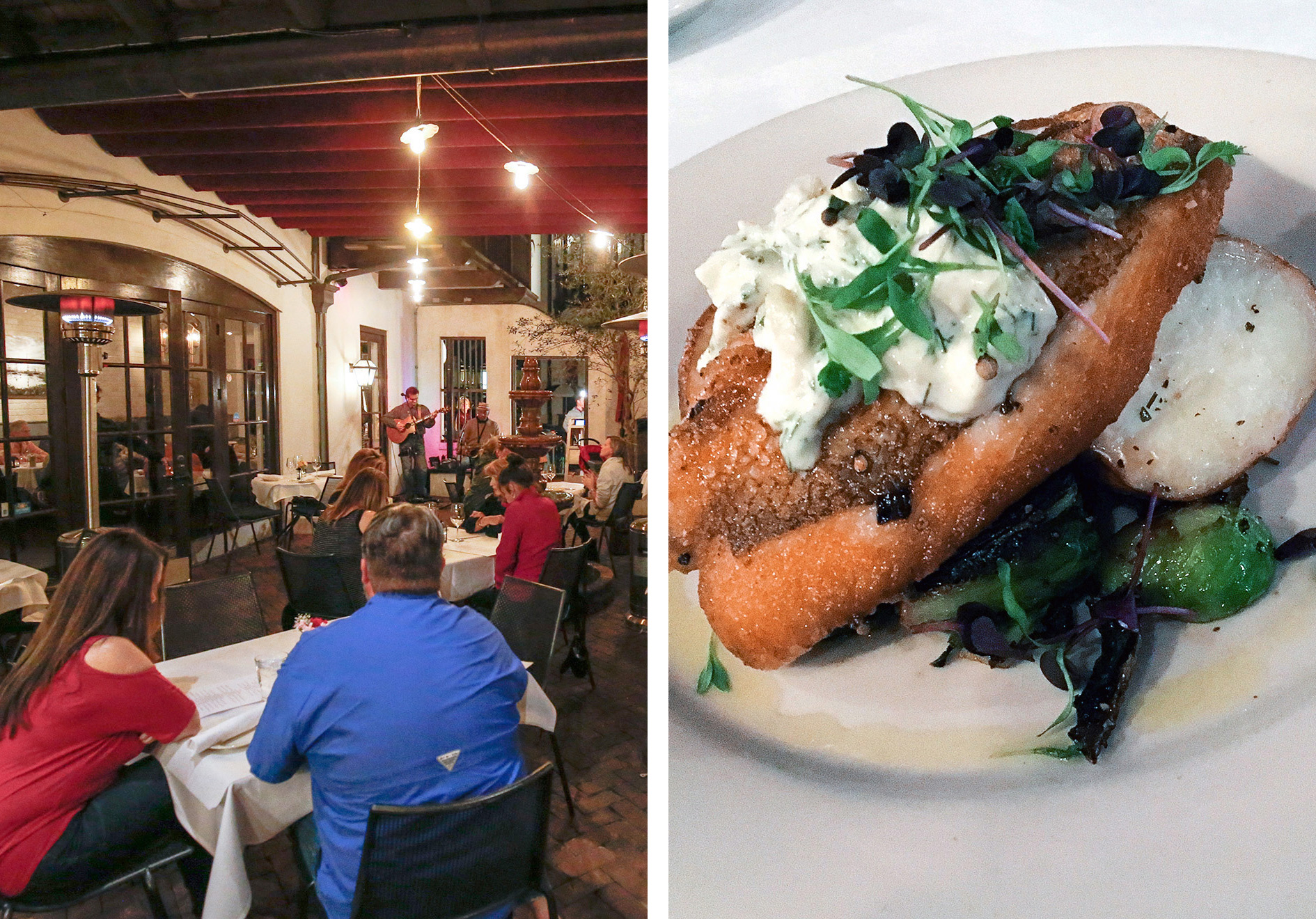 It's almost impossible to go hungry in Rosemary Beach. Eateries here are as common as the gardens and each offers it own flare. Restaurant Paradis in South Barrett Square offers outdoor dining among green lanterns and fragrant rosemary bushes. The restaurant not only serves fine food, it also crafts its own sparkling and still water. "Filtered to 0.5 microns, our process allows trace minerals to remain, which we think makes our water the best around," Restaurant Paradis' website states. The water is served in the restaurant's signature blue, reusable glass bottles, a reminder that the establishment holds high the concept of being Earth friendly.
Cowgirl Kitchen on Main Street and the Summer Kitchen Café on South Barrett Square are more casual dining options. Gourmands can pick up fine wine, casseroles-to-go, artisanal cheeses, craft beers, cookware and picnic provisions at CK Feed & Supply, a spinoff of Cowgirl Kitchen. Wild Olives Market and Café offers fine wines, gourmet cheeses plus a bistro menu, and outdoor seating at the bustling intersection of Barrett Square and 30A. The café also holds weekly wine tastings on Friday evenings.
Rosemary, the herb, is believed to be magic. It is prized in some cultures for its ability to detox the body and improve mood. Coincidentally – or not – the word rosemary comes from the Latin rosmarinus, meaning "mist of the sea," and its essence flows through the shops along Barrett Square, which lies at the heart of the Town Center.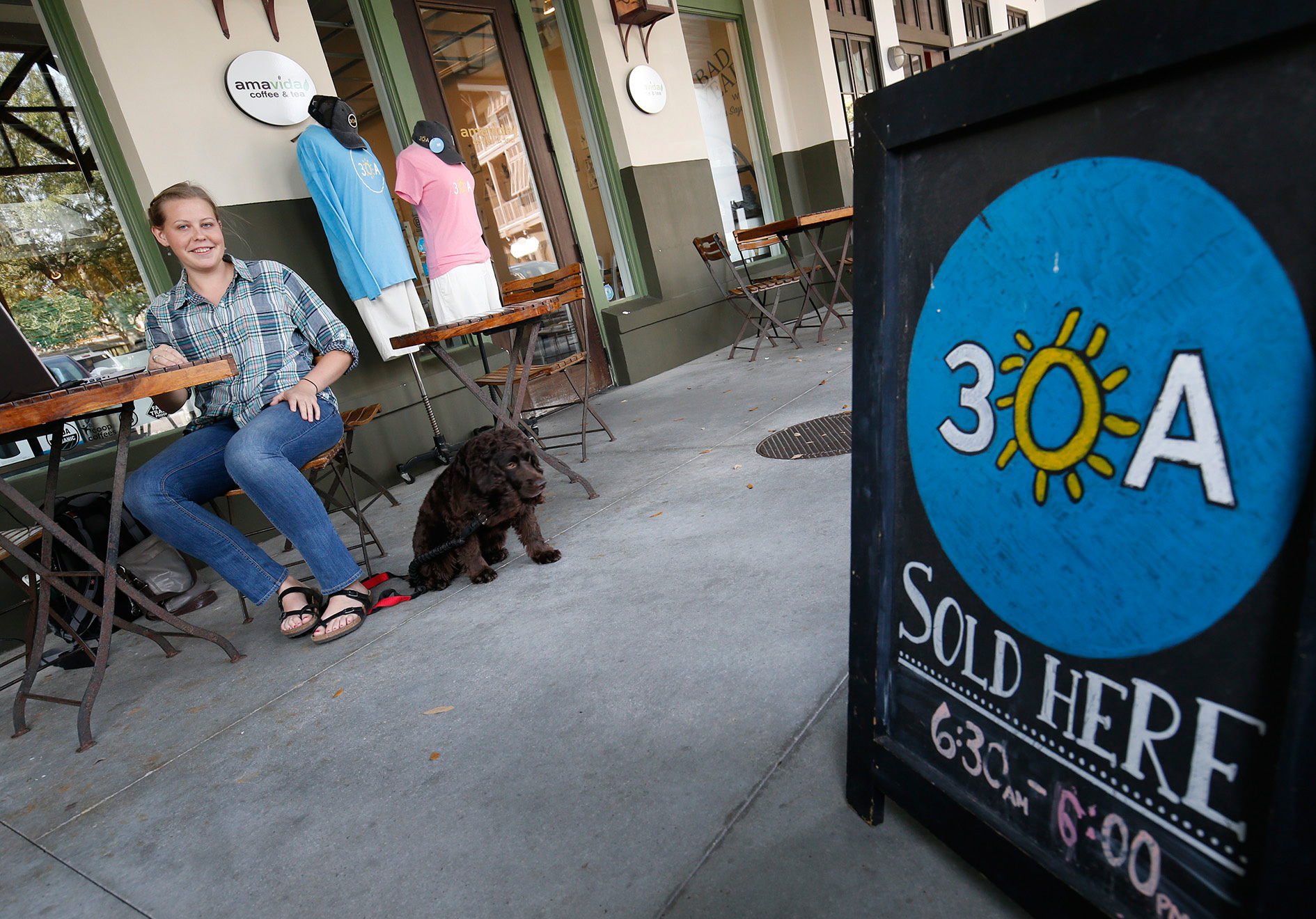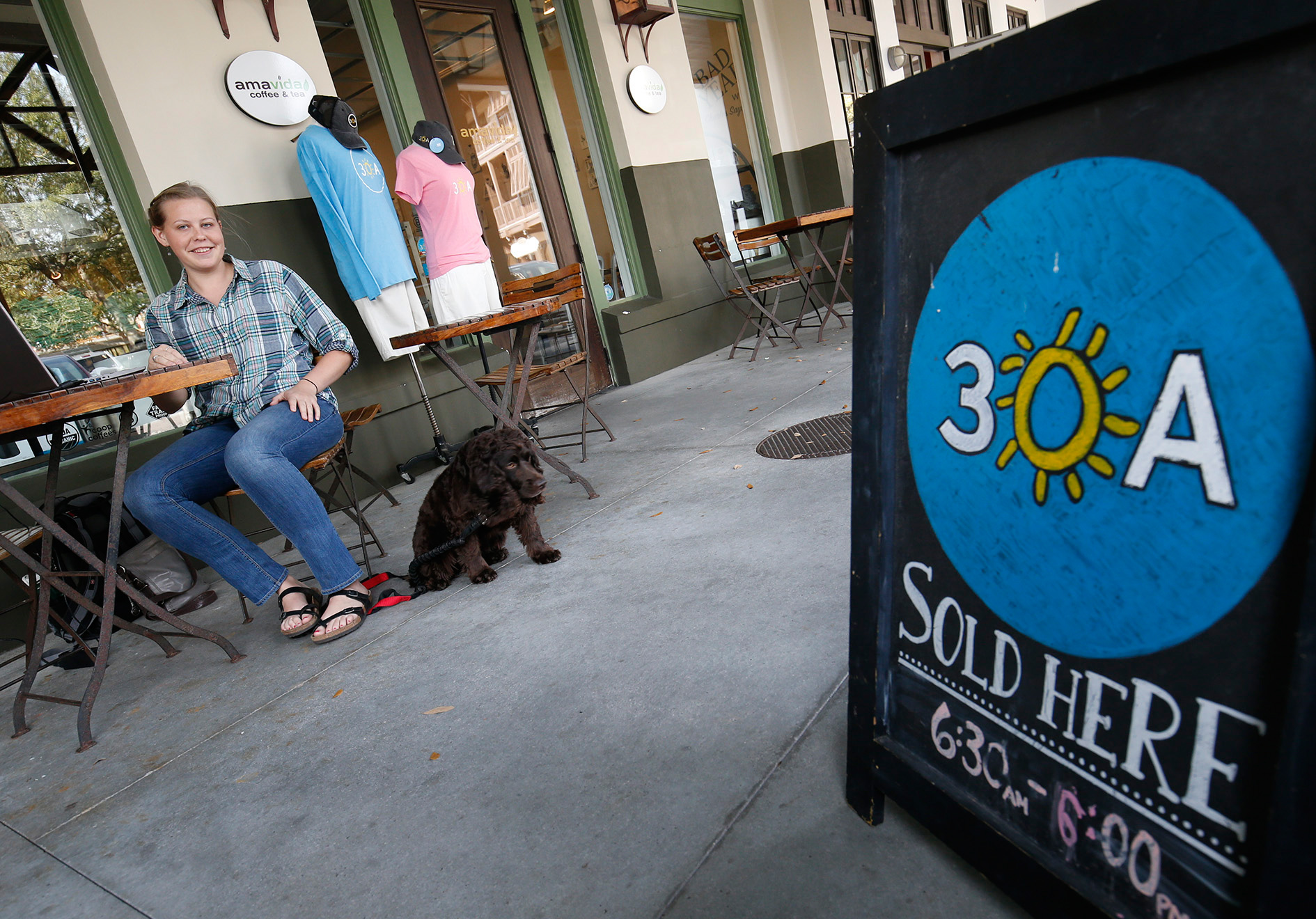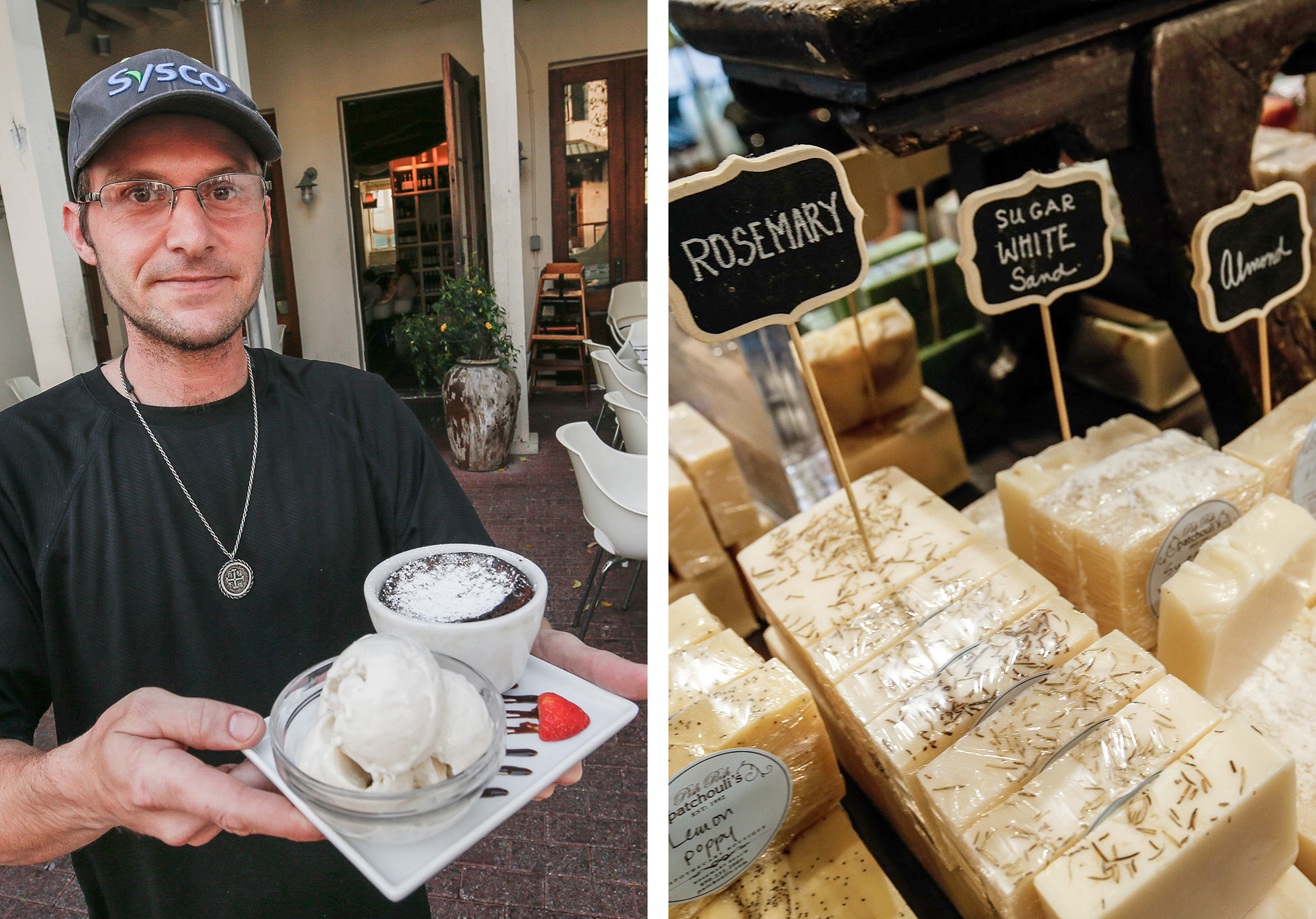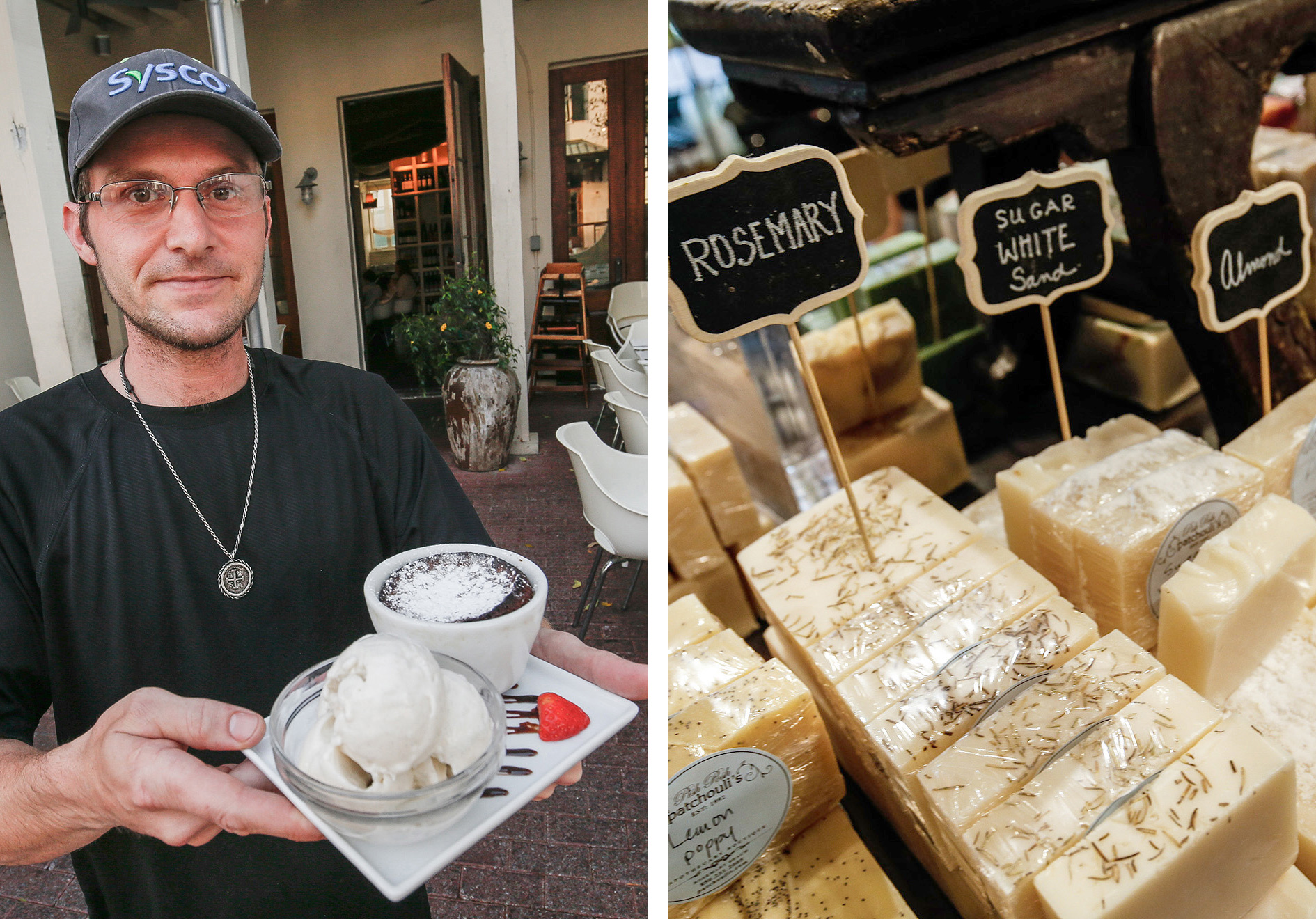 Woody sprigs of rosemary decorate tables in La Crema Tapas & Chocolate, the café where Chef Joe Hunter holds bragging rights for the best Hot Chocolate Molten Cake around. The scent can be found tucked shoulder-to-shoulder among dozens of other fragrances in Pish Posh Patchouli's, a shop that lets you add your favorite aroma to lotions, oils and bath salts. You can also enjoy Rosemary ReviveMINT essential oil massages from Vivo Spa Salon, one of the two spas in this small town. (The other is located in The Pearl Hotel.)
Other merchants that make up the Town Center of Rosemary Beach include Bamboo Bicycle Company, Amavida Coffee & Tea, and The Hidden Lantern Bookstore & Gallery, which holds a weekly story time during the high season that begins with spring break and ends in the fall. Clothing boutiques, interior design shops, art galleries, gourmet cafés and a toy store round out the merchant offerings.
At the south end of Main Street stands The Pearl Hotel, a luxury resort that locals welcomed.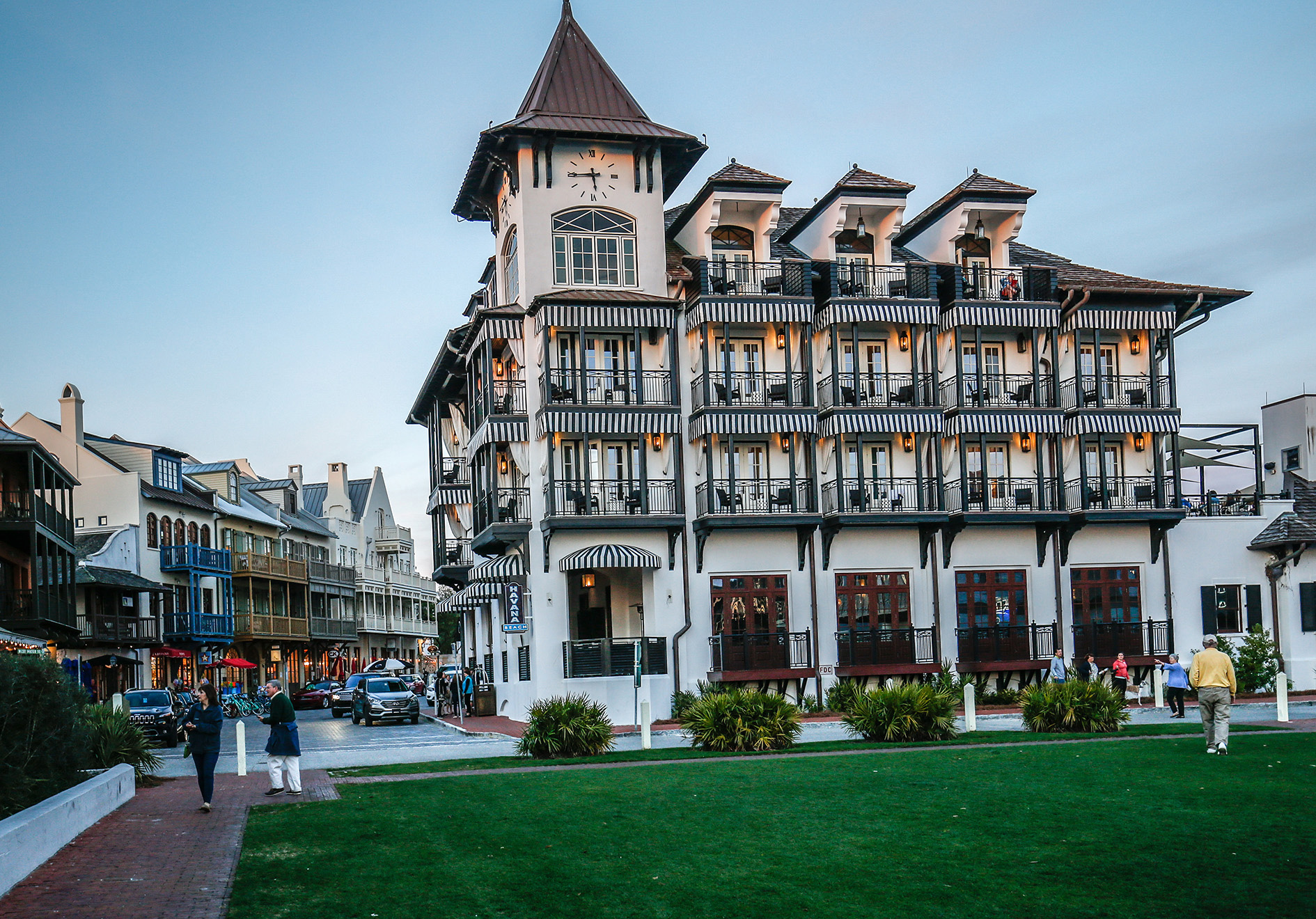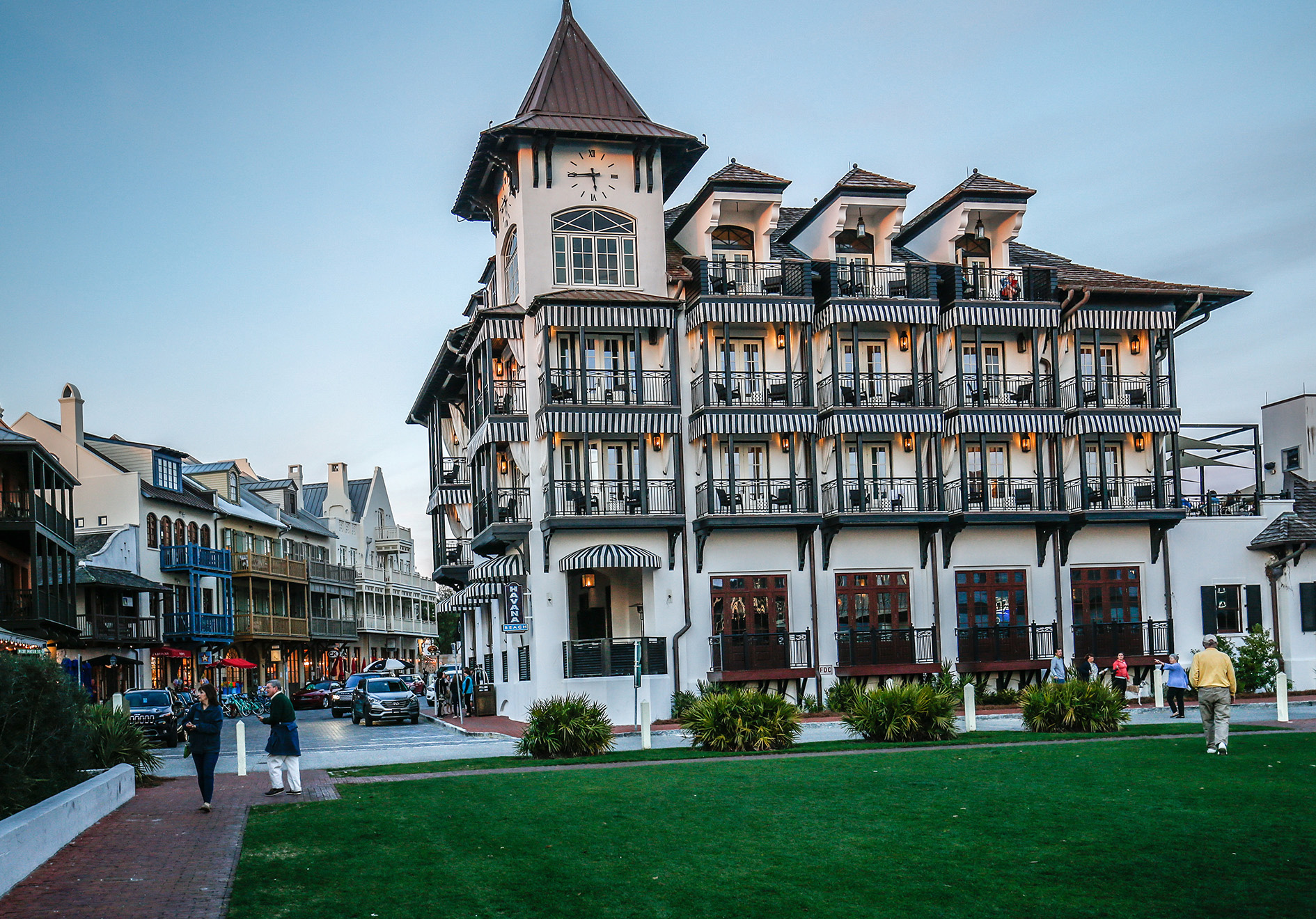 The 55-room luxury The Pearl Hotel is tastefully decorated in art glass fixtures and photography of Cuban life from noted photographer Tommy Crow, who has a studio in neighboring Alys Beach. Guests of all ages are welcome, but the picturesque adults-only pool viewable from west-facing rooms might be an attractive nuisance to children. They are more than welcome to use any of the four community pools in town and to take the short walk to the beach.
Guests also have access to amenities such as complimentary beach chairs and oversized umbrellas, and St. Joe Club & Resort perks, which include access to three golf courses, the WaterSound Beach Club farther east on 30A, and bicycles.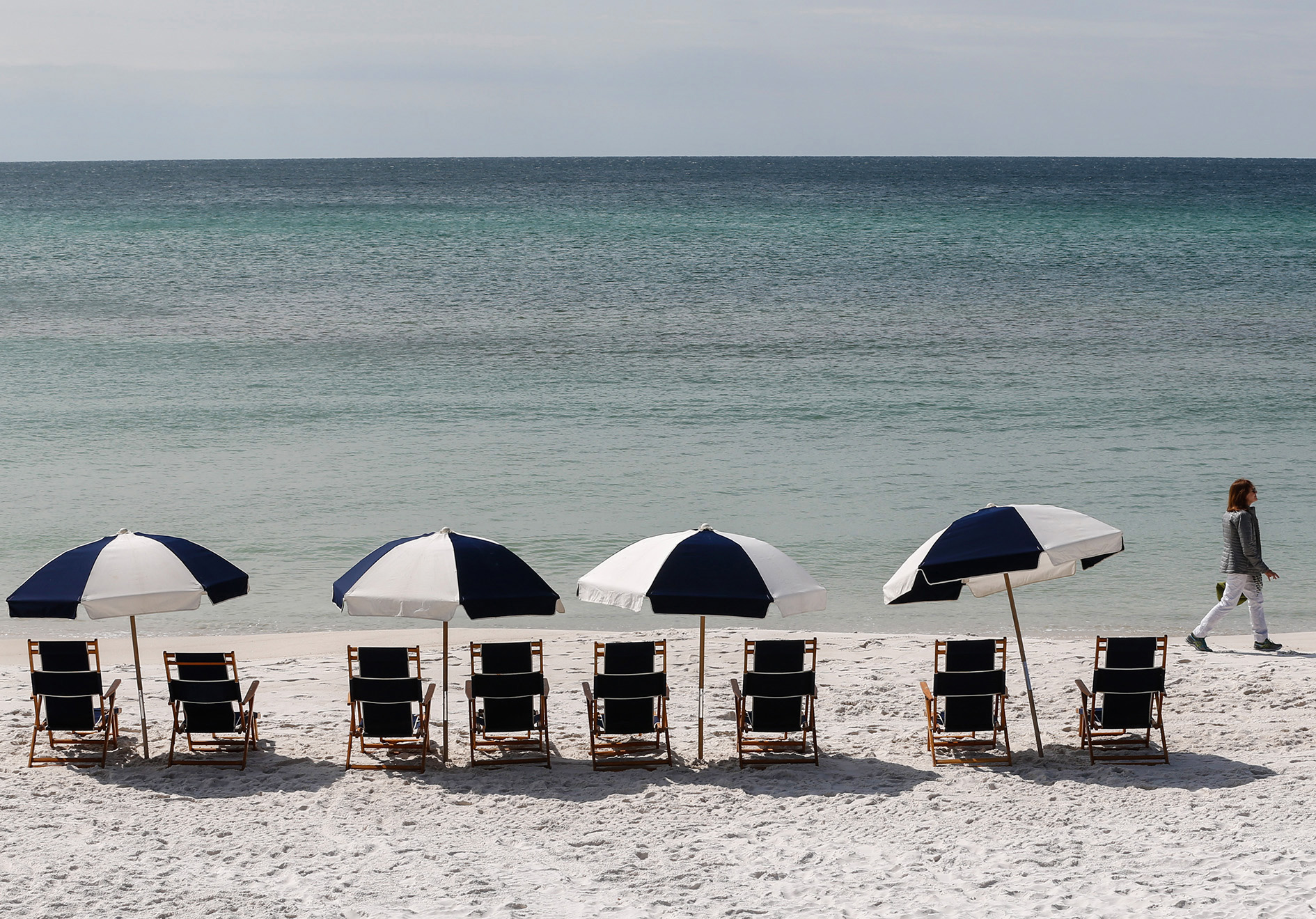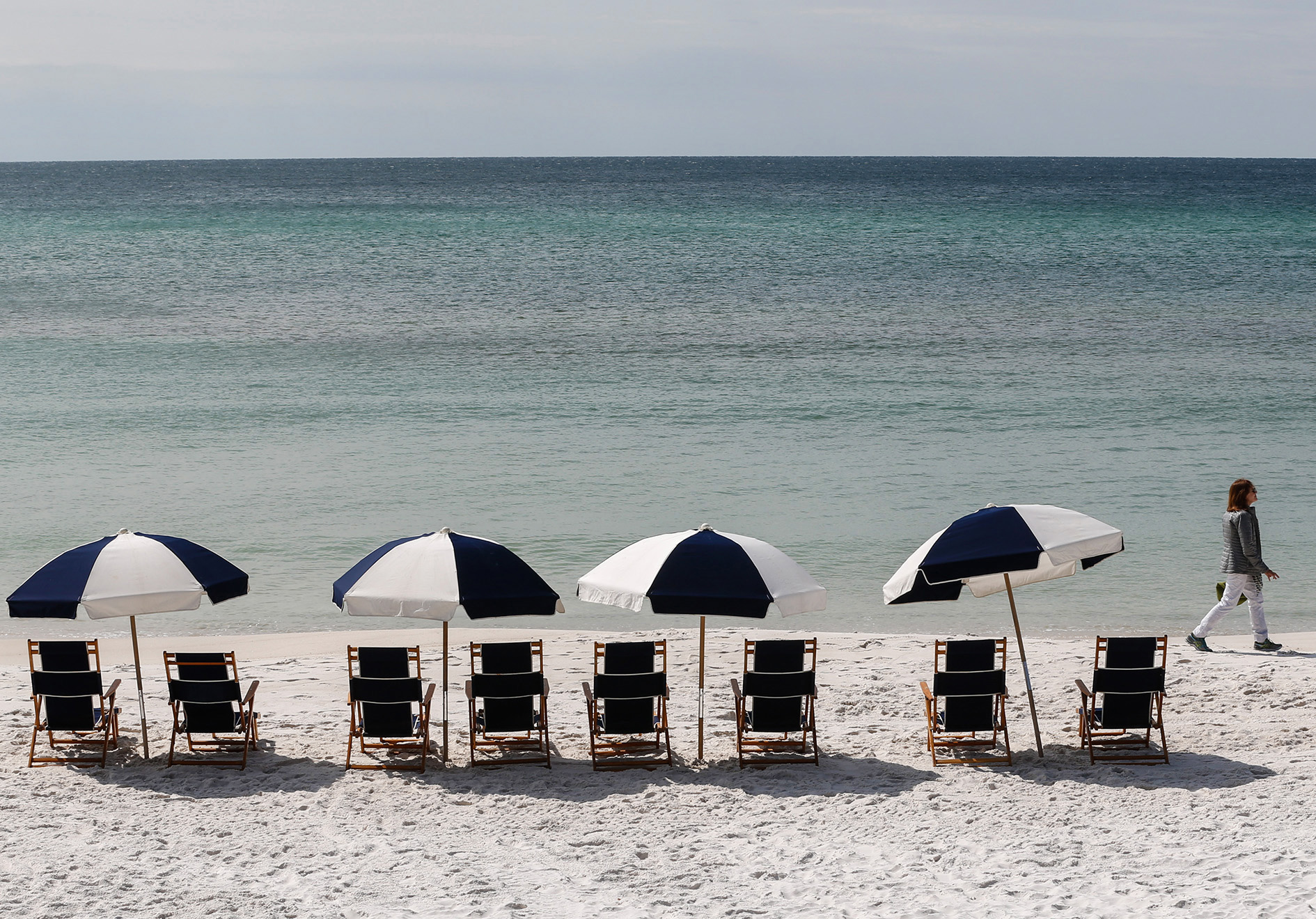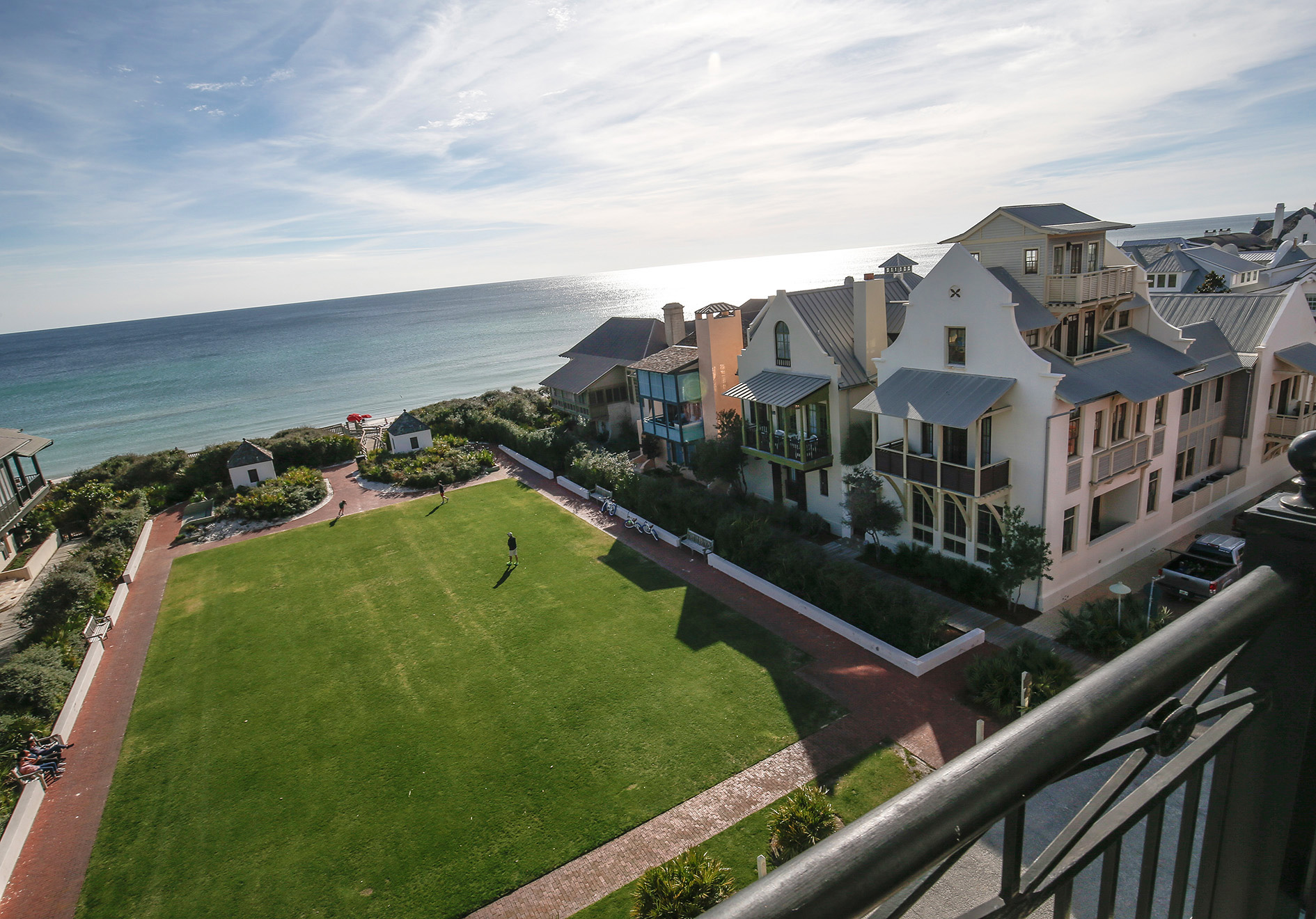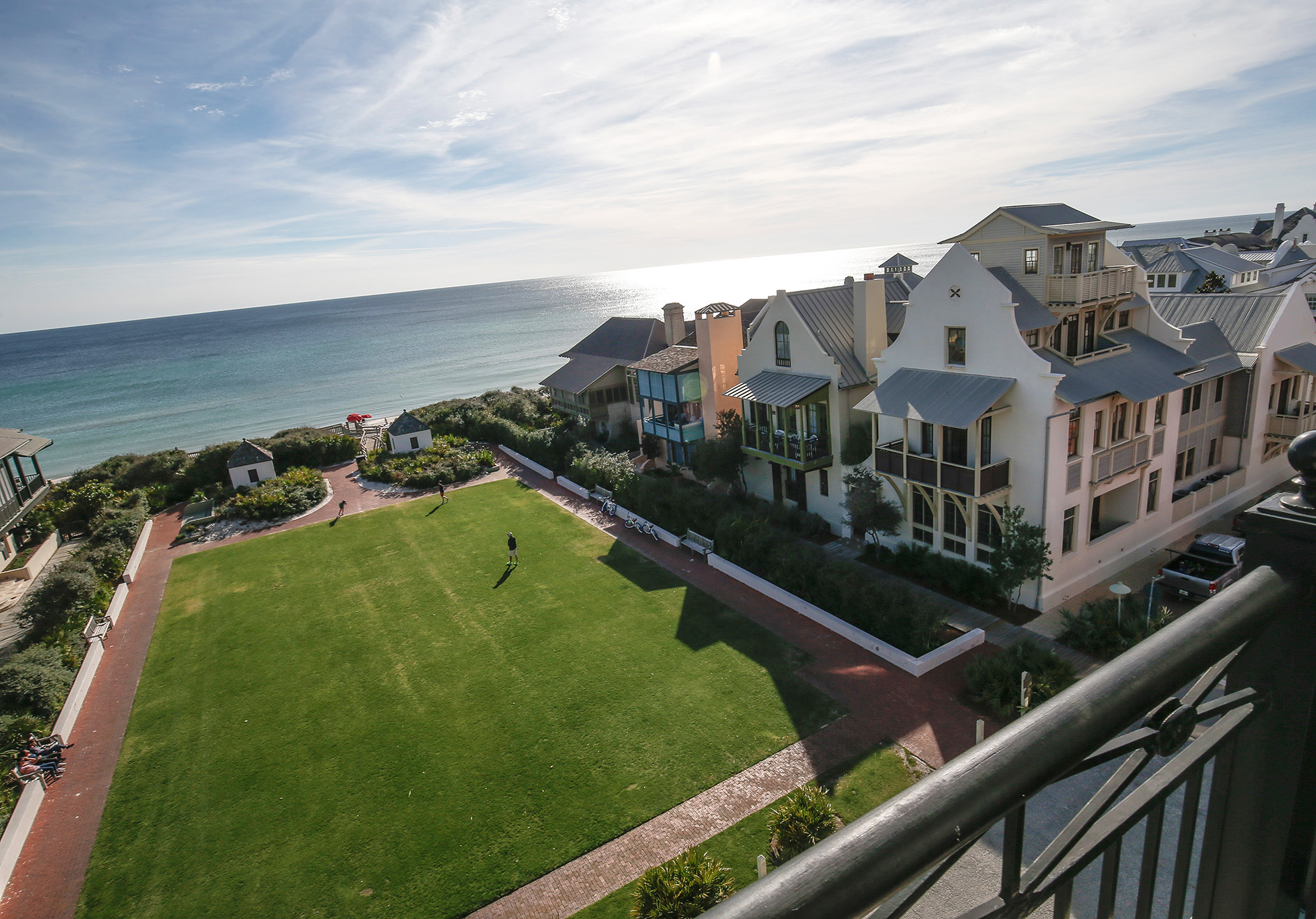 Guests and non-guests are welcome at the poolside Spa Pearl, the Havana Beach Bar & Grill, and the Havana Beach Rooftop Lounge where, if you're standing in the right place you can get a peek at the nearby emerald waters of the Gulf of Mexico. The hotel's events are also open to the public and include regular Saturday night Cocktails & Classics movie nights and Sunday Funday with live music, as well as special events like the Cinco De Mayo Fiesta and Mother's Day Brunch.
There are 18 parks scattered within the community's 107 acres. Beachside parks include the Western and Eastern Greens. There's also South Barrett Square and Playground Park. On the north side are East and West Long Green Parks, and North Barrett Square, which is home to the annual bocce ball tournament.
St. Augustine Green has an interactive children's fountain. In the northwest corner, a wooden walkway leads to a butterfly and herb garden. The sand paths and boardwalks that wind through this native landscape make up a 2.3-mile Fitness Trail that also incorporates four fitness stations with exercise apparatuses.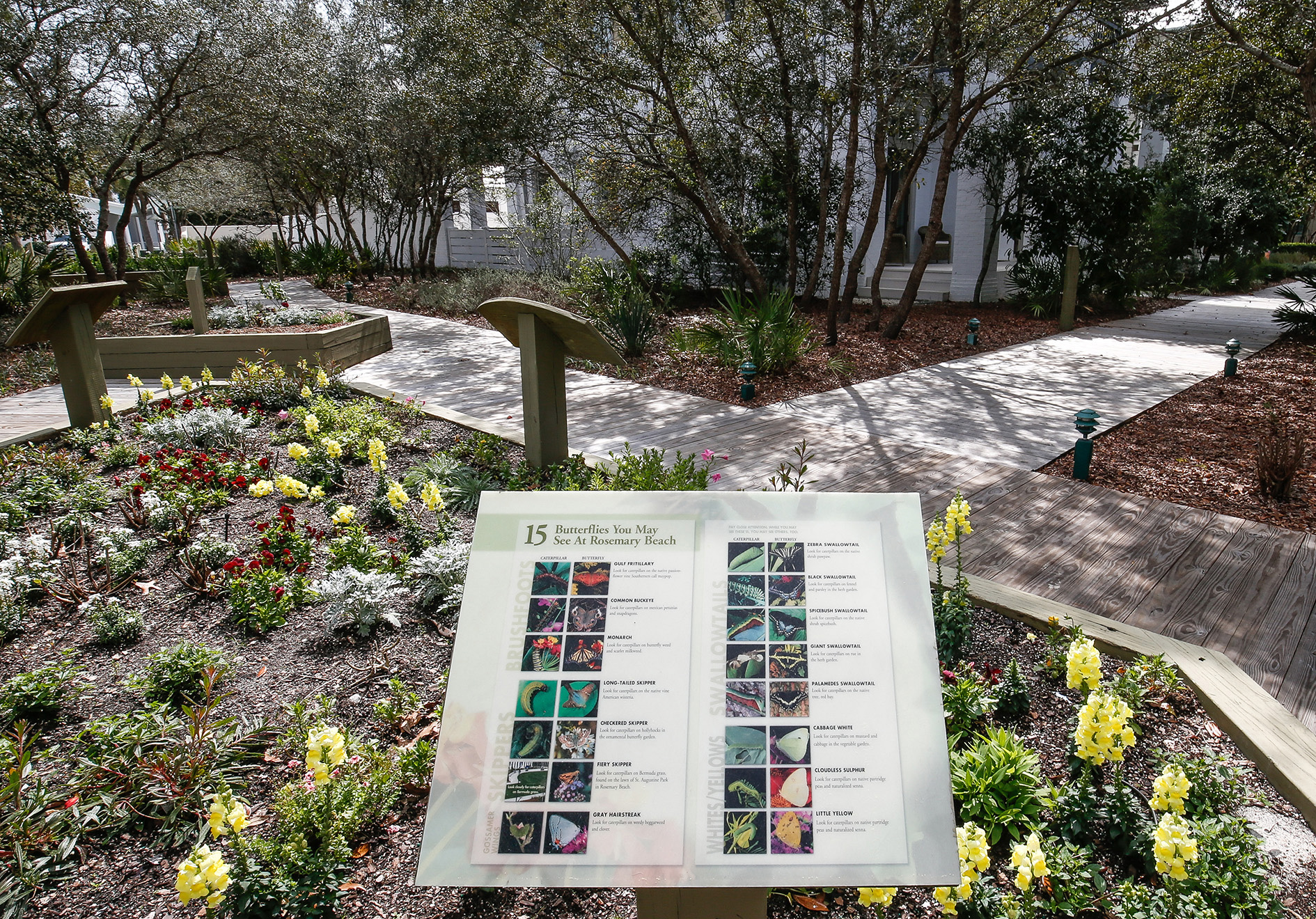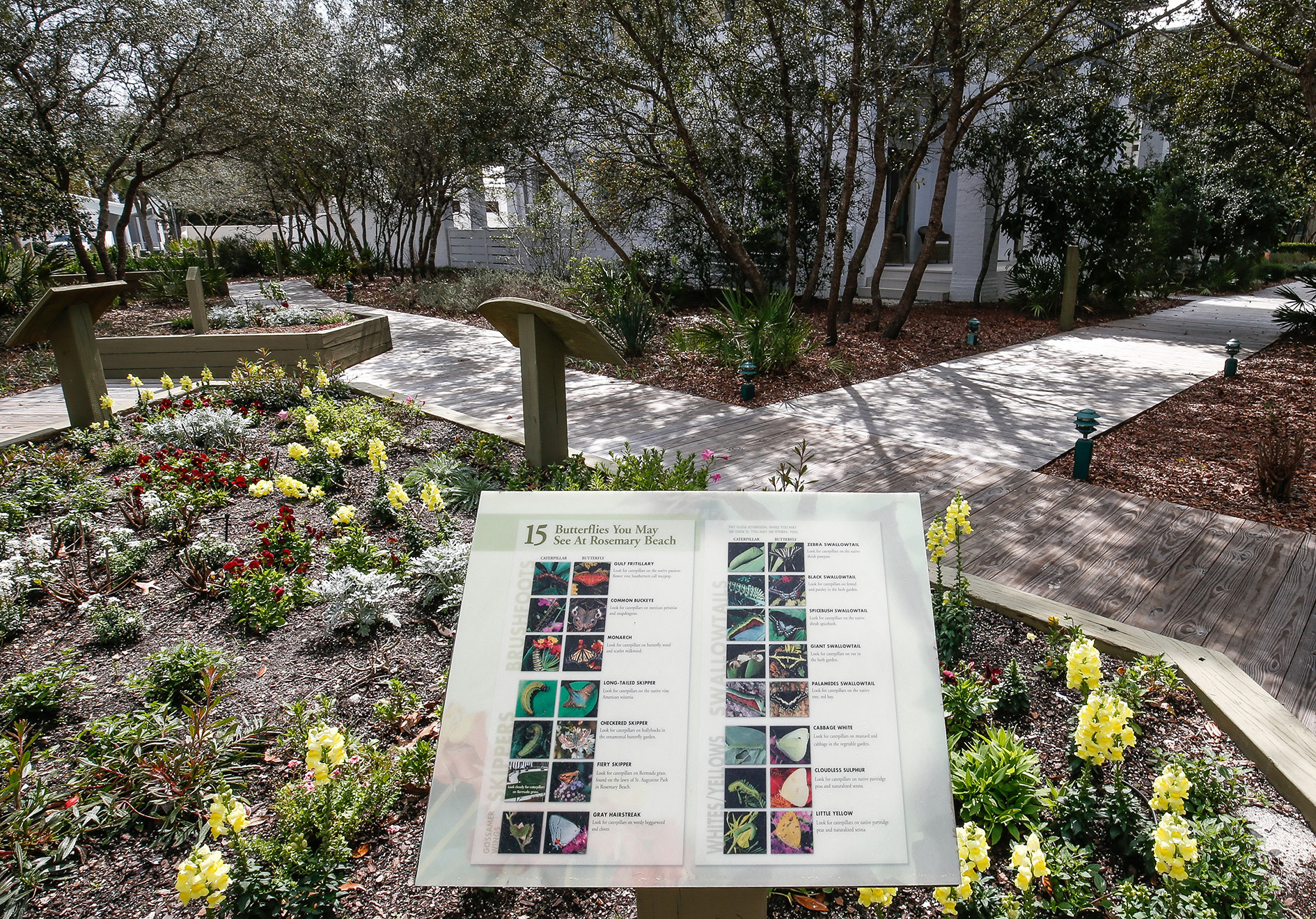 The parks are widely used for weddings (as is the Town Hall in Barrett Square) and community entertainment. On Sunday mornings, the 30A Farmers' Market at Rosemary Beach sets up shop in the Town Center. Moonlight Movies & Face Painting happen Thursday evenings on the Western Green, which is also the place to enjoy various art forms during Art on the Green on second-Tuesday afternoons. The community also hosts regular Rosemary Race Scavenger Hunts in South Barrett Square, Children's Theatre performances in North Barrett Square, and live music performances in the Town Center. And each January, Rosemary Beach becomes one of more than 25 venues along the scenic highway that features performers as part of the 30A Songwriters Festival.
But the most prized form of entertainment at Rosemary Beach occurs every evening, when the sun starts it descent into the sea. Traces of clouds give way to an impressive lightshow of orange and blue that stretches along the seam between heaven and earth, and creates the best reminder that like the piney fragrance of the herb, Rosemary Beach isn't easily forgotten.