We are highlighting Muscle Shoals, Alabama this month in the Good Towns series. Spotlighting special towns across the country, Good Towns is about the character, the history, the people and the unique things that make a town a special place. We hope you enjoy this story about the Shoals area and its many charms.
The visitors come from Texas, Tennessee and North Carolina. Then more come, from Indiana and New Orleans. One camped out at Joe Wheeler Park and is headed to the Coon Dog Cemetery in nearby Cherokee. Another tourist is headed home to the East Coast.
But only after seeing where the Swampers did their thing at the 3614 Jackson Highway studio, the original home of the Muscle Shoals Sound Studios.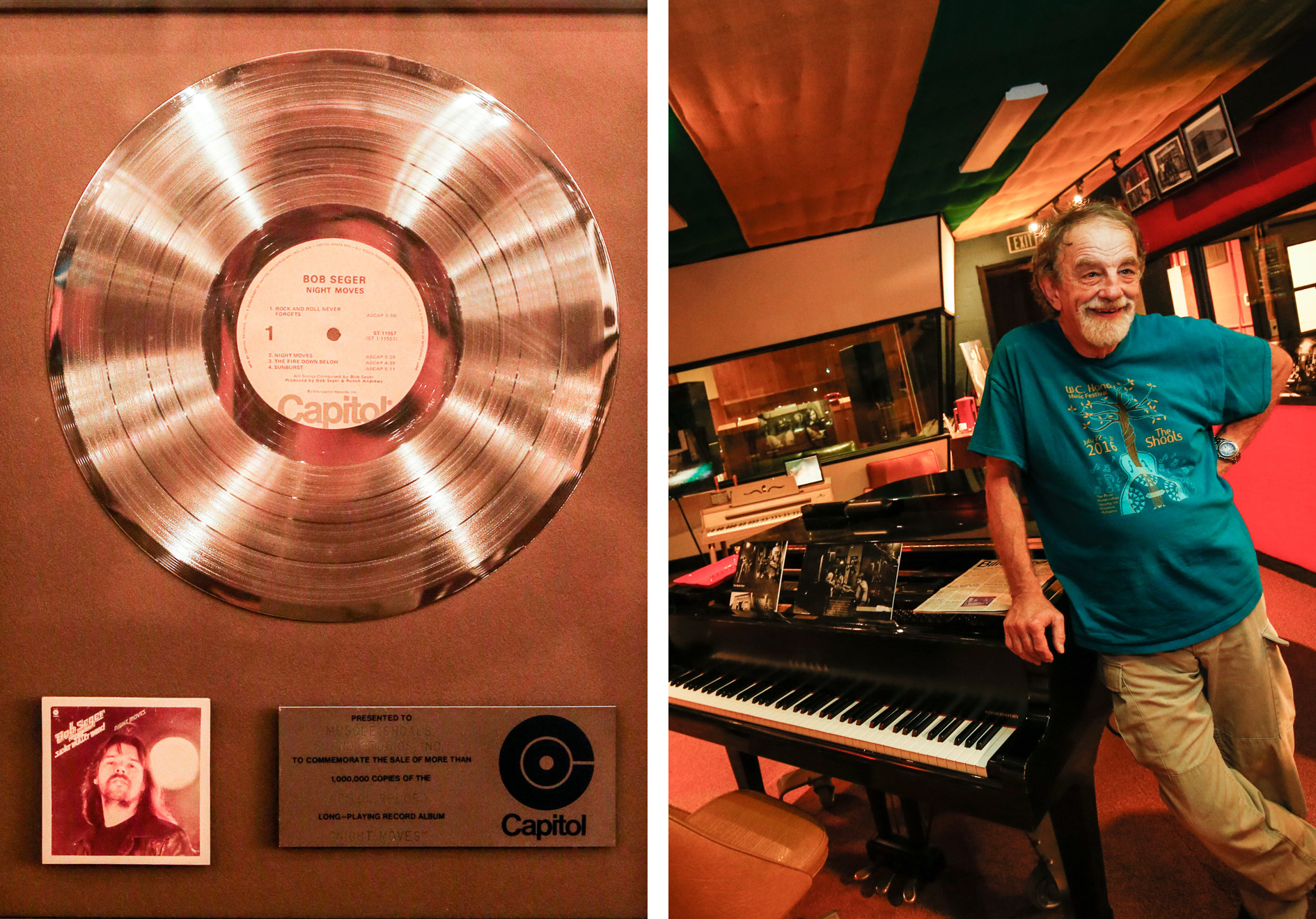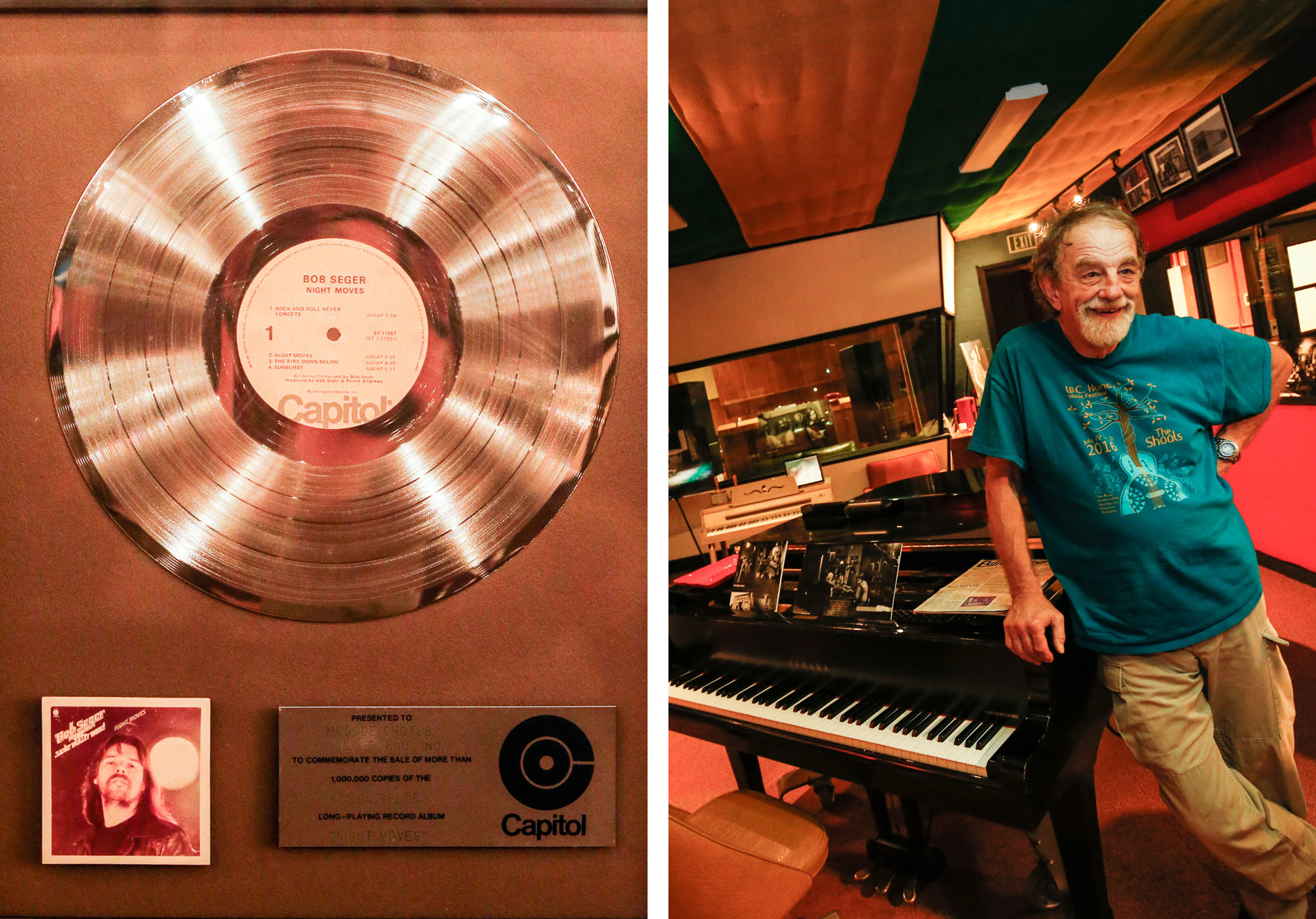 A large photo of Mick Jagger, his lips pursed in a familiar pose, greets visitors as they enter the old recording studio in pairs on a steamy summer Friday morning. The photo is from the Rolling Stones' Wild Horses recording session that took place here nearly a half a century ago. Next to it is another giant photo of two other music icons, producer Jerry Wexler and singer-songwriter Willie Nelson with "I can't believe what we just did" grins standing outside the dream factory.
"That's the best photo I ever took," said Dick Cooper. Like Wexler, he's a journalist-turned-producer. Now, on the other side of 70, Cooper has become the region's unofficial historian. A Birmingham native, he came to the area as a newspaperman who made a name for himself wrestling a circus bear. "I was running from something and I stumbled into here, and it's the best thing that ever happened to me."
Rock 'n' Roll Is Here to Stay
First things first: The original Muscle Shoals Sound Studio is actually located in a cramped building in nearby Sheffield. Together, the two towns comprise half of North Alabama's Quad Cities. The Tennessee River provides one natural boundary on its meandering, 652-mile run from Knoxville, Tennessee, to the Ohio River outside Paducah, Kentucky.
Music still reigns. Documentaries and books lovingly recount the sound produced in the Shoals, and it's still going strong thanks to locals who made it big such as Drive-By Truckers and Jason Isbell.
Back in its heyday, the industry's heavyweights road-tripped there often, from Rod Stewart and Bob Seger to Aretha Franklin and Linda Ronstadt.
"Bob Dylan was a delight," said Cooper, who housed the folk-rocker during recording sessions. "I worked with so many rock 'n' roll guys that were arrogant. But with Dylan, you'd be in the control room and if he wanted something, he'd leave the booth, walk up to you and politely ask if you could help him."
They still have a working relationship. Cooper is providing photos taken from Dylan's recordings for an upcoming book-and-music project.
The recording studio at Muscle Shoals Sound remains unchanged from the era of when the Stones and Lynyrd Skynyrd recorded there. That's the biggest draw for the tourists who flock there for daily tours. The other can't-miss part of the tour is a floor below, in the basement that was designed as a refuge. It still features vintage man cave furnishings of generations past without losing its ability to dazzle with cool. Dozens of photos, many taken by Cooper, line the paneled walls providing a Who's Who of the studio's history.
Truth is, Muscle Shoals Sound Studios may not even be the most famous venue in an area that is still adding studios to the roster. FAME Studios was founded in 1959 in Florence, relocated to Muscle Shoals two years later, and recorded everyone from Wilson Pickett to Etta James. Artists as varied as Tina Turner, Huey Lewis and Tim McGraw — oh, and a four-piece band from Liverpool called The Beatles — cut FAME Publishing songs.
The Music Comes Alive
Nestled on the southern bank of the Tennessee River in Sheffield is Cypress Moon Studios, where the Muscle Shoals Sounds Studios migrated in 1978. A former Naval Reserve center, it features multiple recording studios, offices for songwriters, a large lounge where stars can relax and a stage/arena for weekly live music.
Tonya Holly is the owner of Cypress Moon, and she's a film producer, extras casting director (Blue Sky) and director (When I Find the Ocean), with projects shot on stage in the sprawling complex. She's from a family of musicians and is related to Elvis. Her husband, Kelvin, toured with Little Richard for 19 years and now tours with Pegi Young and the Survivors.
On this day, like most days between 11 a.m. and 3 p.m., she's busy with tourists. In her case, it's a family of six from California who came to Muscle Shoals just to see where the sound originated. While her building seems newer, it still retains its charm of North Alabama's golden age of music.
But what excites Holly is that the music keeps coming.
"There are just so many musicians here," she said. "The sound is unique and evolving. It's like another language is spoken here."
In Studio B, two engineers – Albert Rothstein and Danley Murner – fine tune tracks for a new project. Music comes from an office down the hall, where a writer may have discovered the hook to a new hit. And Holly's studio dog, Precious, takes it all in and opts for a nap on a comfy couch in the lobby.
Where the Music Began
Nearly a century before the Rolling Stones arrived, W.C. Handy set out from Florence to create a sound of his own. The son of a conservative minister, the college-educated Handy turned away from teaching because of the pay and instead became the Father of the Blues.
He wrote a campaign song for Memphis mayoral candidate Edward Crump in the first decade of the 20th century. The campaign proved to be a success, and so did the song, which he reworked into his first masterpiece, The Memphis Blues.
Before Handy, the Delta Blues had limited regional appeal, mostly among African-Americans. The Memphis Blues, however, introduced the style of 12-bar blues and crossed generations and races. The dancing team Vernon and Irene Castle used the song as the inspiration for their performances.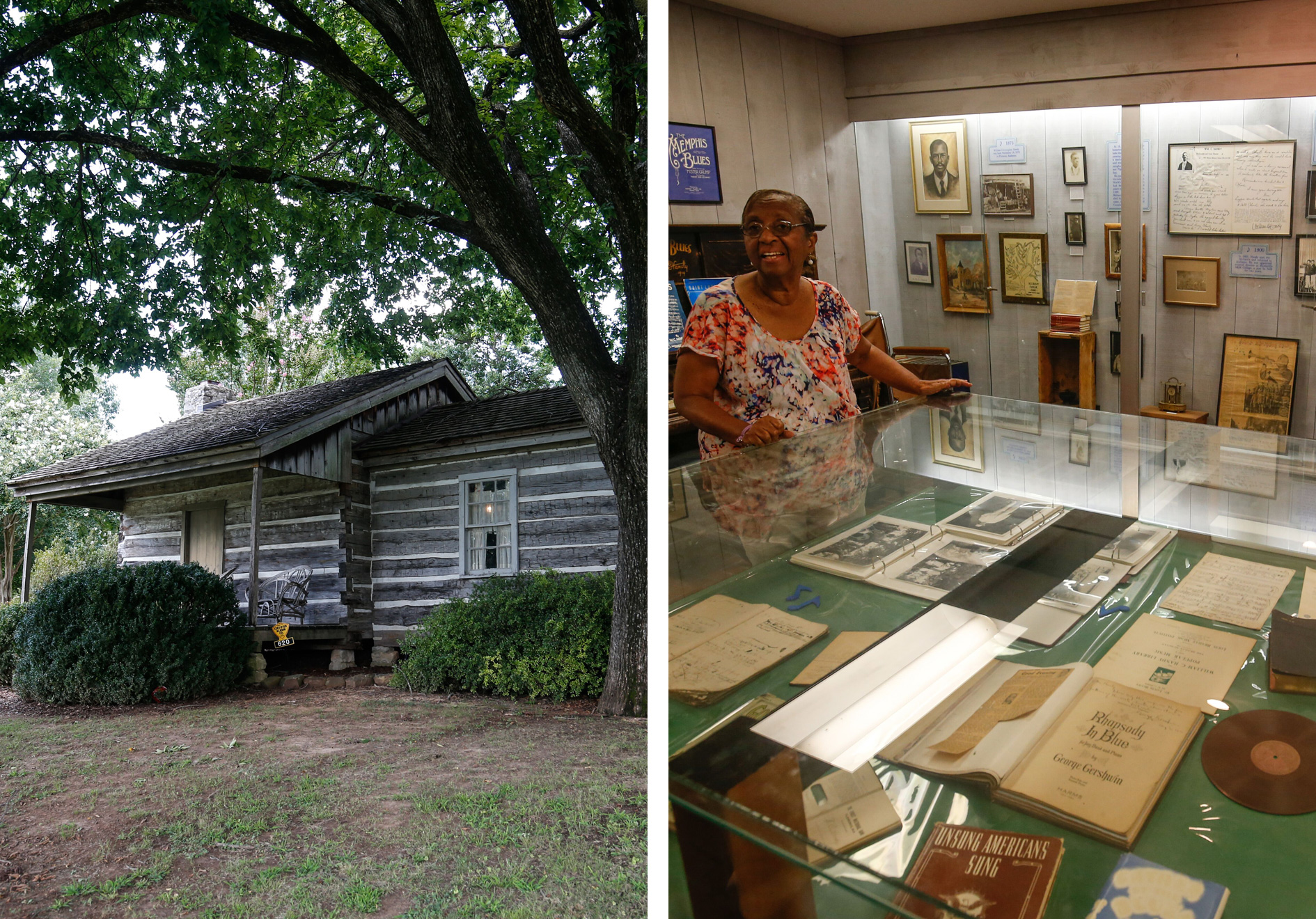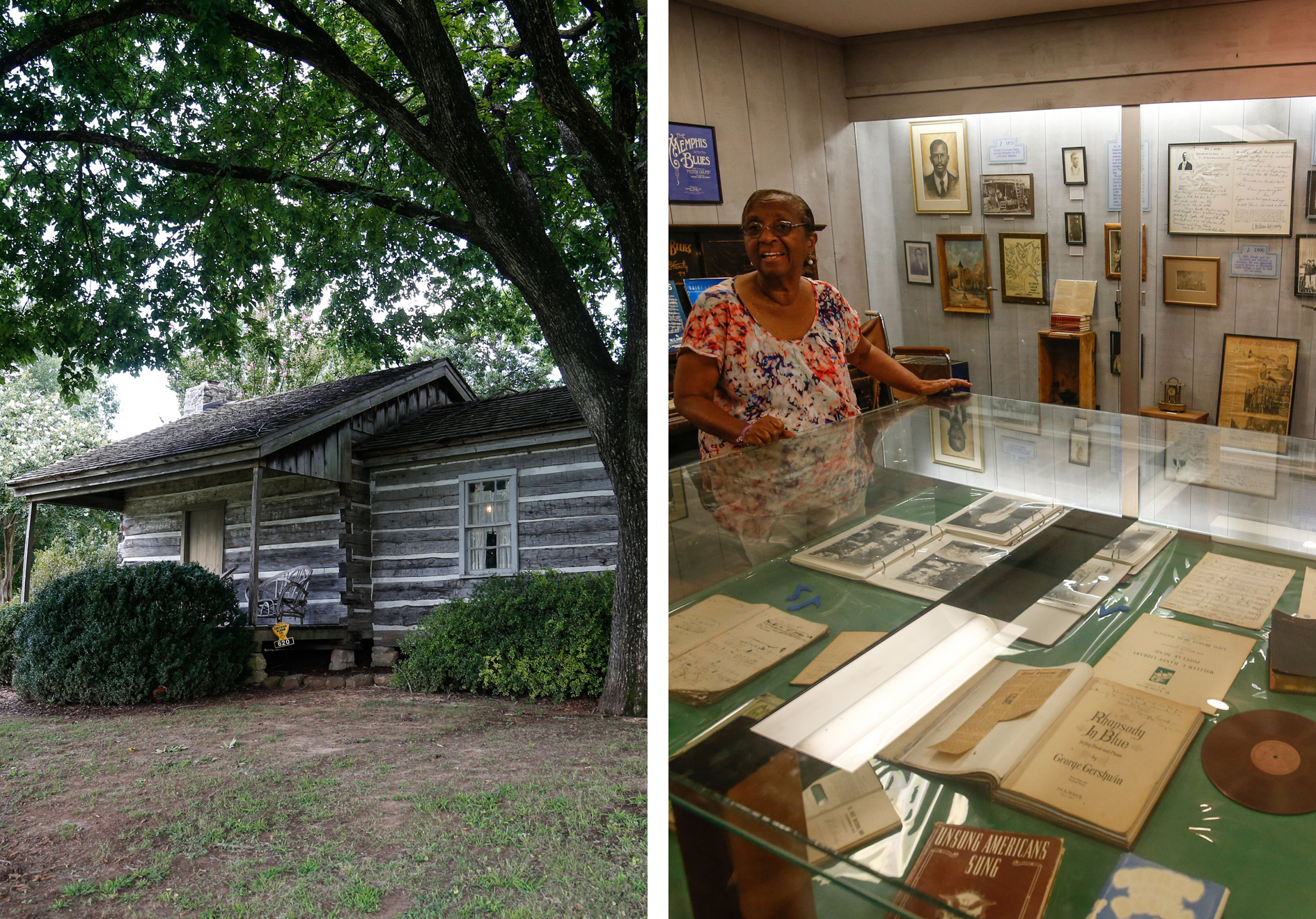 Before there was rock, there was the Saint Louis Blues, which began as a tantalizing tango and morphed into an upbeat jazz compilation that again crossed racial lines. Still, one of the most popular recordings was turned in by another Alabama ex-pat, Louis Armstrong.
By 1917, Handy was settled in New York City as a writing and publishing giant.
Yet to understand Handy's life, it's better to go back to 1873, when and where it began. The W.C. Handy Birthplace, Museum and Library, located near downtown Florence and the University of North Alabama campus, has a replica of the cabin where Handy was born. Overseen by curator Selena Harden, the museum wing features letters, sheet music, instruments and recordings from his life. It's a step back in time that reminds visitors of the giant's humble beginnings.
If that's not enough of a reminder of his legacy, the annual W. C. Handy Music Festival is held every summer, with musicians from across the globe gathering to pay homage by performing his works of art.
A Symphony of Angles
Frank Lloyd Wright wasn't a musician. Instead, the author, writer and educator was America's pre-eminent 20th century architect whose works are praised as renowned works of art. He, too, has a connection to the Shoals.
Architecture critic Peter Blake once wrote that Wright created four masterpieces in the 1930s that were unparalleled. Fallingwater and Talesin West are perhaps the best known. But the Rosenbaum House, located in a leafy, pristine Florence suburb is the only one Wright produced in his Usonian design in the Southeastern U.S., and to this day it is still considered one of his most memorable.
He designed a small home of 1,500 square feet for newlyweds Stanley and Mildred Rosenbaum in 1939. When the family swelled with four children, Wright doubled the size with a new addition that showed the practicality of his design.
For 60 years, the Rosenbaums remained the sole occupants until the city of Florence acquired it in 1999 and, using a public-approved sales tax increase, began restoring it to its original glory with a team of professionals and volunteers.
Wright's Usonian design came out of the tumult of the Great Depression, Wright saw an opportunity to create affordable housing for middle-class Americans, designed to match their specific needs while remaining practical and functional.
His homes resembled a living organism, with the body comprised of the living room and kitchen and bedrooms making up the tail, connected by narrow hallways and built-in furniture and spaces for storage. In the case of the Rosenbaums, it was designed to fit in with a neighborhood of flowering trees on a lawn that remains a luscious green.
Nearly 80 years after construction first began, the Rosenbaum Home still looks thoroughly modern with horizontal angles of wood and brick. As for the inside, it remains functional in a 21st century world with its contemporary features and the small brick-contained courtyard. Unfortunately, instead of moving in, you'll have to settle for a satisfying tour.
A Symphony for the Senses
The entire Shoals area can't be seen in a day because there are so many options. The waters of the Tennessee River beckon fishermen and watersport enthusiasts. History buffs may be called to the Forks of the Cypress, where Irish engineer James Johnson's historic plantation stood for 150 years,
In Tuscumbia, Ivy Green is the childhood home of perhaps the most famous Alabamian of all. Left deaf and mute as a toddler due to illness, Helen Keller became an international symbol of strength and courage who befriended presidents and kings. Each year, the Helen Keller Festival is held on the site where Anne Sullivan taught the young Keller how to read and speak.
Two nods to even earlier history can be found at the Florence Indian Mound and Museum, where visitors view artifacts that date back to the Ice Age. Tom's Wall is the one-man tribute to the late Tom Hendrix' great-great grandmother, a member of the Yuchi tribe who walked for five years from Oklahoma, after being forced by U.S. troops on the Trail of Tears, to return to her Shoals home along the "Singing" River.
From anglers to fans of architecture, and from those who love classic rock to those who are destined to become legends on their own, this slice of Northwest Alabama is well worth a visit and a linger for memories to come.
Try this: According to al.com, these are the 20-best songs recorded in Muscle Shoals.