We are highlighting Gatlinburg, Tennessee, this month in the Good Towns series. Spotlighting special towns across the country, Good Towns is about the character, the history, the people and the unique things that make a town a special place. 
On the morning of November 28, 2016, Gatlinburg Mayor Mike Werner woke with the taste of smoke in his mouth.
The fire had been smoldering for five days, its smoke rising up from Chimney Tops trail 10 miles away in the Great Smoky Mountains National Park. Fed by a severe drought across the region and decades of pine straw and foliage kindling on the forest floor, the smoke cast out for miles onto the valley below. It seemed too distant to be a concern to the people of Gatlinburg, many of whom had grown accustomed to the burning smell and haze.
But that Monday morning, the smoke felt invasive.
"I said to my wife, 'Let's get out of here and get some fresh air,'" Werner recalled, standing on the concrete slab where his house once stood on the edge of Greystone Heights high above downtown Gatlinburg.
Within hours of their leaving, a wildfire fueled by a cold front packing gale-force winds raged toward the small tourist town with unprecedented speed. It tore through more than 17,000 acres, killing 14 people and destroying more than 2,400 structures in Gatlinburg, including the mayor's home.
"I had no idea the fire was that close. No idea that it would come here," he said, framed by a distant blaze of red, orange and yellow foliage, the kind of breathtaking view that lures tourists here year after year. The fire also destroyed a condominium complex he owned about a mile down the road.
In its aftermath, as trees still smoldered against a backdrop of ash and charred debris, the damage was assessed. Homes were the hardest hit. Many businesses were damaged — some completely destroyed — as were churches, restaurants, inns and chalets, and a wedding chapel. For a town that relies entirely on tourism, the fate of Gatlinburg lay in the balance.
That's when Werner stood up at a press conference, speaking not only as the mayor but also as a victim, and offered words of hope: "We just want to let people know that we will rebuild, and we will remain the premier resort community we are. Our guests love Gatlinburg, and it will be OK."
Open for Business
Gatlinburg typically hosts between seven and nine million tourists each year, making it the third most visited city in Tennessee behind Nashville and Memphis, respectively. Tourism in Sevier County – which includes Gatlinburg and Pigeon Forge, where Dolly Parton has her Dollywood amusement park – generated $2 billion in revenue in 2015 alone.
When the fire first erupted, the news was dire. Some media outlets reported total devastation to key tourist sites, including Ober Gatlinburg, Tennessee's first and only ski resort; the Mysterious Mansion attraction; and the Black Bear Falls Log Home Community. But when the smoke cleared, the ski resort, the Mansion, and all the log homes were untouched. While many businesses closed to repair and regroup, much of the city was up and running again within days.
But the perception that there was nothing left of Gatlinburg was hard to shake. The city held regular press conferences to give updates on the recovery, and launched a marketing campaign to let the world know, "Gatlinburg is open for business."
Despite their best efforts, the closures and damage discouraged some tourists and resulted in a $19 million loss for the month of December 2016 – a 36.5 percent drop in the tourism revenue compared to the same month in 2015.
But not all visitors shied away.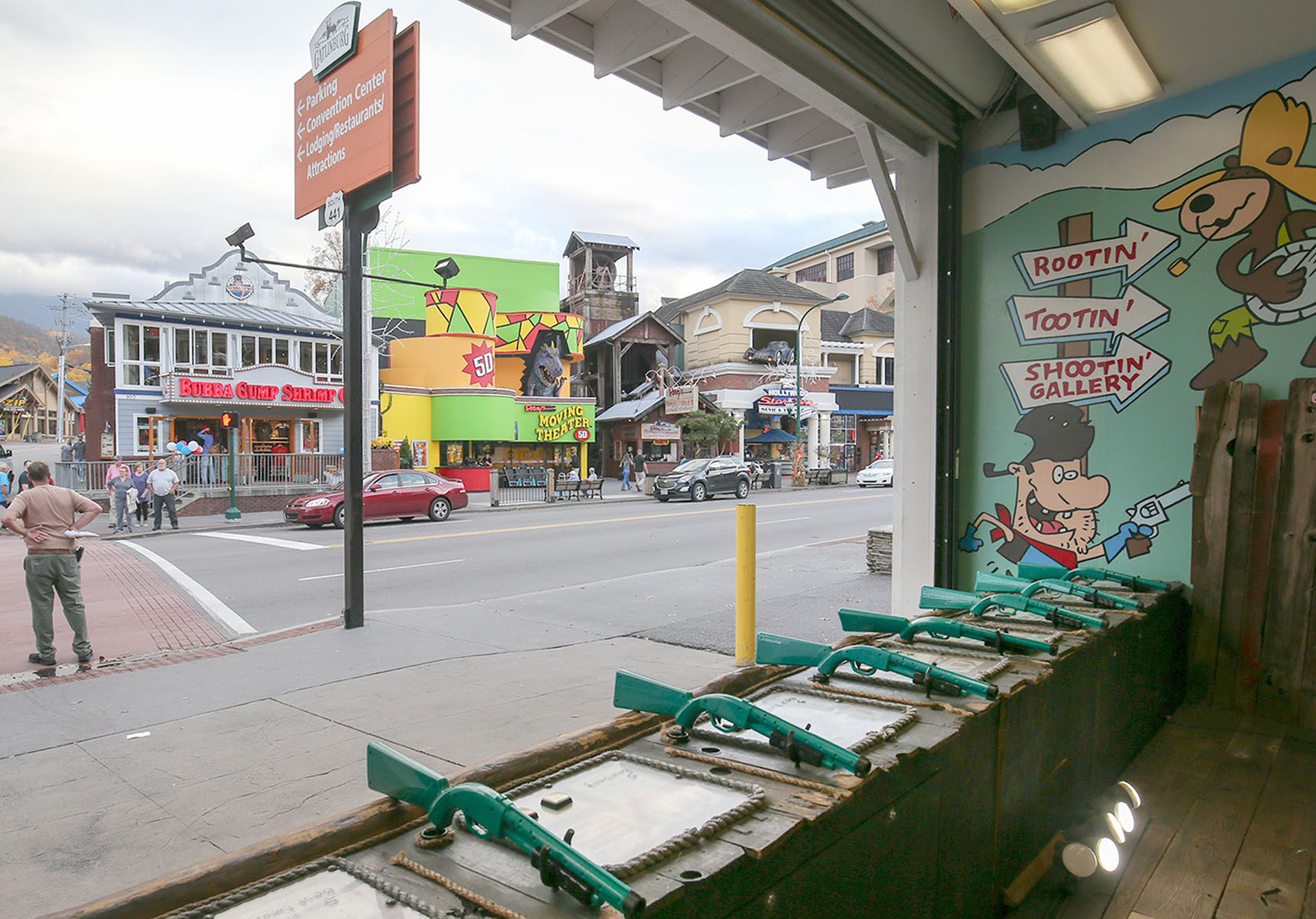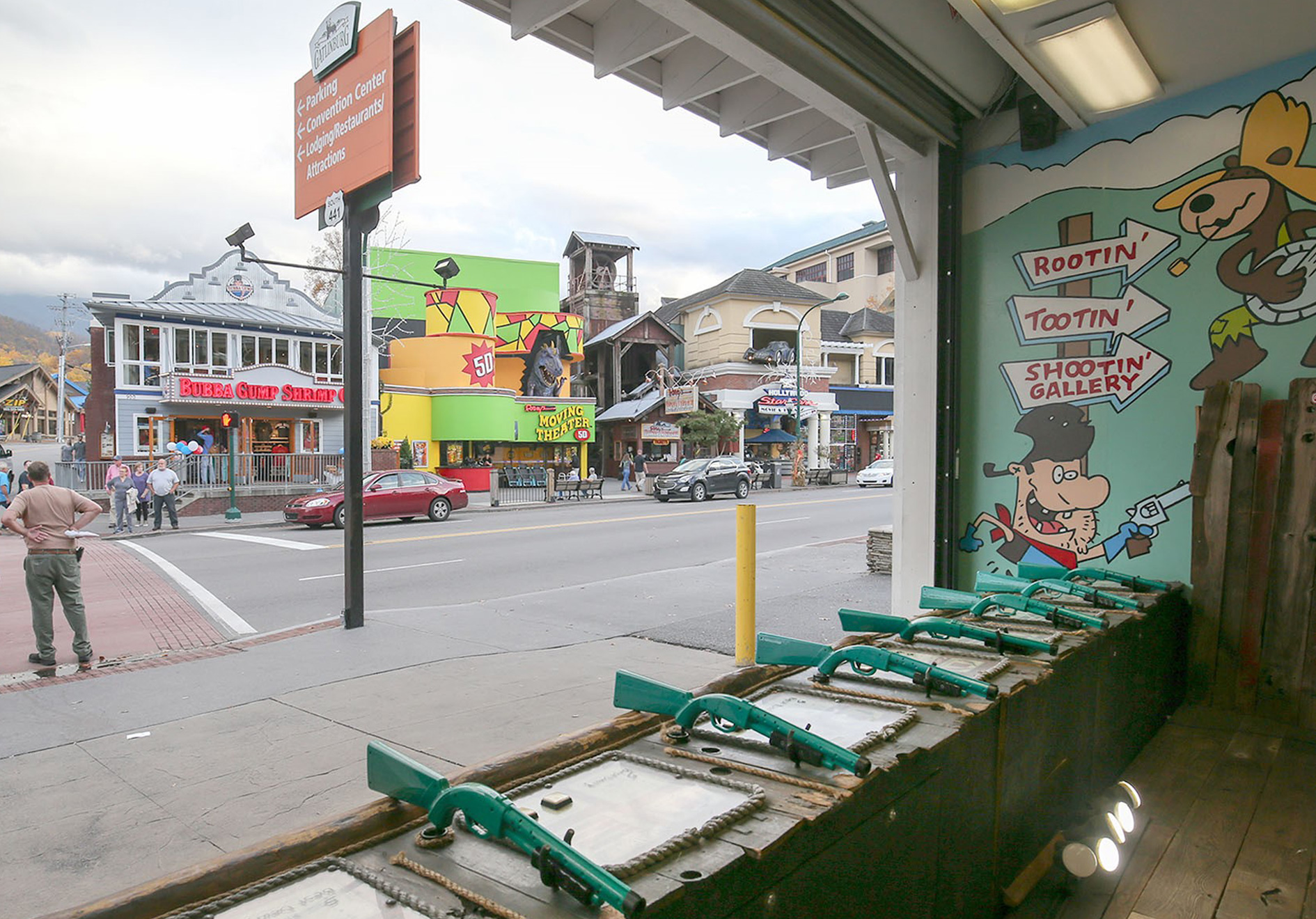 "We always knew we'd come back," Kathryn Morris said. She and her husband Van honeymooned in Gatlinburg 40 years ago and have returned often to reacquaint themselves with the small town.
"You can't really tell there's been a fire," Van added. They traveled from their home in Mount Washington, Kentucky, with friends Jonathan and Laura Rideout, also frequent visitors of Gatlinburg.
"We've really grown to love it here," Kathryn said.
People come from around the world to hike or raft in the Great Smoky Mountains, peruse the shops and amusements along the downtown strip, get married in one of the dozens of quaint chapels, and tour the largest collection of crafts along the Great Smoky Arts & Crafts Community trail, which is where the Morrises and Rideouts spent the day.
Established in 1937, the 8-mile loop is designated a Tennessee Heritage Arts and Crafts Trail consisting of a series of shops and galleries where more than 120 artisans whittle, paint, sew, cast, weave and carve to create original collectibles.
Potter Robert Alewine specifically chose to move to Gatlinburg in 1982 to set up his business, "because nine million people, that's why." He walks through Alewine Pottery's sprawling workshop where a team assists in the hand-making, firing and glazing of hundreds of mugs, vases and bowls. He goes through about 60 tons of clay each year and does a good business, but last year was hard. Sales were down a good 30 to 40 percent.
Still, Alewine said stories of the area's devastation were overplayed. "Look at us. We're here."
Wedding Capital of the South
Gatlinburg is the second-most popular wedding destination in the country behind Las Vegas, with about 42,000 ceremonies held in the city each year, according to the Association for Wedding Professionals International. Wedding chapels can be found all over Gatlinburg – hidden in the woods or nestled between businesses along the Parkway.
What draws brides and grooms to trade nuptials here are the beautiful views, plentiful accommodations, the assortment of entertainment, and comparatively modest prices, says Rev. David Faulkner, a past president of the Gatlinburg Wedding Chapel Association and wedding planner at Little Log Wedding Chapel. He's been organizing weddings and marrying couples for nearly 50 years – the first half as a preacher in Kentucky, the second as a wedding planner in Gatlinburg.
Gatlinburg was first a popular honeymoon spot. "I even honeymooned here," Faulkner says. Eventually, people started booking weddings in town, but local churches were less interested in marrying visitors. That led to the growth of wedding chapels. There are now seven in Gatlinburg.
"As you'd expect, we're very experienced at what we do," Faulkner says. Most chapels offer a variety of wedding packages that include flowers, photographers and catering options. Some chapels even have elopement packages.
Only one chapel was destroyed by the wildfire, but the impact was felt by the entire industry. "Our business was down about 30 percent for the year and that was probably true across the board," said Guy "Jacob" Jacobs, part owner of the iconic Cupid's Chapel of Love, which perished in the fire. "We get it. People need to readjust their thinking. Their favorite places have burned down so they don't want to come back. But we're still carrying on. We're coming back. In fact, we had a great October."
At least 20,000 couples were married at Cupid's Chapel through the years, and losing it was heartbreaking. But rather than rebuild, Jacob and business partner Lee Bennett chose instead to make improvements to Chapel in the Park, their other wedding venue located about 4 miles away. Here, you can find the old Cupid's Chapel sign and a new two-story waterfall similar to the much-photographed one at the former Cupid's site.
Now, Jacob says, they are ready to put the past behind them and focus on bringing business back to town. "Our take on the fire is that it was devastating. It was horrible losing Cupid's, the iconic chapel on the Parkway," he said. "But it's been a year. It's time to move forward."
Investing in the Future  
A black scar is burned into the leg of a rocking chair, the lone survivor among six that last year had been set along the porch of the restaurant at The Lodge at Buckberry Creek. The rockers were angled to capture views of the fall foliage and the distant rushing of the creek below. Today it stands as a reminder of the randomness of nature's wrath, how it chooses targets to destroy while sparing others in its path.
The fire took four of the five buildings on the resort's grounds, including the conference center, a lodge of guest suites, and its fine dining restaurant. The Woods building with guest rooms is the only structure that remains.
"It was very hard. The owners poured their hearts and souls into this property," says Katie Carter, assistant general manager & event coordinator. "At one point we wondered what should we do, what could we do? But there was such an outpouring of support from former guests and the community. It gave us the strength to come back."
Crews cleaned up the site and the surviving cabin. In June, The Woods lodge reopened for guests. The owners plan to rebuild but say it will take a year or two to finalize plans for a "bigger and better" resort.
Accommodations were among the hardest hit industries in Gatlinburg. The Eight Gables Inn, the Riverhouse Motor Lodge, the Tree Tops Resort, Highland Condominiums, and the Tudor Inn Bed and Breakfast, were all destroyed, as were dozens of Mount Laurel Chalets and several units at the Park Vista hotel.
The damage took a toll on the hotel/motel industry, leading to a loss in revenue – from $16 million in December 2015 to just $7.8 million in December 2016, according to numbers released by the Gatlinburg Convention and Visitor's Bureau.
But many appear to have faith that tourism will quickly rebound.
Westgate Smoky Mountain Resort & Spa — the city's largest resort — suffered extensive damage with 70 of its 90 buildings destroyed in the fire, a total of 800 units within various cabins and lodges, as well as a check-in building and restaurant. The resort quickly reopened the units that were spared, and within months broke ground on a $150 million project to rebuild. Construction is expected to be completed by 2019.
A month after the fire, Margaritaburg LLC, a consortium of investors, announced that it would plug $35 million into the construction of the Margaritaville Resort in the Smokies in downtown Gatlinburg. The seven-story, 174-room hotel will have a 4,000-square-foot outdoor pool, spa, and shops. The resort is expected to open July 2018.
"On the heels of the devastating wildfires, the announcement of this project shows the strength of the tourism industry in Gatlinburg," said Margaritaburg LLC president Bob McManus in a news release. "And we believe Margaritaville Resort in the Smokies will play a key role in rebuilding the community's economic health."
Heart of Gatlinburg
Few people lived to see the fire as it made a beeline toward downtown Gatlinburg, but by most accounts it appeared to move like a flame-thrower, hurling balls of fire across the air fueled by gale-force winds. It sped toward the heavily concentrated downtown business district in the valley below. Then something miraculous happened.
As the blaze moved toward the valley — an area of higher humidity — the fire naturally slowed. It was met by a powerful rainstorm that stopped the fire in its tracks. Downtown Gatlinburg, the heart of the city's tourism, was largely untouched.
Most of what people love about Gatlinburg remains the same, said Madonna Cress, who has visited the city several times in the past 40 years. On this trip she was joined by her former co-workers, Denise Gleze, Kathy Ramos and Patsy Tittle along the bustling strip of downtown Gatlinburg. They chose to come here "because, after the fire, we just had to."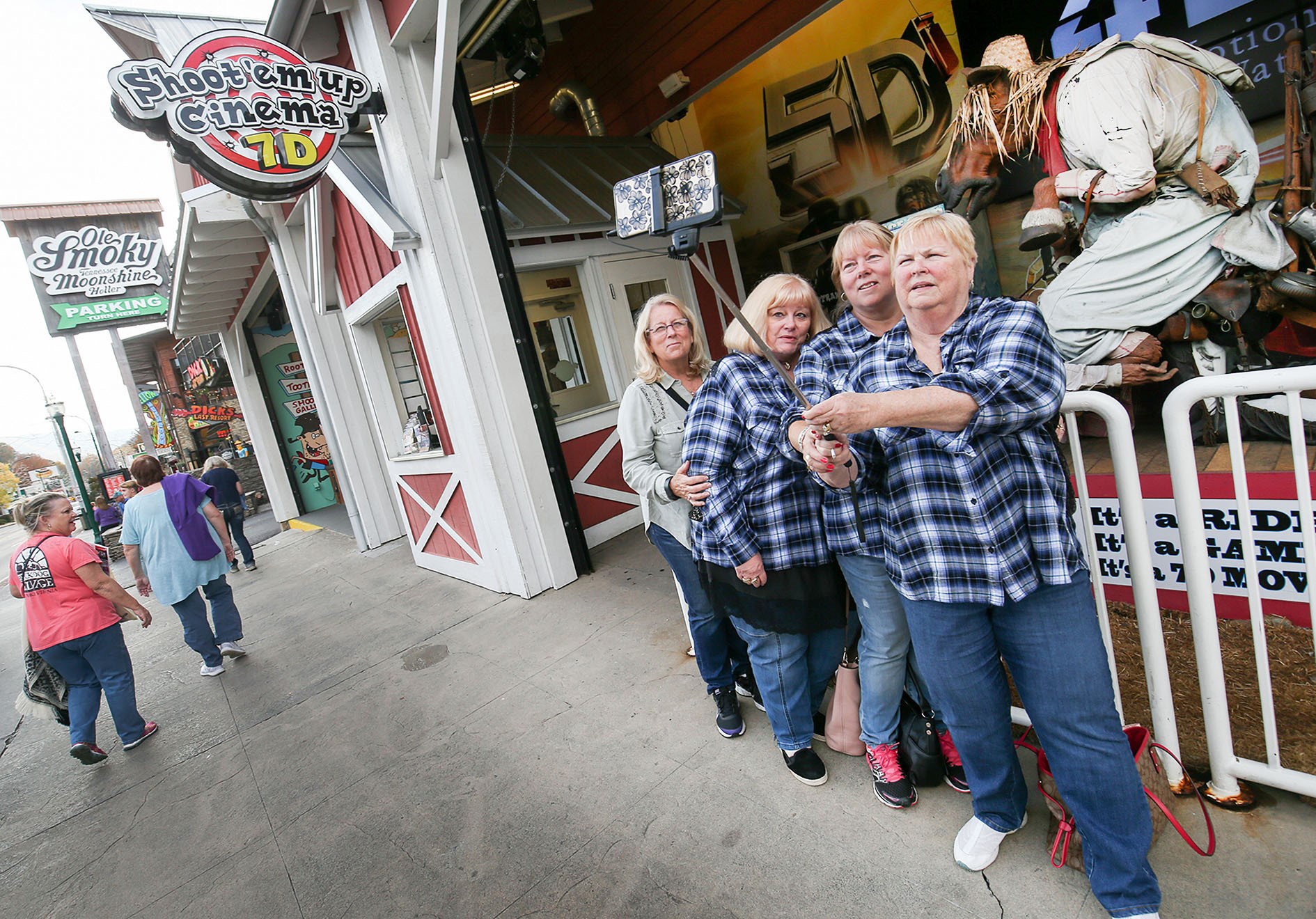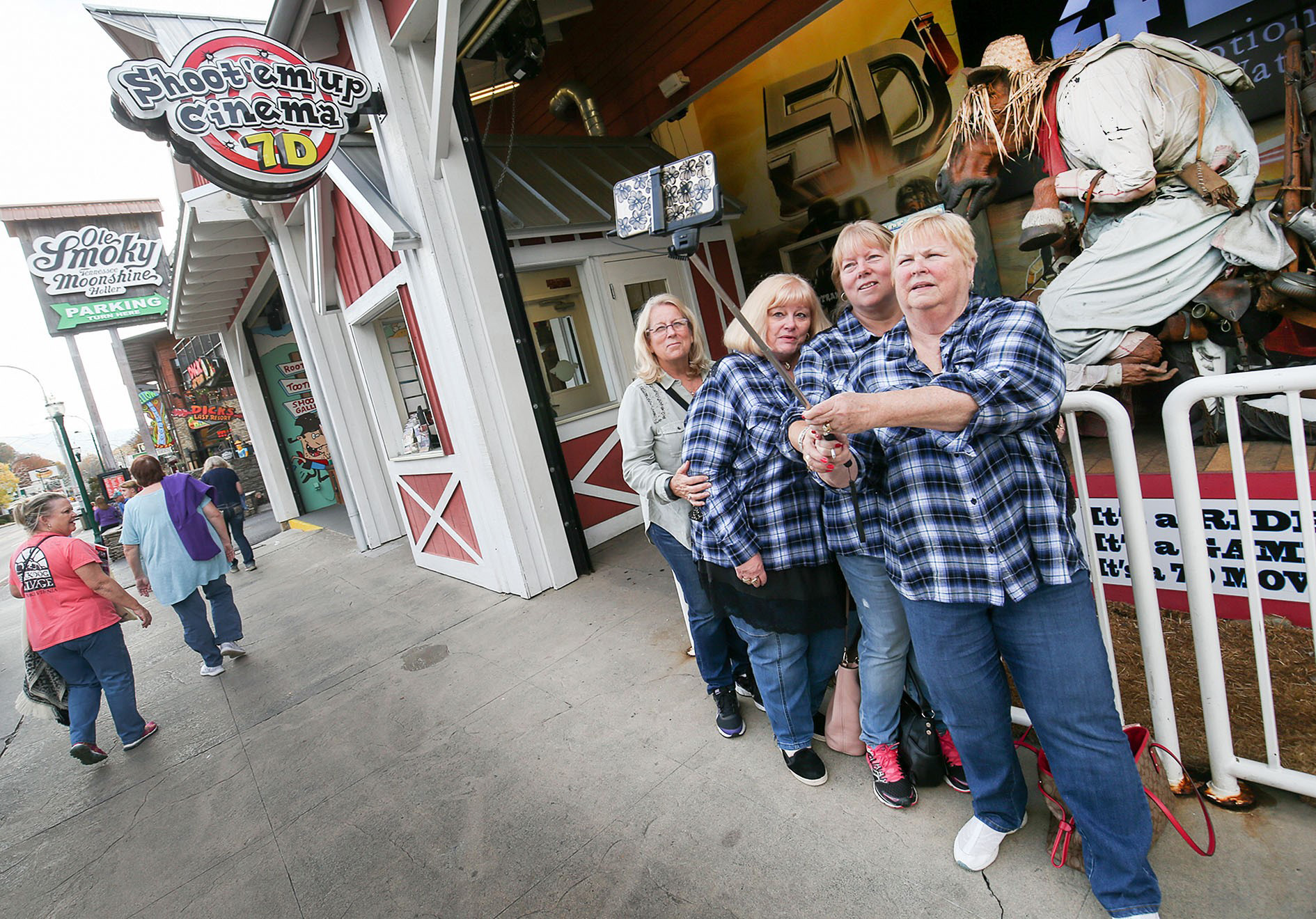 Gatlinburg's 2-mile strip can be described as a funhouse, with motorized mannequins depicting carnival scenes designed to lure passersby into glass mazes and miniature indoor golf venues. Attractions like Ripley's Believe it or Not!, Guinness World Records Adventure, Hollywood Star Cars Museum, and the Salt and Pepper Shaker Museum line the street along with various candy stores and creameries. Nearby is Ripley's Aquarium of the Smokies.
From downtown, guests can also access the Gatlinburg Ski Lift, an open-air chairlift to the top of an 1,800-foot overlook with views of the Smoky Mountains, and the Gatlinburg Space Needle, a 407-foot-tall observation tower offering a 360-degree view.
There are also several restaurants and pancake houses here. Pancake Pantry, which opened in 1960, claims to be the first pancake specialty restaurant in Tennessee. There are now nine in Gatlinburg alone.
At the edge of downtown is the historic Gatlinburg Inn. The hotel has served a host of notable guests since opening in 1937, including pianist Liberace, Lady Bird Johnson, J.C. Penney, and Tennessee Ernie Ford. In Room 388, songwriters Boudleaux and Felice Bryant reportedly penned Rocky Top, which later became the University of Tennessee's unofficial fight  song.
Downtown is also home to three moonshine distilleries: Ole Smoky Moonshine Distillery, Sugarlands Distilling Company and Doc Collier Moonshine. All offer tastings for a small price, and Doc Collier is considered a craft distiller. Here, General Manager Buddy Keyes will pour samples of Doc Collier's shine straight up or blended with flavors like blackberry, cinnamon, and root beer float.
Keyes can also tell you about the real Doc Collier, who created the recipe around 1892 "up on English Mountain, about 10 minutes as the crow flies," he says. "But if you're driving, it'll take you 45 minutes to get through the mountain."
New Adventures
Underground utilities had just been placed and the land prepped for Anakeesta™, a 70-acre, $47 million mountaintop village, when the wildfire rolled up the south side of the mountain and scorched the summit. Bob and Karen Bentz saw six years of planning for Gatlinburg's newest attraction – just weeks from construction — go up in smoke.
"It was very devastating. It was like a warzone," Karen recalled. "We had to look around and wonder, 'Do we stop? Do we move forward?'"
It was then that Mayor Werner's words came to mind. "He had this persona that made us feel like it would be OK. He said, 'Yes, this happened. But Gatlinburg is strong, and we will move past this.' He gave us that vision of hope." The Bentzes decided to forge ahead with their plan to build the village. The attraction opened in September.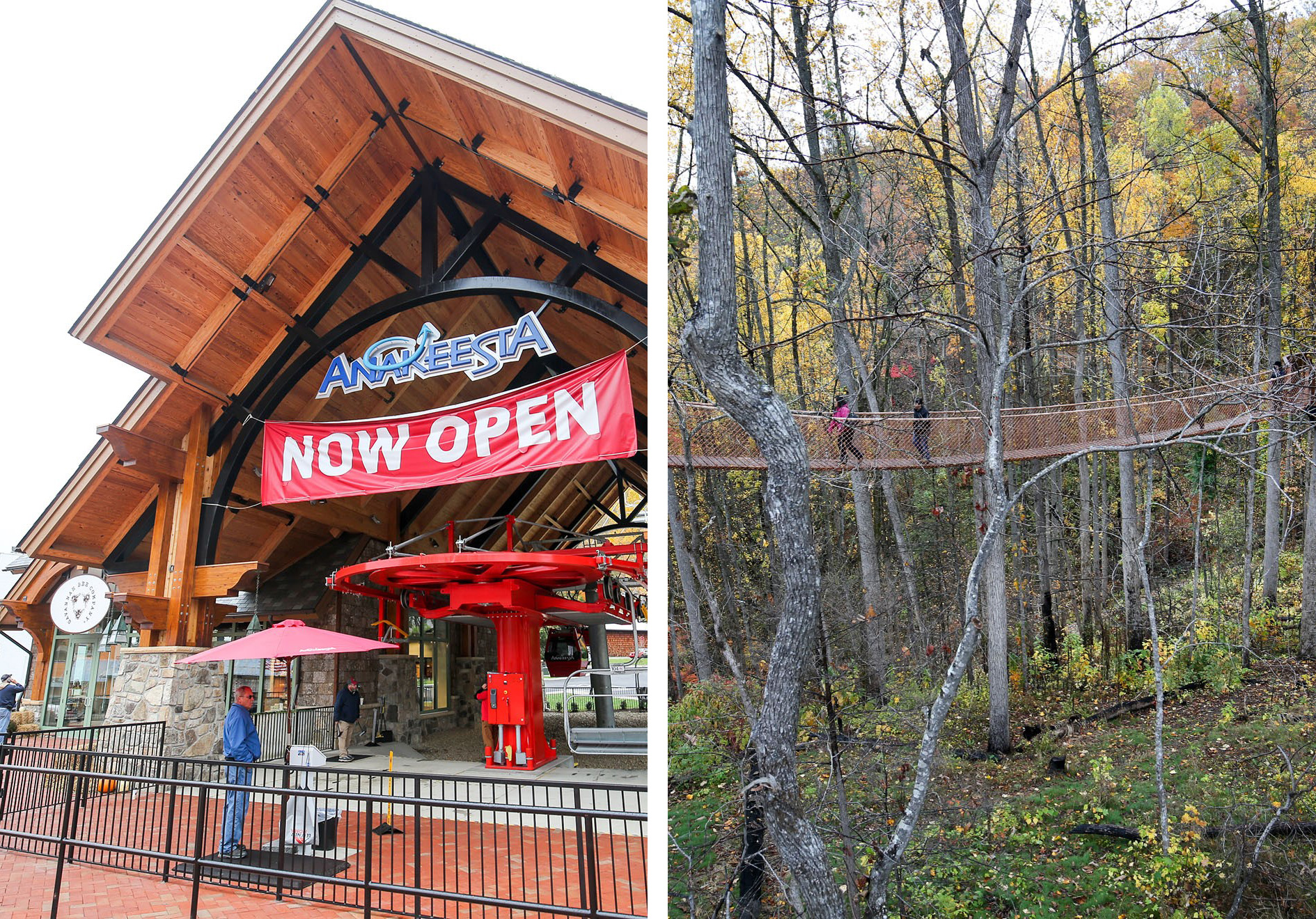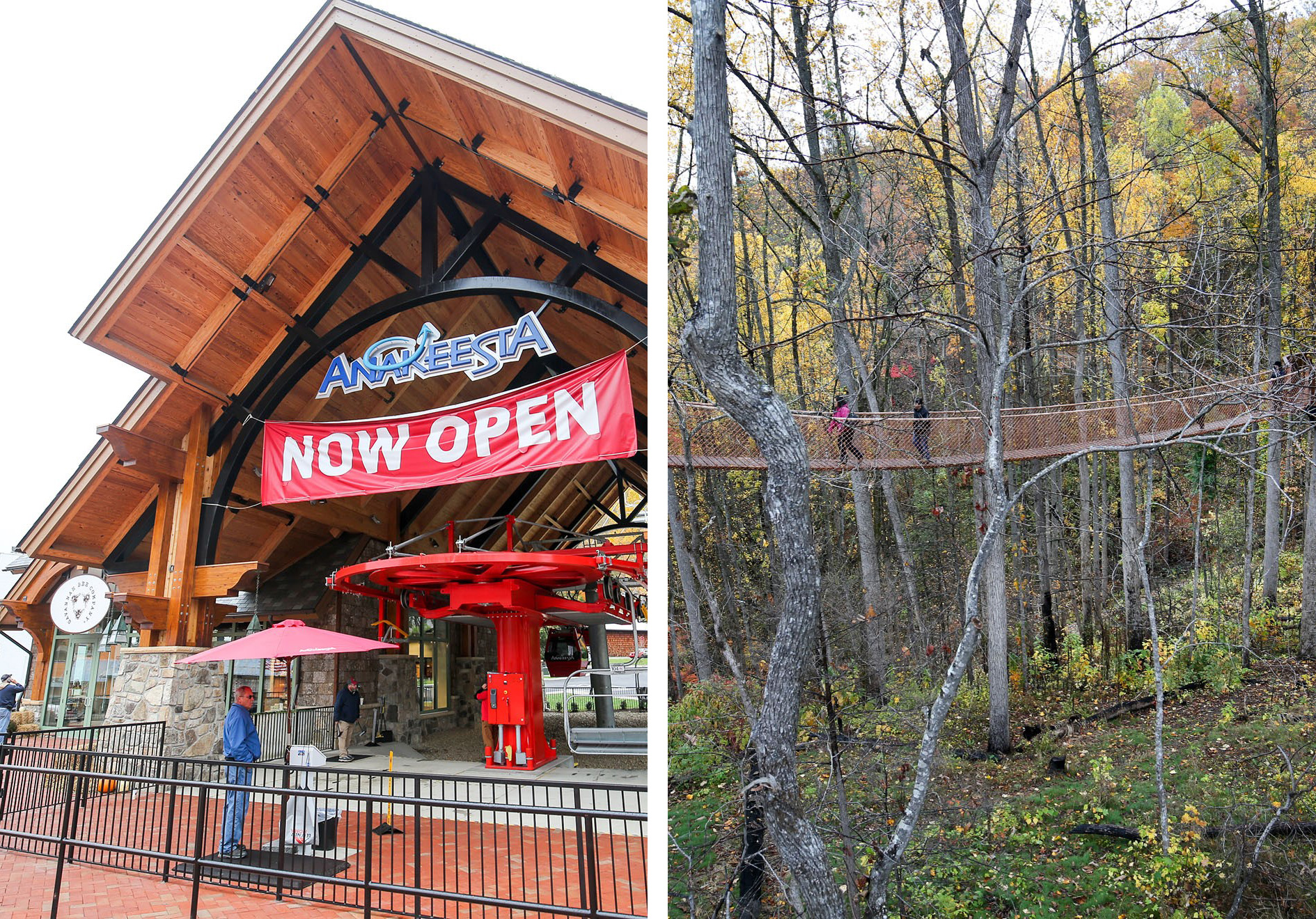 Visitors to Anakeesta pay about $20 per person to take a quarter-mile, 12-minute "Chondola" (a ski lift that combines a chairlift and a gondola lift) ride from downtown Gatlinburg to the top of Anakeesta Mountain, and arrive at Firefly Village, a tree house-themed village of quaint shops, casual dining restaurants, and seating to capture the scenic views. There is also a tree house playground; an elevated treetop canopy walk with 16 connected sky bridges; and, for an extra fee, a dual-racing zipline with slides of more than 1,000 feet followed by a 60-foot rappel down to a platform. Future planned phases include a single-rail mountain coaster, tree houses and cabins for overnight guests, and an amphitheater.
The original plans also included a wedding chapel at the mountain's highest point, but its construction was put on hold when the fire cleared the summit of its foliage. The area has been preserved and a walking trail added to create the Forest Memorial Interpretive Trail. The trail shows the natural regrowth of the forest among the charred and fallen trees. Placards along the interpretive walk tell the story of the devastating forest fire, the people who survived, and how wildlife naturally restores.
Life Renewed
The winter of 2017 was especially gray in Gatlinburg. Burned, leafless trees showed the scars of a crippled community. It was hard to believe life would return. But under the charred remains, the forest was naturally coming back to life, said Henri Grissino-Mayer, wildlife expert and professor of geography at the University of Tennessee in Knoxville. "Fires have been serving a purpose in forests and woodlands and grasslands for hundreds of thousands of years. Many of our tree species depend on fire to regenerate."
Nutrients penetrated the soil. The roots of dead trees gave rise to dozens of fresh saplings. By spring, the colorless palate of Gatlinburg was replaced by lush greenery, just in time for spring vacationers.
Sitting on a concrete retaining wall at his homesite, nearly a year since the blaze consumed his home, Werner remembers seeing the first signs of life not only in the forest, but in Gatlinburg as a whole. He used the word "resilient" to describe both the wildlife and the people.
"They said the spring would bring new growth," he says, casting his eyes along the brilliant colors that mark early autumn and the peak of the tourism season. "Some people say that fire brings life back. It really did, in many ways."