Our readers have once again shared with us the stories and photos of their furry family members. These floppy puppies and stoic old friends bring much joy to the lives of their owners, and we hope they brighten your day, too!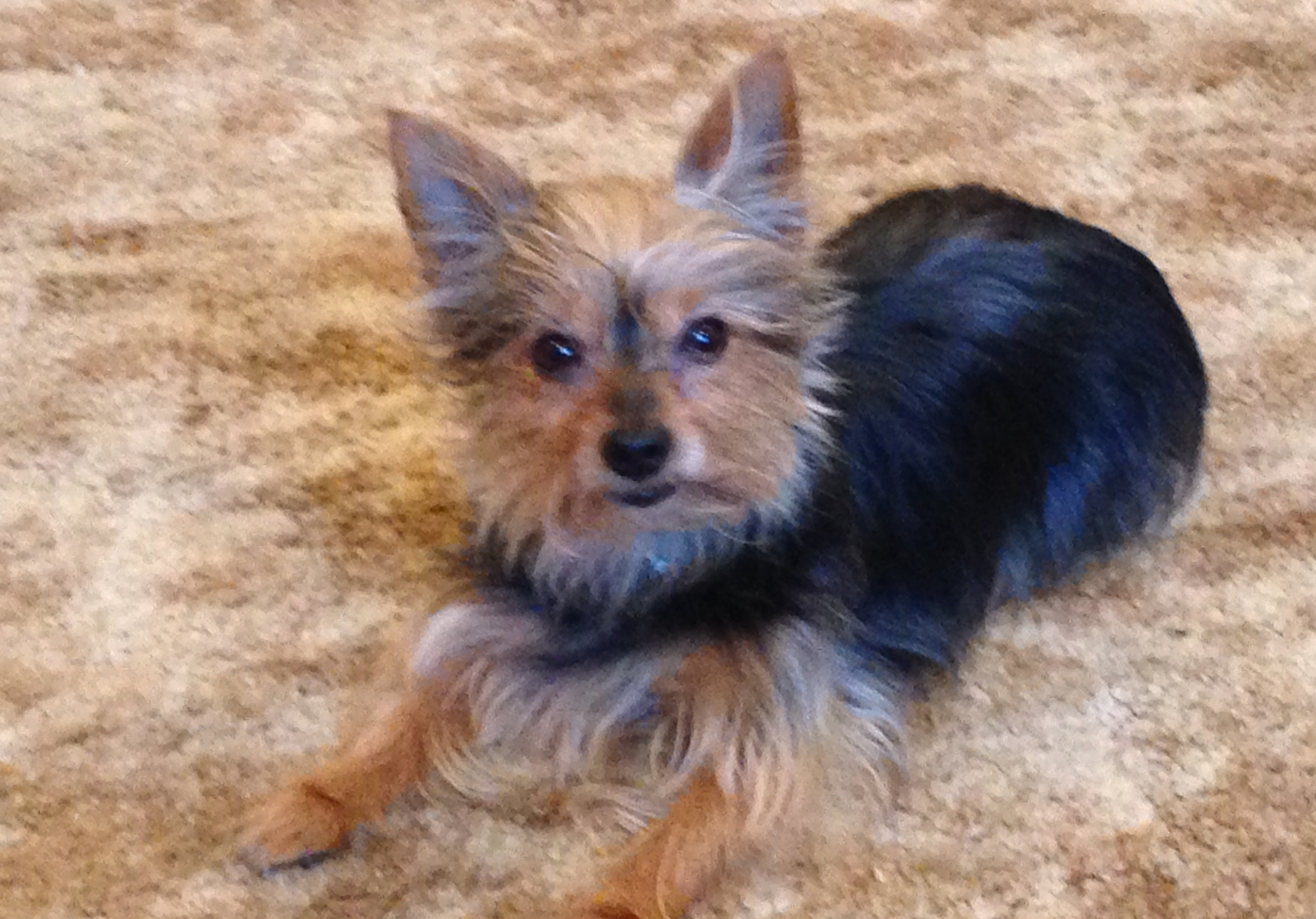 ROMEO
This is Romeo Nicholas Newman. He's a Yorkie Terrier. At four and a half pounds, he's an outcast of the animal kingdom (he's afraid of other dogs and barks at them), but he loves his family and the equally cantankerous cat next door – Tinkerbelle. Romeo isn't aware that he's a dog and has a wardrobe that's more extensive than mine! He hates thunder, baths, the doorbell, rain, and people walking down the street with other dogs.
He lived with me for six years when my niece came to live with me, but he currently lives with my niece, Lindsey, and her husband, Clinton (I have weekend visitation with sleepovers).
Romeo is all about "going" somewhere in the car! If you say the word "go," he's running, with his ears down, to the garage. He usually calls "shotgun" and sits in the front seat.
His loves are: looking out the front window from his perch on the sofa, Sonic, chicken jerky, his stuffed squirrel, chasing falling leaves in the yard, and riding "shotgun" around the neighborhood.
Melanie Evans, Jonesboro, Arkansas

CRUMUS
This is Crimson Tide White (otherwise known as Crumus). He was abused and unloved before we rescued him. When we first got him, he wouldn't let us touch him. He would hide in a corner and would not eat. We had another dog at the time, and Crumus wouldn't even let her get near him. Over the course of a few months, he finally let us pet him, and I believe that now, he knows he is loved. Crumus has become a scaredy-cat of sorts. His tail will touch something, and he jumps! He loves to play ball; he will run for hours; and judging by this picture, he is obviously spoiled! He loves his kids!
Stephanie White, Birmingham, Alabama

BAILEY RUTH
Bailey Ruth was a rescue puppy from Hurricane Katrina, and we adopted her when she was just 7 weeks old. She was tiny with big feet and huge ears. Having no idea what kind of dog she was or how large she would become, it didn't take long for her to take over our hearts. She knows the exact time for dinner and when we all should wake up. No alarm clocks needed in our home! Bailey Ruth loves being outside (as long as we are with her), and her favorite hobby is chasing bumble bees. She loves to sing, play hide and seek with her toys, ride in the car, and give hugs and kisses. We've been blessed to have her in our lives.
Tammy Ridley

CHUCK
This is Chuck. He is an amazing little dog. When he was 16 weeks old, the two of us jumped in the car and traveled across the country. We left Washington state and moved to Florida, and he was great company. He even enjoys my singing, and he has been known to sing along with me. He is now six years old and continues to be my constant companion. I can't imagine life without my little boy. He has been such a beautiful addition to my family.
Toni Justice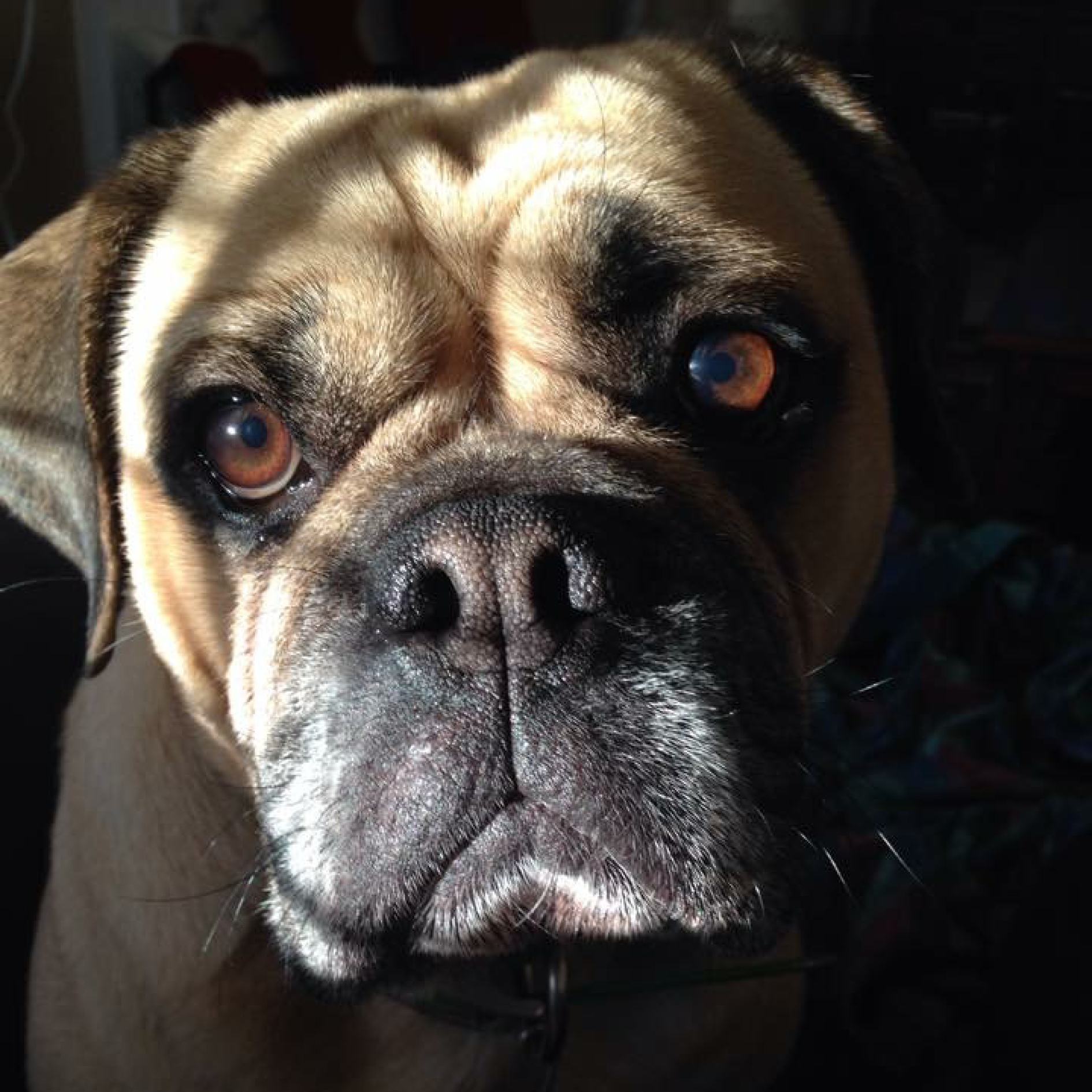 COOPER
Cooper is the absolute love of my life. Cooper was a rescue pup found in a shelter in Niceville, Florida. When I met him, he had such a playful spirit I had to make him mine. Cooper is a Pug-Mastiff mix. I don't know how it happened, I just rescued him! I call him my Mug, but with a face like that how could you not call him a Mug? He talks with his eyes and is my constant companion. Cooper loves to be the boss. He is my guard dog, lap warmer, cuddle bug, and love bug that gives the best kisses ever. He loves to run, hike, and go boating. Whenever you may have a bad day, he is by your side to make those bad-day-blues go away.
Carolyn Hunter

WILBUR
My six-month-old yellow Lab, Wilbur S. Graham, has been such a blessing in our lives. After losing our 14-year-old cat last summer, our house was pretty bleak. He loves to go to the lake, swim, and be on the boat. Check him out—he's pooped!
Dawn Graham

DIXIE
I got Dixie last year on my birthday. I was in the hospital suffering from an unexpected and intense illness, and my husband knew I wanted a Lab. A friend of ours had actually just rescued Dixie (she was just 6 weeks old) from an abusive situation. The day I was released from the hospital, I picked up Dixie, and we helped to heal each other (me physically and Dixie emotionally).
She makes me smile on the worst of days. Animals truly have the power to heal just by giving the unconditional love they always do!
Tammy Singleton, Birmingham, Alabama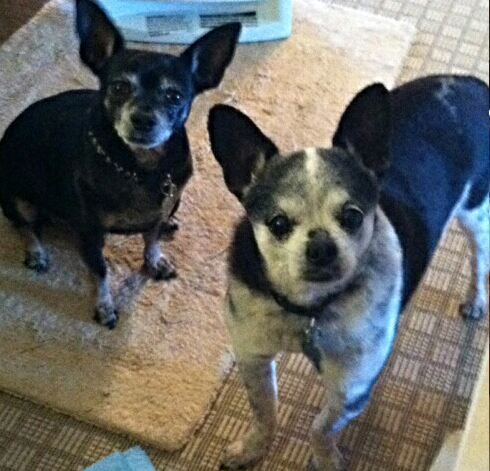 PEPPER AND SCOOTER
Pepper is the black and white Chihuahua mix on the right, and Scooter is the black and tan Chihuahua mix on the left.
My wife rescued Pepper from a shelter in 2008. When he initially came home, he was skin and bones and showed no real interest in eating. But, by turning mealtime into a game that he liked to play, he soon put on weight and made himself at home. Life was great with plenty of walks to sniff out the neighborhood news, watching outside for cat invaders, and snoozing on the couch.
In early May 2010, the historic Nashville Flood hit Middle Tennessee, and within hours, our neighborhood on the Cumberland River was cut off from the rest of the city by rising waters over 10 feet deep in some areas. Cars were completely submerged, and the waterline crept into neighbors' homes. Eventually, we managed to escape in a raft by way of the Nashville Fire Department, with Pepper wrapped in a blanket stoically and calmly supervising the perilous journey!
A few weeks after the waters had receded, and we were getting our home back to normal, my mother-in-law discovered a little Chihuahua and weenie dog mix wandering the fields and driveways around her rural east Tennessee home. This little guy, who was later named Scooter, was riddled with fleas and ticks, and if he had ever belonged to someone, they weren't taking care of him. With all of the large, aggressive dogs in the area, he probably would not have survived much longer.
So, we adopted him and introduced him to Pepper. Scooter and Pepper have become good buddies, although they have different interests. Pepper is still finicky about mealtime and is constantly busy with cat patrol, or otherwise looking for a job. Scooter loves a good meal, and if it's not time to eat, he prefers to build a puppy cave out of blankets and take a nap. He is an expert at this.
These fellows are my first dogs, and I was well into adulthood before they came along. I soon realized that I never knew what I was missing by not having a dog as a member of the family. Now, I couldn't imagine if they weren't at the door to greet me when I get home, bouncing with excitement in anticipation of the next adventure!
Greg Poss, Nashville, Tennessee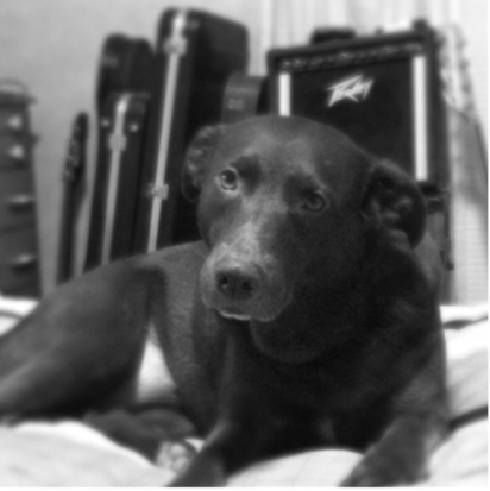 LUNA
Hi! I'm Luna, and I am really sweet—at least this is what I am told all the time by my humans! I am a chocolate Lab mix who was rescued from Lab Rescue of Florida in November 2007 at the age of two (the same place as my rescue brother, Jake). I was named Luna because it was a full moon the night I was rescused, but my humans had no idea that it would quickly be short for Lunatic! I came to them with a broken leg that was healing incorrectly, but the surgeon decided it would be more painful to re-break the leg than to continue to let it heal as it was, so it looks like I have a bit of a second elbow! Of course, this does not slow me down in the slightest – even at the age of nine and a half! I love, love, love to have my belly rubbed, cuddle, and I believe humans were put on this earth to pet me! As a Lab though, I am unique in that I am not fond of water or retrieving. But I do love to watch while my rescue brother swims and retrieves! I also don't appreciate loud noises, such as fireworks and thunderstorms, but with the help of my humans, I am getting better. You can teach an old dog new tricks!
Tonya Holland, Nashville, Tennessee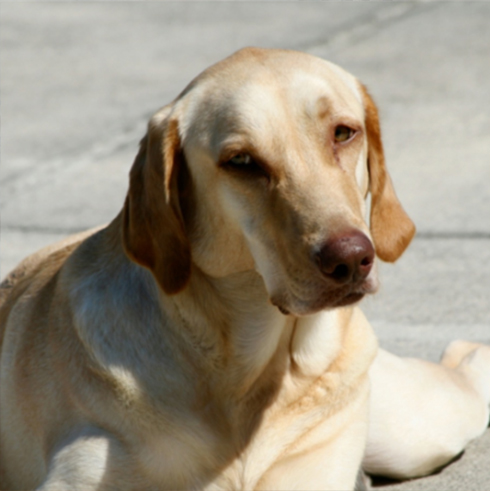 JAKE
Hi! I'm Jake! Aren't I handsome!? I am a Dudley yellow Lab, which only means I don't have the yellow lab gene that would give me a black nose or mouth, but I instead have a "liver" color like chocolate Labs. I am the sweetest, most sensitive, and caring dog you will ever meet, if I do say so myself. Thankfully, I was rescued by my humans from Lab Rescue of Florida in April 2007. I was two when I was rescued, and I can't believe I'm now almost 10! I love to retrieve and swim, and I don't know the meaning of "let's go back inside!" The saying "the tail that wags the dog" fits me perfectly as my tail never, ever stops wagging. In 2013, I started to suffer from seizures that are unexpected and scary, but even as I go through them, I am aware of surroundings and my humans kind voices. While they talk me through the seizures, they tell me what a good boy I am, and my tail keeps wagging even still. My humans say that I am just such a joy to be around and are so grateful to have me in their lives.
Tonya Holland, Nashville, Tennessee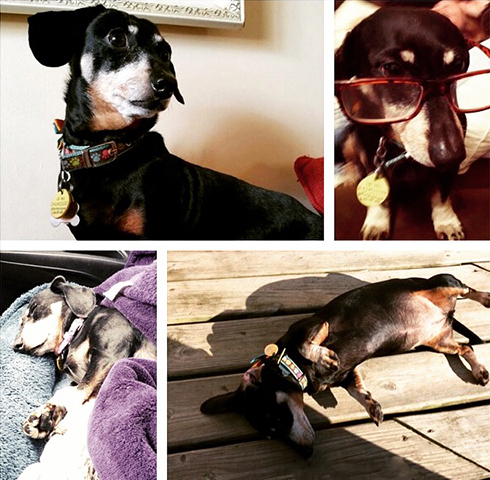 RYLEE GIRL
My Dachshund, Rylee Girl, is a true Southern lady! I've always wanted a dog, but thought I was too busy because of work, music, and school. However, after going home to Valdosta, Georgia, for Christmas, my mother suggested that I get a dog. We looked on the Lowndes County Animal Shelter website and found an adorable puppy, but after having arrived at the center, we discovered that the puppy had been adopted. Instead of leaving, we decided to look around and that's when we saw her…my nine-year-old Rylee Girl (formerly known as Pop Tart), running around the corner.  My mom has a Dachshund, so I instantly fell in love!
Rylee Girl has the best energy, and she is so loving! She sits up on the couch like a meerkat; she loves children, adults, and other animals; she hates to get her feet wet; she will tear the stuffing out of any toy; and she enjoys fruits and vegetables in small amounts. She is the best blessing in my life, and I'm so happy that I listened to my Mama and adopted a dog from the Animal Shelter.
Stacia Watkins, Nashville, Tennessee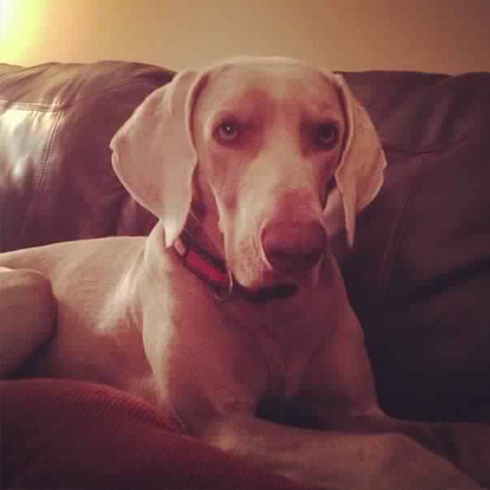 DUKE
Meet Duke. Duke was formerly known as "Bones," because of the sad condition he was found in.  My brother-in-law owns several rental properties in a nearby college town. When a renter vacates a property, he goes in to clean and make any necessary repairs. Duke was left in the backyard of an abandoned rental property in late January of 2008. When Duke was discovered, he weighed less than 50 pounds and was nothing but skin and bones. Since we already have a female Weimaraner, my brother-in-law immediately contacted us to see if we were interested in taking Duke in. We never hesitated and welcomed him to our home the next weekend. He is the most loyal and loving companion I've ever had. He never meets a stranger, and while he may look intimidating, since he's back up to the average Weimaranar weight of about 80 pounds, the worst thing he might do to you is lick you to death! We love our Duke and are so happy that we were asked to be his forever owners.  He's provided us seven years of great joy!!
Leslie Hosford, Ridgeland, Mississippi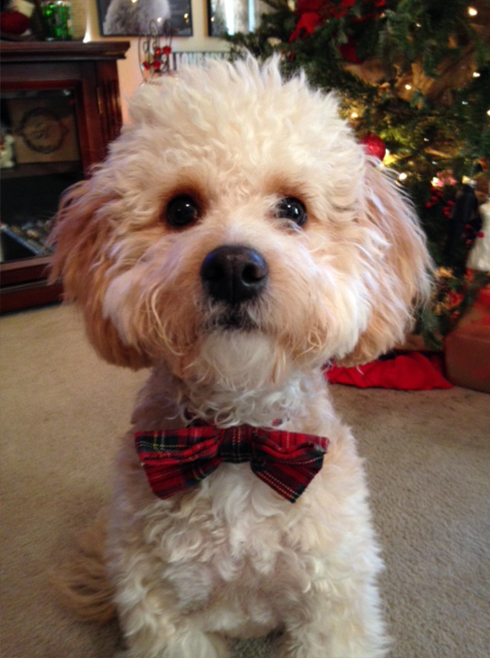 MOUGLI BEAR
This is Mougli Bear (Like from the movie Jungle Book)! He's a mini Goldendoodle and twenty pounds of pure happiness! This is the absolute smartest dog I've ever met! Everyone knows he is my fur baby! I saved him and three other dogs from a cardboard box in an abandoned house. He and the other puppies were extremely malnourished and covered in fleas. I was luckily able to find them all homes, but couldn't part with my Mougli Bear! He has been the best thing that's happened to my husband and me. Who knew you could love a little, furry animal as much as we do? He is an angel, and we love him very much!
Paige Brisco, Gallatin, Tennessee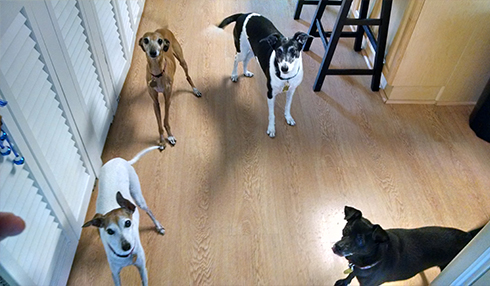 EMMA, ALEX, HOPE, AND BOUNTY
This is a picture of my whole pack! From left to right is Emma (white Italian Greyhound), Alex (red Italian Greyhound), Hope (black and white Border Collie/Whippet mix) and Bounty (black Rat Terrier/Chihuahua mix).
They are my life and my family. Each one is a rescue that found me. I am actively involved in helping rescue organizations and people find the right dog to adopt. I am also a big advocate of adoption and trying to save as many lives as possible. Each one of my rescues is a wonderful soul, and they all get along like they were brothers and sisters. They are truly all blessings and consistently make me smile every time I come home!
Heather MacLellan, Tampa, Florida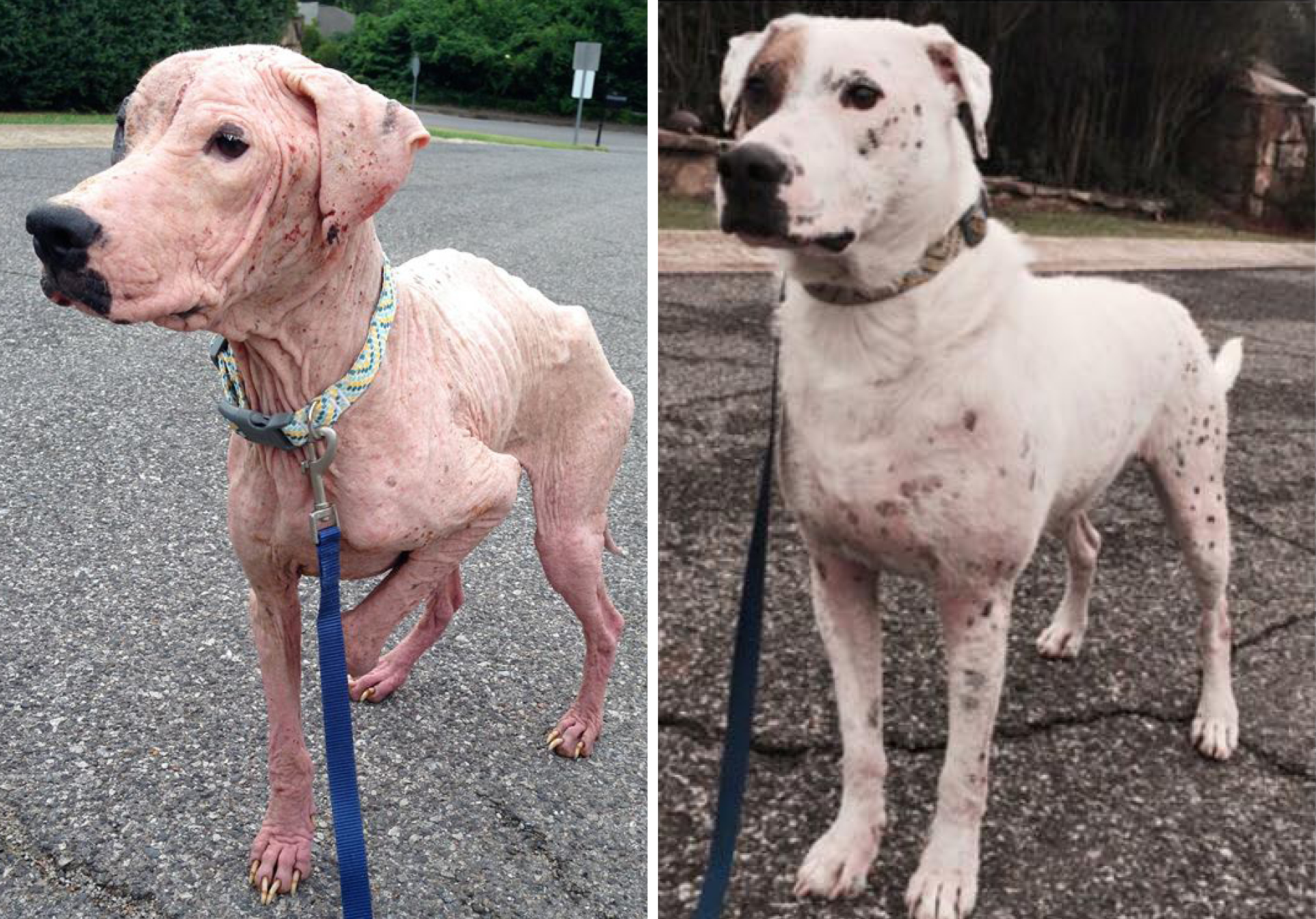 TROOPER
One year and almost three months ago, after my sister's wedding, I found Trooper on a country road outside of my hometown, Dothan. He was standing in the middle of the road, and my headlights hit him. I immediately stopped my car in disbelief of his condition. He was completely hairless, literally only skin and bones. I got out of my car, knelt down on the road, and talked to him until he walked closer to me. I told him if he would let me, I would help him in every way. I got a closer look, and he was scratched all over, bleeding, his eyes were oozing, and he had discolored nails that were so long that he could barely walk.
I was able to get him to walk around me and then near my car. I got up and slowly made my way over to where he was and opened up my car door. I kept talking to him and let him know he was safe. I slowly reached down, touched his head, and then quickly put my arm under his skinny body to pick him up. I put him in my car and shut the door. I could not believe I was able to get him to come close to me and then also to put him in my car. This poor baby was the saddest dog I have ever seen. I did not know what to do but immediately made the decision to drive him from Dothan to Birmingham that night. I slept in the garage with him, and we went to a vet the next day that was open on Sunday. He had demodectic mange, severe skin infections, eye infections, ear infections, and he was filled with intestinal worms. He, however, tested negative for heartworm, which was a huge blessing!
I took him to my home and introduced him to our other two dogs. He was so scared and did not know what to do in a house, but he wanted love and to please us so much. He learned quickly to go outside to use the bathroom. We started walking him after he was able to gain weight and get stronger. He learned so quickly how to act like a dog. He was scared of toys at first, and he was afraid of barking. I don't think he had used his voice very much. My husband and I decided after a week that Trooper would be ours and would stay with us. I had thought at first that I would get him healthy and adopt him into a loving home, but I couldn't do that, because we had really bonded the moment I laid eyes on him that night on the country road!
Danielle Yancey, Birmingham, Alabama
WE WANT TO HEAR ABOUT YOUR GOOD DOG! After all, your dog is the best dog ever, right? The funniest dog? The cutest dog? The smartest dog? The weirdest dog? The most courageous dog? So tell us your dog's tale, and send your favorite photo. We'll post it on our gallery, and frequently, we'll showcase the Good Dog of the Month.
So let us see the good — the good dog, that is! (share your story and photo)