Chris Smoak makes a living as a hacker. The good kind. On a regular basis, he and his "Red Team" test the cybersecurity of his employer, Regions Bank.
"Many attackers in the world come at banks through web channels," said Smoak, Cybersecurity and Risk Manager for Regions. "It can be anything from nation-states to criminal enterprises to individual naysayers. My team actively 'attacks' the bank, looking for any vulnerabilities."
Their work is part of the bank's commitment to consistently enhancing security and helping keep accounts safe. And on a November morning, in a board room high above the Atlanta skyline, Smoak and colleagues from several Regions departments shared their work with nine military service members who are part of the Hiring Our Heroes Corporate Fellowship Program.
Immediately, Smoak had everyone's attention. Banking jobs aren't just for bankers, he illustrated. There are IT professionals, security personnel, and dozens of other unique career opportunities throughout a financial services institution.
Navy Lt. Chace Watson, an Atlanta native stationed at Fort Meade, Maryland, has seen this first-hand. Watson is serving his fellowship with Regions as part of Don Turrentine's Information Security team.
Watson's resume is impressive: He has served with the National Security Agency and U.S. Navy's Fleet Cyber Command. With the fellowship, he has had the chance to get a jump-start on where his post-service career may take him. With jobs like information security, his career can still include protecting people from the bad guys.
In the military, Watson focuses on geopolitical and armed conflicts. Thanks to his fellowship, he sees how the sophisticated approaches by foreign entities and domestic criminals on U.S. financial markets requires a similar mix of intelligence gathering, skill and hard work to keep companies and customers safe.
"There's a great coordination between banks and law enforcement to keep everyone as protected as possible," said Watson, who said he hopes to join Regions full-time when he completes his officer commission on Feb. 1.
Launched in 2011, Hiring Our Heroes is a national effort to connect veterans, service members and military spouses with jobs that will leverage their unique skills following the transition from active duty.
The 12-week fellowship program gives the Atlanta cohort of nine active service members real-world jobs. Each Friday, they visit one of the nine participants' employers. The November "huddle" brought them to Regions' Atlanta-area headquarters, where they learned steps to take in transition, thanks to a round-table discussion of Regions associates. Angela Sims left the Air Force and tried other careers while furthering her education, thanks to the GI bill, before joining Regions.
"I love what I do," Sims said. "Our clients are awesome, and Regions is a great place to work. Our company values, which include work-life balance, are something we always strive for."
Amruta Dadhe, part of the Talent Acquisition team at Regions, led another panel that included Smoak, Head of IT Strategy and Transformation Neal Shah, Area Investment Manager Rory Collings, and the Managing Director of Capital Markets, Walter Balch. The emphasis was on the wide-range of job opportunities. Other topics included corporate culture at Regions, a day in the life of a banker,  work-life balance, career progression, technical and behavioral skills, resume preparation and interview techniques.
And as banking consistently evolves, the discipline and adaptability service members develop during their time in the military help make them prime candidates for new jobs.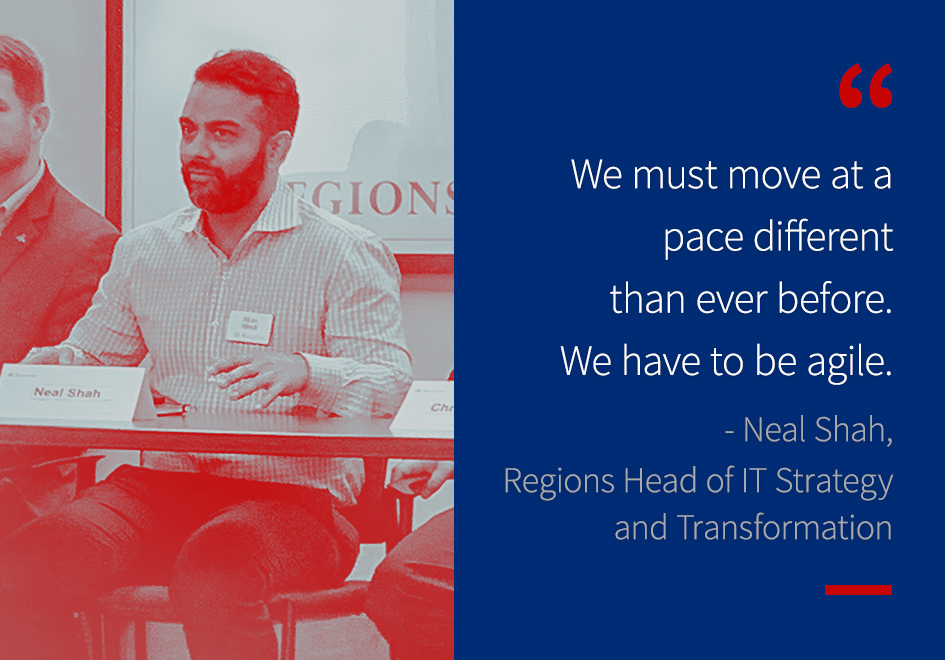 "Banking is changing dramatically, from primarily a branch-centric model to more of a multi-channel approach where customers expect the same level of service across mobile, online and the contact center," Shah said. "The competition has changed, as well. It's not just bank vs. bank now, but bank vs. fintech and banks vs. big tech like Amazon, Facebook, Google, and Apple. We must move at a pace different than ever before. We have to be agile."
Shaun Collings, a Financial Wellness Relationship Manager, provided a lesson on financial literacy, specifically focusing on building and maintaining strong credit after service.
For Regions, the Friday huddle provided an opportunity to offer qualified jobseekers insights into a wide array of careers. For the Hiring Our Heroes Fellows, it's another opportunity to further professional development.
"This is really important for a couple of reasons," said Tim Dekryger, Program Manager for Hiring Our Heroes in Atlanta. "For these businesses, it introduces them to active military who are disciplined, capable and have vast skill sets – even if they don't directly translate to these new jobs."
Fellows who apply must have at least an associate degree and a strong resume. They are then screened by staff and must gain permission from their command to participate.
The program is supported by the Department of Defense. The participating Fellows remain on active duty, at normal pay. Dekryger said that makes the program even more attractive to businesses.
Fellows wanted to know specifics about Regions, from the company's culture to how it is prepared for any future economic downturn. Another key question: the availability to advance within the bank.
"It's a meritocracy," Walter Balch replied. "If you perform, you'll be promoted. If you perform well, you can shift careers within the bank."
With a couple of months of exposure at Regions, that's the answer Chace Watson expected to hear.
"I'm incredibly excited about the future, and I've had such a great opportunity at Regions – especially in the cybersecurity field," Watson said. "There's so much I've learned in the Navy that I want to bring to my next career."