ARLINGTON,  Tenn. – December 2, 2019 – Regions Bank on Monday announced the opening of its new Arlington branch at 4900 Milton Wilson Boulevard. Featuring an open floorplan built around personal service from local financial professionals, as well as expanded service hours through video technology capabilities, the Arlington branch becomes the latest to include enhanced banking options that Regions is introducing throughout the Southeast, Midwest and Texas.
"We are focused on providing a superior customer experience built around the needs of the people and businesses we serve," said David May, Memphis-Area Market Executive for Regions. "Adding this new location to our local branch network demonstrates our commitment to investing in – and growing with – the Arlington community."
U.S. Rep. David Kustoff added, "Our banking community does great work for people across West Tennessee. I look forward to the economic investment and job opportunities Regions Bank's new Arlington branch will bring to our local community."
The open design of the branch does not include a traditional teller line. Instead of waiting to be called to a counter, when people walk into the branch, they are greeted face-to-face by a local Regions banker. In addition to helping people with general transactions, each banker at the Arlington location can help customers with in-depth needs, such as planning budgets, analyzing financial options and creating a personalized roadmap designed to help people accomplish their financial objectives.
This branch is designed with today's customers in mind.
Michael Pardue, West Tennessee Consumer Banking Executive for Regions
"Our modern Arlington branch is built around the concept of making banking easier, more convenient and more meaningful for our customers," said Michael Pardue, West Tennessee Consumer Banking Executive for Regions. "The technology enhancements offer a perfect complement to the service and expertise offered by our branch team, allowing customers to bank when, where and how they prefer. As we continue to evolve our digital offerings, we also find most customers prefer turning to a local branch for customized insights or guidance on reaching their financial goals. This branch is designed with today's customers in mind."
The Arlington branch becomes the latest Memphis-area location to offer Regions Video Banking ATMs. These are multi-purpose machines that not only dispense cash – they also can accept deposits of cash or checks and facilitate funds transfers around the clock. Further, the machines give customers the choice to connect with a Regions Video Banker via live, two-way video for personal service.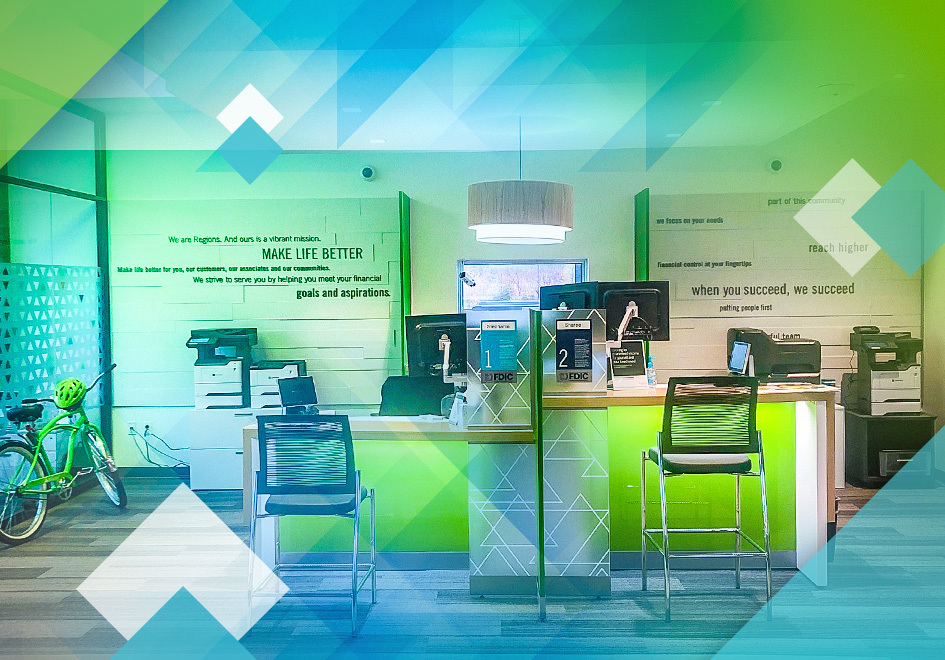 Along with processing most general transactions, Regions Video Bankers help customers with account maintenance, bill-payment needs, and general inquiries. Regions Video Bankers are available from 7 a.m. – 8 p.m. CT on weekdays. They are also available on Saturdays from 8 a.m. – 5 p.m., Sundays from 11 a.m. – 5 p.m. and during most holidays.
The branch includes one Video Banking ATM in the drive-through, along with one traditional ATM. There is also one walk-up Video Banking ATM and one traditional ATM in the foyer. The foyer is accessible after-hours by scanning a debit or credit card with a magnetic stripe for entry.
Regions will host a grand opening celebration Dec. 7 from 9 a.m. – 1 p.m. at the branch. Arlington Chamber of Commerce and legislative representatives will join the bank for a formal ribbon cutting at 9 a.m. A holiday-themed family event will follow, featuring pictures with Santa, a hot cocoa bar and an ornament craft table for children. Bank associates and their families will participate in the annual Arlington Christmas Parade at 3 p.m., with associates walking, riding Regions LifeGreen custom cruiser bicycles and handing out candy along the parade route.
"The best part of my Chamber job is welcoming new businesses to Arlington," said Tonia Howell, Arlington Chamber of Commerce Director. "New business is an encouragement to our current business owners, besides being a sign that our community is growing. We are delighted that Regions has joined our community, and we look forward to working with the Arlington Branch team."