The relentless pursuit of excellence.
It's more than a motto at Rogers and Heritage High Schools. Just ask the students who are part of the schools' Student Bank Board.
The board is nearly 40 years old. But it keeps finding new ways to mentor and guide youth, while making an impact on the surrounding Northwest Arkansas community. Built around leadership, communication and teamwork, the extracurricular group usually has about 16 to 20 students each year. Nearly 500 have been part of the group since its founding.
Caroline Chumley recently completed her term.
"I'm very passionate about this club," said Chumley, a 2019 Rogers High School graduate. "I love talking about it. It's really been an honor to be part of it."
Chumley, now a freshman at the University of Arkansas, credits her Student Bank Board experience with broadening her horizons. She applied to join the board during her sophomore year. Insightful questions from active board members are part of the thorough application process.
"They were challenging questions!" reflected Chumley. "But I love a good challenge. I'm always up for a good challenge."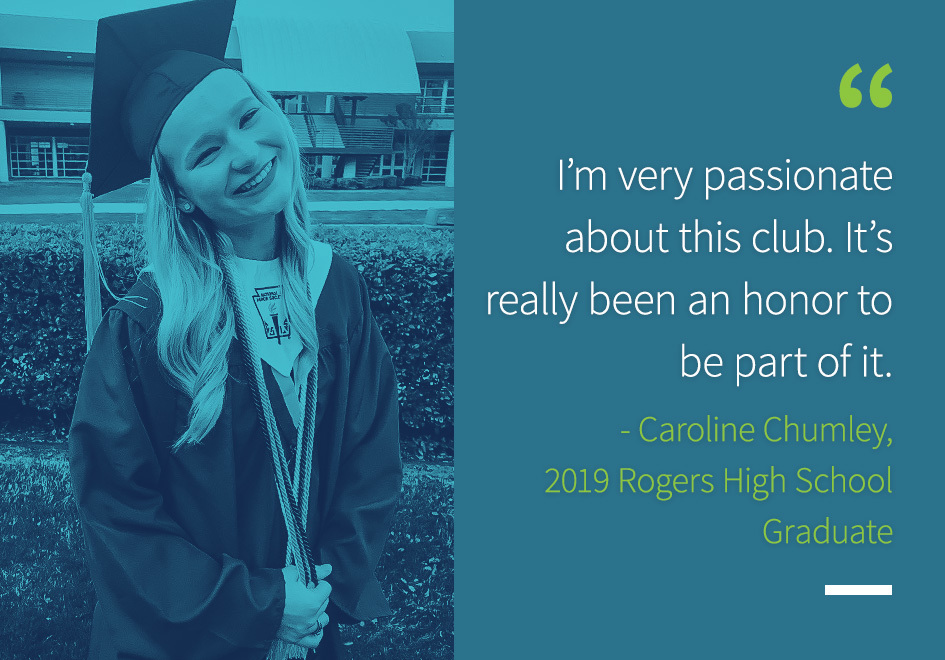 And when students are ready for the challenge, the board's leadership is ready to invest in them. The result is a well-rounded experience that better positions students for rewarding careers.
The inspiration to create the Student Bank Board occurred in a dentist chair of all places. In 1980, Rogers High School teacher Dr. Tom Woodruff wanted to establish an after-school group for students interested in banking and finance careers. Woodruff discussed the idea with Dr. Bob Bland, a dentist by day who also served as chairman of the board of F&M Bank, a Regions predecessor. Dental check-up complete, and the Student Bank Board was on its way from concept to reality.
From the start, Woodruff envisioned the student organization providing valuable lessons that would extend far beyond the classroom.

"The Bank Board is about teaching problem-solving and decision-making skills," he said. "You don't get that out of a textbook; you get that out of practical experience."
Add interpersonal skills to the list of benefits. When the Student Bank Board began, Rogers had just one high school. In 2008, it expanded to two with the addition of Heritage High.
"There's a lot of competition between the two schools," said Woodruff, who still serves as the Student Bank Board sponsor. "By working together, they're learning to get along and creating good connections."
Student Bank Board meetings feature presentations from business leaders, with students themselves responsible for securing presenters. And not just any presenters. Sam's Club President and CEO John Furner is among those who have addressed the group. Interactive sessions focus on valuable soft skills that help make students more employable.
"It's been enjoyable for me to observe the students run their meetings and to watch them grow and accept responsibility," said Woodruff. "You become better by being around this group."
Instilling greater confidence in students is what initially motivated Troy Dryzga to volunteer with the Student Bank Board. For six years, Dryzga, who leads Regions branch teams in the area, has poured himself into the group. Students gather at Regions' main branch in Rogers each month.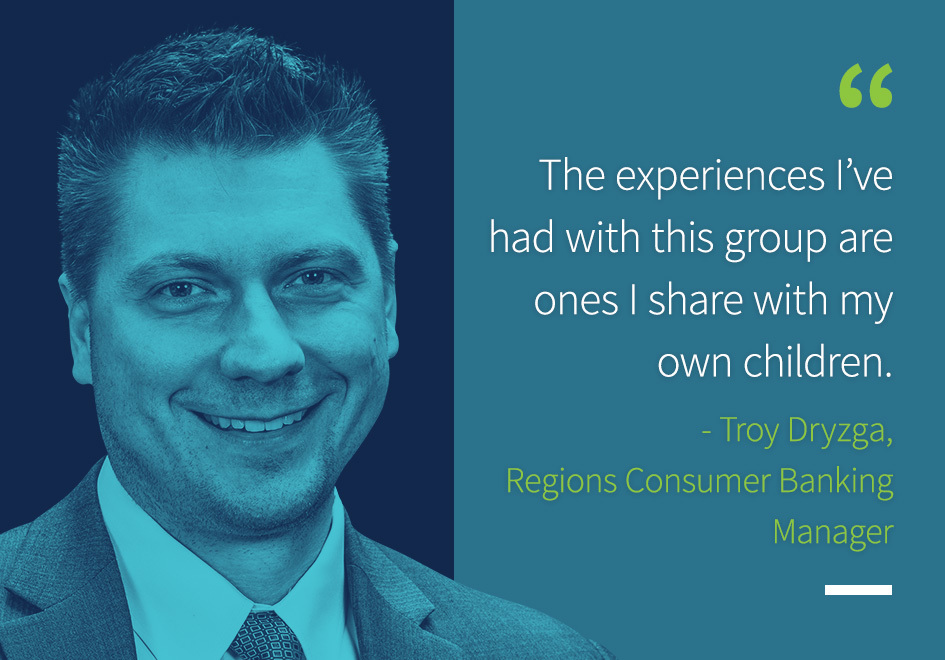 "The students involved in the Bank Board are a self-motivating and inspiring group," said Dryzga. "It's pretty mind-blowing how committed they are to their own personal growth. The experiences I've had with this group are ones I share with my own children to help prepare them for their future."
And the board is about more than developing business skills. Philanthropic service is another important aspect. Students lend their support to the Caring & Sharing nonprofit in Benton County through service initiatives that range from singing holiday carols at a nearby nursing home to helping unpack boxes filled with gifts for families struggling to make ends meet.
The signature Student Bank Board service project is the Mercy Hospital Foundation's "O Night Divine" black-tie gala. The partnership began over 25 years ago through a connection established by Jerry Vest, Regions' Market Executive in Northwest Arkansas.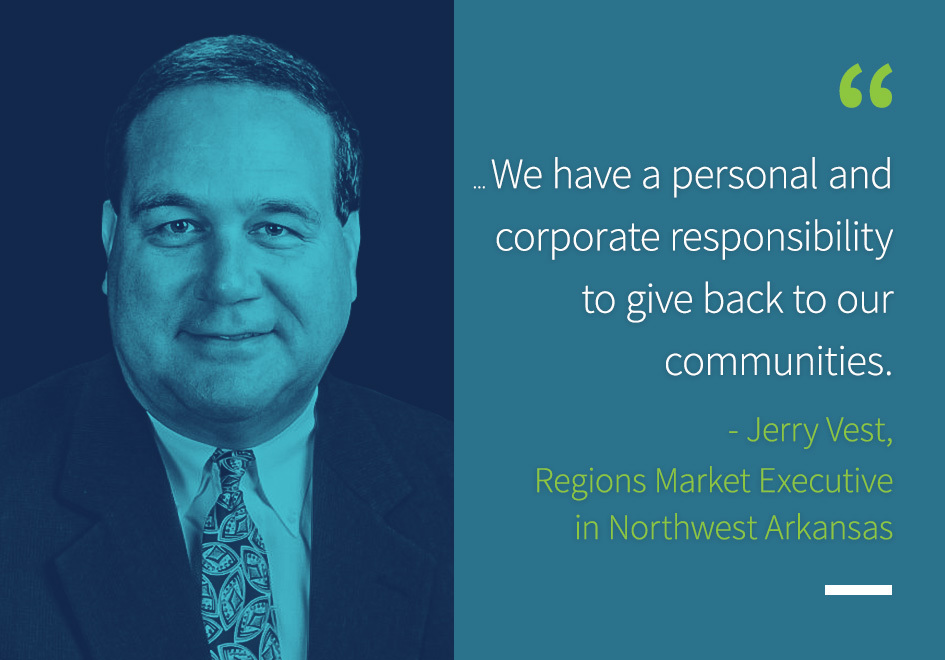 "The Student Bank Board is a great development tool for leadership," said Vest. "At Regions, we have a personal and corporate responsibility to give back to our communities. And this is just one example. It's a worthwhile program that's contributing to the next generation."
Each year, Bank Board students valet park the cars of gala guests. At the end of the night, they donate their tips to support Mercy Hospital programs and services. The valet partnership has raised $8,127 since 1998.
Clark Ellison, regional vice president of the Mercy Health Foundation, is grateful to see the board's focus on community engagement.
"Philanthropy plays a part in your community," said Ellison. "I hope it plants a seed for them for life."
Mercy Health Foundation is a Regions client, making this collaboration even more meaningful. "It allows us to be partners in business and in philanthropy," Ellison added.
For Caroline Chumley, her Student Bank Board participation has not only helped determine her career path, it's also helping pay part of her college expenses. Chumley is one of two alumni currently receiving a $750 Student Bank Board scholarship from Regions.
Nearly four decades after the idea was hashed out in a dentist's chair, the Student Bank Board is the longest-running high school club in town.

Some members applied for the board based on encouragement from their parents, who'd been on the board themselves. Woodruff is grateful for the support of partners like Regions.
"It the commitment the bank makes, and it all starts with Jerry," said Woodruff. "They treat these board members like kings and queens. Jerry makes each one of them feel important."
And what's the greatest lesson Woodruff himself has gained?
"You're never too young to teach. And you're never too old to learn."