Leaders of companies across Central Alabama gathered at Regions headquarters in Birmingham recently to learn more about hiring and retaining the talent from the millennial generation, which is generally considered people born in the late 1970s or early 1980s to around the turn of the century. The event, called Bridging the Gap: Maximizing Your Investment in the Emerging Workforce, was organized by a team led by Duke Hinds, a Commercial Banking Executive at Regions. Millennials bring creativity and talent to the workforce, said Joe Calamusa, the managing director and founder of the University of Alabama Sales Program. "They keep us honest. They keep us from going stale." While the state of Alabama has rebounded more slowly from the recession than some of its peers, the city of Birmingham has seen an influx of young, professional talent, particularly, in their 20s to mid-30s. To keep the talent and avoid "brain drain," businesses must understand what engages millennials. Waymond Jackson of the Birmingham Business Alliance works with recruiters luring talent to the metro area.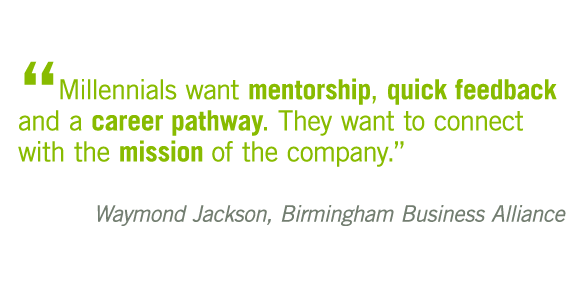 "Millennials want mentorship, quick feedback and a career pathway," Jackson said. "They want to connect with the mission of the company." Sue Hengel, the head of Learning and Development at Regions, provided an introduction that looked into the emerging workforce of millennials. Jonathon Studstill, who heads the Regions Management Associate program provided an overview on millennials, both from a hiring stance and as a working member of the generation. Hengel also led a panel discussion featuring Studstill, Calamusa, Jackson and CTS Vice President Sanjay Singh. The panel pointed out that millennials may not have vastly different priorities than their predecessors, the baby boomers and generation X, but a career must fit within those parameters. Being a good parent and having a successful marriage are often the top concerns, well above career or salary goals. In return, millennials who find the right career fit and have what they need to achieve success are more satisfied and more productive. And defining someone as a millennial simply by age doesn't work. Being a millennial is as much a mindset as it is chronological. According to Calamusa, who teaches business students at the University of Alabama, millennials prefer to work in an experiential, collaborative environment, and modern companies have to adjust. "Mentoring needs to be about coaching," Calamusa said. If new hires are thrown into the mix without guidance, "You're going to lose a lot of talent. A lot of millennials haven't been given a chance to fail." That's not a bad thing. As a result, many millennials are fearless. "I find there's a lot of value in motivating people" regardless of age, Jonathon says. Millennials want to know that the work they do has an impact on the company and in the community. CTS is a technology company with offices in Atlanta, Birmingham, Charlotte, Chattanooga, Mobile and Nashville. According to Singh, the employee turnover at CTS is only 6 percent. One reason is because the company focuses on recruiting potential employees while still in college then tries to keep its promises when hiring workers. "The greatest resource you have as a company is your universities," Singh said. "We expect every employee we have to go back and establish a relationship with their alma mater. That way, we have a self-sustaining cycle." The University of Alabama's Calamusa said companies that get involved with talented students while still in college have a huge advantage. "You should get in the classroom and give scholarships," Calamusa said. "You brand yourself. In return, university programs and directors should be finding you the right fit and working with you to get you the best prospects." Other tips:
Find out how your young workers want to be rewarded. In other words, break old routines and let workers decide how they want to be recognized for success.
Find ways to allow them to meet their personal goals and add value to your organization. This is the No. 1 way to retain your workforce.
Focus on continuing education. Millennials often want progress. As they advance, offer new responsibilities and provide the resources needed to take those on.
Get involved with prospects early. By their sophomore year of college, many of the best candidates have already emerged and have been recognized on campus by peers and instructors.
Deliver on your message. When recruiting potential employees, make sure you know you can live up to your promises once the recruits are on the job. Make sure they experience what they were told to expect.