Our communities each possess a unique, rich history. But according to Feeding America, one in eight of our neighbors faces a common issue tied to financial challenges: hunger.
That's 46 million Americans. And that's why Feeding America and its network of more than 200 food banks are working every day to address this urgent need.
Regions associates in Benton, Kentucky, and Jonesboro, Arkansas, are doing their part by volunteering with two organizations serving hope and helpings each day: Marcella's Kitchen and the Food Bank of Northeast Arkansas. While their involvement began due to personal connections, it's continued due to the sweet results they have observed firsthand.
Marcella's Kitchen: Where Friends Meet
Neighbors helping neighbors. It's an expression you often hear related to supporting those in need.
Jenna Denfip experiences it each Monday at Marcella's Kitchen.
During her childhood, Jenna Ervin – her maiden name – and family lived in the same neighborhood as the Perkins family in Reidland, Kentucky, a town of 4,300. Jenna and Mark Perkins grew up together playing kickball and graduated in the same high school class.
"Reidland is a tight-knit town where everyone pretty much knows everyone," reflected Denfip.
Today, Denfip manages Regions' Benton branch. And Marcella Perkins, Mark's mother and Ervin family neighbor, operates Marcella's Kitchen, a community kitchen serving meals to 1,500 people each month.
For Perkins, they are far more than people. They are friends.
"I didn't want this to be a soup kitchen," said Perkins, a bank client. "I want it to be a place where people could come together with no questions asked and enjoy a meal with others."
Perkins launched Marcella's Kitchen eight years ago in the Draffenville Community Center in space shared with the Lions Club. She has been involved with every aspect from day one, including the organization's motto:
"Serving with love, and loving to serve."
Denfip and Regions colleagues Juliianna Waldrop and Ashley Hanson head to Marcella's Kitchen on Mondays to serve meals with love. It's a project they have supported for over a year.
Up to 100 plates are placed on cheerfully decorated tables each day at Marcella's Kitchen. Food is only part of the draw. Warm greetings and fellowship are also essential ingredients. For some diners, it may be the only companionship they have that day.
"Meals at Marcella's Kitchen are a social event," said Denfip. "This is a place where people discover common ground while breaking bread together."
Beyond lunch and conversation, Perkins provides each friend with a bag of food to take home.
Denfip, Waldrop and Hanson are now familiar with the friends who frequent Marcella's Kitchen. Iced tea or water? They know and anticipate diners' "regular orders." They also know those who aren't fans of black-eyed peas when they are served in the cafeteria-style line.
Perkins' capacity to serve more friends recently increased following the opening of new space. The move will allow Perkins to go from preparing meals on one stove to working with both a larger stove and two ovens. She'll also have access to a walk-in cooler. Perkins and her friends celebrated the roomier location with an open house May 5. Denfip, Waldrop and Hanson were in attendance to mark the special occasion.
For Denfip, walking into the expanded space was especially meaningful. She provided banking expertise to help Perkins substantially save on the building's closing costs in addition to her usual kitchen volunteer duties.
Ask Perkins about the new space and you can feel her excitement. "I've almost run out of adjectives for how fortunate I am," Perkins shared. "Blessed, grateful, you name it." Perkins' friends feel a similar sense of gratitude each day as they gather for lunch.
And in reflecting on reconnecting with Denfip all these years later through Marcella's Kitchen, Perkins expresses additional gratitude. "I love her, she's precious," said Perkins. "I am so happy we've been able to renew our relationship again."
Sometimes, the best volunteers can be found right in your backyard.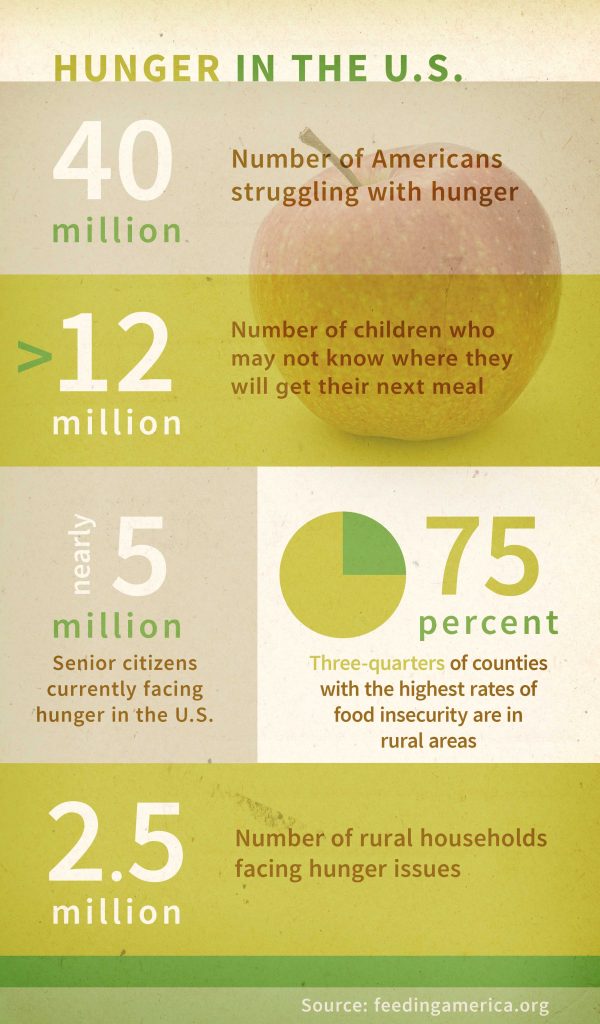 Acre of Hope: Giving New Meaning to the Family Farm
Spend time with Jimmy Farley, and you will soon be inspired to roll up your sleeves and join his work with the Food Bank of Northeast Arkansas in Jonesboro.
Just ask his colleagues and clients.
Farley is incredibly passionate about food insecurity. Through his involvement with the Food Bank of NEA, he discovered hunger is an issue facing one in every four children in Northeast Arkansas. It's an especially alarming statistic to Farley, the father of two.
"Any of us could easily need help feeding our children one day if we experience an unexpected life event," said Farley. "The team at the Food Bank of Northeast Arkansas is like a big family working to support our Jonesboro families in need."
Farley, a Regions banker who serves business clients around Jonesboro, joined the Food Bank of NEA family 15 years ago after attending a young professionals networking event. His involvement has included packing food boxes for seniors, sorting donated goods from the U.S. Post Office's Stamp Out Hunger campaign and helping with "Fill the Food Bank" drives at the Jonesboro Kroger.
Today, Farley serves as the Food Bank of NEA's board vice president; he'll be president next year.
"Jimmy is not only a food bank donor and a volunteer, he's truly an advocate for us," said Kassie Williams, development officer with the Food Bank of NEA. "If you talk with Jimmy for long, he's sure to share our story. He carries our mission with him and sparks others to take action."
When Farley joined Regions four years ago, he encouraged his new work family to support his food bank family by volunteering during the United Way Day of Caring. Team members now support several projects year-round.
One of those projects is Acre of Hope.
Farmers have a passion for helping anyone who is hungry. The Acre of Hope project is an avenue for them to directly feed those in need.
Jim Tubbs, Regions Jonesboro Market Executive
Through Acre of Hope, farmers are encouraged to donate the value of an acre of land in cash ($500) or give in-kind contributions of their fresh produce crops such as sweet potatoes, squash, watermelon and corn, among others. The Acre of Hope fundraiser supports 12 Northeast Arkansas counties served by the food bank.
For the past four years, Farley and his teammates have invited agriculture clients to join them at the fundraiser, which brought in $57,000 this year alone. Agriculture clients have even bought spray and fertilizer packages through a silent auction to help support the cause. Their generosity doesn't surprise Regions Jonesboro Market Executive Jim Tubbs.
"Farmers have a passion for helping anyone who is hungry," said Tubbs. "The Acre of Hope project is an avenue for them to directly feed those in need."
Regions' main bank branch in Jonesboro also lent its support by conducting a food drive in December 2018. The collection focused on donating a specific non-perishable item each day during the month. Associates answered the call, contributing a little over 300 pounds of food. Project leader and branch manager Andrea Gifford and Tubbs delivered the haul right before Christmas.
Farley has discovered the multiplier effect of donations made to the Food Bank. "It's incredible how far $5 can go," said Farley. "When everyone combines their volunteer time and money, we can really make a difference."
Farley is eager to continue adding new members to his food bank family. There are more people in Northeast Arkansas to feed.
Food for Thought: Feeding America's 2019 Map the Meal Gap Study, Nationwide Food Bank Listing
Want to learn more or lend your support? Feeding America released its latest food insecurity data May 1 with its 2019 Map the Meal Gap study. You can input your county to learn hunger statistics in your local area. And chances are, there's a food bank nearby that can use your help.