The Georgia State Stadium is packed with resources to help student-athletes excel.
There's the new football field, the impressive grandstand, the training rooms and more – all part of the Georgia State University Athletics program housed at the former Turner Field, which was, until recently, home of the Atlanta Braves.
And don't overlook another resource that's having a big impact.
It's the Regions Next Step Financial Learning Center, a place that's providing student-athletes with skills and training to develop a sound financial future. And it's the latest example of Regions Bank working with collegiate athletic programs in several states to empower athletes with financial-management skills they can use later in life, whether they go pro in sports or any other field.
"Financial education leads to financial empowerment, and Regions' work with Georgia State University is giving more student-athletes the know-how to make the right financial decisions in life," said Bill Linginfelter, Regions' Atlanta-area Market Executive. "We don't want any student to come through this athletic program and leave not knowing how to manage the money they make. One of the worst things that can happen to a person is to not know what to do with their money."
In 2016, Regions began providing financial education for student-athletes who attend the Summer Bridge Program, a training and acclimation opportunity for freshman and transfer athletes. Regions associates also taught workforce development sessions, including mock interviews and resume writing, aimed at helping with the transition from college to careers. Now, Regions is expanding its work with GSU by providing funding to create a designated space for financial education inside the stadium.
Financial education leads to financial empowerment.
Bill Linginfelter, Atlanta-area Market Executive for Regions Bank
Through the bank's Next Step program, anyone can access a wide range of online resources to break financial plans down into manageable and achievable steps. At GSU, 15 in-person Next Step seminars are available to coach athletes on proactively managing their money while building a foundation for financial security. In addition, Regions created a special course, called Money Management for Student-Athletes focusing on topics such as how to build healthy financial habits, how to start saving, how to use credit wisely, and how to maximize personal wealth over time.
Brad Horton serves as GSU's Senior Athletic Director for Panther Athlete Support Services. He saw first-hand the value of Regions' Next Step program as a football student-athlete at Mississippi State University. He said one of his first priorities after being hired at GSU was to establish a student financial literacy program.
"Teaching student-athletes how to transition from college to career is huge for us at Georgia State, and we are extremely proud to be the first university in the Sun Belt Conference to have a financial education program for the more than 400 student-athletes in our program," Horton said.
Horton worked with Cecilia Bailey, Regions' Financial Education Manager, to launch the program.
"Money can be a sensitive issue, but our teams have the right skills, experience and tools to help people improve their financial health," Bailey said. "We're proud to build and expand this partnership with Georgia State. Through this program, we're working with student-athletes and coaches to lay a foundation for financial success."
Recently, GSU and Regions celebrated the opening of the center. Financial education classes are underway, and within three years, the goal is to reach 95% of all GSU student-athletes.
"There are unlimited possibilities for athletes at Georgia State," said GSU Head Volleyball Coach Sally Polhamus. "Work ethic, preparation, and more, will either grow those possibilities and opportunities or narrow them. Knowledge is power, so the more we can give our student-athletes financial education knowledge, the better prepared they will be to make decisions and take control of what has been provided to them."
It's a foundation that can serve students well, long after graduation.
"We are grateful to Regions for giving us a game plan and allowing us to enhance what Georgia State provides for student-athletes off the volleyball court," Polhamus added.
We are extremely proud to be the first university in the Sun Belt Conference to have a financial education program for the more than 400 student-athletes in our program.
Brad Horton, Georgia State University Senior Athletic Director for Athlete Support Services
One of Polhamus' athletes, middle blocker Madelyn Ott, is graduating soon and preparing for graduate school in California. She says this training is especially important for athletes who find themselves on the cusp of graduation and suddenly trying to figure out how to pay for graduate school, living expenses and other needs that haven't been considered before now because of athletic scholarships.
"We are blessed with great coaches, athletic and academic staffs at Georgia State who support us on the volleyball court and in the classroom," Ott said. "With this financial training, we'll be able to take what we learn from Regions, apply it to our athletic and academic experiences, and be able to survive in the real world. It's a full-circle opportunity that not everyone has, and we are grateful it is available here."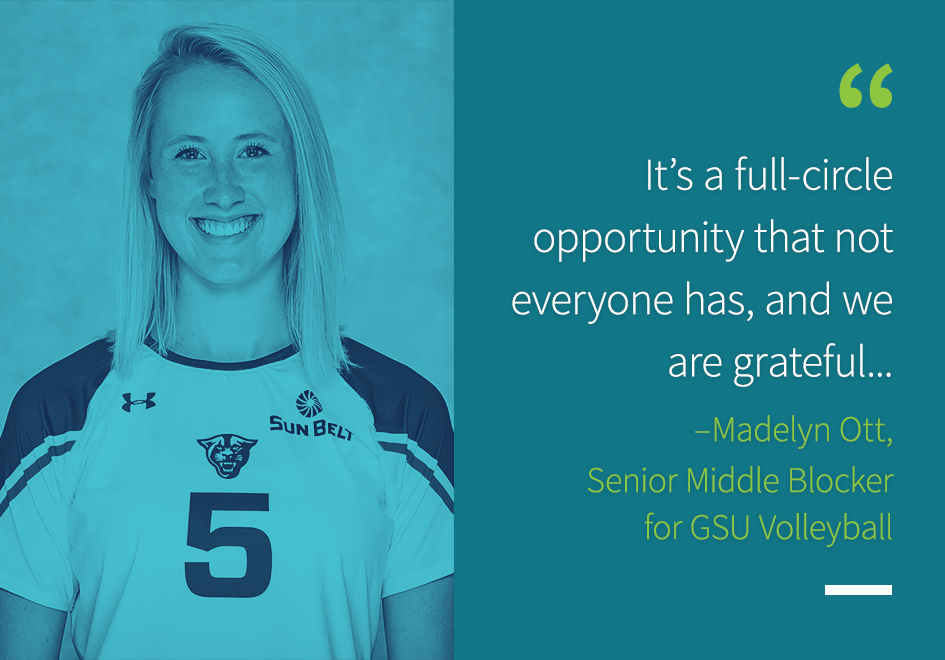 While the learning center is the first of its kind in the Sun Belt Conference, it is just one way Regions provides financial education. Bank associates regularly visit elementary and high schools and other colleges and universities to connect students with interactive, relevant tools. Regions also works with employers to connect their associates with financial advice, guidance and perspective.
Indeed, the Georgia State Stadium offers a wealth of resources. The Regions Next Step Financial Learning Center is the latest valuable tool designed to help athletes excel, not only during their collegiate playing careers – but also in the opportunities that will follow.