A one-two punch destroyed the Greenwood Supermarket.
The first blow came when Hurricane Michael heavily damaged the store after making landfall along the Florida Panhandle. Three weeks later, as the store reopened to a community facing a long and difficult recovery, an electrical fire dealt the final blow.
No one was hurt, but nothing could be saved. All that was left were the ashes and the memories.
A family-run business in the heart of Greenwood, Fla., a city of roughly 700 people in rural Jackson County, Greenwood Supermarket was opened in 1994 by Bill and Christine Smith. For nearly 25 years, the store was the embodiment of their commitment to the community. It supported dozens of jobs. It helped provide a local tax base. Most of all, the Smiths' store nourished their neighbors.
"The past year has been very hard on us," Smith said. "I can't describe it any other way."
With the supermarket gone, people had to drive 30 minutes round-trip along rural roads, many of them littered with storm debris, to get to the nearest grocery store. The Smiths were determined to reopen, but there was a problem: They didn't own the building that housed the store. And the owner declined to rebuild.
But the Smiths had an alternative. They turned to a piece of land they already owned, right beside the original site. It wasn't their initial plan for the property, but it would prove vital to restoring the community asset that was the Greenwood Supermarket.
"The fire really knocked our feet out from under us, and we had to figure out a way to get back up. We are starting over from scratch," Smith said.
They explored grants and other options to finance their new store before turning to Rhonda Sapp, a Commercial Relationship Manager for Regions Bank in Jackson County. Gayle Hoshstrasser, the bank's SBA Specialist, offered her expertise as well.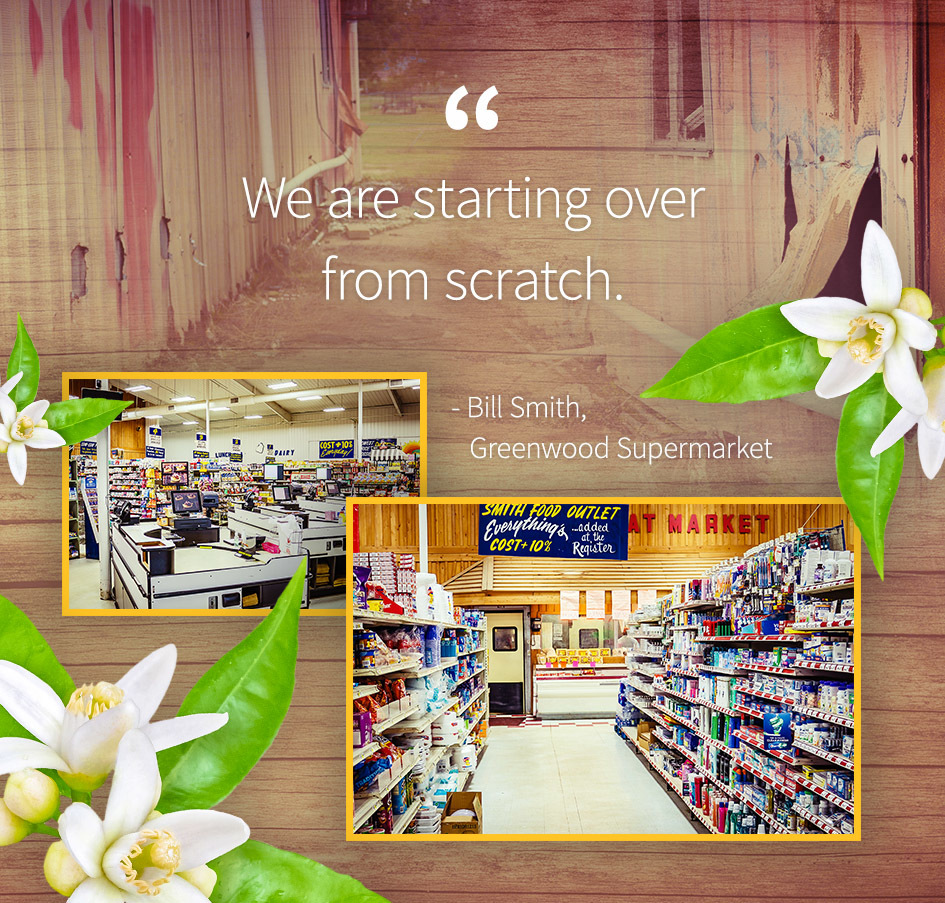 After hearing the Smiths' goals and plans for the new store, Sapp and Hoshstrasser recommended the U.S. Small Business Administration (SBA) 504 Loan Program. The program, designed to support economic development, offers small-business owners an additional option for financing. The SBA works with banks to support lending that promotes business growth and job creation. Regions is a preferred lender for the SBA, and the bank makes SBA loans available for business acquisitions, expansions, real estate, equipment needs and working capital.
Regions approved more than $1 million in SBA funding for the Smiths to complete construction, make site adjustments to their property, and purchase equipment for the store.
"SBA loans have a number of distinct advantages for small-business owners," Hoshstrasser said. "For the Smith family and Greenwood Supermarket, SBA lending provided the right options to rebuild their store and reopen to the community. I'm honored they chose to work with Regions, and I value the team of Regions associates who worked together to make the Smiths' vision possible."
Sapp added that the project is encouraging because it means recovery is still happening across the area hit hard by Hurricane Michael.
"After so much despair our communities across the Florida Panhandle have been through with the hurricane and long-term recovery, it is encouraging to see businesses in our community come back online one by one," she said.
Regions Bank is a preferred lender for SBA loans, and the bank approved more than $1 million in SBA funding for Greenwood Supermarket.
More information on SBA loans can be found here.
Construction is expected to begin before the end of 2019, and a grand re-opening celebration is planned for late summer 2020. The new store will be 7,500 square feet and will include a bigger deli, complete with a hot bar that will serve three meals daily. Additionally, the frozen food, produce and meat departments will be larger, and the store will offer more food options than before. It will employ around 30 people.
"We are taking a big chance reopening. We are going to work hard and put everything we have into making it work. Greenwood depends on it, and I know the community is behind us," Smith said.
Greenwood is designated a food desert, a term the U.S. Department of Agriculture uses for parts of the country that do not have easy access to fresh fruits, vegetables and other healthy whole foods.
"There are a lot of retired people in Greenwood with nowhere convenient to purchase fresh food. The people need a grocery store that is close by, and we are going to reopen for them," Smith said.
Jim Richardson, Market Executive for Regions Bank in North Florida, said the Smiths' determination is like that of other business owners served by Regions. Richardson's goal: bringing workable, beneficial ideas from concept to reality.
"If you're an entrepreneur seeking to launch or grow a company, there are financial professionals available to you – in Jackson County and beyond – who are ready to sit down with you, listen to where you are in your business plan, and provide the types of advice and guidance that can help you manage your finances and grow your company," Richardson said. "Greenwood Supermarket is just one example of how our team of associates can support a small-business project."
Additional Examples of Regions' Commitment to the Florida Panhandle and Hurricane Michael Recovery
Regions Bank Announces $100,000 Donation Supporting Hurricane Michael Relief: Learn more here
Regions Bank Providing Financial Services to Help Hurricane Recovery Efforts: Learn more here
Regions Foundation Announces $20,000 Donation to United Way of Northwest Florida: Learn more here
Good Towns: Marianna, Florida: Learn more here