BIRMINGHAM, Ala. – Aug. 1, 2019 – It's happening from South Florida to Central Texas –from the Midwest to the Gulf Coast – and in dozens of communities in between. Across cities and towns served by Regions, bank associates are finding creative ways to serve others through Regions' annual Share the Good program.
Now in its 10th year, Share the GoodSM activities are taking place throughout August.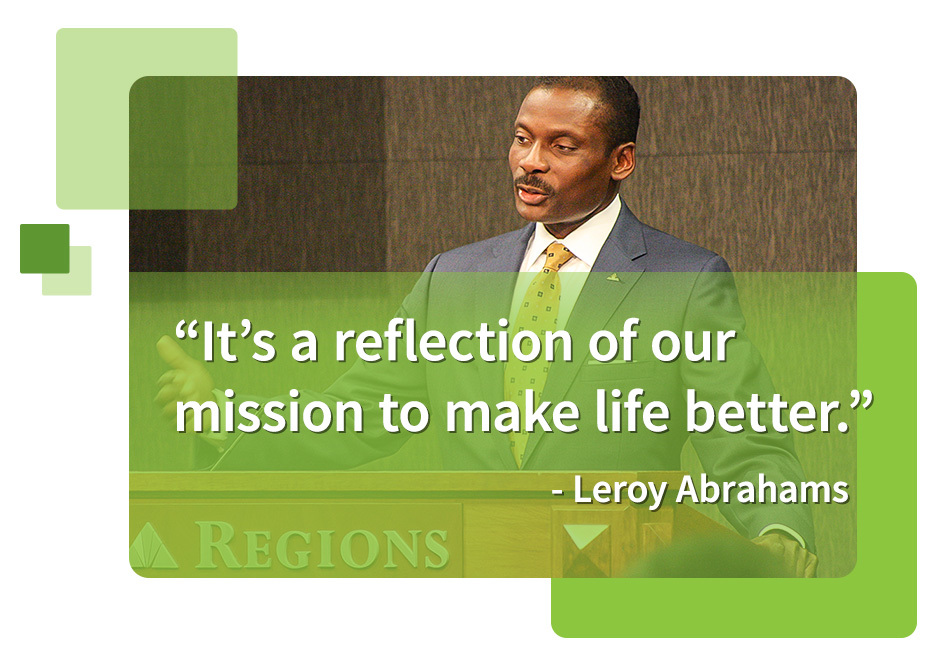 "Community engagement is a year-round priority for Regions Bank," said Leroy Abrahams, head of Community Affairs. "Share the Good gives our teams a special opportunity to identify even more ways for us to build on our commitment to meeting local needs. It's a reflection of our mission to make life better. And it's another way our associates can use their strengths, talents and community involvement to make a meaningful difference for others."
Many Share the Good activities are collaborations with nonprofits, schools and other organizations. While the activities can vary from one city to another, they all have a common thread in that they make a beneficial impact.
Among activities taking place this month:
Serving First Responders: More than 200 police and fire stations across the Regions footprint will have meals, cookies or snack baskets delivered by local Regions bankers. 
Recognizing Educators: From delivering goody baskets to volunteering in the classroom, Regions teams are providing support to teachers as they begin a new school year. 
Supporting Students: Hundreds of students will receive backpacks and school supplies as they begin the new school year. 
Providing Financial Education: Regions teams are connecting with community groups to lead interactive discussions about managing money and protecting savings from financial fraud. 
Addressing Community Needs: Examples include working with the Urban League in Knoxville, Tenn., as the local chapter addresses community needs. Further, Regions teams will help Habitat for Humanity renovate a home for a family in Jackson, Miss. And the bank's leaders in Western Kentucky will serve lunch in a local soup kitchen, where Regions associates often volunteer their time. 
Collecting Donations: Certain Regions locations are participating in supply drives organized by local nonprofits. For example, a Regions branch in Coral Gables, Fla., will collect gently-used professional and interview attire to be given to nonprofit clients seeking new jobs.
While Share the Good will run through August, Regions' commitment to investing time and resources into communities is ongoing.
Further, every year, Regions offers each of its associates a paid day off to volunteer in his or her community. Associates are also able to match their skills and interests with additional nonprofit service opportunities across communities where they work.
Examples of Regions' community involvement are consistently updated in the Community Engagement section of the bank's news website, regions.doingmoretoday.com. Further details on Regions' community engagement strategy can be found in the Community Affairs section of Regions.com.
About Regions Financial Corporation
Regions Financial Corporation (NYSE:RF), with $128 billion in assets, is a member of the S&P 500 Index and is one of the nation's largest full-service providers of consumer and commercial banking, wealth management, and mortgage products and services.  Regions serves customers across the South, Midwest and Texas, and through its subsidiary, Regions Bank, operates approximately 1,500 banking offices and 2,000 ATMs. Additional information about Regions and its full line of products and services can be found at www.regions.com.