Over 50 years ago, rockets that first launched Americans to the moon were developed in Huntsville, Alabama.
In the years since, driven by the same spirit of teamwork, Huntsville's economy has lifted off, too. Technology. Research. Automotive manufacturing. Well-paying jobs and economic opportunities can be found across the region. The local economy is expected to grow by $9.1 billion while an estimated 18,000 jobs are created in the next seven years.
"Our success is known far and wide," said Ron Poteat, Huntsville Market Executive for Regions.
The numbers provided by the Huntsville/Madison County Chamber of Commerce are impressive. Yet a consistent need remains: ensuring the local workforce is trained, prepared and ready to succeed in the jobs of tomorrow.
This was the focus of a wide-ranging workforce development forum organized by Regions Bank this summer. Leaders from the business, government, nonprofit and education communities gathered to share current tactics, envision future strategies and brainstorm on ways to deepen collaboration.
There is a space for everyone in our community, and we have to prioritize opportunities that can bring everyone together.
Emily Rogers, program director for Leadership Greater Huntsville
Workforce development is one of Regions' top priorities for community engagement. A recent economic impact report shows Regions supports over 32,000 jobs – directly and indirectly – across Alabama, and the company is committed to fostering more inclusive prosperity. The Huntsville forum was part of a broader effort by Regions to, first, bring together people and organizations that are committed to helping communities succeed and, second, identify ways Regions and its associates can complement their efforts.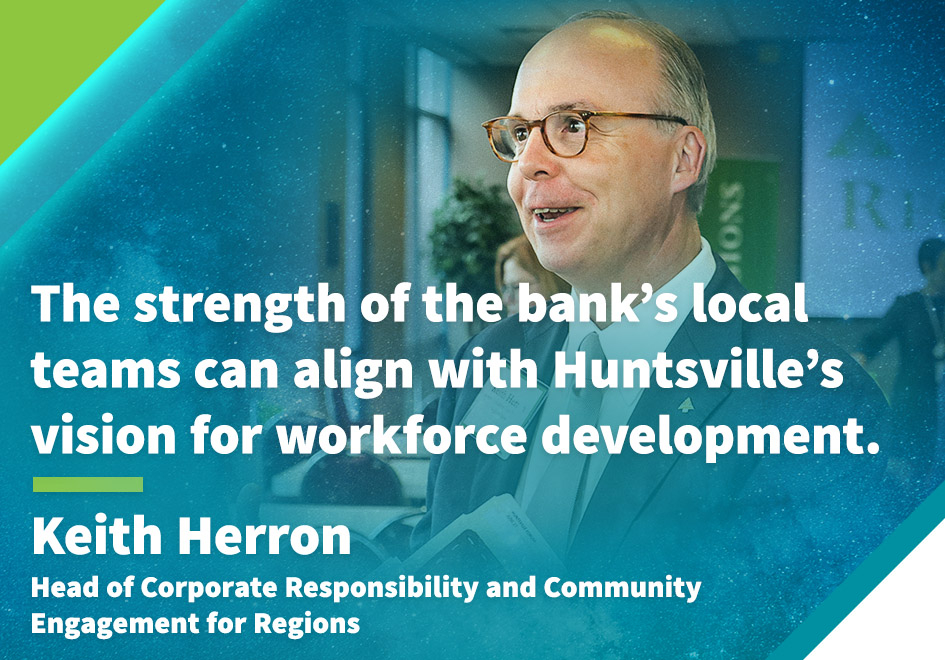 "At Regions, we want to be a catalyst bringing together the people and organizations who can best address community challenges and opportunities like workforce development," explained Keith Herron, head of Corporate Responsibility and Community Engagement for the bank. "Regions has always been devoted to the places and people we serve. We are growing that effort to connect more people with more ideas to solve today's problems. We are best when we work together."
Soft Skills
Dr. John Kvach is the Vice President of the Liberty Learning Foundation, a Huntsville-based nonprofit that provides civic education programs and character-building opportunities, giving children a strong foundation for professional success. In his role, he supports school programs in 47 of Alabama's 67 counties.
Kvach said a crucial element of workforce readiness is a mastery of soft skills. Those are the personal attributes, personality traits, inherent social cues and communications abilities that are often needed to advance in the workplace.
Because soft skills are not part of the traditional education curriculum taught in many schools, a lot of students fail to grasp their importance in terms of career opportunities and growth.
"The earlier you start with education, the better chance students have to learn what it means to be a civic leader, and the soft skills required to be a good one," Kvach said. "It isn't just what you take from your community and state, but what you can give back. Learning that early can drive economic growth in the future."
Improving Infrastructure
Huntsville has invested heavily in road infrastructure, but delivering a transit network that can support everyone is a challenge Huntsville officials are addressing through a comprehensive master plan called The BIG Picture.
"Roads are a big part of it, but we must think more broadly about infrastructure," said John Hamilton, City Administrator for Huntsville.
The infrastructure Hamilton is speaking of includes not only roads, bridges and mass transit, but also social infrastructure – places such as parks, schools and more. They all serve a role in supporting the business activity and social connectivity of strong communities.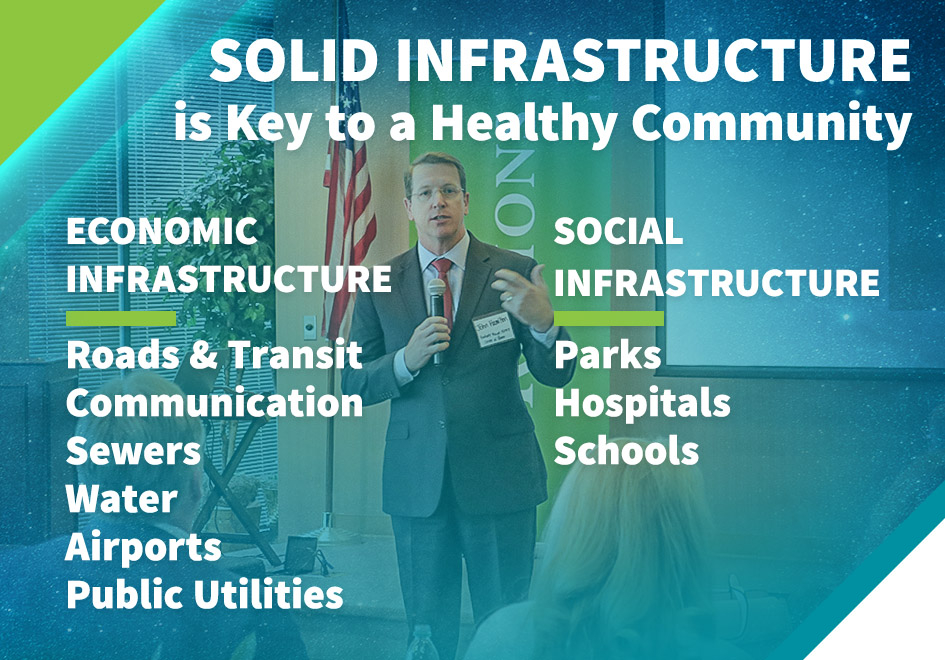 "Everything that makes up a community is part of the infrastructure that we must collectively invest in every single day. If we judge ourselves honestly over the last 10-15 years, there are areas where we haven't done a good job. We are now playing catch up," Hamilton added.
Barriers to Success
While some leaders tackle infrastructure, others have identified challenges keeping people from a job.
Take a single mother who wants to apply for a rotating shift position at one of the manufacturing facilities coming online. A lack of access to overnight or evening childcare could prevent her from entering the workforce.
What about a student who is unsure of what to do next? An apprenticeship program, like Birmingham Promise, which recently launched in the state's largest city, could help connect more students with rewarding careers. On-the-job training in a diverse range of professional fields can help a city remain competitive in the global economy.
Hamilton said workforce opportunities are best addressed when community stakeholders identify solutions that they can control directly – and then work together to spur positive change.
"That is the spirit of good collaboration," he said.
A Forgotten Workforce
While there are many jobs available across North Alabama, traditionally, it's been hard for some people to find a job when they're looking for a second chance. Specifically – those who have a criminal record have encountered roadblocks when trying to launch a career after paying their debts to society.
Research from the Ella Baker Center for Human Rights in Oakland, California, found more than two-thirds of formerly incarcerated people in the U.S. were still unemployed or underemployed five years after their release.
But that's changing.
Hiring a former inmate can help someone needing a fresh start – and perhaps prevent past failures from happening again. Many experts agree that when success is gained, the chance of reincarceration goes down, making communities a safer place for all.
The Huntsville/Madison County Chamber of Commerce has embraced the need to provide job opportunities for this forgotten workforce. Recently, the Second Chance Job Fair connected more than 600 people with over 60 employers.
Chip Cherry, President of the Huntsville/Madison County Chamber, said this is a great way to connect employers with people wanting to get back in the workforce.
"Hearing employers say they were open to hiring someone with a GED and/or a prison record was remarkable," Cherry said.
Inclusion
Emily Rogers works as a program director for Leadership Greater Huntsville. One of her top priorities: ensuring people from all backgrounds and income levels can access the opportunity to succeed.
During the Regions forum, she acknowledged Huntsville is a city of highly educated people with higher incomes and wages than people receive in many other parts of Alabama. The failure, she says, is when those with the means to lift their neighbors up fail to reach out.
"There is a space for everyone in our community, and we have to prioritize opportunities that can bring everyone together," Rogers said.
Rogers challenged others to think through city-wide offerings and events from more angles. Can the event appeal to all? Is it accessible to all? Does the event feel limiting? Is it catered to the same demographic over and over?
"It can be hard for individuals and families who work swing shifts or multiple jobs to participate socially and recreationally in our community. Yet, they are a huge part of who we are and an unsung contributor to our shared success," she said. "From law enforcement to assembly line workers and emergency responders – everyone matters. We must act to ensure there are increasingly less monetary, physical and social barriers for people to be part of our community. Everyone works hard here, and everyone should be able to play hard here, too."
Workforce development is not just about work; it's about a positive work-life balance, too.
Teamwork
The needs and opportunities in Huntsville are unique. Solutions will only come to fruition if people remain committed to working side-by-side. Just like that spirit of teamwork that put man on the moon 50 years ago.
"Huntsville has the best minds in research, education and workforce, so there is nothing we cannot do when we put our heads together," said Ron Poteat, the Huntsville Market Executive for Regions. "This forum is only the beginning. We're forming new and deeper relationships with educators, nonprofits and city leaders. And we'll build on these discussions with new goals and clear actions moving forward."
Keith Herron agreed – and said the Huntsville team is already working to grow strategic partnerships developed at the forum.
"Throughout our history, Regions associates have been dedicated to community engagement and making a meaningful difference in the lives of others," Herron said. "We believe this forum will provide a solid foundation to build collaboration into the future. Regions is proud to be part of Huntsville and Madison County's success."