Yolanda Owens' business, iwi fresh, is one-of-a-kind, marketed as Atlanta's first farm-to-skin spa. Once a week, Owens heads to the countryside and picks out raw vegetables and fruits, which she brings back to the spa to create natural skincare remedies.
But what brought her to Inner City Capital Connections was the chance to expand on what she's started.
"I'm the first business owner in my family, so this is new for me," Owens said. "I've been learning along the way. Now, I'm really looking to get some great expertise from some people that have done this, who are subject matters in certain areas, that can really help me take a deep dive into our business model."
Called a "mini MBA on steroids," ICCC has trained 459 businesses in the South, raising $277 million of capital and creating close to 5,000 new jobs. ICCC Atlanta drew more than 100 other entrepreneurs from the metro region and beyond, all yearning to grow their businesses through intense learning and one-on-one interactions with noted business-school professors, including Northwestern's Susan Perkins.
"What your strategic position is should very carefully map onto what your business activities are," Perkins said. "A lot of times, entrepreneurs are people undaunted to the task (wondering) could I be the next Coca-Cola? And the answer is, absolutely yes – if you're on the right strategic path."
Established in Boston, ICCC strives to position urban businesses for long-term growth and has partnered with Birmingham-based Regions for day-long seminars in Atlanta, Birmingham, Memphis, St. Louis and Tampa. Each stop has marked growth in participation, with the September Atlanta session generating the biggest crowd yet.
What makes ICCC stand out is the pairing of renowned academics in an informal setting with aspiring entrepreneurs, said Steve Grossman, ICCC CEO.
"You want to talk to a professor – and we want the professor to talk to them in common-sense language," Grossman said. "You want to go home saying, 'I learned six or eight things yesterday that I can put into my business tomorrow morning.'"
Dr. Anthony C. Hood, director of Civic Innovation in the Office of the President at UAB, taught the business owners gathered in Atlanta about collaboration and communication. In layman's terms, he provided specifics on how to identify and resolve conflict, "to create a psychologically safe environment where people feel comfortable engaging in the types of conflict that can lead to higher levels of performance in businesses."
The payoff goes beyond the educational offerings.
"I think the power of networking is just as valuable for these business owners as getting the education from the professors," said Tiffany Kirk, Community Development Manager for Regions. "You learn so much from your peers. That peer-to-peer education is invaluable in any educational setting. It's no different in the business world. There's always something different you can take from one business owner and apply or share."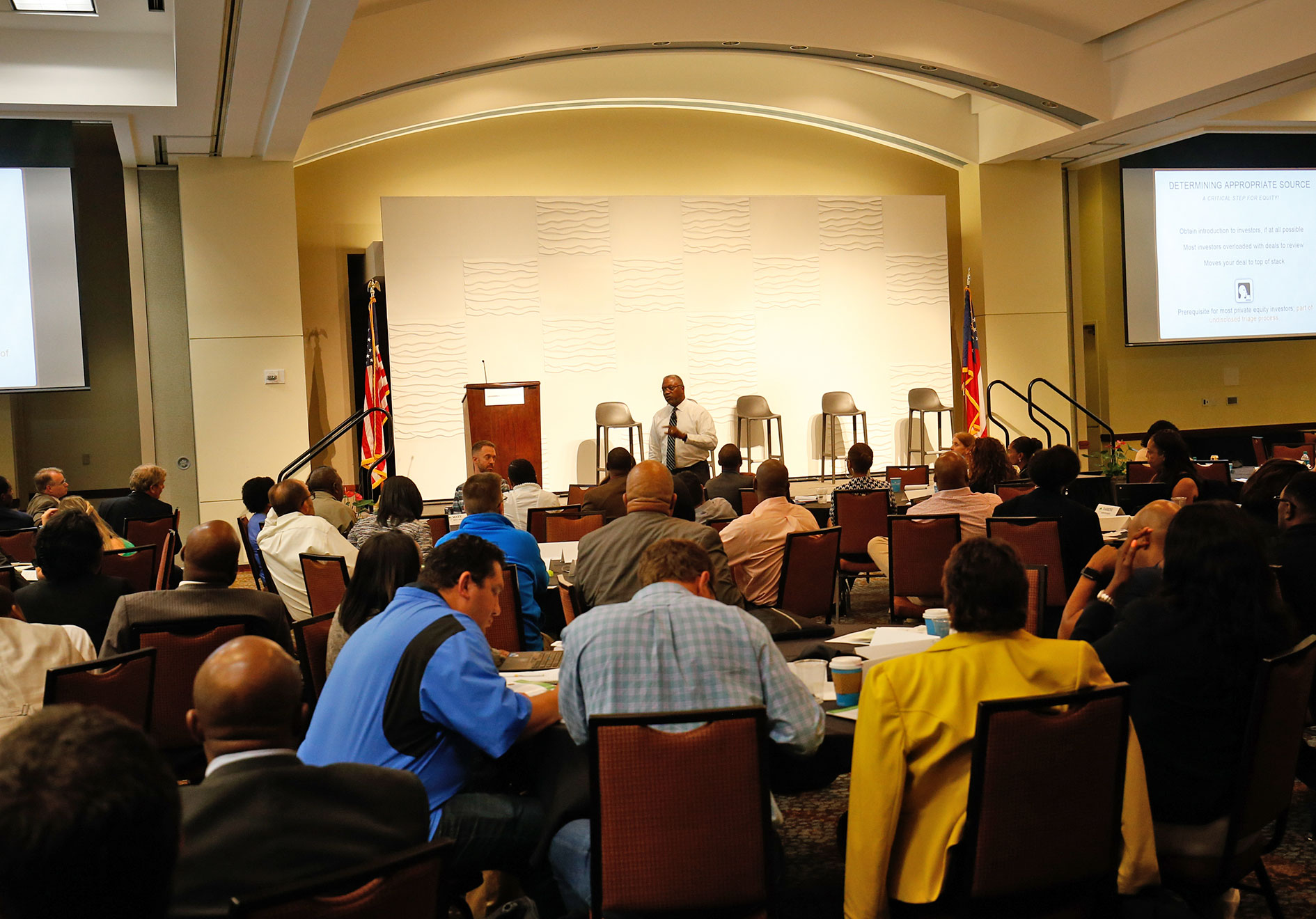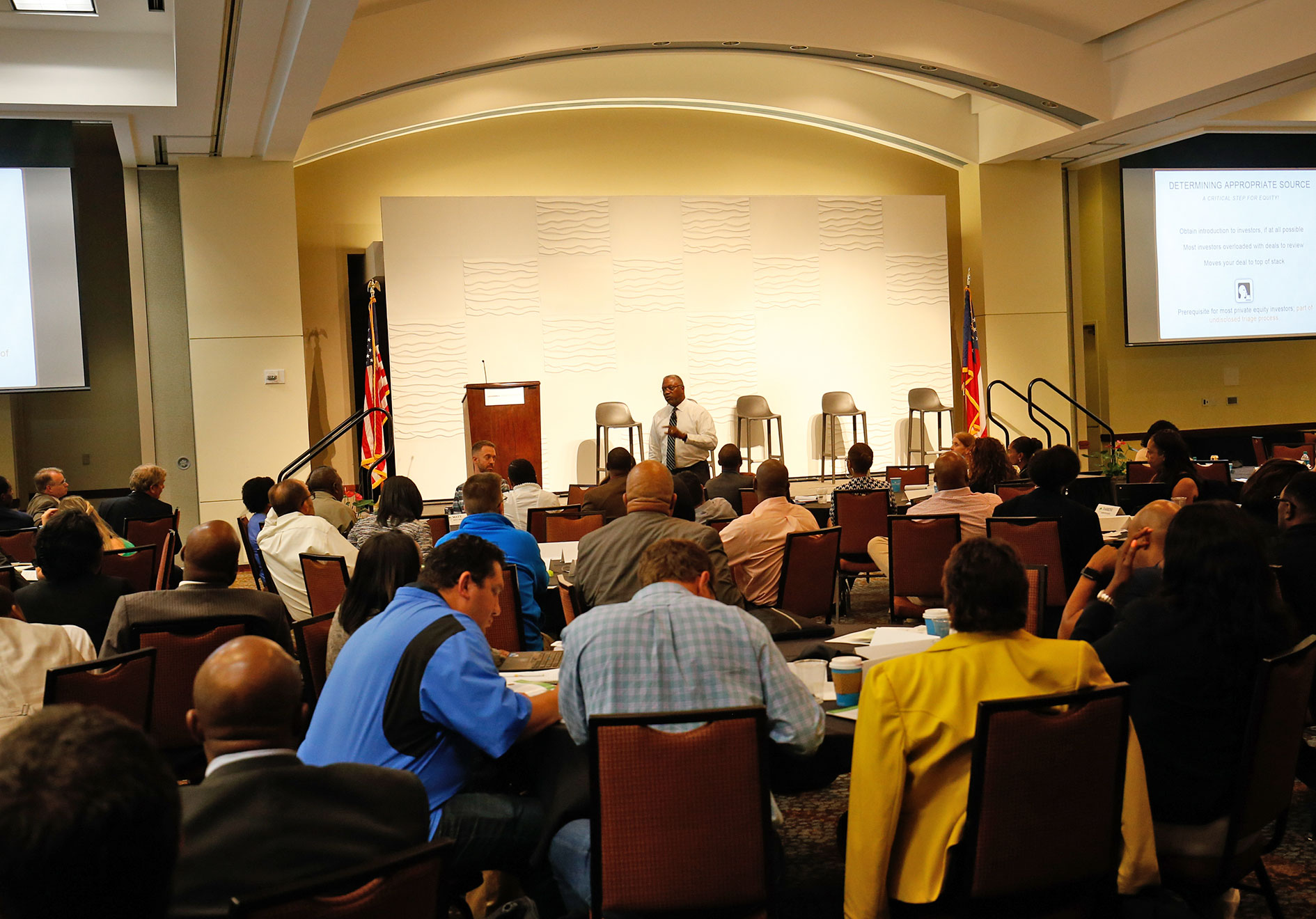 Another payoff is the involvement of Regions bankers. Approximately 40 bankers from Regions' Atlanta market joined ICCC to provide one-on-one financial coaching to help small-business owners better position their companies for the capital investments needed to help sustain long-term growth.
"We get to introduce, in a real tangible way, who our company is and what we offer, and what value we bring beyond the classroom," said Bill Linginfelter, Commercial Banking Regional Executive for Regions.
Hood agreed.
"Actually having a Regions employee partner up with small-business owners is huge because you can actually give them information," Hood said. "This is what you need to be doing right now to get the financing answers that you need."
ICCC was created by Harvard Business School Professor Michael Porter to reach underserved businesses across the nation. Regions fully embraces Porter's philosophy of shared value.
"Regions is a very successful institution," Grossman said. "But it's successful because they believe the concept of shared value, the concept of investing in the communities where they do business. This is just another way of investing in small-business owners and creating a sustainable, small-business ecosystem."