Catherine Dorsey can't sit still.
She has things to do.
"I'm always moving around," says Dorsey.
Visit the Acres Homes Multi-Service Center in Houston, situated prominently at the corner of Montgomery Road and Wilburforce Street, and you'll see. She has events to organize, documents to notarize, backpack drives to coordinate, and special events to decorate.
She wouldn't have it any other way.
"It's like home," Dorsey says of the Multi-Service Center. "I give a lot of time."
That's because Acres Homes, itself, is home for Dorsey. It's the neighborhood where she grew up – and where she creates a sense of home for others as a Community Relations Specialist at the Center.
"A lot of people find out about me," beams Dorsey, filled with pride.
Now, as part of her mission, she's spreading the word about Complete Communities. Acres Homes is one of 10 neighborhoods strategically identified for revitalization through the initiative launched by Mayor Sylvester Turner. Complete Communities blends government, corporate and neighbor involvement in a way that helps more people prosper.
Whatever I have to offer, I want to offer it to this community.
Catherine Dorsey, Community Relations Specialist at Acres Homes Multi-Service Center
"This is about investing back into our people and our neighborhoods," says Paula Johnson, Bureau Chief for the Houston Health Department's Harris County Area Agency on Aging. Coordinating services for people from "cradle to cruising," as Johnson describes it, her agency sees the challenges affecting people in Acres Homes and other neighborhoods in America's fourth-largest city.
"We see a lot of people living on fixed incomes," Johnson says. "In some cases, they may face a choice of buying food or medicine. With Complete Communities, we can help connect them with resources to stay in their homes, age in place and maintain their independence."
And now, Complete Communities has another powerful tool to help meet these goals. Regions Bank is joining the collaboration by funding two new Financial Empowerment Centers. One is opening in Acres Homes – the other in Magnolia Park on the city's east side.
The Houston centers are joining a national network of similar locations designed to help people overcome financial challenges. Since the network was started by the Cities for Financial Empowerment Fund, they've served more than 100,000 people, helping them reduce debt by $146 million and build $22 million in savings.
"Financial Empowerment Centers allow trained coaches to meet people where they are and help them develop a plan for their financial future," said Misha Burkett, Community Development Manager for Regions in Houston. "It's about giving people an advocate – someone who has the knowledge, and the understanding, to identify with them and build a plan to reach their goals. That's inclusive prosperity. This is about making sure that, as Houston thrives, more people thrive with it."
Johnson notes it's never too late for people to benefit from financial coaching.
"This program can help them manage money, purchase a home, and work to get out of debt – even if they're 80," she says. "This reflects a long-range opportunity. The peer-to-peer coaching occurring today is creating financial tools for families that will help generations to come."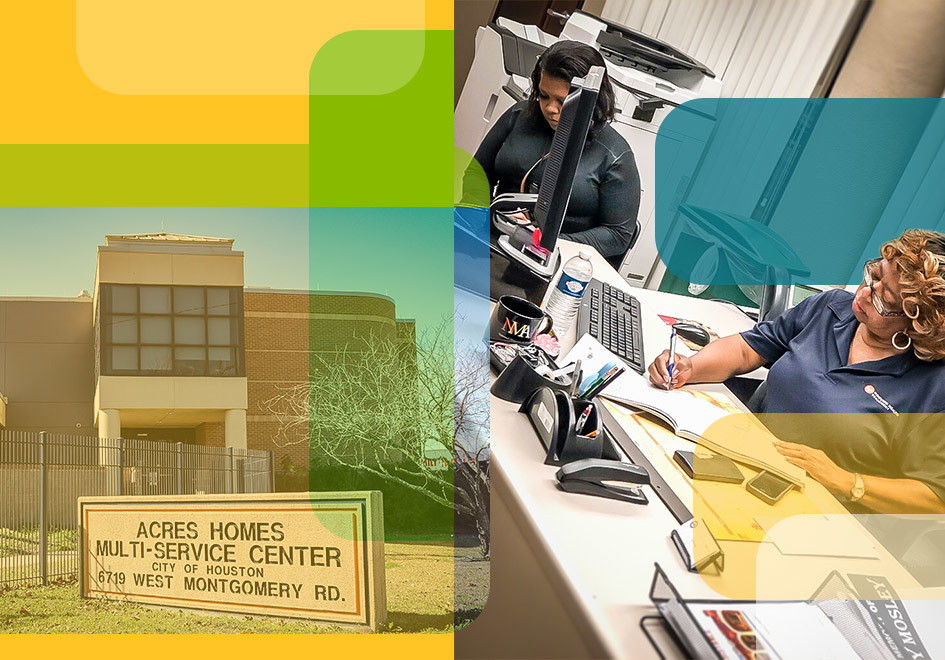 Catherine Dorsey views the Financial Empowerment Center and Complete Communities as greatly needed resources for the neighborhood she loves. Once a rural area with acre-sized lots meant to encourage family farming, in more recent decades, Acres Homes experienced a lack of jobs, an increase in crime, mental health challenges, and limited options for safe and modern affordable housing.
Even as some other recent investments have poured more resources into parts of Acres Homes, they come at a cost. New developments have pushed some people out due to rising costs.
"I see people of all ages experiencing difficulties," Dorsey notes. "I want to make sure our children have the supplies they need to succeed in school and that our older residents receive adequate services and companionship."
Dorsey's involvement has even extended to Complete Communities' arts and culture revitalization. In 2018, she and a team of volunteers administered $40,000 in grant funding across five neighborhoods as part of the Visit My Neighborhoods program.
The care and concern Dorsey demonstrates for others runs in her family. At age 80, her mother also lends support to the Multi-Service Center as a volunteer serving meals during the after-school Kids Grub program. Kids Grub provides meals to up to 25 children to ensure they don't go to bed hungry.
"I want to make a difference," says Catherine, crediting her mother and grandmother as role models. "Whatever I have to offer, I want to offer it to this community. The people and their needs are what inspire me to get up each day. This is my mission, my passion."
And with that, her time for talking is over. Time now to tackle the next need.
"Somebody's gonna be looking for me," Dorsey concludes with a laugh.
People at the Multi-Service Center know it's Catherine Dorsey who's in their corner.