HOUSTON, Texas – Regions Bank on Thursday announced an expansion of its Houston-area branch and ATM network, offering new levels of personal service and modern technology designed to make banking easier and more convenient.
"Regions' new branches and smart ATMs represent a significant investment – and a growing commitment – to the Houston area," said Earl Connell, Consumer Banking Executive for Regions in Houston. "The branches are designed with today's customers in mind. For people who want personal service and a customized plan to reach their financial goals, these locations will be staffed with local professionals who can meet those needs. For people who prefer to use modern technology to conduct their banking business – even on nights and weekends – these branches and our additional ATMs will have what they need, too."
The branches will be in the following areas:
Houston – Copperwood Village: 15702 Kingfield Dr. Grand opening: May 19.
Katy – Westpark Tollway: 25010 FM 1093. Grand opening: June 2.
Spring – Rayford Crossing: 2819 Riley Fuzzel Rd. Grand opening: June 9.
Cypress – Alder Trails: 11415 Barker Cypress Rd. Grand opening: June 23.
Katy – Stableside: 9702 Gaston Rd. Grand opening: August 4.
More Modern Design; More Personalized Service
 The additional branches will be the first Regions locations in the area to reflect the company's new branch designs. The designs blend updated technology with the skills and expertise of local bankers.
"In many ways, Regions has reimagined the branch and how we serve individuals and local businesses," said Mark Jacobs, Commercial Banking Leader for Regions in Houston. "When you walk into these locations, there's no waiting in line to get called up to a teller to make a transaction. In fact, there's no traditional teller line at all. Instead, as soon as you enter, you are greeted personally by a Regions banker who is focused on listening to your needs, asking the right questions and delivering services based on your individual goals."
Making Banking Easier
The new branches also become the latest locations to offer Regions Video Banking ATMs. These ATMs connect customers with an experienced Regions Video Banker via live, two-way video. Video Bankers can process most teller transactions while also helping people with account maintenance and general inquiries.
Video Bankers are available during extended hours on weekdays (7 a.m. – 8 p.m. CT). They are also available on Saturdays (8 a.m. – 5 p.m.), Sundays (11 a.m. – 5 p.m.) and most holidays.
Even outside of Video Bankers' expanded hours, the branch's ATMs can always function as DepositSmart ATMs. In addition to dispensing cash and providing account information, DepositSmart ATMs can accept deposits of cash or checks at any time, day or night. They can also cash checks around the clock, providing another quick, convenient option for Regions customers.
Further, the recently launched Regions Virtual Concierge service is available to customers in Houston, providing more convenient banking options in the palm of a customer's hand. Using email, chat, phone and LinkedIn platforms, Virtual Concierge bankers provide individualized attention to customers and work with them on a variety of financial needs, including creating longer-term savings plans or simply answering quick questions in a way that prioritizes the customer's time.
Expanded ATM Network
Regions is also offering more drive-up DepositSmart ATMs at Walmart locations around the Houston area. The company has recently installed ATMs at the following locations:
Houston: 13750 East Fwy.
Houston: 5655 E Sam Houston Pkwy. N.
Houston: 12353 FM 1960 Rd. E
Houston: 1118 Silber Rd.
Houston: 3450 FM 1960 Rd. (Cypress Creek Pkwy.)
Katy: 6060 N. Fry Rd.
Pearland: 1712 Broadway St.
Spring: 21150 Kuykendahl Rd.
Tomball: 22605 State Highway 249
Looking Ahead
With the additional branches, Regions will offer 30 banking offices across the Houston area. The company will continue to identify ways to offer more personalized services at all Regions locations while taking part in the ongoing growth of the Houston area.
"Our goal is to serve customers when, where and how they want," Jacobs said. "We're taking a comprehensive approach, including consistent refinements to our online and mobile banking channels. At the same time, branches are still the primary place where people prefer to open accounts and have financial conversations, and ATMs are constantly in demand for quick transactions around the clock. We are focused on investing in all of these opportunities to better serve our customers in Houston – and to reach new customers throughout the area."
About Regions Financial Corporation
Regions Financial Corporation (NYSE:RF), with $123 billion in assets, is a member of the S&P 500 Index and is one of the nation's largest full-service providers of consumer and commercial banking, wealth management, mortgage, and insurance products and services. Regions serves customers across the South, Midwest and Texas, and through its subsidiary, Regions Bank, operates approximately 1,500 banking offices and 1,900 ATMs. Additional information about Regions and its full line of products and services can be found at www.regions.com.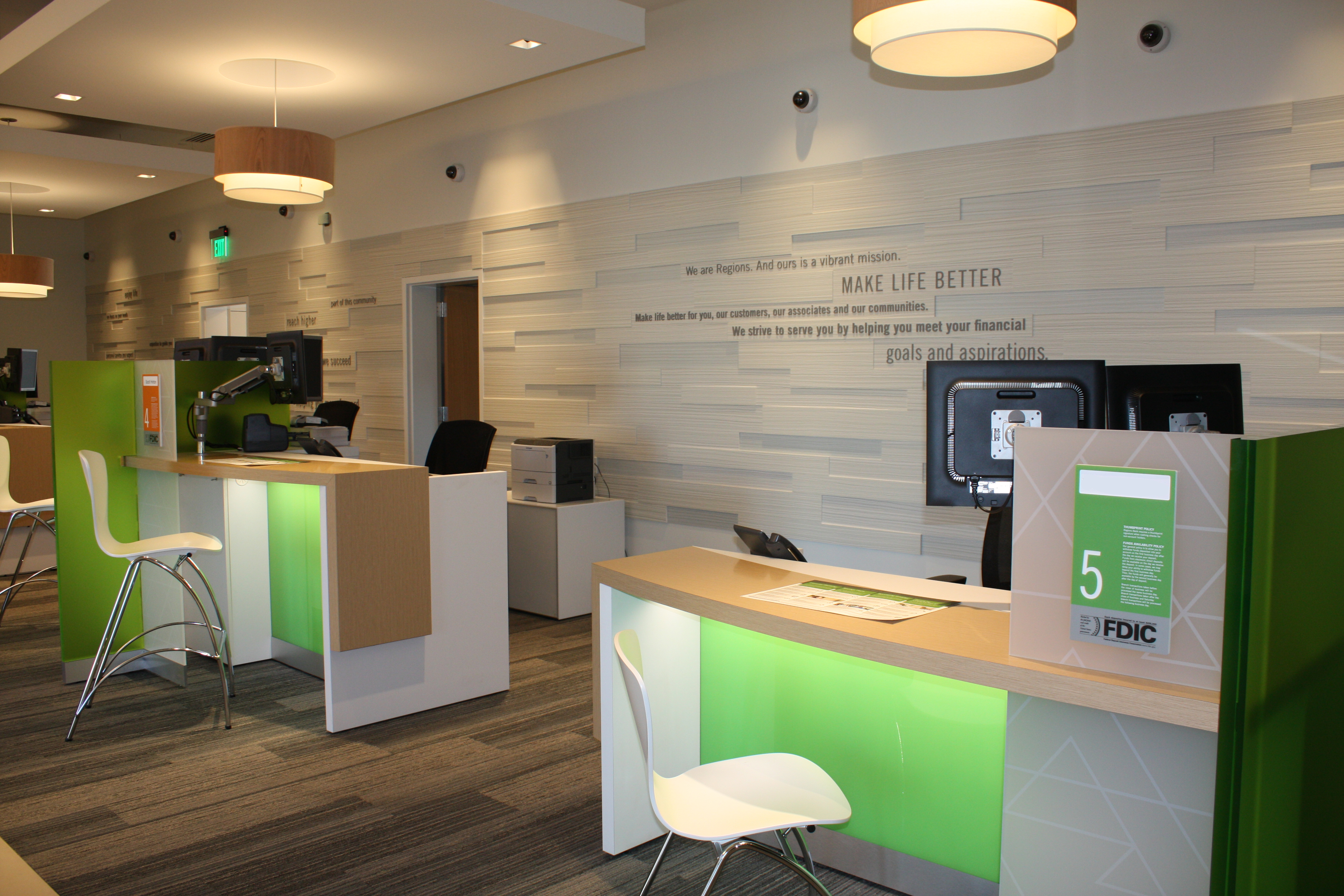 Regions' new branch designs place a greater emphasis on personal service and include private meeting rooms, customer Wi-Fi and more.