HOOVER, Alabama – Regions Bank associates on Friday presented a donation of $17,000 in support of Lima Foxtrot programs for injured veterans at Lakeshore Foundation – the largest donation in the five-year history of an annual fundraiser supported by hundreds of Regions associates.
Each November, ahead of Veterans Day, associates purchase custom-designed Lima Foxtrot T-shirts and wear them to work in support of veterans who are participating in the Lakeshore Foundation programs. All proceeds from T-shirt sales are given as a donation to help Lima Foxtrot reach more injured military members with innovative recreation and fitness activities.
The fundraiser started in 2013. Associates in Regions' Enterprise Operations department wanted to find a unique way to honor veterans. They learned about Lima Foxtrot and came up with the idea for the T-shirt fundraiser.
Since then, the fundraiser has grown to include associates in several departments spread throughout the company's Riverchase Operations Center, Lakeshore Operations Center and Riverchase North and South corporate offices.
"Lima Foxtrot has a profound impact on service members, and their families, from nearly every U.S. state, and Regions associates are honored to support programs that provide greater quality of life for men and women who have faithfully served our country," said Deno Posey, head of Deposit Operations for Regions Bank and one of the organizers of the fundraiser. "At the same time, we are proud to raise awareness of a world-class initiative that's based here in our hometown. This year, Regions associates have reached a new milestone in terms of financial support for Lima Foxtrot, and we are committed to building on our support in the years to come."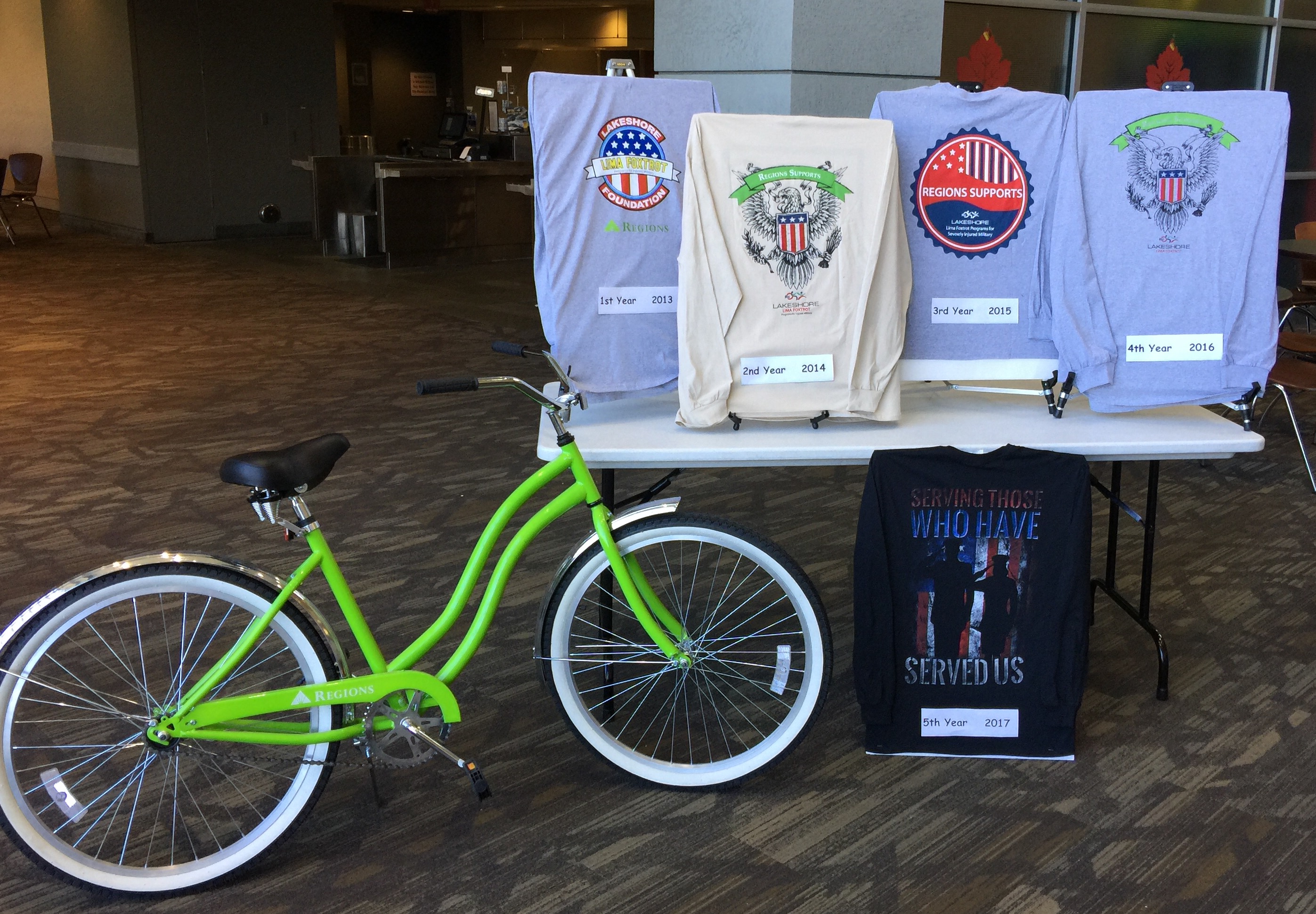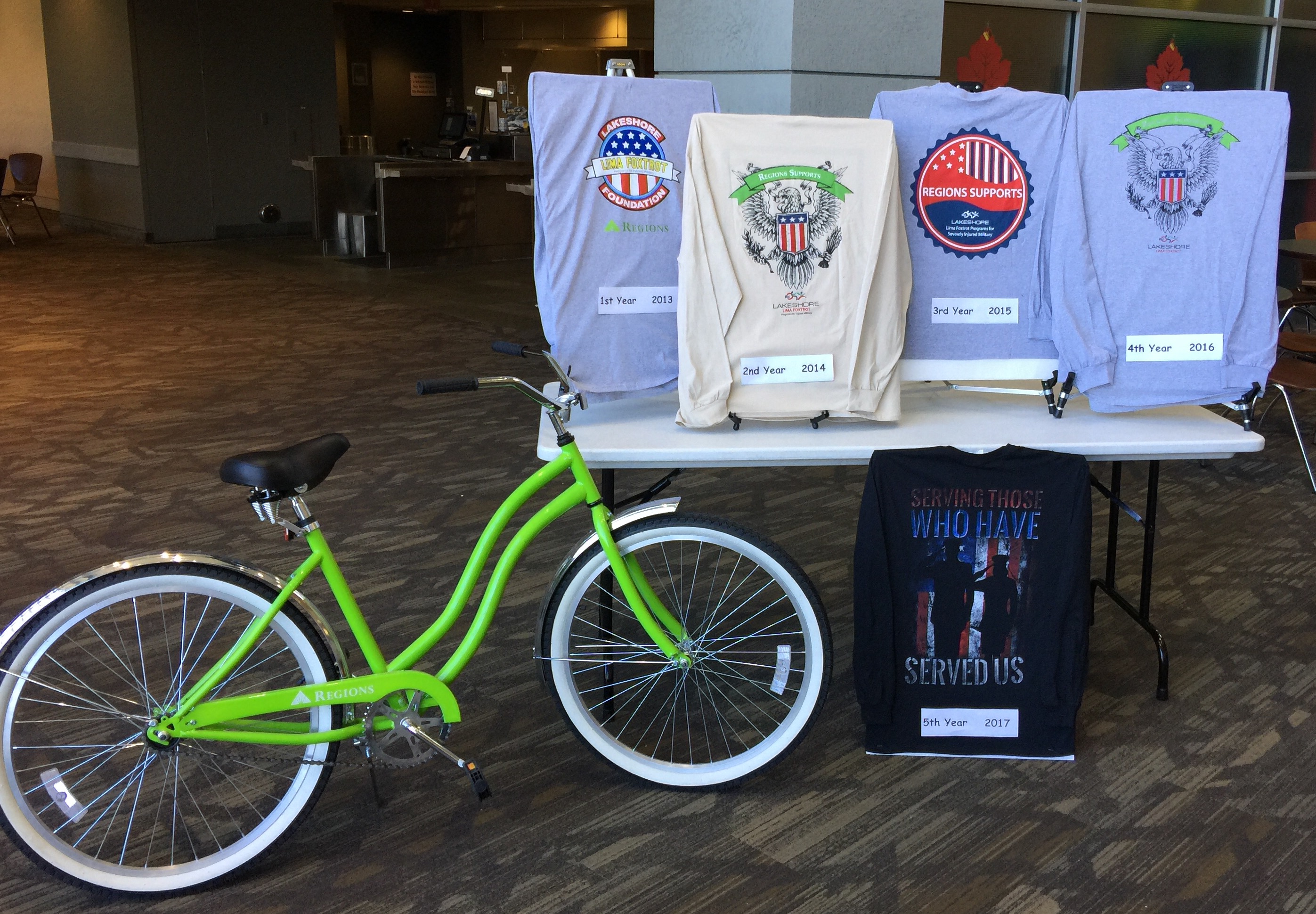 Including Friday's donation, Regions associates have raised approximately $57,000 through the T-shirt fundraiser since 2013.
"Lakeshore Foundation has been helping veterans in various ways for more than 30 years, and in 2006, we held our first Lima Foxtrot program," said Jeff Underwood, President of Lakeshore Foundation. "Since then, more than 2,600 injured military personnel and their family members from across the country have benefitted from our sports and recreation camps. Our programs are provided at no cost to injured service members and their families and depend on the support of a generous community. We are very thankful for the support generated by the Regions associates who have taken on this T-shirt project, which enables us to serve and support our injured service members and their families."
Company-wide, Regions Bank is committed to supporting the men and women of the U.S. military and their families. In October, the Birmingham Business Journal recognized Regions as the winner of its 2017 Veteran Friendly Employer designation. Further, Regions provides specialized financial services for military families, and Regions has an active Military Recruiting Program offering career opportunities for veterans and military members seeking employment in the financial services industry.
About Regions Financial Corporation
Regions Financial Corporation (NYSE:RF), with $123 billion in assets, is a member of the S&P 500 Index and is one of the nation's largest full-service providers of consumer and commercial banking, wealth management, mortgage, and insurance products and services.  Regions serves customers across the South, Midwest and Texas, and through its subsidiary, Regions Bank, operates approximately 1,500 banking offices and 1,900 ATMs. Additional information about Regions and its full line of products and services can be found at www.regions.com.
About Lakeshore Foundation
Lakeshore Foundation is an internationally renowned, nonprofit organization serving more than 4,000 unique individuals with physical disabilities and chronic health conditions annually through physical activity, sport, recreation, advocacy, policy and research. More information is available at www.lakeshore.org.