We are highlighting Ocean Springs, Mississippi this month in the Good Towns series. Spotlighting special towns across the country, Good Towns is about the character, the history, the people and the unique things that make a town a special place.
The beauty of Ocean Springs beach along the Mississippi Gulf Coast is in its simplicity. There are no jet ski rentals, no parasail riders flying overhead, no banners waving behind airplanes advertising local fare. On warm mornings, you might find a dozen people on paddleboards holding downward-facing dogs, catch a chess game on the oversized beachfront checkerboard, or find amateur oyster tongers creeping through rocky inlets. Here, waves lap gently at the feet of casting fishermen, pelicans perch on the remains of washed away piers, and the sound of seagulls competes with bicycles crunching on wet sand.
A large share of the country's oysters and domestic shrimp are caught in the Mississippi coastal waters, and are larger and considered by many to be much more flavorful that those found on the east or west coasts. Public piers and deep sea charters give fishermen access to a wide variety of seafood, and give bystanders glimpses of Ocean Springs' claim to fame.
"This is a calm, family-oriented place," said Cynthia Sutton, Executive Director of the Ocean Springs Chamber of Commerce. There are 26 miles of beach across the Mississippi Coast. "We call ours Front Beach," she added. Much of it is lined by sidewalks along Front Beach Drive, the view unencumbered by towering condos or homes, thanks to city ordinances that restrict the heights of buildings downtown and on the coast.
Front Beach is anchored on the east by the Ocean Springs Yacht Club and on the west by Ocean Springs Harbor. In the distance, the Biloxi Bay Bridge bends across the sea connecting Ocean Springs with Biloxi, the casino capital of the Mississippi Gulf Coast. When this bridge was built to replace the one wiped out by Katrina, a 10-foot-wide walking trail was added. Standing 95 feet tall at its highest span, the bridge challenges pedestrians. Those who do hike it are rewarded with contrasting views of Biloxi's skyline of mammoth casinos and Ocean Springs' tranquil white beaches.
From here you can see Deer Island, the closet island to the Mississippi Gulf Coast, and the Mississippi Sound, the large ocean inlet that runs east-to-west along the length of the Mississippi coastline. The sound borders the barrier islands of Ship, Horn, West Petit Bois, and the Petit Bois, which are all part of the National Park Service's Gulf Island National Seashore.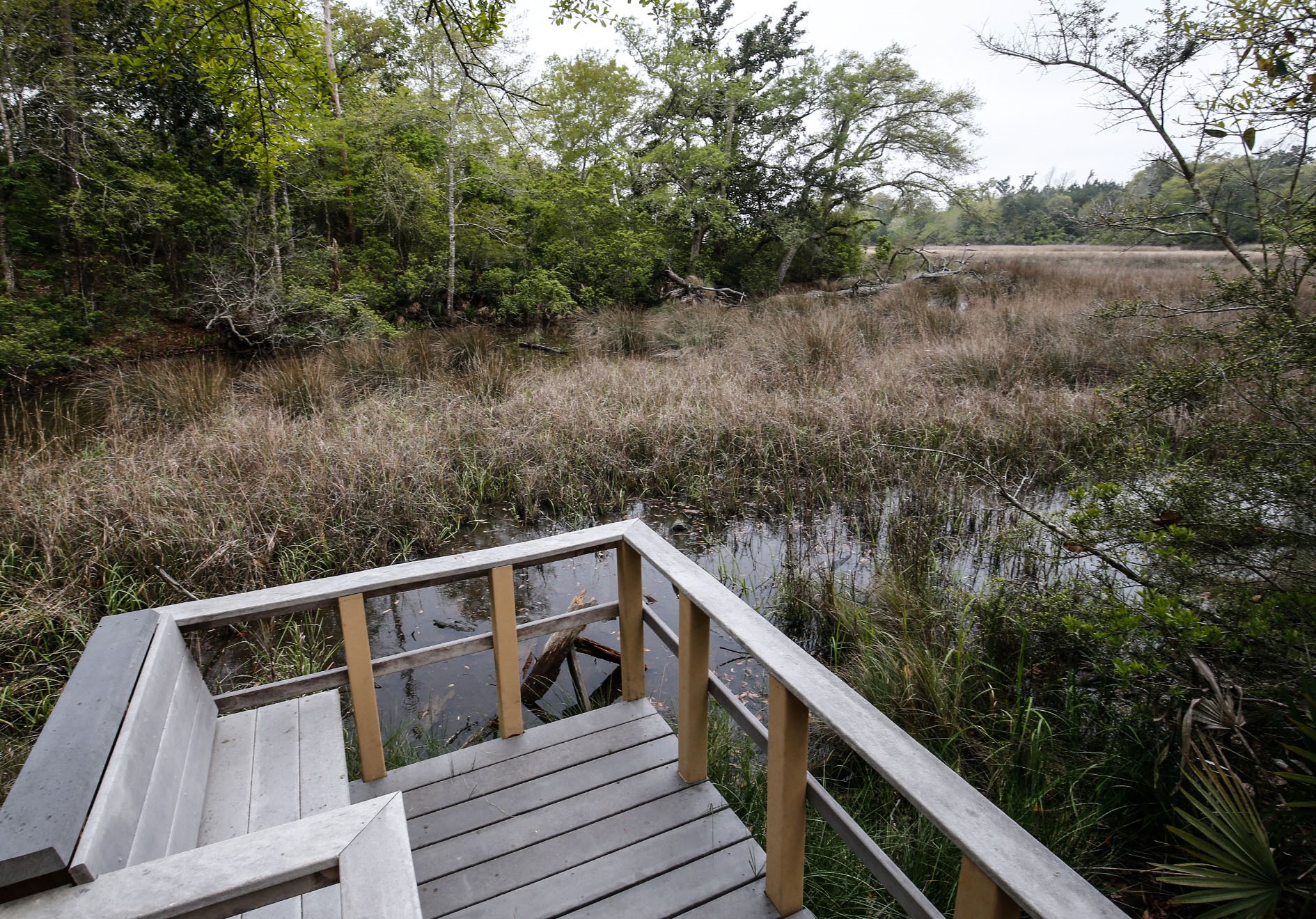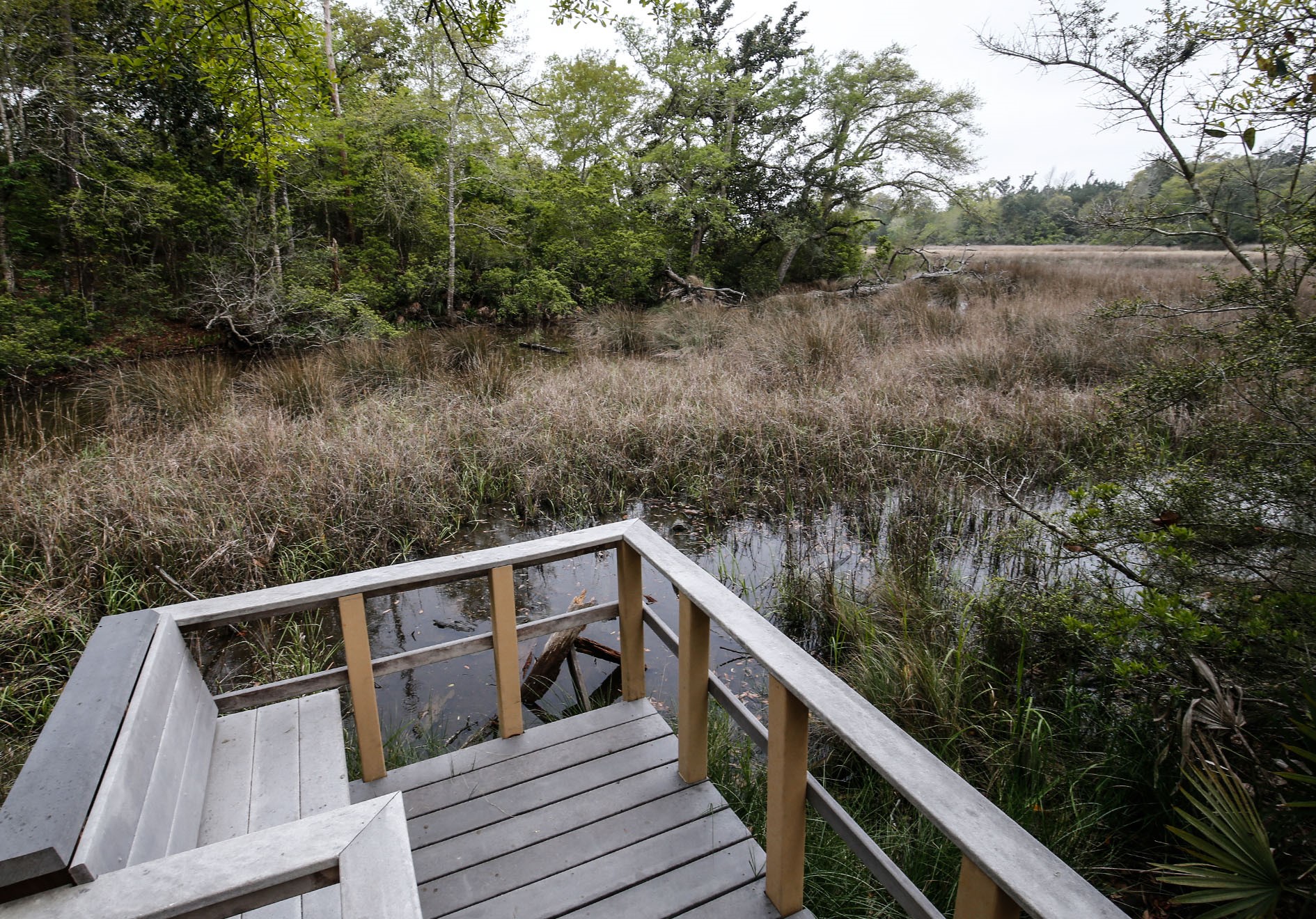 The national park can be accessed just east of downtown Ocean Springs and features untouched beaches, saltwater marshes, wildlife sanctuaries, bayous, nature trails, campgrounds, and islands accessible only by boat. This natural wonder is home to diamondback terrapins, snapping turtles and fiddler crabs, and is an important nursery for shrimp, mullet, blue crabs, and other salt life.
Mother Nature also delivers sprawling oaks throughout town that provide ample shading and – with an average of 216 sunny days a year – better weather than the national average, according to Sperling's Best Places, a company that analyzes data about people and places for major publications.
The beach and its comfortable climate are a main attraction for many of the coastal communities along the Gulf Coast. But what makes Ocean Springs stand out is the cozy-yet-sophisticated historic downtown and its quirky artistic vibe.
An Artist's Haven
James Anderson sits at the potter's wheel at the Shearwater Pottery Annex on the grounds of the Anderson family commune. He can be seen through the window of the wooden building most hours of the day surrounded by clay and molds and kilns dating back decades. The high-grade hand-fired earthenware he and his family members make are intended to be both functional and decorative. They use a buff-bodied clay to create thrown, jiggered or cast pieces that are either decorated or glazed by other family members. Or, they work with a white-bonded clay to create "underglaze" castware from molds.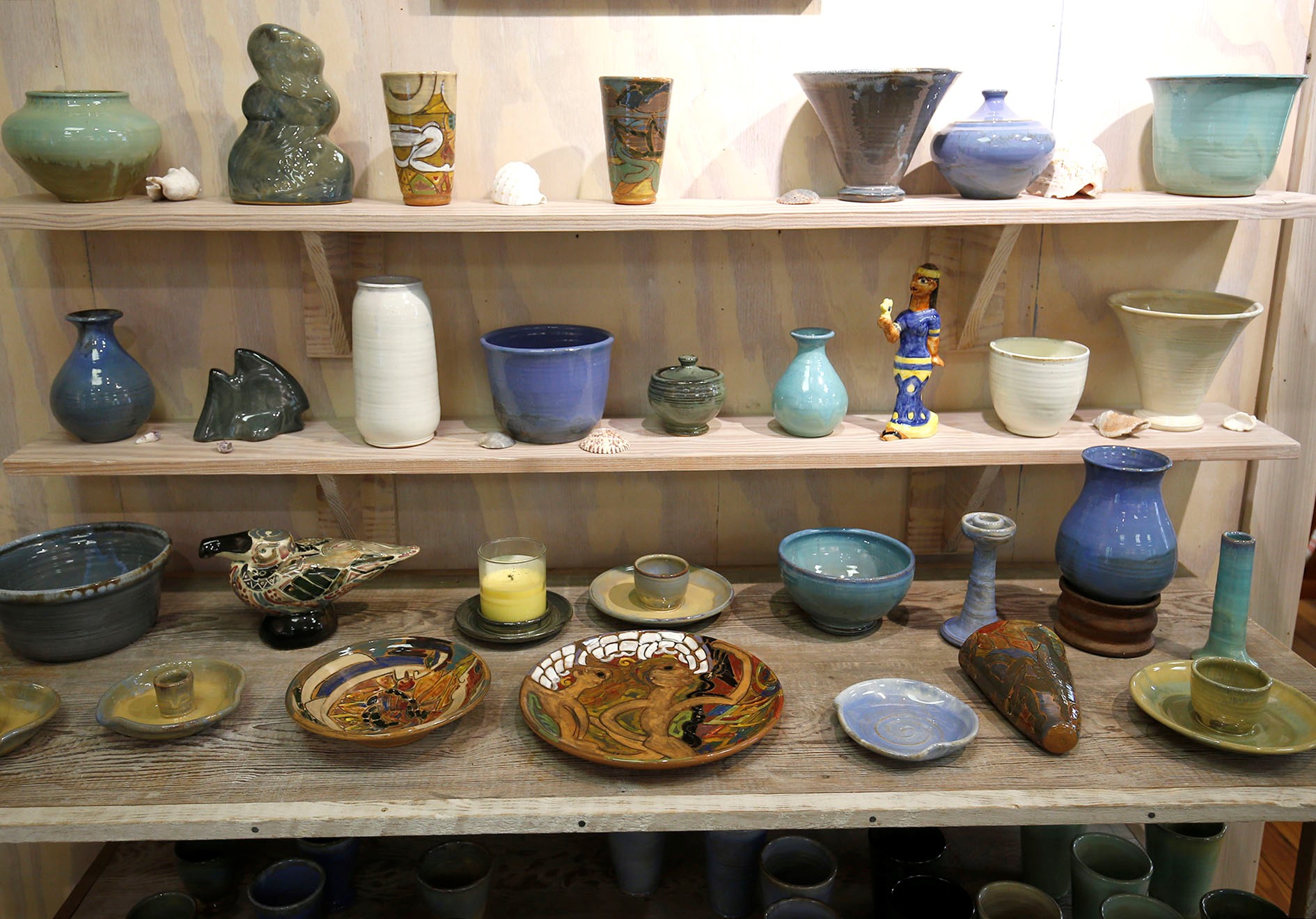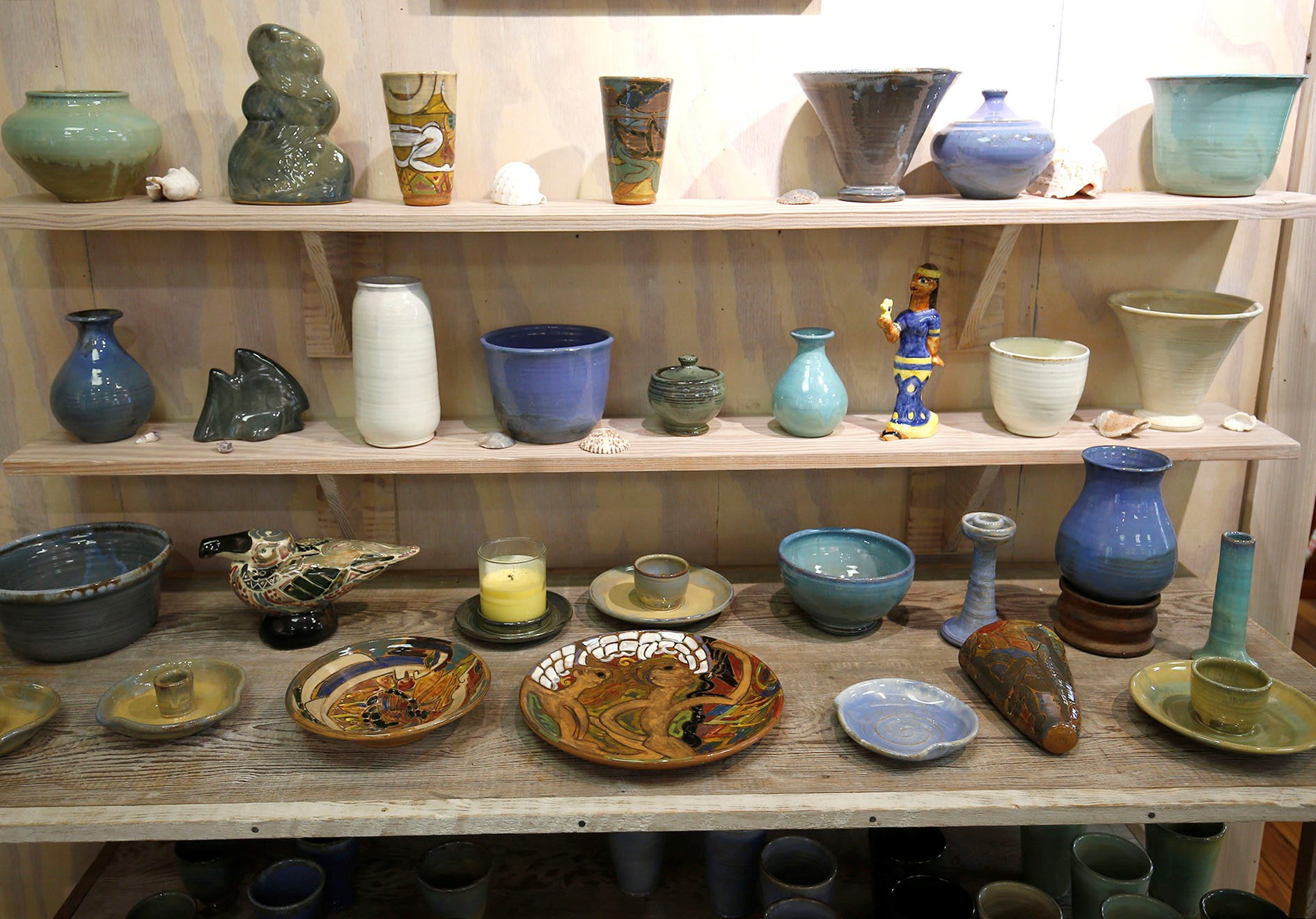 The art pottery, utilitarian ware, figurines, decorative tiles and other pottery pieces the family creates are sold in the Shearwater Pottery Showroom on the compound, the only retail outlet for Shearwater pottery. It is a generations-long family affair.
James is the son of Peter Anderson, the namesake of Ocean Spring's annual arts and crafts festival, and the nephew of the revered artist, Walter Anderson.
The 24 heavily wooded acres that makeup the Shearwater property were purchased 90 years ago by James' grandmother, Annette McConnell Anderson, who envisioned creating an artist compound. Four years later, she and her husband George Walter Anderson, moved to the property from New Orleans with their three sons – Walter, Peter and James "Mac" McConnell.
Peter founded Shearwater Pottery and served as the resident potter. His brothers Walter and Mac carved and decorated his pottery, later forming the "Annex" on the grounds where they made clay figurines, called "widgets" to sell to tourists. Peter is long deceased. But his family, including his son James, continue to live on the commune and work in the business.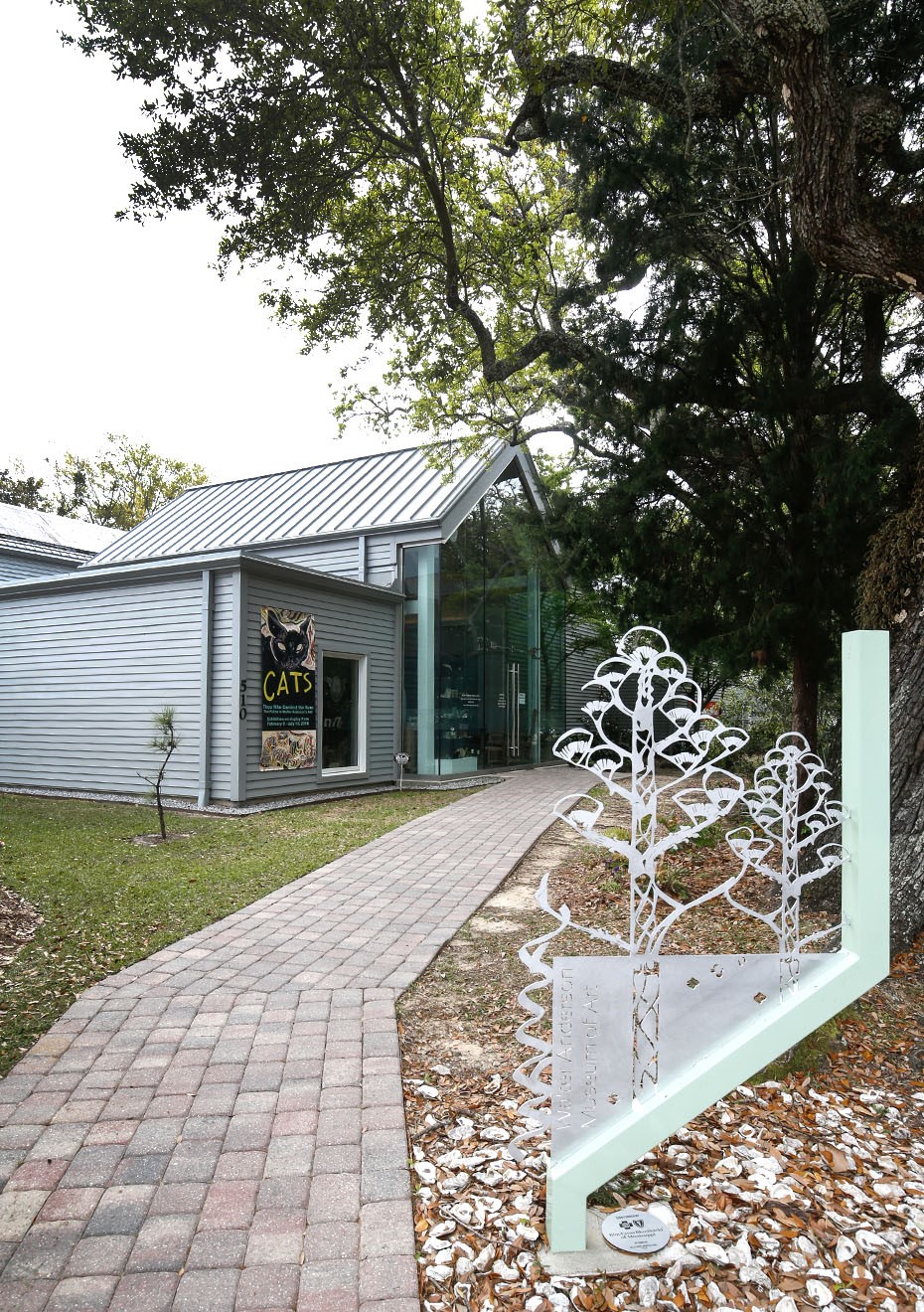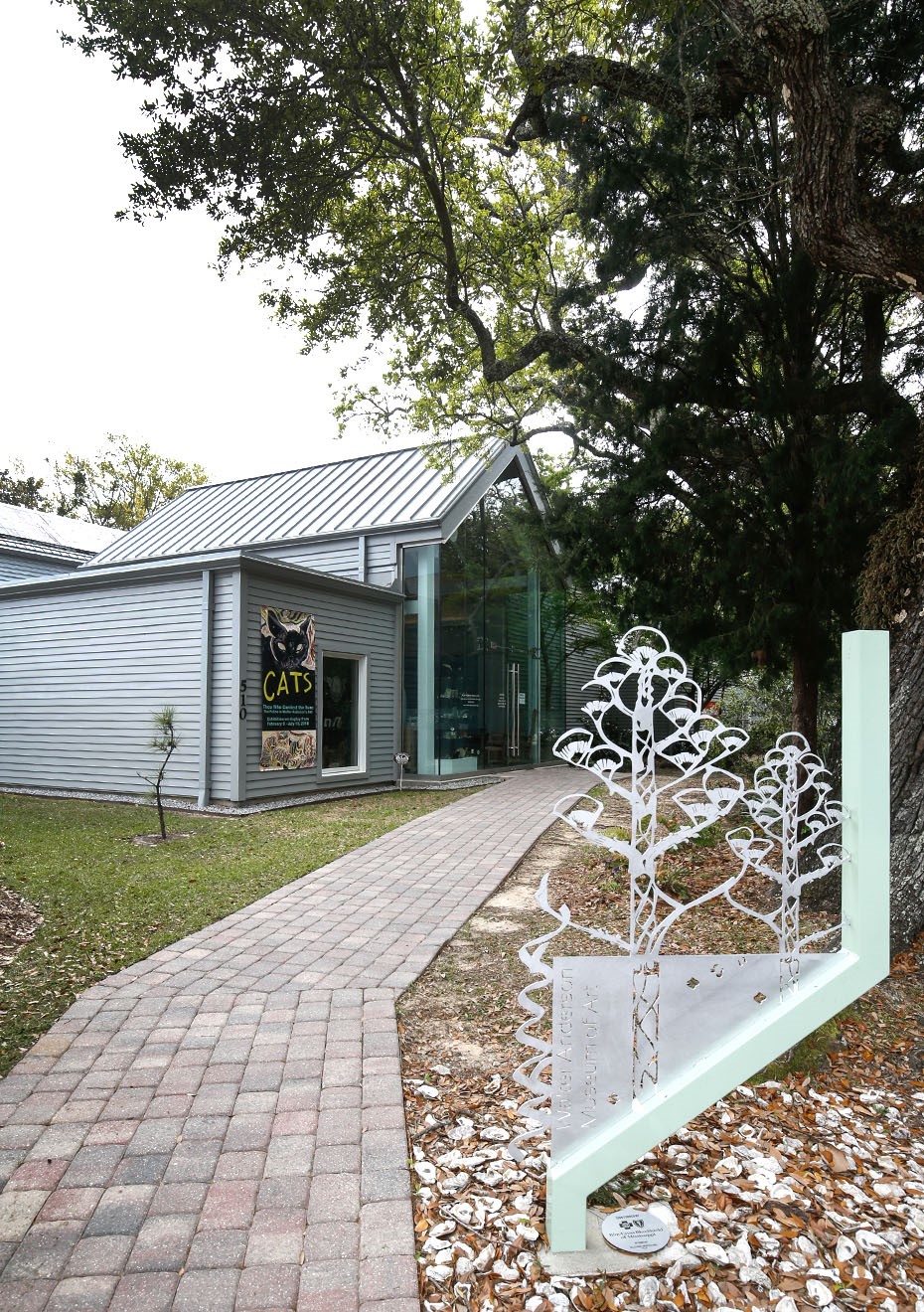 Peter's brother Walter also left a significant mark on Ocean Springs. A tortured soul, Walter eventually became a recluse, hiding away in one of the buildings on the family compound or at his favorite place, Horn Island, one of the nearby barrier islands. His fascination with nature was expressed in his impressive works of art, which he produced in oil, watercolor, pen and ink, and pencil. He also sculpted in wood, crafted furniture, carved and decorated pottery, and cut large linoleum blocks for print making. He also painted huge murals, some of which can be seen on the walls at the Walter Anderson Museum of Art in Ocean Springs.
During his lifetime, Walter Anderson was misunderstood and even shunned by the community. But after his death, he has become celebrated for playing an integral part of the Arts and Crafts and American Contemporary Art movements, and for establishing Ocean Springs as an artist community.
Ocean Springs' art vibe is seen in the number of galleries and art shops around town, including Hillyer House, which showcases jewelry, pottery and artwork of more than 50 local artists; The Art House, an artist co-op gallery; and Realizations: The Walter Anderson Shop run by the Anderson family.
There are also public art pieces by local artists scattered around town including "All One People," ironwork by Christopher Ingles Stebly on the patio of The Roost boutique hotel, the tile mosaic at the east end of the Biloxi Bay Bridge, and "Galaxy," the kinetic sculpture with windblown movement by Anthony Howe at the Little Children's Park.
Art, Entertainment & Go Cups
It's Sunday evening in downtown Ocean Springs and not a single restaurant on Government Street can be found that doesn't have some type of live music. This stretch of downtown has the highest concentration of restaurants and nightclubs, and offers a selection of eateries as varied as the entertainment. A local favorite is Government Street Grocery, a bar and burger joint with outdoor seating and, of course, live music.
Around the corner on Washington Street is a strip of shops, art galleries and boutiques locals refer to as the "So Go District." Here, under a canopy of oaks, you will also find The Inn at Ocean Springs, which puts guests directly in the flow of downtown foot traffic, and Brew, a micro-sized coffee shop run by Craig Bannister. The star on Washington is clearly Vestige, a farm- and Gulf-to-table restaurant serving seasonal New American Cuisine by Chef Alex Perry.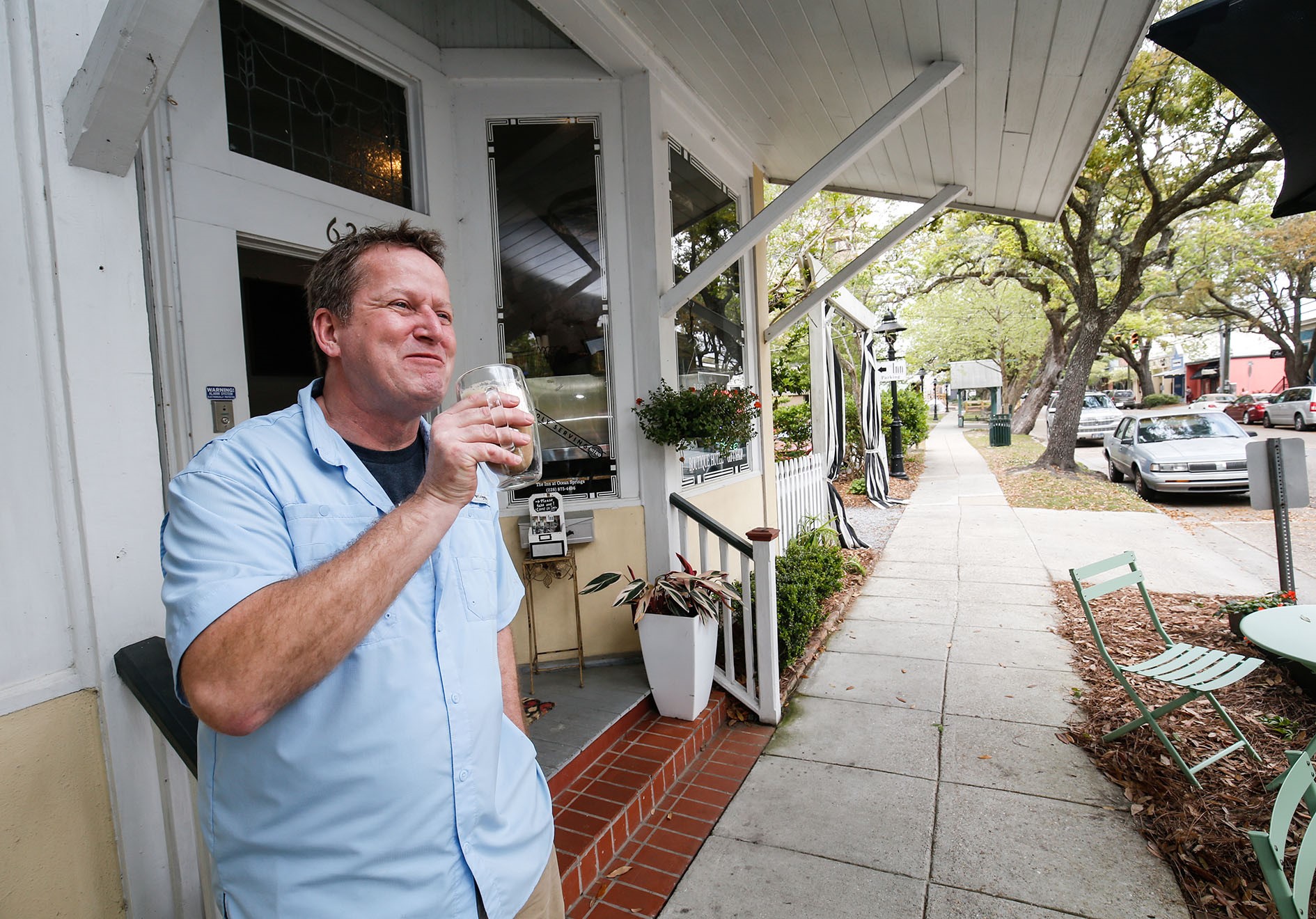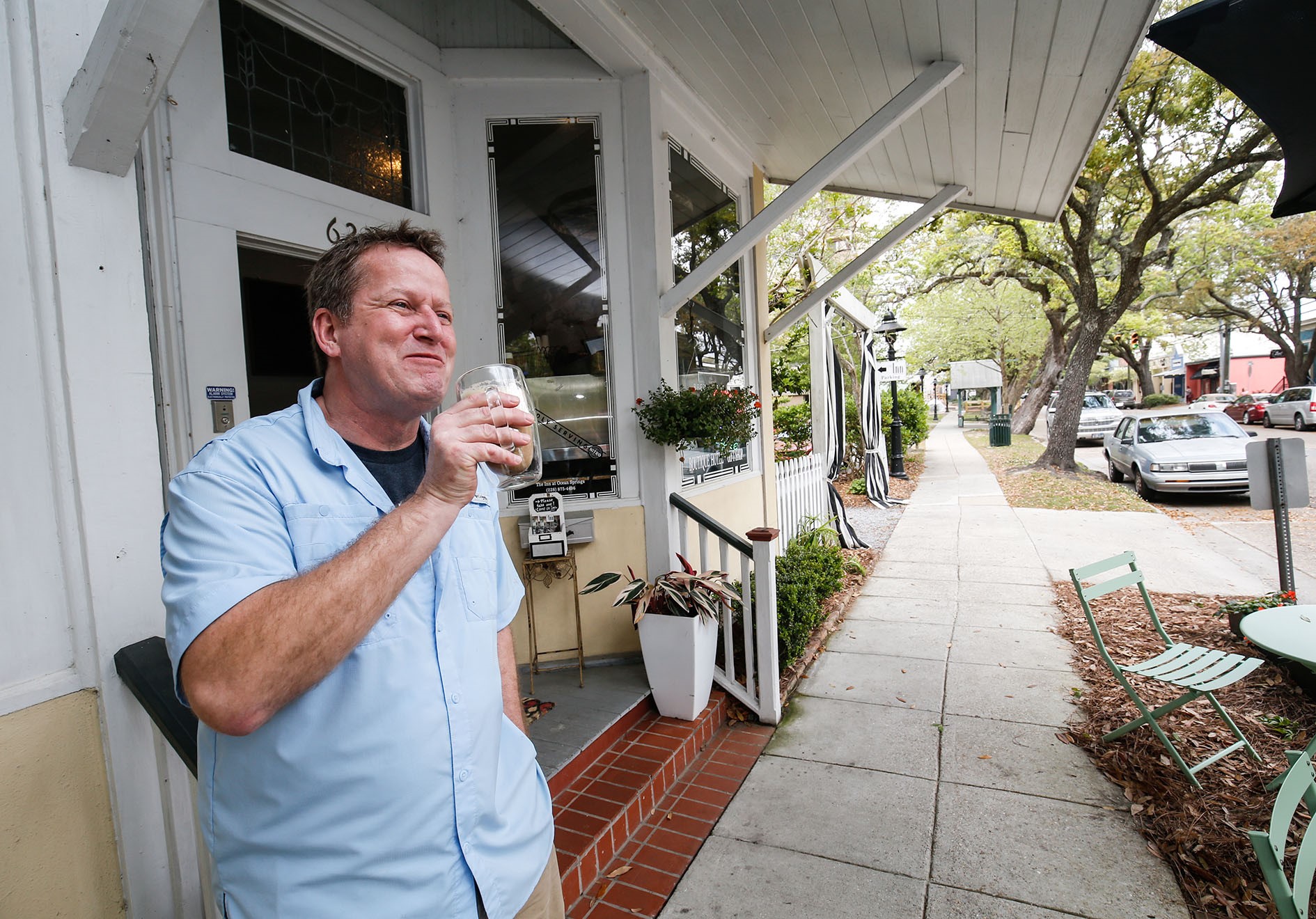 Washington crosses Porter Avenue, an up-and-coming area of downtown. Crooked Letter Brewery recently relocated here, and The Roost boutique hotel is a new addition. But the trailblazers who first took a chance in this part of town were Jesse Zenor and Kait Sukiennik. In 2014, they opened a funky biscuit, coffee and beer joint in an old greenhouse as a way to bring people together over food, art, and even yoga. The Greenhouse on Porter features a savory and a sweet biscuit every day, like a Brussels sprout biscuit with melted cheddar and roasted tomato relish and a cinnamon raisin biscuit with strawberries and sweet fluff, the restaurant's signature "creamy goodness" topping of ever-changing mystery ingredients.
"We feel a strong sense of community here," Kait said. "On some level, everyone tends to help out everyone else and lift them up. It's very sweet."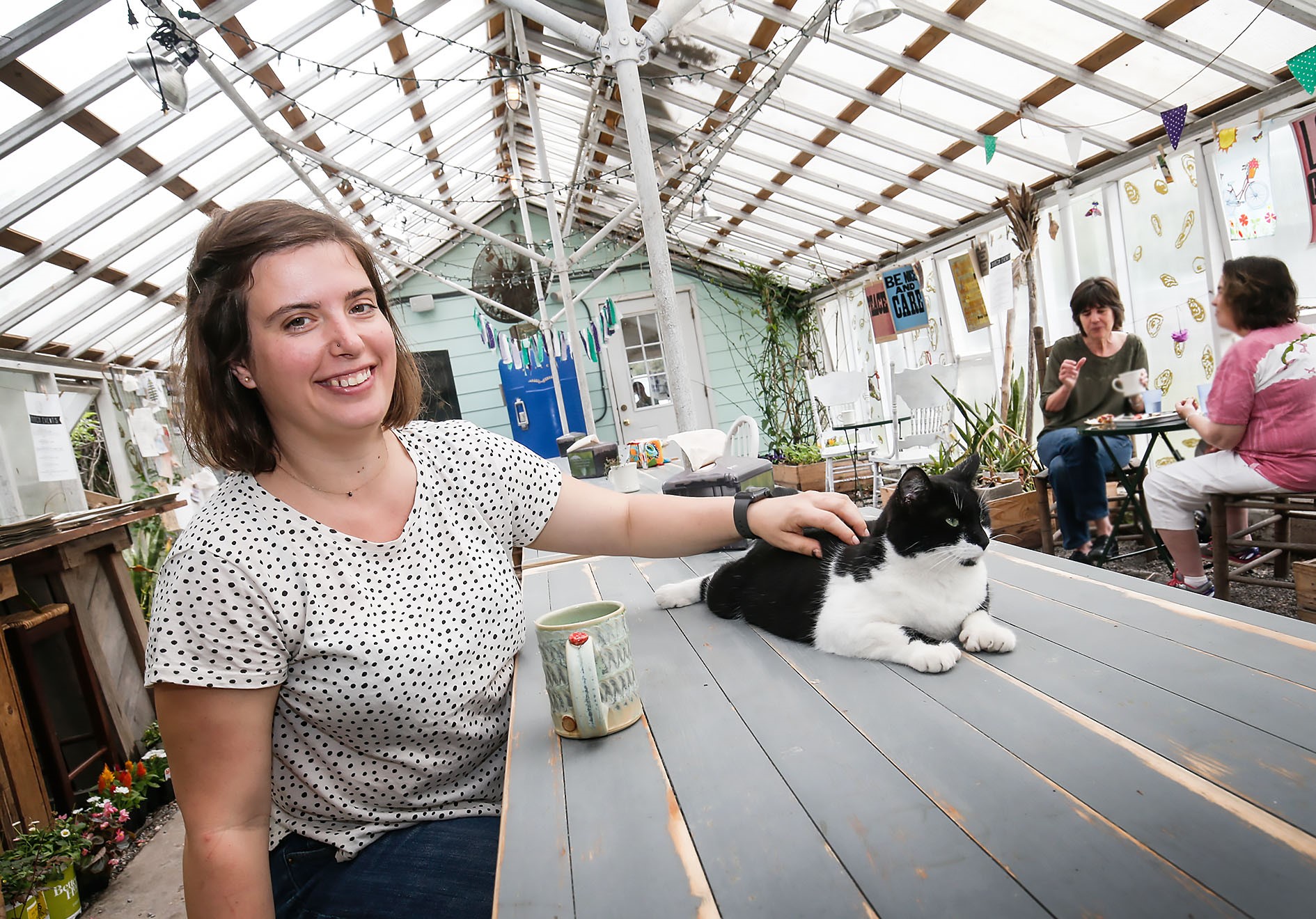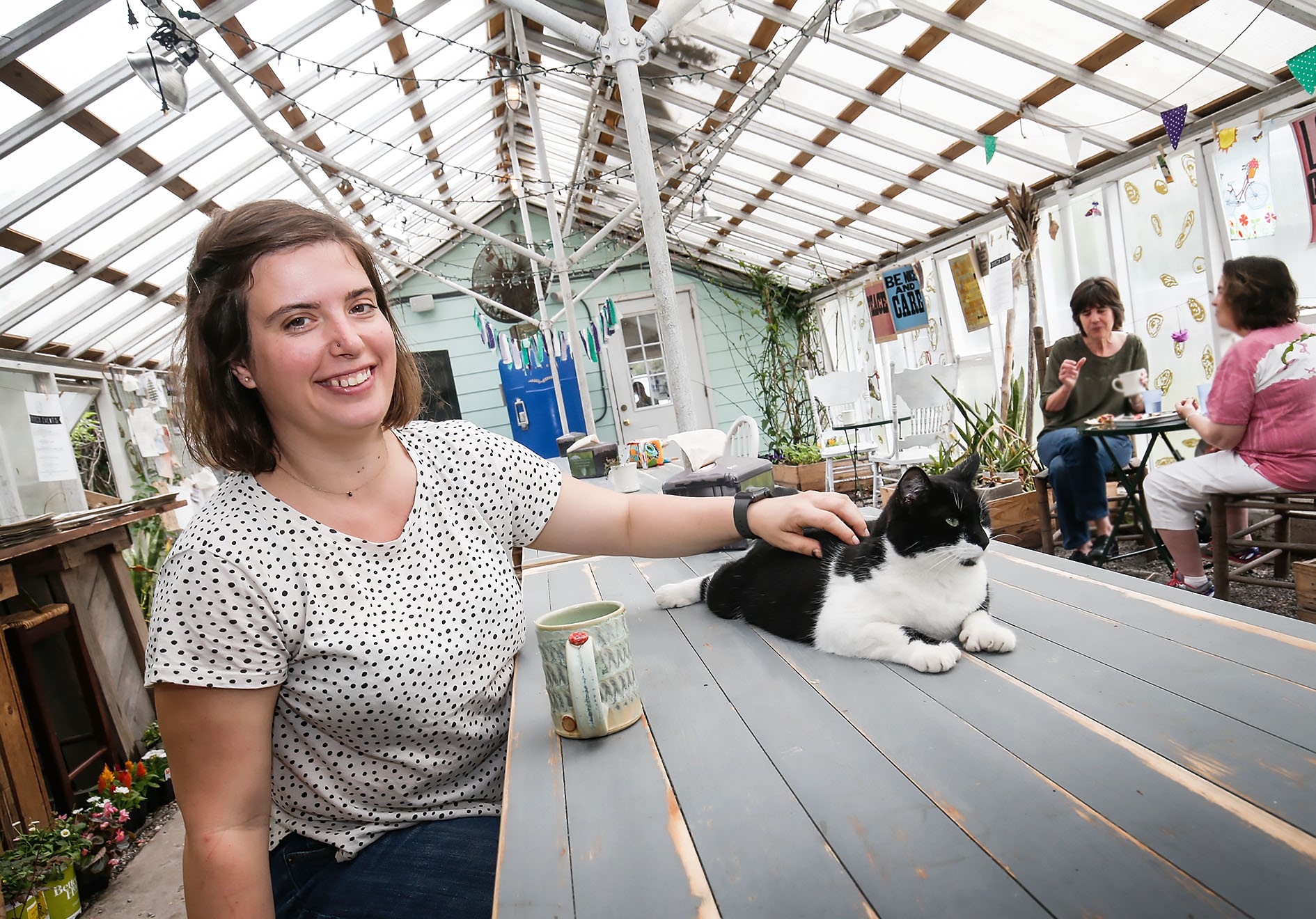 Ocean Springs is home to about 18,000 people, and about 150 shops, restaurants and galleries "downtown, uptown, and around town," said Cynthia. In order to sustain such a large retail base, this vacation destination needs tourists. The chamber promotes events year round to lure people from across the country. The most notable event is the annual Peter Anderson Arts & Crafts Festival, the largest art festival in Mississippi and the Gulf Coast, which annually brings tens of thousands of people to town. Other popular events include the annual Mardi Gras parade in January or February; one of the state's largest kayak races in the spring; and a Fresh Market every Saturday at the L&N Depot.
In 2016, in an effort to enhance its walkability and be more accommodating to visitors, the city designated three areas of town as "Go-Cup" Entertainment Districts – Downtown, Porter Avenue, and Fort Bayou. This designation allows for patrons in these districts to leave food and beverage establishments with alcohol in specially marked plastic cups.
"We're not the first city to start Go-Cup Districts. But it just fits well with the coast. It really compliments the walkability of Ocean Springs," Cynthia said. The city is also working to connect sidewalks between the downtown areas and the beach.
Quaint Quarters
Roxanne Condrey stands on the porch of The Roost, Ocean Springs' only boutique hotel, which opened last spring. She strains to talk above the buzzing of machinery from contractors putting the finishing touches on an expansion that will add five more guest suites and a craft cocktail and wine bar to the six-room luxury hotel.
The Roost is set in a beautifully restored historic building that appears to have grown up from the soil along with the stately oaks surrounding it. Each guest room is designed with a wall or ceiling accent made from reclaimed wood from the original property. The public rooms are airy outdoor spaces with ample seating. A vertical garden, or livewall, stands against an oyster shell façade. Each room is identified by a blockprint carving, a replica of a Walter Anderson design that exemplifies both the artist's and the hotel's philosophy of living in harmony with one's natural surroundings.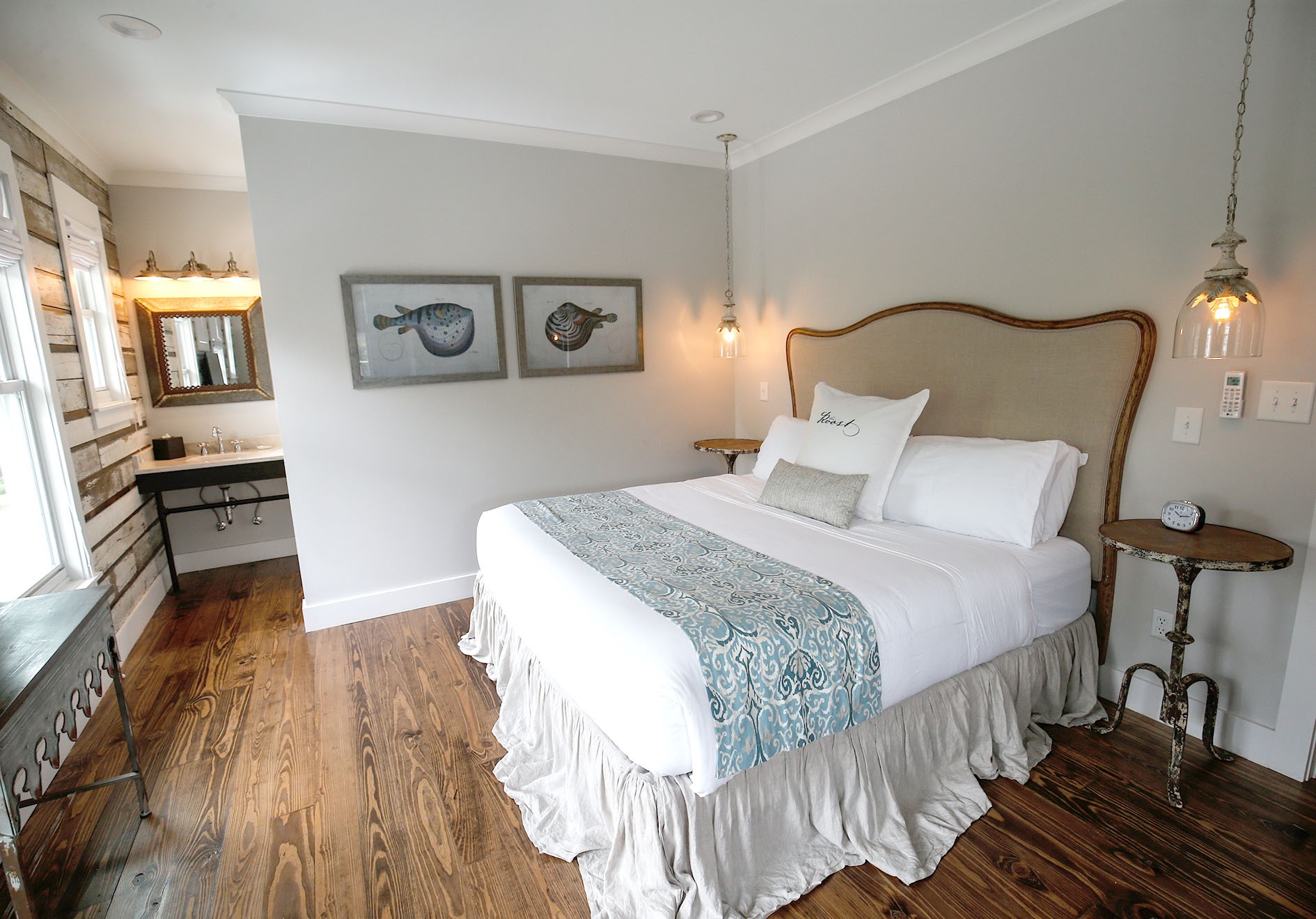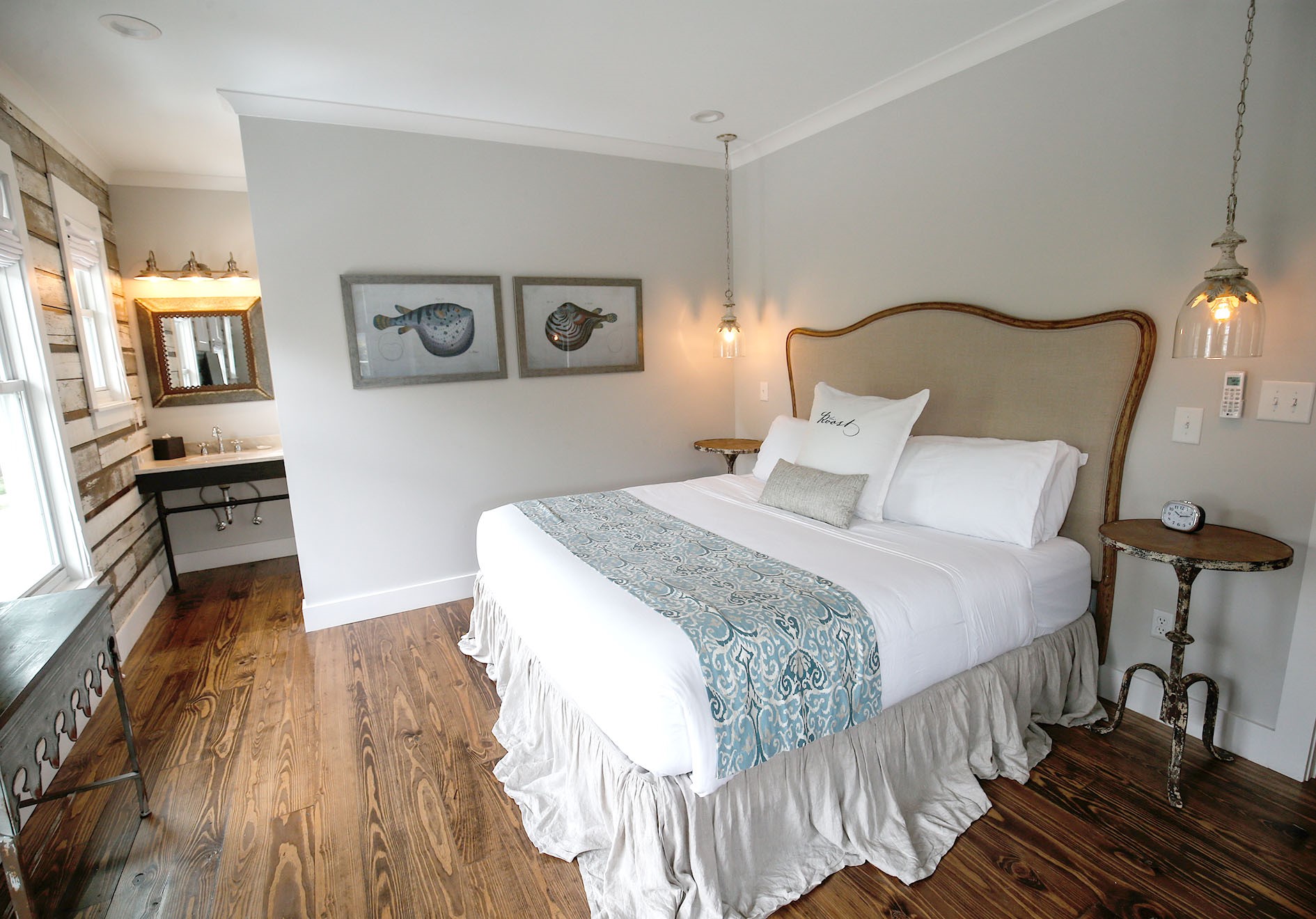 The Roost is the actualization of a longtime goal of the City of Ocean Springs. In 2011, the town bought property in the historic downtown district hoping to lure a three-story boutique hotel. There was some interest, but no developers took the bait, and the city ultimately converted the property into much-needed parking.
A few years later, six investors, including Roxanne and her husband Ted, decided to revisit the idea, and set their sights on an 1890s-era building, once a popular restaurant called The Porter House, in the up-and-coming west end of Porter Avenue in downtown Ocean Springs.
The Roost wasn't the Condreys' first foray into the hospitality business. She and Ted moved to the Mississippi Gulf Coast from New Orleans in 2009 – lured by post-Katrina tax incentives – and opened Rain Residential, specializing in buying and selling homes, rentals and property management along the coast. They ultimately settled in Ocean Springs and started a family.
"We fell in love with the town," she says. "We decided this was where we wanted to put roots down."
They purchased the circa-1911 Bertuccini building on Washington Avenue in the heart of downtown and turned it into a small, two-room hotel called the Inn at Ocean Springs. A few years later, they opened The Bradford House, a nearby rental property that offers two more spacious guest suites.
For the Condreys, investing in the city's first boutique hotel, The Roost, seemed a logical next step.
"Ocean Springs used to be kind of like a secret," Roxanne said. "But we're getting a lot of national attention lately and people are finding out just how wonderful it is here."