Spotlighting special towns across the country, Good Towns is about the character, the history, the people and the unique things that make a town a special place.
Michael Stewart greets the unexpected visitors with a wave, pausing to look up from the newest airboat he's creating for a customer. The finished product will be ready in a week, then hauled to South Florida. A year ago, he took one of the 19 models of boats he builds to a customer in New York.
Have you ever towed a boat through the Lincoln Tunnel at rush hour? Stewart has, and once was enough. He prefers the lifestyle he's known most of his existence on Florida's Withlacoochee River.
This area, from Yankeetown to the north, to Homosassa Springs 30 minutes south, is also where you'll find the short, idyllic Crystal River. It's about 7 miles long, just inland from the Gulf of Mexico, along Florida's west coast. It's only 90 minutes or so north of Tampa. Maybe two hours from Orlando. But it's worlds away from either in terms of the pace of life.
It's Old Florida, draped in Spanish moss and dissected by creeks and rivers whose waters are lazily drawn toward the Gulf. You usually don't arrive by plane or even Interstate – and never by accident. To get to Stewart's Tide Over Islands Camping Resort, you take the two-lane Follow That Dream Parkway.
The road is named after the 1964 movie filmed in Yankeetown, starring Elvis Presley at his peak, and the celluloid memories entice baby boomers from near and far to come in search of The King of Rock 'n' Roll's former haunt.
A final coat of sealant slathered on the inner hull, Stewart looks up with an impish grin.
"Wanna go for a ride?"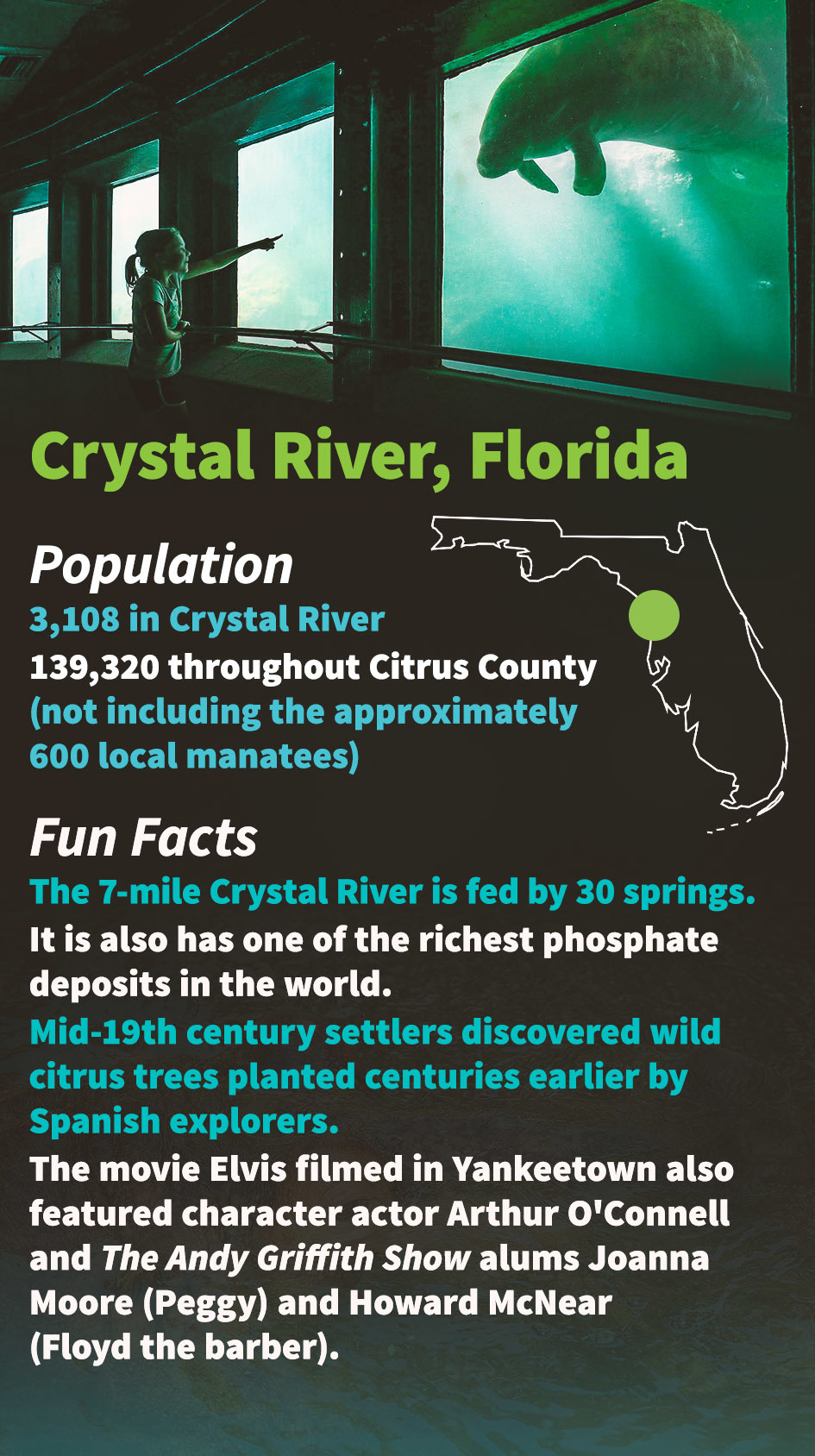 Star Power
Locals say during Elvis' time filming Follow That Dream, he met the nephew of a member of the film crew. The kid from Gainesville became an instant fan and followed a similar path to the top of the Billboard charts. His name: Tom Petty.
While Elvis' time in Yankeetown was short-lived, another screen star remains.
Lu is now 59 and proof that a child star can survive Hollywood. First cast in the TV series Daktari as a toddler, albeit without a film credit, Lu still has star power.
On an oppressive summer day at the Ellie Schiller Homosassa Springs Wildlife State Park, Lu the hippo prefers to stay submerged in water – though he will acknowledge a curious human by briefly raising his head out of the water in a greeting.
The park draws daily visitors who want to see Florida wildlife – from gators to birds to mullets leaping out of the water like Broadway dancers – in a natural habitat.
And while Lu may have the longest resume, the main attractions are the manatees. Dubbed sea cows, they're abundant throughout the region. At  Homosassa Springs, they can be seen playing underwater thanks to the fish-bowl underwater observatory. Boat tours will take you further out, where the daring can swim with the manatees – if you find them. They tend to become more active when the weather cools in the fall.
Stretching more than 10 feet and weighing around 1,000 pounds, these aquatic teddy bears are gentle herbivores that feed on sea grass and algae. Sometimes, they'll swim right up to you. At other times, like Lu the hippo, they prefer to go all Garbo and be left alone.
"Like you're the only one around"
A few years ago, Valerie and Bob Barlow sold everything and took off in an RV. They've fished for trout at Yellowstone, explored the Colorado Rockies and plan to visit Monument Valley, where some of John Wayne's memorable westerns were filmed.
By happenstance, they found their latest destination: a fishing pier off Fort Island Trail along the Crystal River.
"It's beautiful, it's quiet, it's peaceful," Valerie said. "And when you're on the water, it's like you're the only one around."
Valerie is an author, and her first children's book, Do You Like White Steak?, will soon be published. Bob, a retired Marin County Deputy Sheriff, first took to water as a teenager in New England. So when they discovered the Crystal River, the couple of 41 years rented a double kayak, tested the water and met fishermen, frolickers and a flotilla of local realtors using kayaks of their own to tour the latest waterfront homes on the market.
"We pick places on a map and find something we want to do," Valerie added. "Like here – it's close to the Gulf, so we can go freshwater and saltwater fishing in the same day."
The Crystal River is fed by Three Sisters springs at the mouth of Kings Bay before flowing through a mix of development and wetlands into the Gulf. Adjacent to Highway 98, Kings Bay offers the town's well-known restaurant, Crackers, which earned its reputation on Southern seafood, a thatched-roof Tiki bar and gorgeous views of the water.
The Plantation on Crystal River celebrates the natural beauty of the area while offering fun activities from shuffleboard to golf to lakeside swimming at prices that allow you extra cash to explore other amenities – including boat tours, deep sea fishing and swimming with the manatees.
We told you the manatees are everywhere – there seems to be a manatee statue on every corner – but at the Plantation on Crystal River, they'll swim up next to the hotel's boardwalk and beckon you into the water.
"Not many places left like this"
Michael Stewart's pontoon boat departs B's Marina and Campground and heads downriver on the Withlacoochee. A turn into Bennett's Creek provides glimpses of turtles and gators sunning on tree limbs, and blue herons, osprey and eagles flying overhead. A manatee with propeller scars swims starboard. Turn the motor off, and it's like you are hundreds of miles from civilization.
Stewart's grandfather arrived here after World War II and bought the land he lives on, which encompasses 185 acres and 10 islands between Yankeetown and the Gulf. Stewart's father built boats on weekends home from his job with the Florida Department of Transportation.
Stewart joined the U.S. Marines and left for 10 years as a member of the Force Recon special ops team. "My job was to see what satellites couldn't see," Stewart said of the missions that took him from the battleground of Fallujah to drug labs in South America.
Today, he's an entrepreneur. In addition to the boats he builds, he offers land and game for deer and wild hog hunters, charter boats for deep sea fishing and airboats for freshwater adventures. He's renovating a fishing cabin that will be available, by boat access only, for rent. Oh, and he fishes commercially. The inlets around his vast property are filled with nets for blue crabs.
"You don't make a lot of money, but it's a great lifestyle," Stewart said. "I can live completely off the land – unless I want to grill steak or burgers. Then I have to make a run to town to get groceries."
His boat tour stops at a small sandbar just in the Gulf. Across the way, as dusk falls, you can see the lights of Cedar Key, which is 20 miles away by automobile.
"They say that in 20 years, all these islands will be underwater," Stewart said ruefully. "Truth is, these islands are always changing – by storms and now, by climate change. Hurricane Irene came in here (in 2011) and flooded everything."
His eyes scan the collection of islands as he pilots the boat back home.
"Not many places like this left," he said. "Not a single condo. Not a house between here and Cedar Key. I like living off the grid. This is home, and I don't ever want to leave again."