In August 2019, Regions Bank completed its acquisition of Highland Associates, a leading institutional investment firm that serves not-for-profit healthcare entities and mission-based organizations. This addition is the latest in a series of non-bank acquisitions that Regions has completed over the past few years as part of the company's focus on strategic growth. The acquisition allows Highland Associates to scale its successful business model to serve more clients as part of a large, well-capitalized bank. And, the addition of Highland Associates supports Regions' long-term growth strategy to build the best team, meet more client needs and diversify revenue, including non-interest revenue sources.
We sat down with Trey Echols, head of Highland Associates, to learn more about the firm and combining with Regions. 
Q: It's been about four months since Highland Associates officially joined the Regions family. How are things going?
A: One of the clear advantages of this combination is that the Highland Associates team had a high degree of familiarity with Regions well before we began discussing the possibility of joining forces. Our firms have similar cultures: putting the client at the center of what we do, working in a collaborative way and investing in the community, to name just a few examples.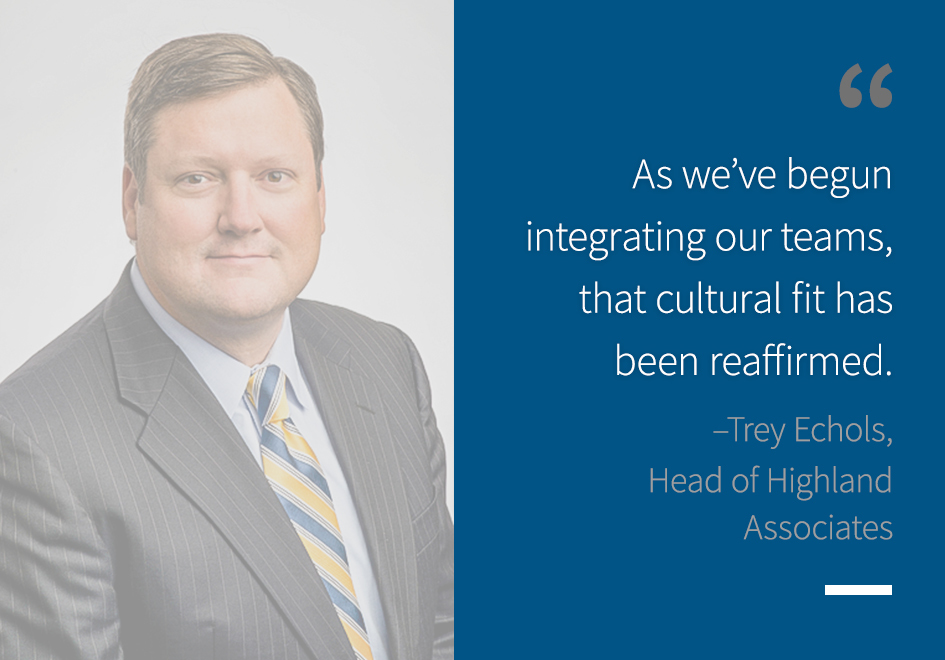 As we've begun integrating our teams, that cultural fit has been reaffirmed. Highland Associates has been growing steadily over time, and the combination with Regions provides the capital and infrastructure of a larger firm that allows us to continue that growth trajectory, which is a huge win for clients, associates and the communities we serve. In addition, clients have been very pleased about the combination with Regions, and the resources the united team can provide. 
Q: Build the Best team is one of Regions' strategic priorities, and our organization is always looking to add talented associates to serve clients and grow the business. Tell us a bit more about the team at Highland Associates.
A: Nonprofit healthcare providers and mission-based organizations are a distinct class of institutional investors. Our more than 30 years of experience advising and investing for these organizations qualifies our team to serve as essential advisors to our clients, empowered by our deep expertise, perspectives and relationships within the industry.
There are two primary groups within the firm serving clients: consulting, which includes operations support, and research, including both capital markets and manager due diligence.
We are headquartered in Birmingham, Alabama, a city that is a fantastic talent incubator for financial services professionals. In addition, we recently established a presence in St. Louis, which is a strategically important market for consulting and not-for-profit healthcare.
We employ 12 Chartered Financial Analysts (CFAs), one Chartered Alternative Investment Analyst (CAIA) and three Certified Public Accountants (CPAs), which is significant for a firm of our size. These associates have obtained industry-leading designations for investment and financial professionals, demonstrating that they are highly trained and dedicated to a high standard of ethics and professional conduct. We also have four associates who are CFA candidates and a strong in-house training program to cultivate future leaders. We are proud that Highland Associates has been recognized among Pension & Investment magazine's "Best Places to Work" for four consecutive years.
Q: As an investment advisory firm in the nonprofit space, Highland Associates serves a discrete client base with unique needs. In simple terms, what does your firm do best?
A: Our goal is to ensure the investment portfolio reflects the needs of our clients' whole organization. These organizations, which include community foundations, sizable arts and culture organizations, colleges and universities, and not-for-profit healthcare organizations, play incredibly important roles within their community.
We help clients manage risk and achieve their investment goals, because more money equals more mission. Understanding how assets maximize the mission of the organization is what we do best.
Q: What are the market dynamics driving this business, particularly in not-for-profit healthcare?
A: Over time, not-for-profit healthcare has become most of our client base. Our consultants understand how financial constraints, regulations and market factors impact these organizations in unique ways. Investment portfolios for these organizations serve three main purposes:
Investments are a primary funding source for future capital expenditures. Portfolios set aside for this purpose must achieve a return that will cover those future equipment purchases or related costs.
The investment portfolios are vital to hospitals' access to the public finance debt markets. From this standpoint, healthcare investors must seek stability, but also a return that exceeds their cost of debt to grow equity capital while ensuring future access to affordable debt capital.
Third, given the volatility inherent to the healthcare sector, investment portfolio returns serve an integral role in the overall financial soundness of each organization by enhancing or providing stability to operating results.
As the U.S. population ages, there is a growing need for these providers across all communities. As the market becomes more competitive, these organizations have a clear need for specialized investment advice and counsel.
Q: The Regions360 go-to-market strategy is a key differentiator and allows Regions to meet client needs efficiently and profitably. What opportunities are you most excited about?
A: Regions360, in my view, is a simple yet powerful way of doing business that puts the client at the center, as opposed to an emphasis on specific products or internal business segments. That is exciting for Highland Associates because it dovetails so well with our firm's culture and client service focus.
On a practical level, both Highland Associates and Regions Asset Management have strong portfolio management capabilities. As a combined team, we can look at best practices to improve what we do for clients. In the case of Highland Associates, we have specific expertise in managing funds for the nonprofit sector.
Regions has an established healthcare banking group with experienced associates who have deep relationships with clients, including not-for-profit hospitals. There is clearly opportunity for Highland Associates to partner with the healthcare banking group through Regions360 to offer investment advice to these banking clients where it makes sense. In fact, together we have agreed to a planful and targeted calling effort on several key opportunities over the next few months.