The way they play the Game of Life at the University of Mississippi is fun and fast-paced. You step into the room, you're handed a card with your job title and salary. Then you have to figure out how to navigate through life's expected – and unexpected – expenses.
For freshman student-athletes at Ole Miss this summer, the Game of Life has been an interactive centerpiece to a new financial education program offered by Regions to help some of the newest Southeastern Conference athletes learn about real-life money management.
"It's so different when you're on your own," said Shannon Ferguson, the Oxford Branch Manager for Regions. "You need advice, guidance and education. I love the way Regions has incorporated that into what we do every day.
"Whether it will be housing, whether it will be auto or utilities and food, they get to make all these life decisions like they would in real life."
The official bank of the SEC, Regions is piloting this new financial education program in Oxford, Miss., in conjunction with the Ole Miss athletic department. Ole Miss want its student-athletes better prepared for the real world.
"We are blessed to have students from all walks of life coming in," said Derek S. Cowherd, Ole Miss' Senior Associate Athletics Director for Student-Athlete Development. "The constant is that they're not used to managing money, whether they're from the highest socio-economic class or the lowest. They struggle with managing money because they've never had to do it."
By teaching freshmen the basics now, Cowherd – and Regions – believe the students will be better prepared for life at college. And at Ole Miss, with a nationally recognized athletics program, that future for some could include huge paychecks in the NFL, NBA or Major League Baseball.
Cowherd said that first salary for an elite pro athlete can be overwhelming.
"To see such a large sum of money coming to you at first – I don't know if anyone can manage that unless you have the right people in your corner," Cowherd said.
Candie Simmons is the area marketing manager for Regions. She played a key role in getting the financial education program started. While Regions has presented financial education to athletes at other SEC schools, including Alabama and Vanderbilt, this is the first ongoing program.
"We're starting with incoming freshmen, so we had one group of athletes in the month of June and another in the month of July," Simmons said. "We're not stopping there. This is a course we want to continue over the school year and, really, over the course of the four years that they are here.
"We are working very closely with student-athlete development because they want to make sure the students get the most out of it that they can. They're going to track this program and track the success so that they can make sure their students are benefitting and that we are providing them with the information and knowledge they need to become better citizens and manage their finances."
Jelicia Mallory works with corporate sponsorships. Based at Regions headquarters in Birmingham, Ala., she said the Ole Miss program is a great example of providing life skills. The appreciation of the student-athletes is something Mallory has seen in person.
"It's one thing to hear feedback: 'Yeah, the kids loved it.' But when they're there and they say, 'Thank you so much for coming,' that's when you know it means something," Mallory said. "That's when you know you're really making an impact. They got something out of it and they want more."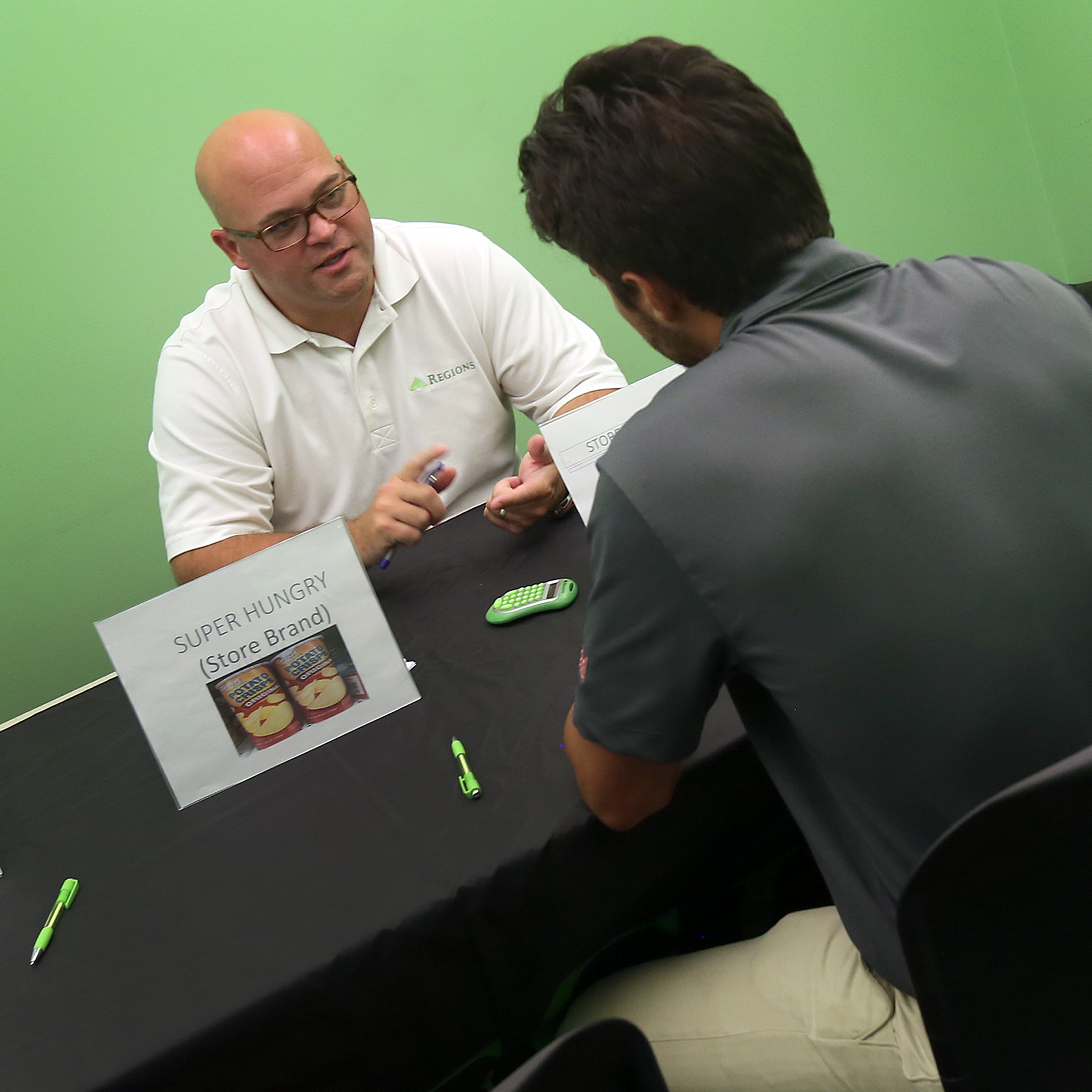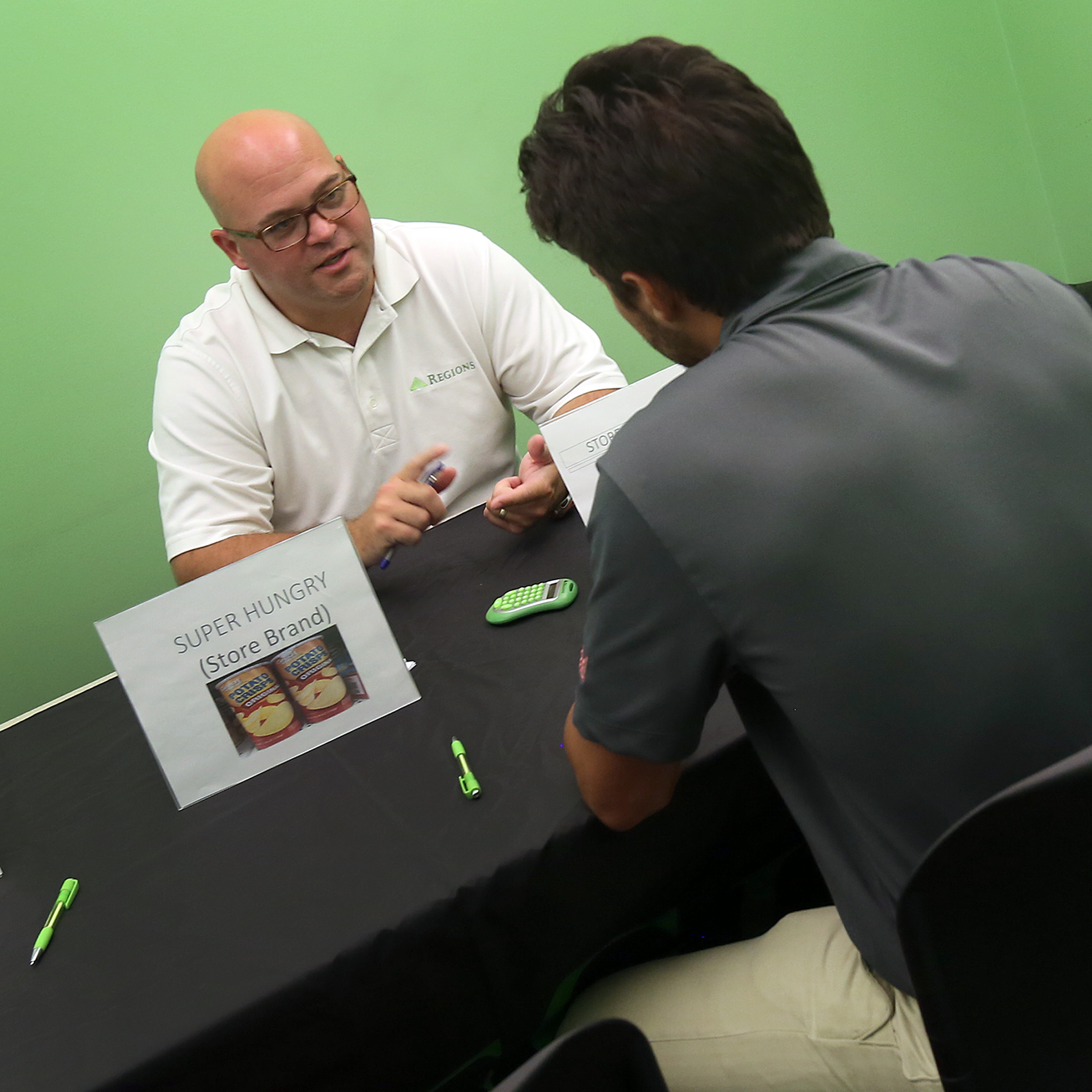 A learning specialist at Ole Miss, Briana Murphree builds the summer curriculum for participants in R.E.B.S., which stands for Rising to Excellence and Building Success. She wanted a way to teach money management to help freshmen adjust to college life.
"They are on scholarship and receive scholarship checks, and this is the first time they've been given that amount of money every month, so they don't know what to do with it or how to manage it," Murphree said. "So we wanted to bring in and partner with Regions to help them teach Banking 101."
So far, so good.
Now, back to the Game of Life.
"No one knows what this means until they've see the students run through the financial literacy real-life event," Ole Miss' Cowherd said. "It's so fun to see them let 'life happen,' and to actually fork over the money and see what it takes to earn it. It's like a light bulb goes off above their head. It's fun to us and we really appreciate the opportunity to partner with Regions to make this a reality for our student-athletes."
For Regions, the program is an extension of the financial education Regions associates offer every week to various groups across the 16-state footprint of the bank.
For Simmons, doing it in her backyard and helping prepare Ole Miss Rebels for college life and beyond, is a reward in itself.
"I'm so glad Regions has a position like this so I can come out into the community, work with students and help them with their education," Simmons said. "This gives us an opportunity to do more in the community and help these students become better citizens, manage their finances and be prepared for life after college."