If the intensity of a quiz-show competition carries over to the field, Thursday's Birmingham Bowl is headed for overtime.
A team representing the University of Cincinnati won on the final question, focused on the difference between the use of debit and credit cards, to take a 3-2 victory against Boston College, setting off a loud celebration for the 21st-ranked Bearcats.
All in all, not a bad way to spend an hour wearing floppy football hats and ringing cowbells and bike horns while taking in financial education tips that can help student-athletes succeed off the field for years to come.
"This was very fun, and something I wasn't expecting," said Steven Hawthorne, a Bearcats freshman defensive end from Chicago. "I came out of here learning a lot – like how to avoid skimmers at the gas station. I feel safer now."
TicketSmarter Birmingham Bowl
Thursday, Jan. 2, 2020
2 p.m. kickoff
No. 21 Cincinnati vs. Boston College
The annual TicketSmarter Birmingham Bowl, scheduled for a 2 p.m. kickoff Thursday on ESPN, features 10-3 Cincinnati, the runner-up from the American Athletic Conference, and 6-6 Boston College, a tradition-rich program from the Atlantic Coast Conference.
Most of the week has been spent prepping for the game, but other activities included visits to the Birmingham Civil Rights Institute and Children's of Alabama, a night of standup comedy at the Stardome Comedy Club, and the traditional bowl swag and trip to a gift suite provided by the bowl sponsors.
On Monday, both teams participated in a Money Game Awareness Program. Led by Financial Literacy Coach Eric Smith, players were introduced to winning financial principles, including saving, planning, spending and giving. Smith, who works with the NBA, NFL and college athletics programs across the nation, also focused on the importance of budgeting, how to avoid identity theft and fraud, and the power of compound interest.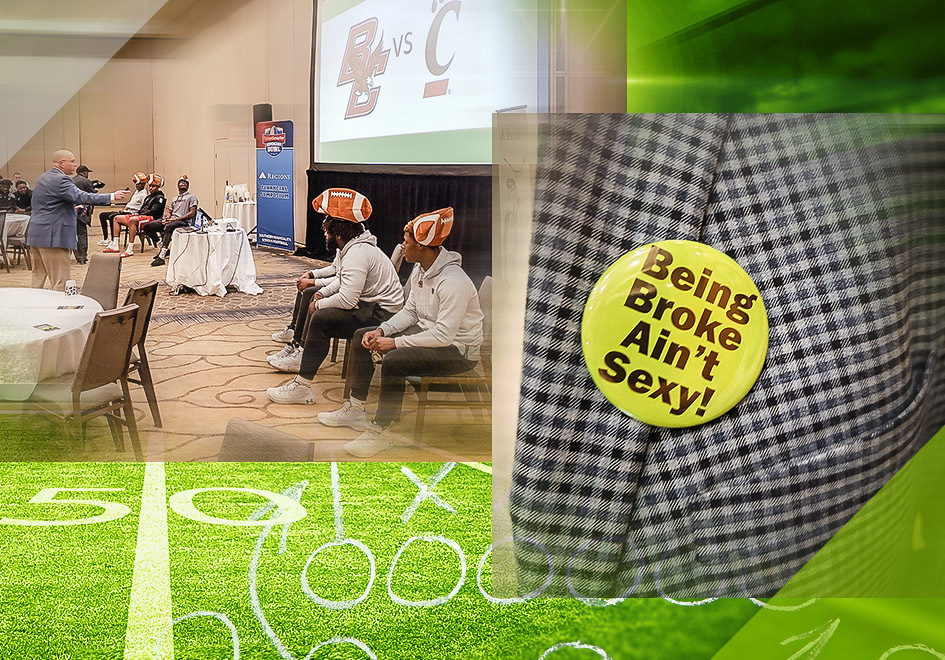 The session was presented by Regions Bank. Based in Birmingham, Regions is the official bank of the Southeastern Conference and sponsor of the Associated Press Top 25.
Smith talked about pursuing passion for a calling over passion for money, then demonstrated how a 20-year-old investing $20 a week could end up with more savings than an NFL-bound athlete come retirement age.
That caught Hawthorne's attention.
"That was really eye-opening. I didn't know anything about compound interest," he said.
And that's the point.
Regions supports financial literacy programs to help consumers make informed decisions in every aspect of their financial life.

For the student-athletes at Cincinnati and Boston College, the Money Game Awareness Program provided simple steps to take control of finances now and into the future.
"We want to encourage the athletes visiting Birmingham for the bowl game to understand they have options, whether or not their careers include the NFL," said Sarah Moss of Regions' Community Relations team. "Today was a fun experience. I think everyone was engaged and came away with more financial knowledge."
And that's what Smith intended. He opened the session with a fun challenge pitting the two schools against each other, before providing insight into steps that will ensure better financial decisions.
"These student-athletes were great," Smith said. "They had fun and learned a little about money. I told them, they were put here to do amazing things with their lives, with their money, and this is a good first step."