It all started with a fourth grader's question.
Deborah Sternberg's son wanted to know what it would take to start and own a business. She soon realized he had more than an interest – it was an intense curiosity, even a passion, for starting a company of his own. Sternberg wondered if other students his age, and older, had a similar passion.
Over the years, Sternberg thought back to her son's questions, and a burning question of her own kept coming up.
"Why do we wait until a student goes to college before we lay a deep foundation on what it will take to start and run a business?" she asked herself.
The inspiration for Young Entrepreneurs Academy of Baton Rouge (YEABR) was born.
After leaving a successful career in insurance, Sternberg launched the Baton Rouge YEA chapter dedicated to educating students on the ups and downs of business.
YEA itself began in 2004 at the University of Rochester in New York, connecting local middle and high school students with not only the knowledge – but also the experience – of being an entrepreneur. Through the year-long program, students generate business ideas, conduct market research, write business plans, pitch to a panel of investors, and launch their own companies – all before high school graduation.
Fifteen years later, YEA chapters can be found from coast to coast, including the one in Baton Rouge. The inaugural class in 2018 had more than 25 students from parishes across southeast Louisiana. Sternberg said the first year wouldn't have been successful without volunteer and financial support from the community.
Partners in Progress
Regions Bank is one of YEABR's community partners. Education, workforce readiness and economic development are some of the bank's top priorities for community engagement.
"Young Entrepreneurs Academy of Baton Rouge is transforming our community," Danny Montelaro, Baton Rouge-Area Market Executive for Regions Bank said. "With the academic caliber we have through being a university community, and the support of local businesses, students in Baton Rouge have tremendous opportunities right here at home. Regions Bank is proud to work with Deborah and her team. This is going to make a lasting impact in the lives of our students and in Baton Rouge itself."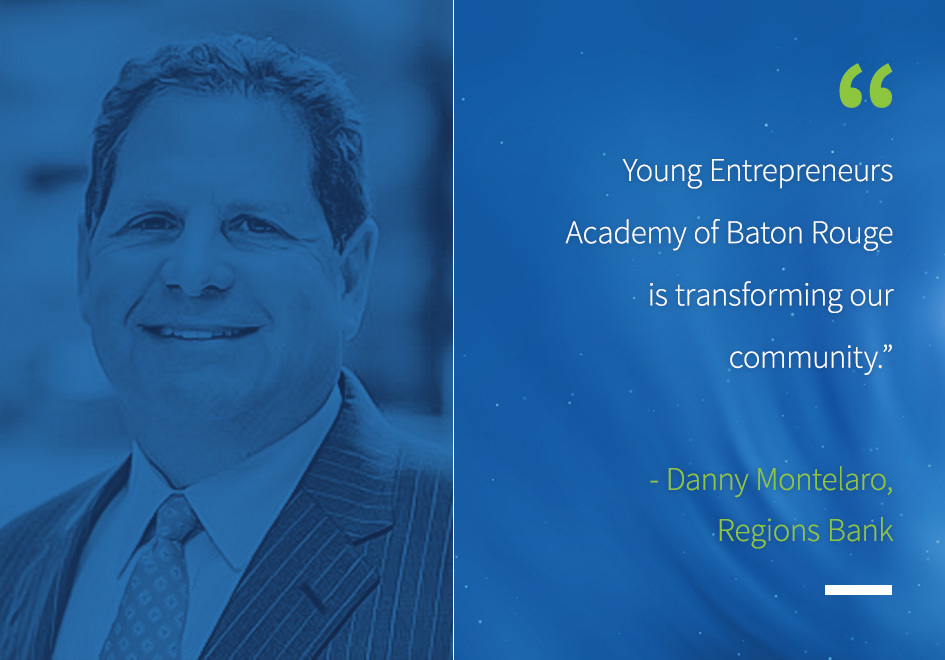 The Stephenson Department of Entrepreneurship & Information Systems at Louisiana State University (LSU) provides instructors and weekly meeting space for YEABR students. Professors volunteer their time to help students develop skills and think through the obstacles they need to overcome to be successful business owners. Additionally, students who graduate from YEABR and enroll at LSU are eligible to receive three academic credit hours.
The department's chair, Dr. Edward Watson, said helping students understand the value of entrepreneurship can help with whatever career path they pursue.
"Entrepreneurship was once thought of as being associated with a startup business," Watson said. "Over the last 20 years, it has evolved into the idea of the entrepreneurship mindset that can identify and access opportunities, find resources and move an organization forward."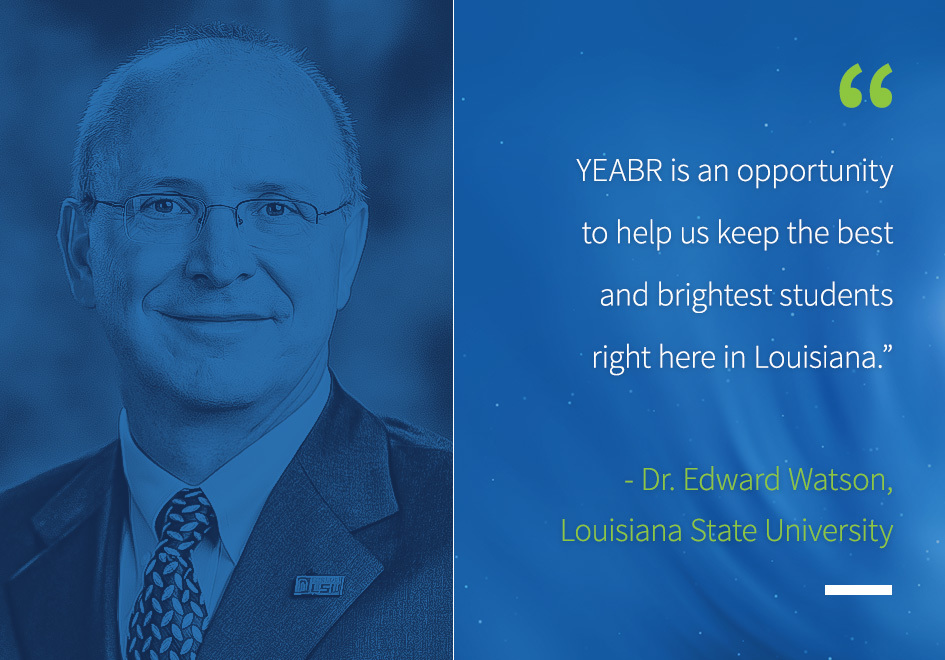 LSU's experience with YEABR, Watson added, gives the university another tremendous resource for recruiting entrepreneurship-minded students.
"As a department, we always desire to reach out to high school students and connect them to our disciplines of study," he said. "YEABR is an opportunity to help us keep the best and brightest students right here in Louisiana."
Implementing an Idea for the Benefit of Others
Mary Elizabeth Barrow was part of the first YEABR program at LSU. Barrow, currently a freshman at Tulane University in New Orleans, said YEABR was an "invaluable experience" that helped prepare her for college life.
"I'm taking the skills learned through the YEABR weekly lessons and combining them with my current studies to develop my career path," Barrow said. "Just because you don't follow a traditional business path doesn't mean you can't take an idea and implement it for the benefit of others."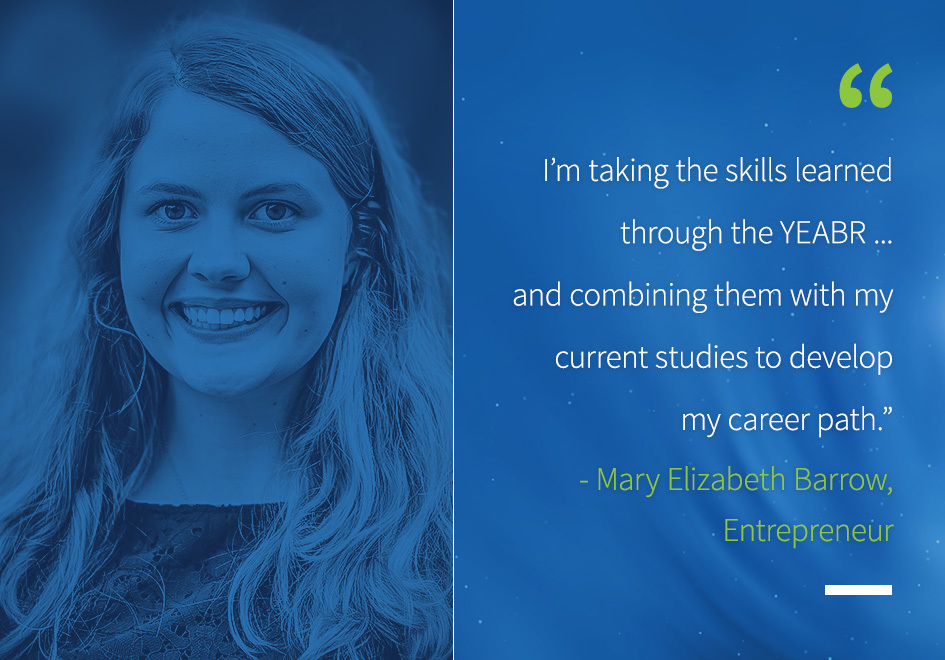 Barrow's desire to help others is what sparked her idea to create a way to address the rise in bicycle accidents in her community. Bike Stream is a container of colored smoke that is placed on the back of a bicycle to alert motorists to a bicyclist ahead.
"Unfortunately, there had been a series of incidents in my hometown over the last few years with cars hitting bicyclists, some tragically ending in fatalities," Barrow added. "I wanted to use my time in YEABR to work on a solution that didn't penalize those who enjoy bicycles and outdoor activities."
As Barrow worked through her business plan, she quickly realized the costs to start her business were high. She needed help and money to make it work.
YEABR provides opportunities for students to pitch funding requests to investors and other potential partners to further their dreams. At the end of the program, students participate in a Shark Tank-style investor panel to grow their business. Some are awarded funding to keep going after the program ends.
Barrow received funding, but has chosen to pause work on Bike Stream while she completes college. While her work is paused, she has asked students in the current YEABR class to continue working on Bike Stream's business plan.
Montelaro said the YEABR experience will support the area's economic growth.
"YEABR is a worthwhile program that's contributing to the next generation of business success in Baton Rouge and beyond," he concluded.