The idea was simple. The project was brief. But the impact will be long-lasting.
Regions Executive Kate Danella was planning a town hall meeting at the company's Birmingham, Alabama, headquarters for the bank's Consumer Products group. Topics would range from services for today's consumers to ways the company is further embracing technology. But Danella also wanted their focus to extend beyond banking.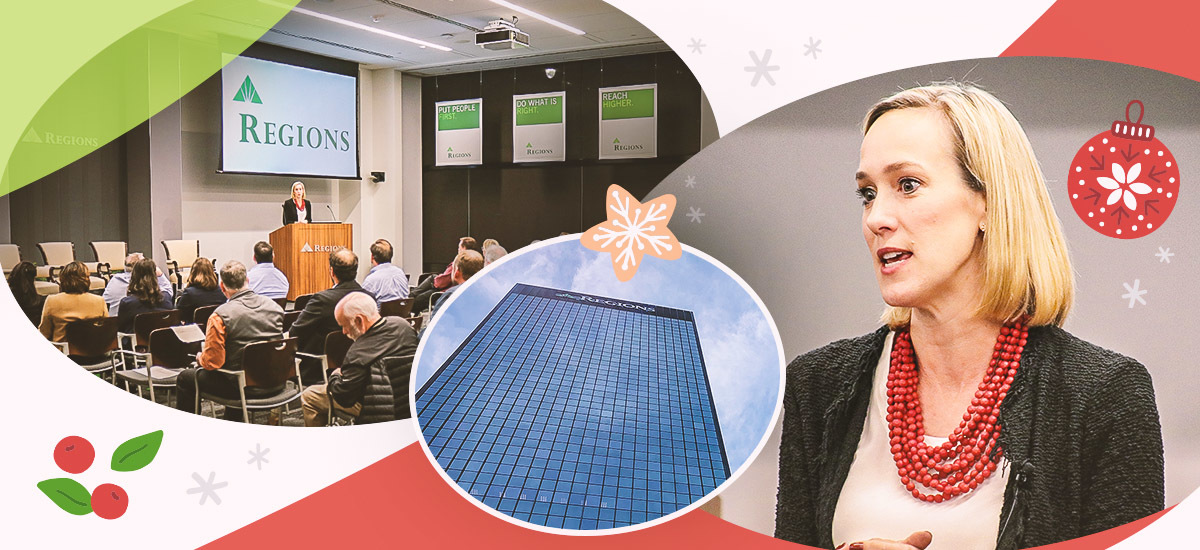 "Kate got involved with Children's of Alabama hospital when she first moved to Birmingham. She was invited to join our Committee for the Future, which is a program for emerging community leaders," explained Chandler Bibb, Director of Development for Children's. "She's been behind the scenes and watched surgery and learned about our Child Life specialists and how they use toys to help children cope with illness. Through that experience, Kate realized how important toys are in the recovery of our patients."
And that sparked an idea. In the weeks before Christmas each year, Children's prepares its Sugar Plum Shop – a place where patients and families can choose new toys, donated to them as gifts.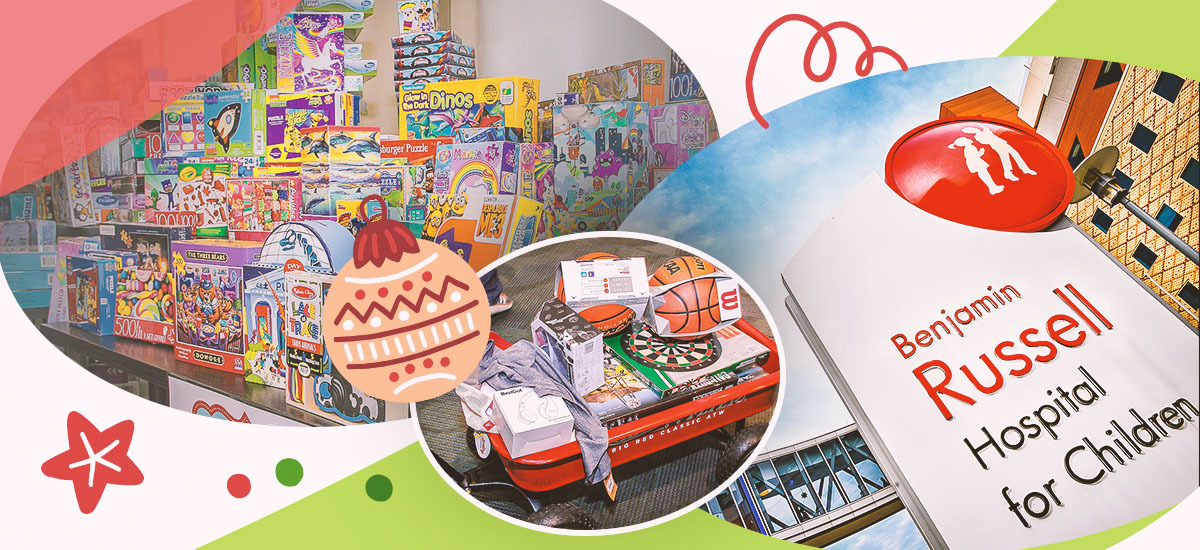 "Last year, we had over 300 children and their siblings – so more than 500 children altogether – who participated in the Sugar Plum Shop," Bibb said. "And it relieves a burden for all the parents during the holiday season that might be worried about what to do for their children during this time of year."
One of this year's hottest toys nationwide? The YBIKE. They're designed to help children as young as nine months old build motor skills and enjoy safe fun.
Children's could use a bunch to stock the shelves of the Sugar Plum Shop. So Danella and her team decided to donate. Dozens of them.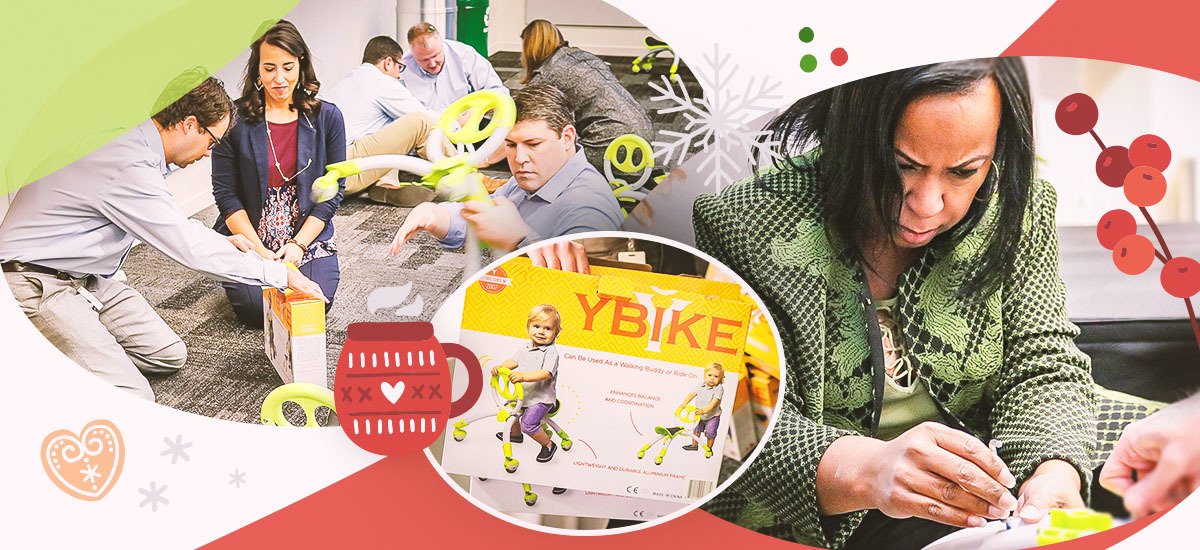 Divided into 14 teams, Consumer Products associates spent much of their town hall opening boxes, scanning instructions, connecting pieces, and emerging with YBIKES fully assembled and ready for children to choose when the Sugar Plum Shop opens its doors.
"We're really excited about this particular toy, not just because it's a favorite for all of the patients, but it's also Regions green, so I think the team really enjoyed that when they were putting them together." Bibb said.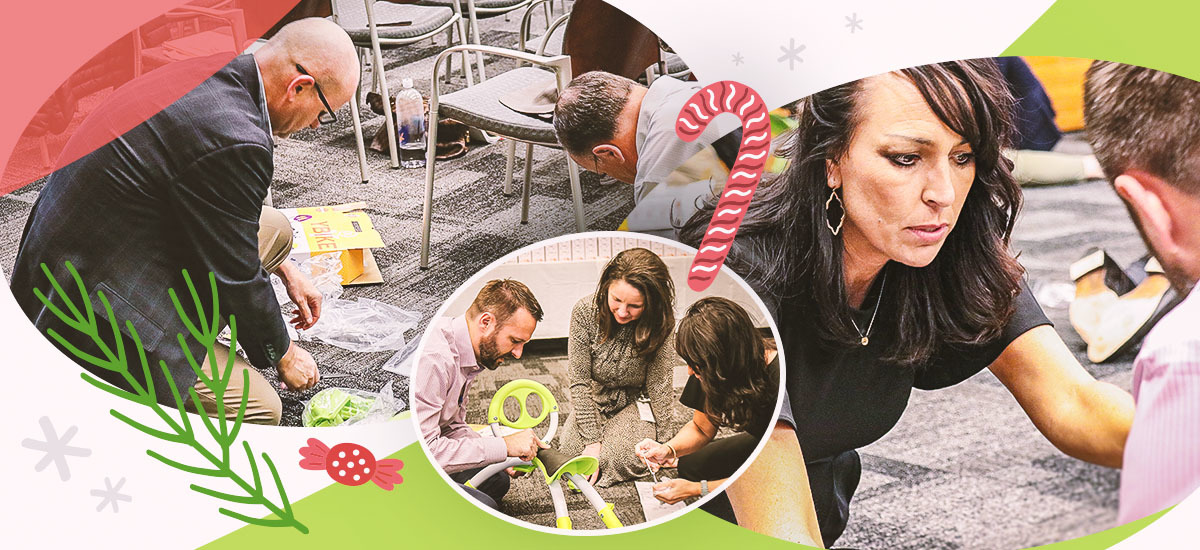 Ask any parent who's assembled toys on Christmas Eve, and they'll tell you, it can be a chore. But it didn't take long for the teams to get the hang of it. Most chose to divide and conquer – often with a member reading instructions while others assembled and looked ahead to what the next steps would be.
"It's very heartwarming to know that what we did, even though it was fun, it's going to have a deeper meaning to the recipients of those toys," said Jennifer Case, a Consumer Partner Relationship Manager with Regions. "It's definitely a blessing to be able to be part of that."
When the day's town hall discussions were over, this large team of Regions colleagues had a better understanding of several business topics. They shared their professional successes from 2019. And they looked ahead to important priorities for 2020.
But don't underestimate the importance of their team building exercise with Children's. It will have an impact far beyond the walls of the bank.
"It's a tough time of year to have a child in the hospital – for the child, the siblings and for the parents," Danella said. "We want to give something back to those families and put some smiles on faces during the holidays."
"Children's of Alabama and Regions have been partners together on many projects over the years," Bibb shared. "Few have made more of an impact than the Sugar Plum Shop."